Serious @PayPal Problems + Open Letter to @DavidMarcus
Danny Iny
Over the last couple of weeks, I've pulled back the curtain and shared the sordid details about everything that happened behind the scenes with our January launch.
I shared how massive success grew past the point of manageability, and turned into an excruciating sense of overwhelm.
And I shared all of the nitty-gritty details of the launch; what went right, what went wrong, and what we improved along the way.
I shared it all, and held nothing back. Except for one thing.
Along with all of the other ups and downs, there was one last thing that came very close to going very, very wrong – so much so that if things had gone the other way, we may not have even survived.
The source of this nearly existential challenge was PayPal.
For a while there, I thought they were going to shut us down…
Setting the Stage: This Launch Might Actually Work Out!
The first week of the launch had been touch-and-go. We were still in the process of iterating our webinar and sales funnel, and playing whack-a-mole with technical glitches.
But by January 15, eight days into it, things were starting to look up; we still had a lot of work to do, but…
Conversions were starting to be consistent,
The biggest glitches seemed to have been dealt with,
We had generated enough revenue to cover our launch expenses, and
The early feedback from our new students was very positive.
But, just our team began to heave a sigh of relief, disaster struck, in the form of an email from PayPal that came in at 5:17pm, with the subject line "We noticed an issue with your account":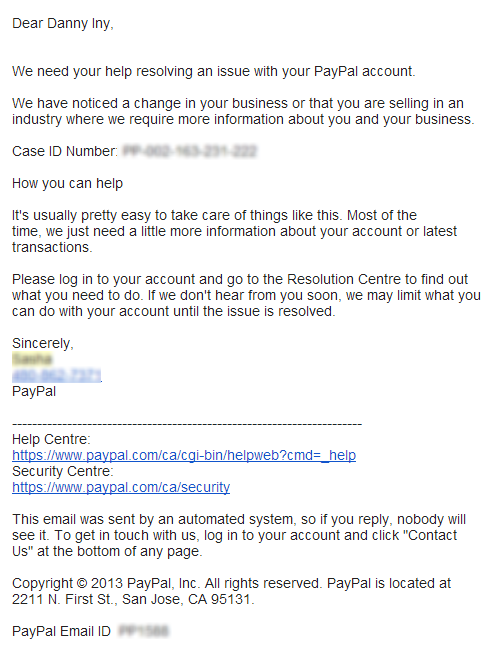 This was definitely concerning; PayPal has a reputation of arbitrarily shutting down accounts, and here we were in the middle of a launch; if they decided to shut us down, it would mean that:
We wouldn't be able to process payments of new customers who tried to sign up
We wouldn't be able to access the money that we had already collected, creating a serious cash flow problem
When it was time for the second monthly payments to be charged, they might not process, creating further problems
And in the middle of the launch, you've also got your hands full (as you know from my previous posts), which means that you don't have a lot of time to chase down financial paperwork.
So it was a scary situation, to say the least.
But why panic when you can take action, right? So that's what I did…
FULL DISCLOSURE: The next 2,500 words or so are a complete account of my experience trying to resolve this issue. I haven't left out any of the details, which means that you get the whole story, but it's a bit long. If you're in a hurry, then skip ahead to the last sub-head, titled "So… why did all this happen? And why did I write this post?" for the important takeaways.
The "Trying to Appease PayPal" Saga Begins
The very first thing that I did was call PayPal, at the phone number provided at the bottom of the email that they sent me (blurred out to respect the privacy of the incompetent).
No answer, just voicemail.
No problem; I left a message that included my name, phone number, and Case ID number, saying that I had just received this email, and wanted to talk to someone to understand what they needed, so that I could provide it to them, and explaining that we're in the middle of a launch, and there would be serious business consequences for us if they did anything to our account, so please don't arbitrarily shut us down without talking to me first.
Then I logged onto their Resolution Centre, to see if I could learn more about what was going on. Here's what I found: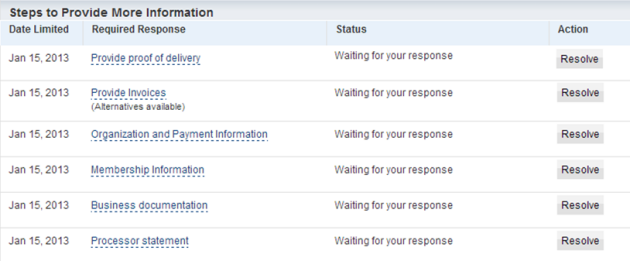 Now, am I the only one who isn't sure what they're looking for when they're asking for "Provide proof of delivery", "Provide invoices", "Organization and payment information", "Membership information", "Business documentation", and "Processor statement"?
With some of them, I could guess, without being 100% sure.
And for the rest, I had no idea.
And they were threatening to take action, and "limit my account" (and who knows what that means) – this was no time to provide them with documents that weren't exactly what they were looking for!
Well, the last thing that I wanted to do was be seen as unresponsive, so I dug around the internet, and tried to get a sense of what they were looking for. I figured that if I could submit even one or two of the documents that they wanted, at least they'd see that I wasn't ignoring them.
So I dug, and I dug, and I dug, and I clicked through to see what the forms looked like for each of those six categories (which, by the way, added up to a lot more than just "a little more information about your account or latest transactions" – but whatever).
Finally, I thought I had figured out what they wanted for one of the categories, and tried to submit.
ERROR!
Yes, that's right – I tried to submit the documents that they wanted, and the site errored out. Just to make sure the problem wasn't on my end, or the result of a browser incompatibility, I tried again, in both Chrome, and Internet Explorer.
The errors persisted. Even if I had known exactly what PayPal wanted, there's no way I could submit those documents to them.
Meanwhile, my wife was doing some digging to see if she could learn more about what was going on…
PayPal: The Destroyer of Small Businesses?
Remember earlier, when I mentioned that PayPal has a reputation of arbitrarily shutting down accounts?
Well, it turns out that it was even worse than I thought. Here's what my wife found within minutes of beginning to search:
A New York Times article about PayPal's draconian and arbitrary anti-fraud measures, with examples of one business owner who had to take out a half-a-million-dollar loan to keep his company alive after PayPal seized a million of their dollars, and a case of a woman who raised $20,000 to buy Christmas gifts for needy children, only to have the money seized by a suspicious and uncaring PayPal. Seriously – stealing Christmas gifts from kids – can you believe it?
A blog post in which the author shares overwhelming negative feedback about PayPal from his readers, including one who wrote that "I will never use Paypal again. After being a loyal customer for over 3 years, one day they decided to place a 6 month hold on my money for no reason. I couldn't access over 20k in my account which I needed to pay my bills!"
Another account of similar seizures, explaining that in some cases PayPal will arbitrarily seize and hold funds for as long as 180 days (that's half a year!),  as long as you've tripped an item on their exhaustive laundry list of possible red flags. The post actually states that "The bottom line is that Paypal will limit all heavily used accounts sooner or later."
Okay, let me ask you now: if you were a business owner, in my shoes, how would you feel?
Yeah, that's what I thought.
So let's continue with the story.
Since I couldn't reach the person who sent that email, and the website wasn't working, I called PayPal's general support desk. All I wanted was an explanation of what PayPal was looking for, so that I could provide it to them, but the technician didn't know anything – he just kept repeating that he advised me to "comply with the requests" (to which, of course, I kept replying that "I'M TRYING!!!"). Finally, he suggested that if the site wasn't working, I could send a fax instead.
So that's what I did.
I wrote a page-and-a-half-long letter explaining everything that I could, including all of the information that I knew they wanted, and asking them to please contact me and explain what else they were looking for, so that I could provide it.
I faxed them the message, and received an email the following day (Wednesday, January 16th), confirming that:
"we have received the documents you sent to PayPal. The documents have been successfully attached to your PayPal Account and will be reviewed shortly. We review documents in the order in which they are received and generally require 3 to 5 business days to process these documents. Once we process your documents, we will contact you about the status of your PayPal Account"
Phew – I was out of the woods now, right?
Not even close…
When the Left Hand Doesn't Know What the Right Hand is Doing…
I really thought that from this point on, I didn't have to worry; I had sent a fax explaining my situation, and their automated system had confirmed receipt – surely, someone would reach out to me to try and figure this out now, right?
So, imagine my surprise when on Friday, January 18th I received another email, with the subject line "Reminder: We noticed an issue with your account":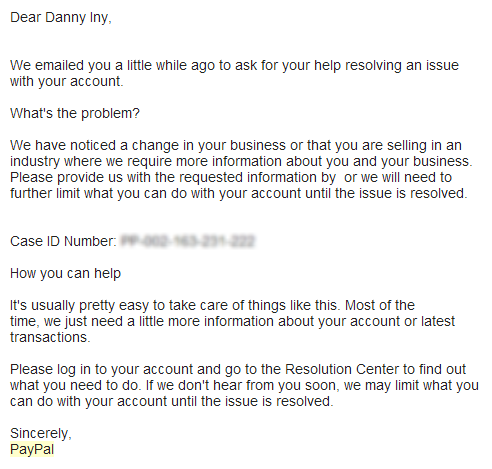 Damn.
So I tried to call the sender of the original message again, and got voicemail again. I left another message (my third in three days, with no response).
I kept waiting for a response (which never came), and kept leaving messages. By Sunday, I had left five voicemails in five days.
Getting frustrated, and feeling my business hanging by a thread that could be cut at any moment by an incompetent but trigger-happy PayPal employee, I called PayPal support again, and spoke with someone in their Merchant Services department.
He was sympathetic, but couldn't do anything relating to the case – he made it clear that my issue was with their Review Department, and it's a completely separate system (he even shared that dealing with this department was frustrating for him and his colleagues, too, because the Review Department doesn't return ANYBODY's calls – apparently, I wasn't special in that regard). All he could share with me was that PayPal needed "more detail regarding [my] business model".
Does that sound vague to you? Because it does to me… 😉
But there was hope, because he also gave me a phone number through which I would supposedly be able to reach someone from the Review Department.
I called the number, excited that I would finally be able to get this issue resolved, and put it behind me.
The phone rang, and… it was a fax number.
Dead end. Again.
So I wrote up and faxed a more detailed letter, including everything from the first letter, plus everything that I could think to add about our business model.
I also looked PayPal up on Twitter.
I tweeted the company, and their President, @DavidMarcus, expressing how frustrated I was by the whole experience.
David Marcus replied, putting me in touch with @AskPayPal, who would supposedly help me get the issue sorted.
@AskPayPal on the scene… problem solved? No! :-S
Okay, great, at least now I was talking to a human being. 😉
But would the issue be solved? No, it wouldn't…
First, he (@AskPayPal is a guy) wrote that:
"I'm sorry to hear about the difficulties you've experienced with your account. I see that you've submitted the information we were requesting and now the case is in review. You can respond to this email if you have any questions, or you can give the number on the bottom of the original email a call as that would connect you with the department that issued the warning in the first place. And if you need that email resent, please let us know."
I responded that I would happily call the number that was on the original email, except that it goes to voicemail, and they weren't returning my calls. I created a document outlining my entire experience thus far, and sent it to him, asking that he read it and tell me honestly if the experience described there sounds reasonable.
He replied that:
"Regrettably we cannot accept attachments, but I can see from the warning itself what we're requesting. From your point of view, I can see why you feel that what we're looking for is unreasonable. From our point of view, we see an account that has consistently been doing about a thousand dollars of business a month, suddenly do approximately $30,000 in one month for coaching and training programs with a satisfaction guarantee for refunds, and we become concerned as to what PayPal is being used for.
"More importantly, given the volume and that guarantee, we need to make sure that your business model is strong enough not to worry about the refund issue, and that if everyone requested a refund at once, you would be able to cover that rather than PayPal be responsible for it. As an online payment processor, these are the questions that we need to have answers to to minimize our risk, as much as possible.
"As far as the contact number that was provided, I apologize if no one has returned your messages. I've requested that, if there is anything else we should need from you, they give you a call to discuss it."
(Have you ever tried to have a conversation with a brick wall? I haven't, but I imagine it would go something like this…) 😉
I replied that I don't think it's unreasonable for them to request this information, but I think that what I've gone through IN MY ATTEMPTS TO COMPLY *is* unreasonable, and I re-sent the account of my experience, this time in the body of the email. He replied:
"I completely understand where your frustration is coming from now. As I stated, I've requested that we call you if anything is further is needed on the account. I apologize that [THE ORIGINAL SENDER] never got back to you; I'm not sure why that may be.
"Currently the warning is in review; I would hope that it will be reviewed and resolved soon. But as this is a warning, the only thing that you can't do with your account is close it; there are no other adverse actions affecting you.
"I can, to a degree, understand why you weren't able to get satisfactory answers or a resolution on the phone. The warning on your account is only resolved by a specific group, so the only real information any frontline agent would be able to provide is that you need to provide the information being requested. I get where that would be annoying, but unless they're part of the specific group that could resolve it, the specifics would be beyond them."
In other words, "I'm sorry you're upset, but there's nothing I can do." I replied that:
"I understand what you're saying, but I hope that you can understand how stressful this is for a business owner; PayPal has a reputation of unilaterally suspending accounts (as per this, this, and this, for example), and while I'm very happy to comply and provide all of the information that you guys need, it is very concerning to me that the instructions aren't clear, the site makes it difficult for me to comply, I can't reach a real person who can help, and even though I've submitted information, I still get automated emails saying that I haven't complied.
"I'm in the middle of a launch, and I'm *very* concerned that all of a sudden my account will be arbitrarily suspended, and transactions will stop going through – this would cost my business a significant amount of money.
"(Incidentally, if they had just contacted me and explained it the way you did in your previous email, I would have easily explained that my business hasn't changed, and we've done this volume for over a year, but we've switched to a new shopping cart that isn't compatible with the old merchant account, and that's why we're moved everything to run through PayPal.)
"Can you please contact the department in question, and have someone call me? Or give me the contact information of [THE PERSON]'s supervisor, since [THE PERSON] is clearly derelict in her duties?"
To which @AskPayPal replied back to me:
"We're fully aware of those situations and we're working on keeping things like that from happening. Which is a large reason why we didn't just restrict your account access; rather we placed a warning to allow you to provide us the information in a way that didn't impede your business. You've done so, so I see no reason that we would suspend your account.
"As far as [THE PERSON], I've reached out to her and requested that she review your account. I can't provide any further information other than what was already provided in the original email we sent. I understand your frustration with this, and please believe me that we are working on making situations like this less hectic for our customers."
Now, this whole exchange took several days; I received this last message on Tuesday, January 22nd, a full seven days after this had all began. By this point I had left a grand total of seven (!) voicemails for the sender of the original message, and had not received a single reply. :-S
All's Well That Ends Well?
Thankfully, this story doesn't end nearly as badly as it could have; on Wednesday, January 23rd (8 days after this whole thing started), I received a notice saying that the restrictions were lifted from my account, and shortly thereafter, the person who sent that original email called me.
She read off of a script that said "I apologize for the lack of communication" (reading off a script is the only way to describe it – she clearly didn't mean it, or care), she explained that this whole process was put in place for my convenience (can you believe that?), and asked me some questions that were both routine and absurd ("so… um… do you get a lot of chargebacks?").
Now here's the best part: two days later, I was asked to complete a customer feedback survey about my interactions with PayPal relating to this whole experience.
Just by reading the questions, it became very clear just how bad communication is within this organization. On the one hand, you've got the marketing people, and the strategy people, who seem to be all for creating a great customer experience… but their hands are tied by the apparently autonomous and incompetent idiots in the Review Department.
For a good laugh, and to see this in action, take a look at the survey questions, and my answers (these came after the basic questions around whether I was satisfied, and whether I would recommend PayPal to others – to which my answers were "no" and "no"):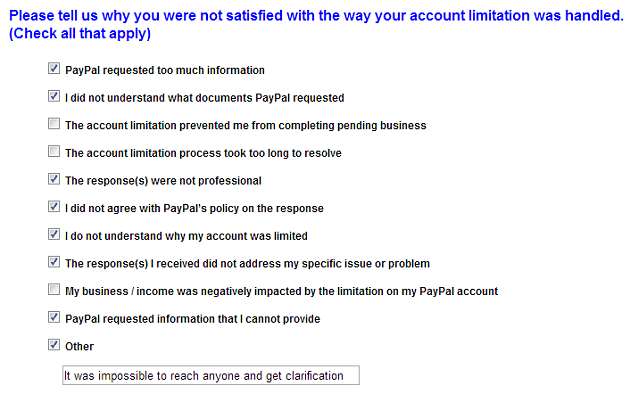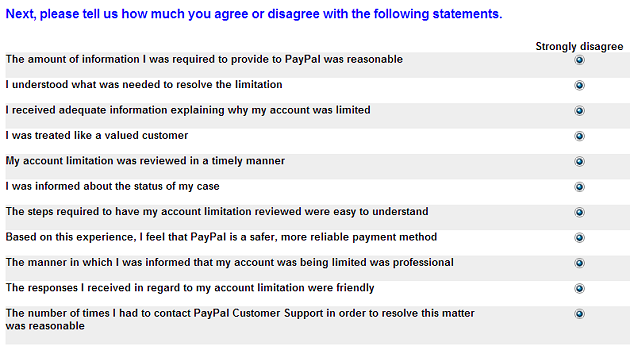 So that's the whole story, and now there are just a few questions left to answer:
What triggered this account review in the first place?
Why did all this happen? And why was it such a mess?
Why did I share the play-by-play of all this, and not just a summary?
Why, in spite of all of these problems, are we still using PayPal?!
These aren't trivial questions, particularly the last one. Here are the answers…
So… why did all this happen? And why did I write this post?
Okay, let's start with what triggered the account review in the first place.
There were actually two important contributing factors:
A spike in transaction volume. The launch meant more sales than we had done previously, which raised eyebrows at PayPal. This was compounded by the fact that…
It was an infrequently-used account. While the PayPal account has been around and in good standing for many years, we haven't used it much until recently (in the past we used Beanstream as our merchant account and payment gateway provider, and they're excellent). The reason why we switched to PayPal is that we were running the launch through Office AutoPilot, and Office AutoPilot doesn't integrate with Beanstream (though they've told me that they're planning on building that functionality in soon).
Now, anyone who's ever done much in the way of credit card transactions would tell you that both of these factors together are about the same as begging for your account to be suspended, which is why you're supposed to call your merchant account provider in advance of the spike in activity, and tell them what's coming.
Which is *exactly* what we did!
A few weeks before the launch, I called PayPal and told them exactly what was going on; that we're switching to use this account, we've got a big launch coming up, and we're expecting to process large transaction volumes, so there's nothing to worry about when they see the spike in activity.
The trouble is that the Review Department never got the message; it was sitting in the notes on my customer support account, and the Customer Support people have no way of communicating with the Review Department people (and the Review Department never bothered to check those notes).
So, in other words, I had done everything that I could have done, and the account review was triggered in the first place by a lack of internal communication, and by laziness.
Now, why was it so complicated to resolve?
Why did it create an enormous amount of stress and take over 10 hours of follow-up spread over 8 days, when the whole story could have been resolved by a 5-minute phone call, that would have gone something like this:
PayPal Rep: Hi, this is So-And-So from PayPal. Am I speaking with Danny Iny?
Danny: Yes, that's me – what can I do for you?
PayPal Rep: We've noticed a significant increase in your account activity over the last week or so – can you explain what's going on?
Danny: Yes, of course. We just switched over to use the PayPal account as our primary merchant account, and we're launching a new training program. These transaction volumes are large, but consistent with the growth history of our business over the last couple of years. We've consistently had happy customers, and never had any issues with complaints, refunds, or chargebacks. If you need additional documentation, I'd be happy to share transaction reports from the company that we used as our previous primary provider. Would that be helpful?
PayPal Rep: Oh, thanks for clearing that up. No, that won't be necessary. Thanks for your time!
(This isn't an exaggeration; in the end, I never ended up providing the documentation, because they never asked for it!)
It literally could have been that simple; but instead, a lazy and possibly incompetent staffer in the Review Department put the account on review, checked boxes to request every kind of documentation that was possible (even though, in hindsight, half of it didn't even apply), and made my life hell for over a week.
Why this post, with the whole play-by-play? And why are we still using PayPal?!
I'm writing this post because for every time that this happens to someone like me, who has access to a megaphone in the form of this blog, there are probably dozens of cases where it happens to someone who isn't equipped to tell anyone about it.
I shared the whole play-by-play because if I didn't, it would be easy for some PayPal rep to just leave a comment saying "but the review was lifted, and no harm was done" – which, as you can see from this whole experience, clearly wasn't the case.
And I'm also sharing it all because I'm hoping that David Marcus, the President of PayPal, might actually read it, recognize that there's a problem, and take action to fix it. Because the truth is, he probably doesn't know about any of this; his staff probably just tells him that there's occasionally a delay in processing these things, but that no harm is ever done. Odds are, he doesn't have any idea just how badly this part of his organization is functioning.
And that's dangerous for any company, and brings us to the last question, which is why, despite all of this, we're still using PayPal.
The answer is that we don't have a choice.
As a Canadian business, our options in terms of the merchant account and gateway providers are very limited. Beanstream was great, but they don't work with Office AutoPilot, so we're stuck with PayPal – at least until Office AutoPilot figures out the integration (it's been a requested feature for a long time).
So, Mr. Marcus, do you really want to be running a business whose customers only stay when they have no other choice? I'm willing to bet that the answer is no, and that given the knowledge that there's such a serious problem brewing in your organization, you'll take action to fix it.
I hope that I'm right.
Update: I tweeted this post after it went live, and got a tweet back from David Marcus; clearly, he hadn't read the post. Not encouraging. :-S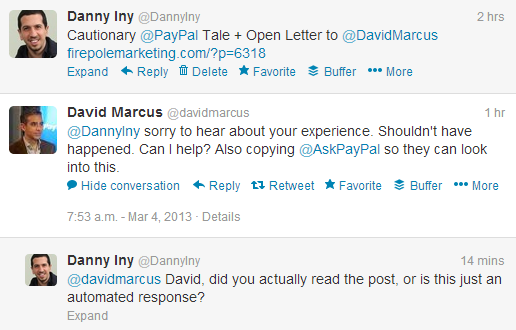 Further Update: David Marcus tweeted back, saying that he had read the post; in which case, his tweet really doesn't make a lot of sense (the last time he referred me to @AskPayPal, we just went in circles, after all). I was also called by someone in their office to see if there was anything to help, but of course, the issue is resolved – what they need to do is fix what's happening inside their company. I wish them luck, and I'm happy to help if I can.