Influencer Marketing Made Easy with Tools
In a most basic sense, influencer marketing is about building connections with niche experts and mentors who have enough authority to influence other people's buying decisions.
Influencer marketing is one of the most efficient ways to build brand awareness and trust as well as increase sales and leads.
The simplest example of an influencer marketing is a brand sponsoring a video product review on YouTube or a visual endorsement on Instagram done by a user with solid following.
While the above is a good way to convert a lot of people into actual sales in e-commerce, influencer marketing can be effective in blog marketing, too.
In fact, when applied to blogs, influencer marketing is much more diverse and long-term than it is in e-commerce. It's about engaging niche experts in creating and/or promoting content for your site which in turn builds your traffic and authority.
When an influencer takes a part in your blog life—contributing, commenting, or providing a quote—they are more likely to help you promote that content thus bringing your blog in front of their following and building your brand.
Let's see how it works…
Who Are Influencers?
That is a tough question. There have been many attempts to measure online influence, none of which is satisfying enough…
Neither the number of followers nor the various metrics (e.g. Klout score) can fully reflect influence.
In fact, a person can have just around 1K followers on Twitter and still be able to influence most of those followers with their tweets. Or one can have 10 Facebook fans, yet a huge following on Pinterest.
And it becomes more complicated when you start looking at different niches. Some industries are more "Twitter-friendly." Most (local) news outlets have huge Twitter following, for example, while health and beauty bloggers have more success on YouTube, Instagram, and Pinterest.
That being said, no tool can provide you with the list of niche influencers. Identifying true influencers (who are also willing to interact with you) is a long process involving much searching, browsing, and reading.
So… how to find and identify your niche influencers?
1. Search. Then search some more
BuzzSumo: On BuzzSumo, you'll find bloggers writing about your topic.
What I like about it is that you can play around sorting options using different social media networks. This gives you an idea of what networks are more active in your niche:

---
Search individual social media platforms.
Of course, by only using BuzzSumo you miss out on important platforms like YouTube, Instagram, Tumblr, etc.
So make sure you go directly to those platforms (especially those that are more popular in your niche) and play with their native search feature to expand your list.
Use Google to search for interviews and podcasts
Active influencers are usually invited to talk about their expertise. Blab and Google Hangouts on Air are good places to find those influencers invited to be interviewed.
More tools to find influencers:
2. Research each social media account on your initial list
BirdSong Analytics is a nice tool that lets you create a solid overview of YouTube and Instagram account activity.
What you really want to pay attention to is:
How often the account posts: True influencers post regularly: At least one video a week on YouTube and one Instagram update a day. That's how they built their influence! Regular posting means engaged following: That's what you really need!
How many views, likes, and comments their YouTube uploads receive. BirdSong is a great way to answer that question: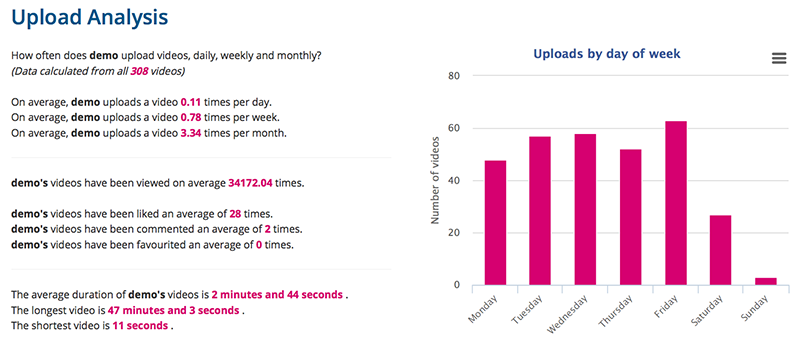 ---
Influencers' tweets receive likes and retweets:
The number of followers don't matter as much as the number of actual interactions.
Twitonomy is a good free way to quickly run interaction analysis of any Twitter account: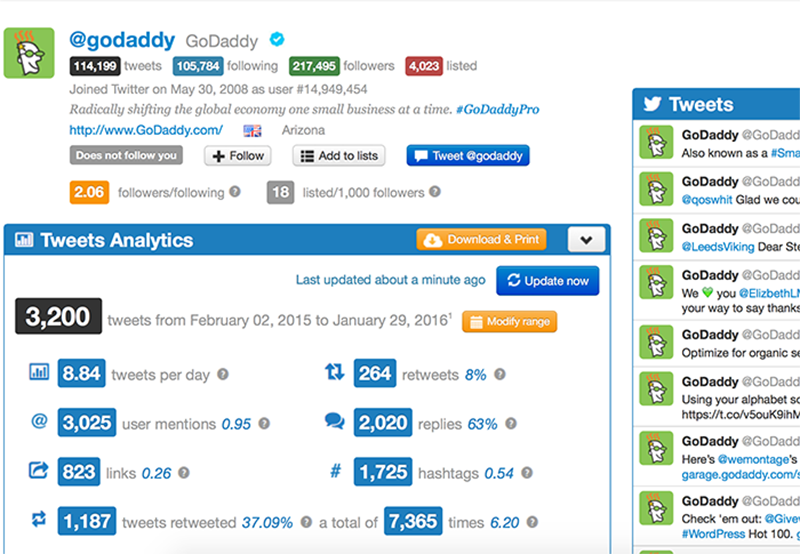 ---
The same goes for Facebook presence: Ignore the number of friends or fans and scroll down the profile to see if people engage with the updates and how many updates go unnoticed.
LikeAlyzer is a good, quick way to see the average number of interactions per Facebook update: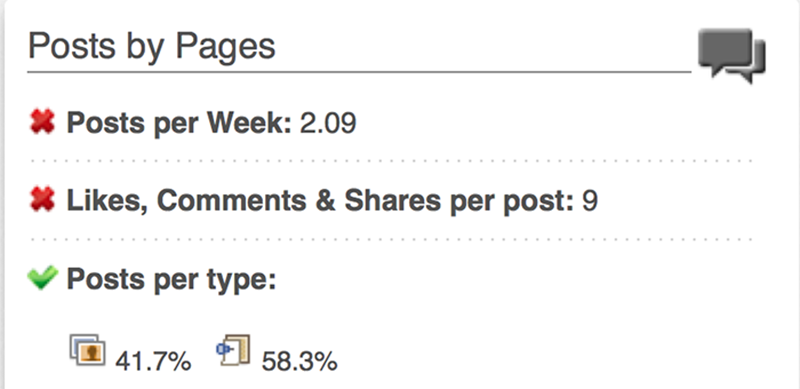 ---
3. Create a list of who you plan to reach out to
Be very selective. Your decisive criteria to whether include an influencer or not to the list should be whether they seem to interact back with followers.
Don't spend your time trying to hear back from someone who never replies to comments, thanks for shares, likes someone else's updates, etc.
Now you don't want to create a list of 1,000 influencers. Depending on your industry and time availability, anything between 20 and 50 is a good start.
What you want to have in that list:
Influencer's primary account and name
More social media profiles (make sure you follow them everywhere)
Whatever other contact info you have ever used or are aware of
Whether you had any previous contact or engagement and when
Any notes you choose to make
The list will grow and change over time but don't get overwhelmed with too many rows and columns at the start.
I love using spreadsheets to maintain the list of contacts, and I use Cyfe to integrate those spreadsheets into my social media dashboard.
Using Cyfe, you can create one dedicated dashboard to manage all your influencer marketing relationships. Here are the widgets I am using on my Cyfe dashboard:

Using the "iFrame" widget I import my Google spreadsheets with my active connections into the dashboard
Using the Twitter widget, I import my dedicated Twitter lists where I add all the influencers I am connected to
Using the "Plain text" widget I am maintaining my to-do list on Cyfe (my approach to the to-do list is "The easier, the better")
Using the "Gmail" widget I am able to keep an eye on my inbox right from the Cyfe dashboard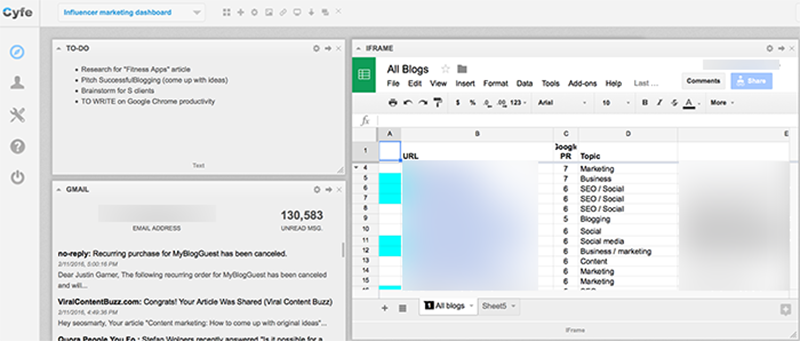 Here's a geekier guide on using Cyfe as the marketing dashboard in case you want to go further.
How Can Influencers Contribute to Your Blog?
There are several ways an influencer can actually help you build up your blog content.
Two basic rules to keep in mind here are:
Always remember that influencers are very busy. Make it as easy as possible for them to participate in your campaign
Don't make your blog built around influencer marketing
Here are some successful content marketing campaign examples involving influencers:
Business.com Expert Columns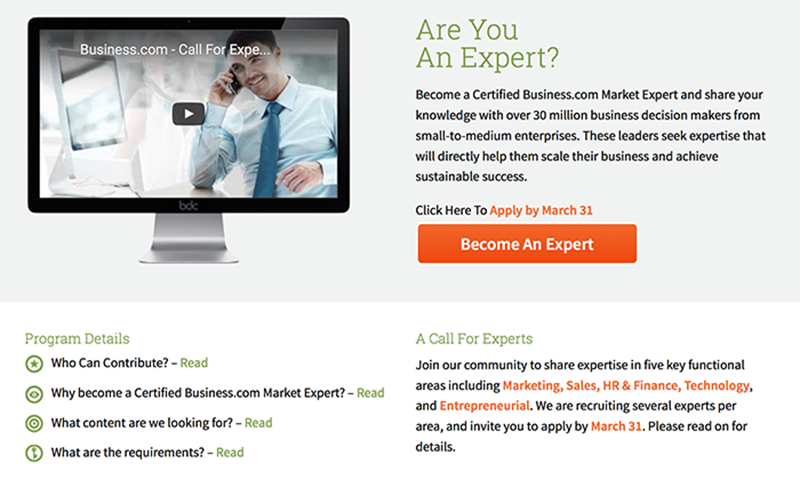 ---
Business.com reached out to prominent business and marketing bloggers inviting them to commit to a monthly marketing column and offering them increased exposure through their site.
Their expert program resulted in monthly content on a varied array of topics from prominent writers in their industry.
See their program landing page here
See the list of authors here
ViralContentBuzz Weekly Expert Twitter Chat
ViralContentBuzz holds a regular Twitter chat where content marketing experts teach their community one marketing tactic a week.
The result is increased exposure through the prominent expert voices as well as a more engaged growing community.
FirstSiteGuide Expert Guides
FirstSiteGuide crowdsourced whole sections to prominent bloggers sharing their tactics and insights. They re-packaged those guides into web content, PDF ebooks, and even audio books.
Ideas for you to get inspired:
Create a monthly "tweetable" tips article collecting short actionable tips/quotes from experts in your industry and putting them together into an article
Invite an influencer a week to key-note your Twitter chat
Invite an influencer a month to get interviewed on your podcast, Blab show, or Google Hangout on Air
Invite influencers to share their personal experience or case studies on what you are currently writing about
How Can Those Contributions Drive More Traffic to Your Blog?
Having an expert contribute a blurb or even take part in a more time-consuming initiative (like a podcast) is only the first step.
To fully utilize that connection, you may want to encourage your contributors to engage with that content by commenting and sharing it with their social media following.
1. Send a Personal Email to Each Influencer
Email your participating contributors thanking them for the quote and inviting them to share and comment.
If you use content management solutions like MyBlogU, you'll be able to automate that step.
Once you mark your article as published, all the participating contributors get an email notifying them of a published article.
---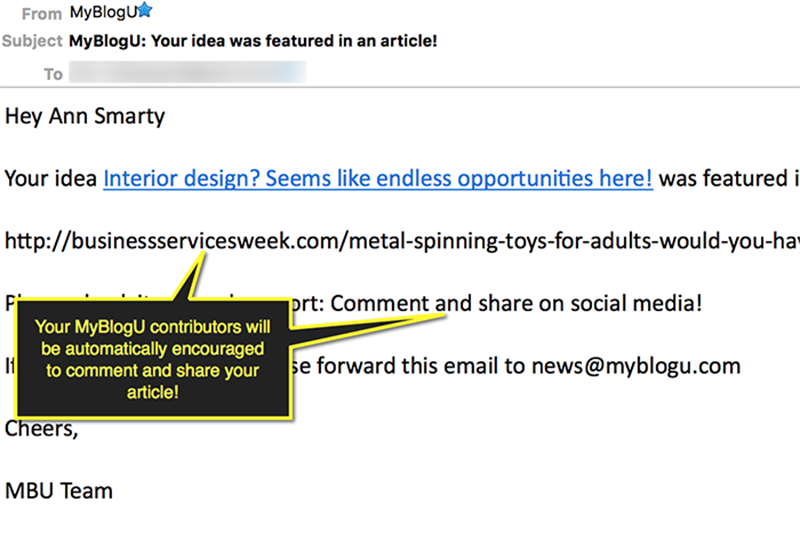 ---
2. Let Your Readers Tweet Influencers' Quotes
Use "Tweet this quote" trick to let your readers share any contributed blurb on Twitter while tagging the author.
This way, your contributors will be reminded of the piece with each tweet and they will certainly appreciate the exposure too!
---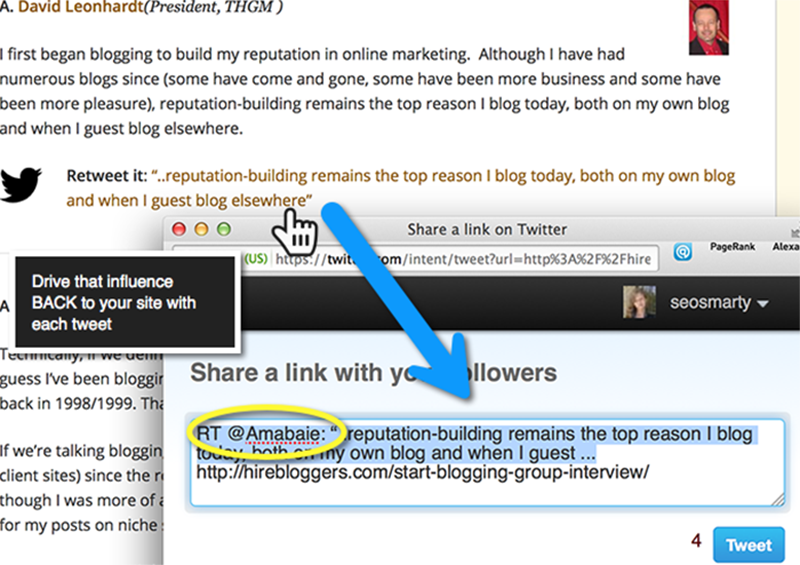 ---
3. Turn Influencers' Quotes into Visuals to Market More!
Visualize your contributors' quotes and market them on social media, one by one, tagging each author on Twitter, Facebook, and Linkedin.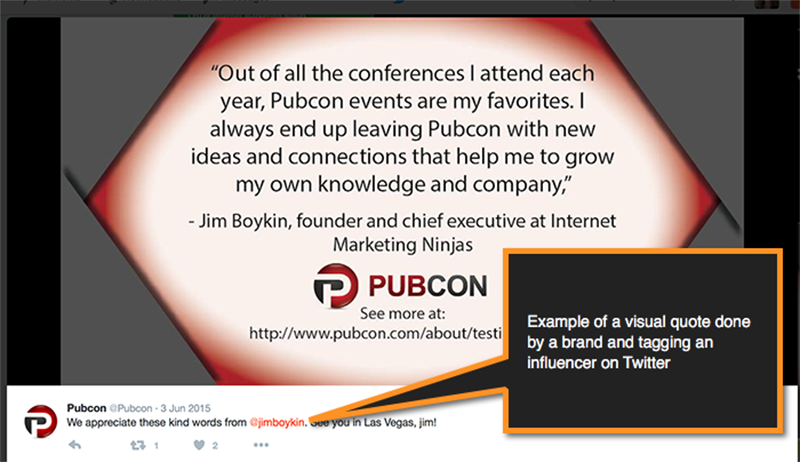 ---
Note: Tagging a name means that each of your influencers will be notified that their name was mentioned on social media. Tagging dramatically increases meaningful engagement.
Keep in mind that you can schedule Tweets tagging other people (all you need is to use @ following by the Twitter username).
However you'll have to manually share each quote on Facebook and Linkedin because you need to select the influencer from the drop-down for them to be notified that they were mentioned:

---
Remember that each effort brings those influencers back to your content, encourages them to spread the word again and again building traffic and awareness.
What's more, that builds up their trust in you and turns them into friends and ambassadors.
Conclusion
When influencer marketing is applied to blog promotion, you can achieve both: a much more in-depth and varied content and much more shares and traffic.
It's a long process but it's well worth the effort in the long run!
What do you think? Have you used any of these tools? Know of any others that would help everyone reading? Let us know in the comments below!