How to Reach Your Target Market: A Step-by-Step Guide
The idea behind content marketing is to create great content and share it.
But you already knew that.
I bet you've even tried content promotion tactics that others have had so much success with.
Sometimes they work for you, but sometimes they don't.
There are a few possible reasons for this, but most likely, it's because you're not reaching the right people with your promotion.
Many of those tactics focus on one specific site, platform, or group to promote your content to. This is completely fine if you're in particular niches, but won't work at all in others.
Once you understand this, you can significantly improve the results you get with your content promotion. More traffic, shares, comments, subscribers, etc.
You can use the fundamental concepts behind the tactics you see bringing others success, but apply them to different marketing channels. Channels with the audiences that include the readers you're looking to attract to your content.
This can be challenging at first, which is where I come in.
I have one goal with this post, to help you answer: "Where should I try to reach my audience with my content."
A Small Twist. Learning From a Real Example
Not only am I going to lay out a general plan for researching where your target audience spends their time online, I'm going to show you how I did this for my latest side project—Name Geniuses.
All you need to know about it is that it's a service that allows new business owners to crowdsource their new domain name by getting suggestions from a bunch of different users, and paying what they want.
I'm going to explain both general principles, and how to apply them to specific examples (like mine).
Start with Channels and Work Backwards
The reason I believe so much content marketing fails is because it is approached from the wrong direction.
This is how most do it:
Create content, then figure out where to promote it.
Instead, you should:
Identify a channel with an audience you'd like to target, and then create content you know they'd love.
That's how I'll approach this guide. By focusing on how to research the main distribution channels at our disposal, and determining if enough of your audience is active on each channel.
Channel #1: SEO
Search engines are a great place to start, mainly because they are used by almost all audiences.
SEO always begins with keyword research, and these keywords will be useful while researching other channels.
So where do you start?
You can pick really broad keywords to get a list of related keywords.
But if you know your customer pretty well, you can probably think of a few dozen keyword phrases that would be at the top of their search list.
For Name Geniuses, the ideal customer knows he needs a great domain name, and knows he needs help. So start with a seed keyword like "how to name a business" and put it into the Keyword Planner.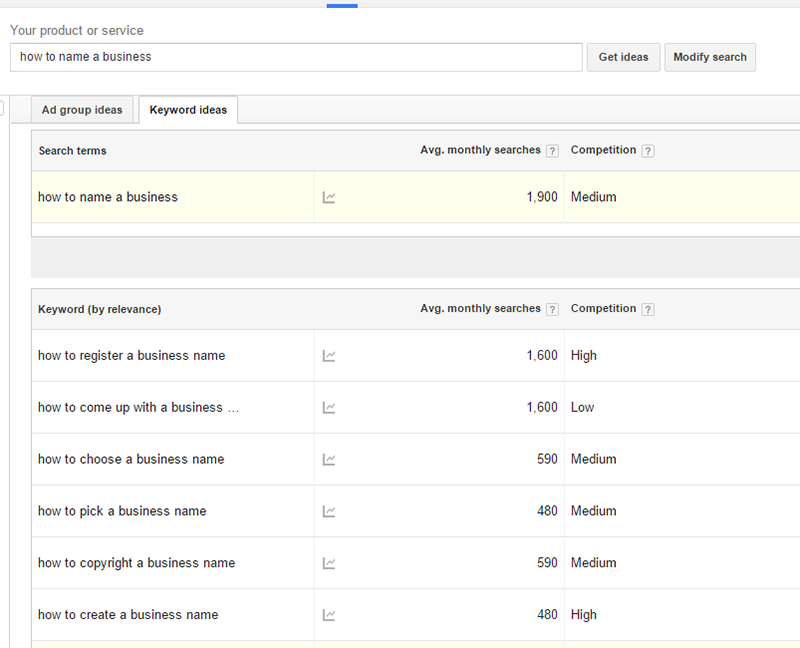 Export all those results into a spreadsheet, and keep adding any other keywords you get to that spreadsheet.
Remember that the goal here is to see what your audience uses search engines for (search terms), and how many do (search volume).
A common keyword research mistake
It is very common to focus in on keywords that are highly related to a product or service you offer.
While that's typically a good strategy for paid advertising, it's not for content marketing.
Your goal is to create content that your target audience will want to read.
Ideally, yes, it will also be highly related to your product.
So while I will create content to target keywords like "how to choose a business name," I know people starting businesses are looking for help with more than just choosing a business name.
For example, "how to start an online business" gets 4,400 searches per month and would be something that many of my potential customers might search.
Should you create content for these more loosely related terms?
That entirely depends on if you can work it into the niche you choose, but they're definitely options, and that's what you're looking for now.
A quick "hack" to borrow competitor's keywords
Sometimes, you won't know where to get your starting list of keywords.
Instead, it's much easier to Google "(niche) top blogs," and find a few that cover niches that are similar to the one you've chosen.
My little "hack" relies on the fact that most websites are built on WordPress. WordPress automatically creates an RSS feed of blogs.
For example, if I identified Smart Passive Income as a competitor, I could change the blog URL:
http://www.smartpassiveincome.com/blog/
To:
http://www.smartpassiveincome.com/blog/feed/
Which gets you the titles and descriptions for just about every post on the blog.
Next, you can go back to the Keyword Planner, and enter that URL into the landing page field.
This simply tells the tool to extract and try to find keywords from the page you entered. By using the RSS feed URL, you get more than just the last few posts.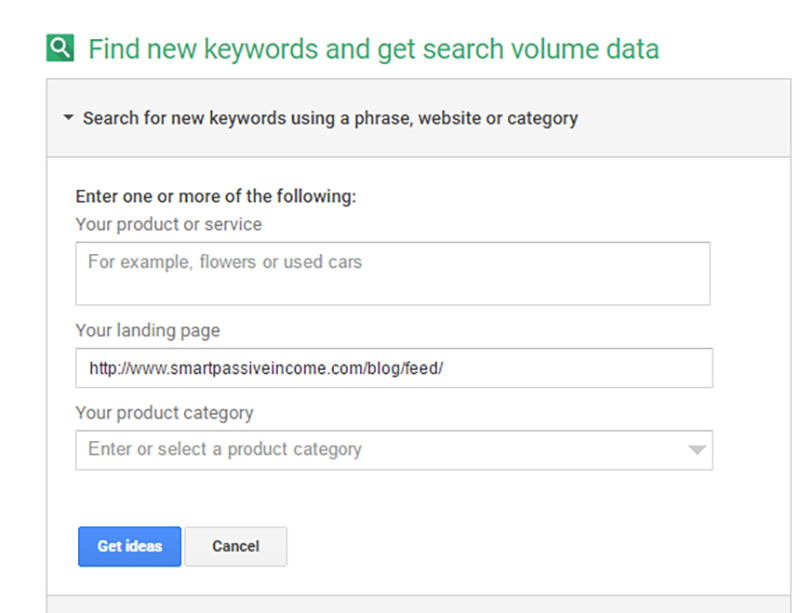 That should get you quite a few relevant search terms to add to your list, or you can re-enter the best ones into the tool to get even more.

A final warning: don't stop here
Assuming you're using the Keyword Planner and not an advanced keyword research tool, be aware that it doesn't show you all the best keywords that you want to know about.
Here's a good article summarizing how the Keyword Planner can trick you, and how to fill in the gaps.
There are also other great methods for finding keywords that are difficult to find with any tool.
Is SEO worth pursuing? SEO is almost always an option. However, there are 2 things that might deter you:
It takes a long time. For most sites, it can take months before you start to see any organic traffic
Search volume may be low. If you can only find a few keywords (rare but possible), and they all have low search volumes, your audience may just not use search engines often.
Channel #2: Other Blogs
If your niche has anything to do with learning or a hobby (or both), chances are there are many popular blogs out there already in your niche or related ones.
Many of the readers of those blogs may be part of your target audience. And if they are, you may be able to reach them in any one of a number of ways:
Guest posting – Danny Iny is famous for guest posting. By creating great content for other blogs (that already have your audience), you get your message in front of your target audience quickly.
Joint ventures – If you build a relationship with a blogger, you could create a series of content, or even a product together. Note that you'll have to do more of the work, since they're bringing the audience to the table.
Advertising – There are some cases where you can't organically get your name or content in front of these blog audiences. Advertising can be a possibility, even though it's a last resort in most cases.
That should illustrate the general concept of how other blogs can be a marketing channel for you.
It's something that was covered in great detail in Audience Business Masterclass, and I'm not going to even attempt to recreate all that information here.
Time to research other blogs
While there's no database of blogs sorted by traffic, researching popular blogs in your niche is pretty simple.
Google "top (broad niche) blogs," and you'll likely get several long lists of popular blogs. Go through as many as you can and enter these sites down in a new spreadsheet.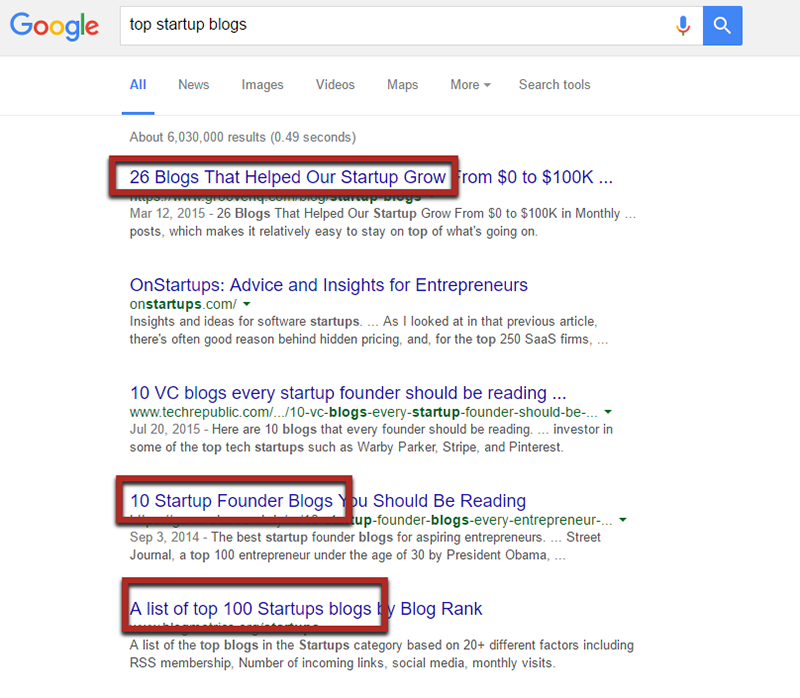 You can limit the search results to the past year or so in order to make sure that you only get currently popular blogs.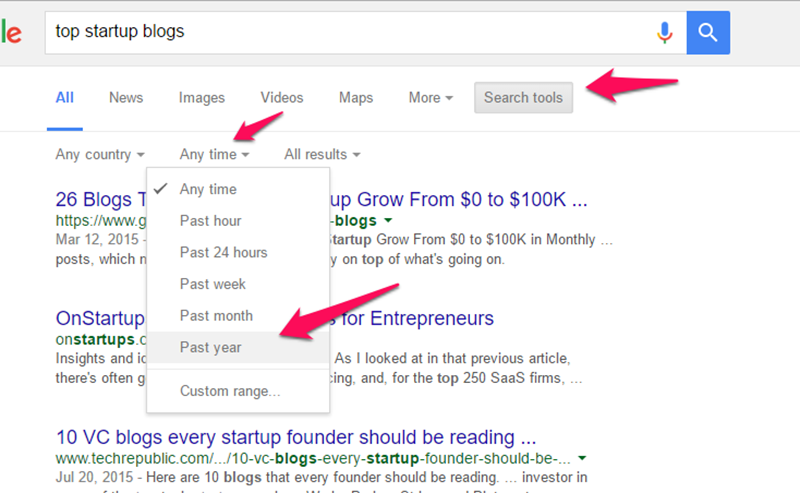 Now you want to start collecting information on the blogs you found. Things like:
Blog owner name.
Social media accounts.
Are comments allowed on posts?
Do they accept guest posts?
Do they use advertising or sponsored posts?
Have you signed up to their email list? (Hint: you should)
What does the traffic level look like? You can guess traffic by looking at the number of comments and shares. It's not perfect, but it gives you a rough estimate (record "low," "medium," or "high" in your spreadsheet).
If the traffic looks very low, the blog is probably not worth your time and should be removed from your list.
Other than that, the remaining sites may all be good to target. Ideally you'll end up with a list of at least 50. Even if you use the tactics in ABM, you're still going to get turned down quite often.
Are other blogs worth pursuing? If you can find a sufficiently long target list, other blogs can be a great way to get in touch with your target audience.
The one big advantage that it has over channels like SEO or social media is that you can get significant traffic from your work in just weeks if things go well.
However, some niches, let's say "building with concrete," will not have many popular blogs in it. For these, there are other channels that are much more popular and should be targeted instead.
Channel #3: Social Media
Social media is another one of those huge channels that most audiences use—especially younger ones.
However, that doesn't mean that they will interact with your content on social media. That depends on one thing:
Is your niche shareable?
In other words, is your audience comfortable showing others that they are interested in your content.
No one wants to share "how to cure dandruff," it's embarrassing.
If people won't share your content, it's going to be truly difficult to build an audience on any social media platform and get significant traffic back to your content.
How to quickly validate social media
My favorite tool for this is Buzzsumo.
Buzzsumo is a search engine for content, but it sorts it by the number of social shares the content has received.
Remember those keywords that you researched earlier? It's time to start entering them into the tool, one by one (create a free account first).
You're looking for 2 things:
Which networks are most popular?
Is there sufficient shareability?
The first one is pretty self explanatory. When you type in a term, you'll typically see that almost all the shares (80%+) come from one or two social networks.
For example, you can see that Facebook makes up most of the shares below: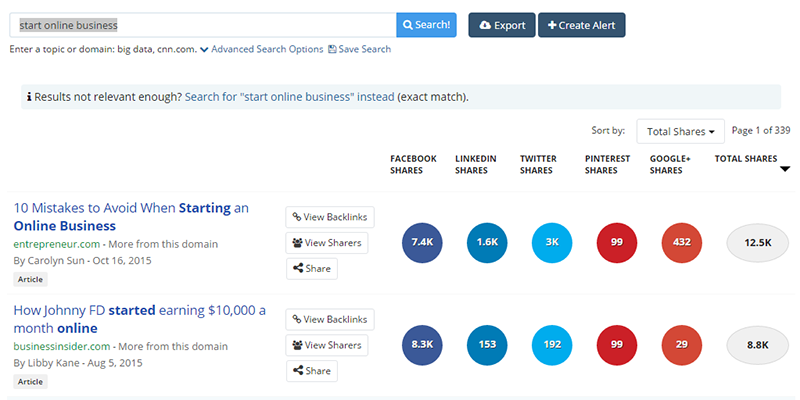 This can vary between search terms, but you'll see a pattern fairly quickly.
Now for the second question: Is there sufficient shareability?
The top content above had 12,500 and 8,800 shares respectively. However, you need to keep in mind that entrepreneur.com and businessinsider.com are massive sites. Just because they can get thousands of shares doesn't mean that you can.
That's another reason you want to keep trying out different keywords.
One of my keywords was "how to name a business," which produces different results: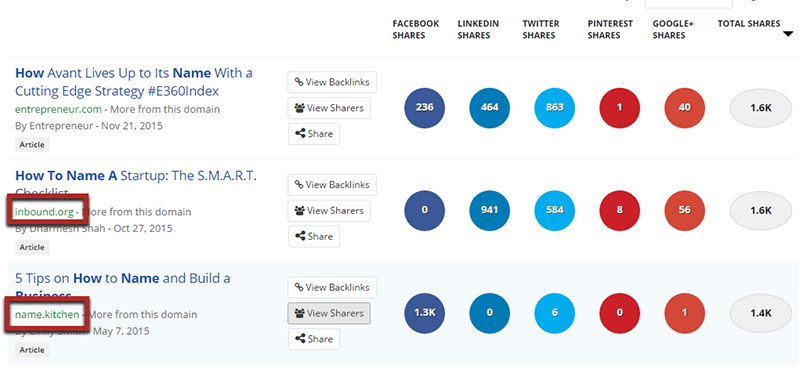 Although the total shares are much lower, you can see that 2 of the top results come from inbound.org (anyone can post there) and an unheard of site.
If you're seeing content from sites with low-medium sized audiences getting over 1,000 shares, that's a great sign.
Here's another example for "how to launch blog."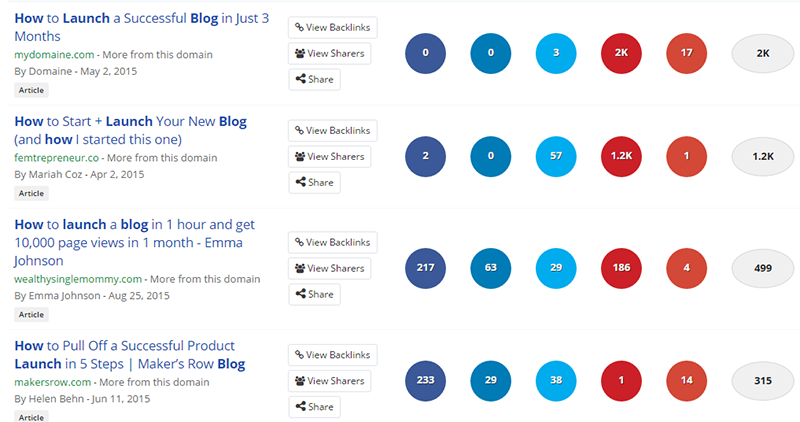 None of those sites have huge audiences, but still have a healthy number of shares (not amazing, but okay).
Is social media worth pursuing? Most social media sites these days are "pay-to-play." You'll need to invest a bit (a few hundred) in order to build up your following with any speed.
The more popular content in your niche is on social media, the more time and effort you should spend on it. For some niches, like fitness, it will likely be your main focus.
For my site, Name Geniuses, there is some potential on social media (low to medium levels of shareability), but that pales compared to other channels. That is why I will not be targeting social media, and why you might not want to either.
Channel #4: PPC (Pay Per Click Advertising)
PPC is a shortcut for businesses that have a solid content promotion budget to spend.
You pay a small amount (usually $0.01-$1.00 in my experience), depending on the platform, every time a user clicks on your ad and visits your content.
Like we've said, most audiences use search engines.
If you don't have the patience to start ranking in Google, you can simply buy a top position using Adwords.
Similarly, if you don't want to wait to build up a following on a social media site like Facebook, you can simply buy ads.
If you have the budget, where should you advertise?
Wherever your audience is. (The other channels we've identified).
The main risk of PPC
If you have no experience with paid advertising, you need to be really careful or you could end up throwing hundreds or thousands of dollar to waste.
In order to successfully use PPC, you need a well-defined sales funnel that is proven.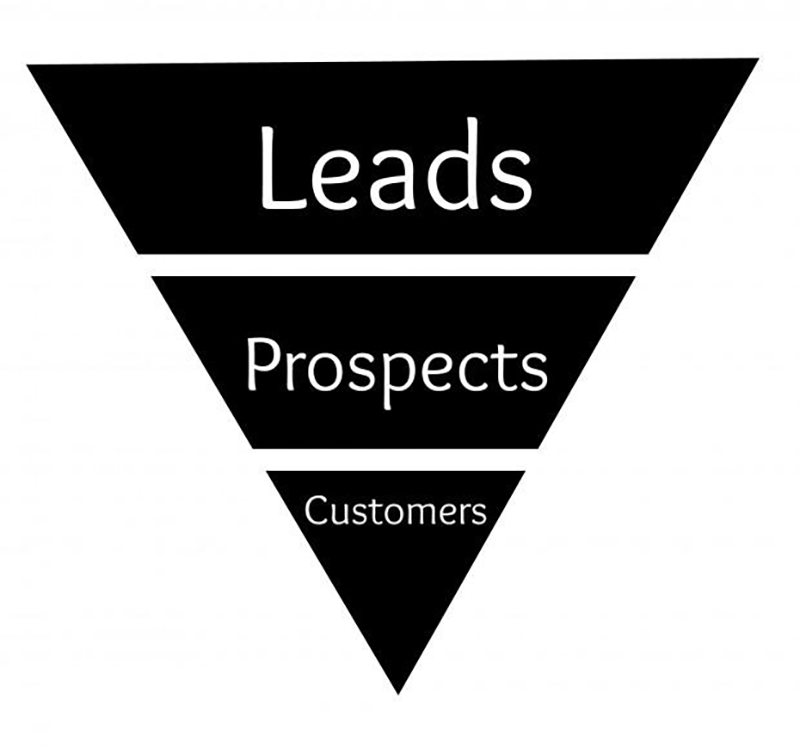 You need to know how much you can spend per view, and how much revenue each view brings you, or you're just guessing.
Here's are some resources to get you started:
Is PPC worth pursuing? If you have an established sales funnel already, have an advertising budget, and don't have time to build organic traffic, PPC is a good option.
Unless you fulfill all 3 of those conditions, I would not recommend PPC as a content promotion channel, even though you will be able to reach your audience (but unlikely profitably).
Channel #5: Forums and Related Sites.
I'm describing a fairly broad collection of sites here, encompassing platforms like:
Traditional forums
Reddit and other aggregator sites
Quora and other Q&A sites
Let me go over the most important ways to research these various platforms.
Traditional forums are simple
Again, we rely on Google. Search for "(niche) + forum," and take a look at the top few results.
What you're looking for is at least one forum that is active. It should have at least a few dozen posts per day, but even that's far from ideal.
In my case, I looked for "startup forums."
What I found was one very low-activity forum, meaning that traditional forums aren't going to cut it for the audience that I want to target.

However, if I wanted to target more general "how to make money online" audience, there would be a few options.
Here's Warrior Forum, a very active forum for users trying to make money online.

You can usually scroll to the bottom of any forum and find a similar activity panel.
Everyone uses Reddit
Reddit is essentially a ton of different forums all in one, but it's also an aggregator, which is why I included it by itself.
Consider each "subreddit" a forum of its own.
You can use the subreddit search feature to find one relevant to your blog. Just enter a general niche keyword.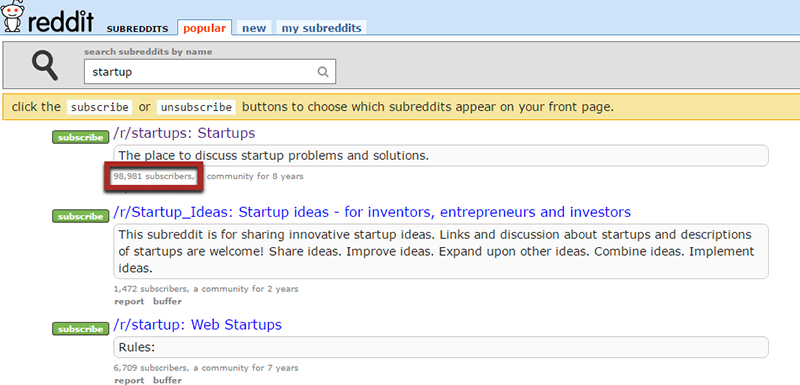 Pay attention to the number of subscribers to each subreddit.
If a subreddit only has a few thousand subscribers, it won't be a good place to reach your audience. You have to remember that only a small percentage of those subscribers are highly active.
Here's a good introductory guide to using Reddit as a marketer.
Do people have questions about your niche?
You could consider most popular Q&A sites, like Quora, almost as social media sites.
They take a long time of consistent high quality answers before you generate a steady stream of traffic.
However, if there are lots of your audience members using them, it's worth it.
Start by typing in as specific of a niche as you can in the search bar. A list of suggestions will come up: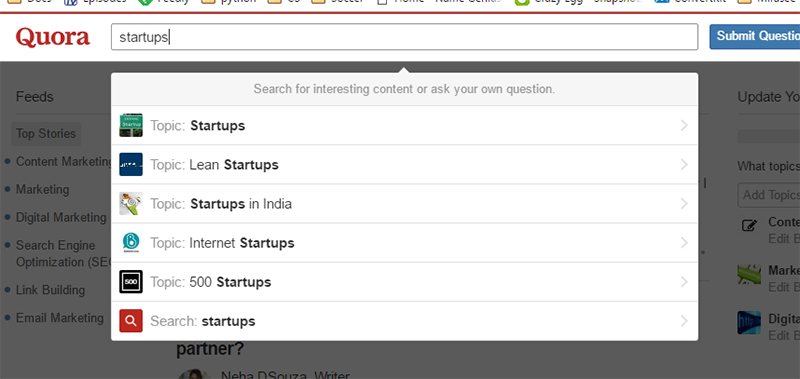 If you find an appropriate one, click it and look at its statistics: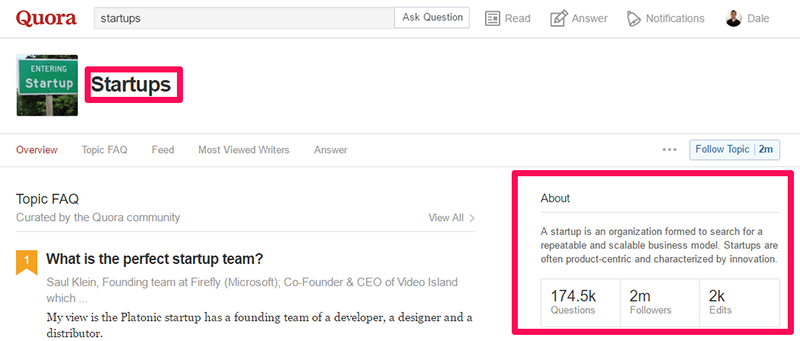 The startups topic, the one that I'd be targeting, has 2 million followers, which is very popular.
As long as there are at least 50,000 followers for a topic (remember that not all will be active), there should be a steady stream of questions to answer, and it's a channel that you could target.
If interested, here's a great guide to using Quora for marketing.
Are forums and related sites worth pursuing? Realize that this channel grouping is not scalable at all. You can't really outsource the work, and there are limits to how much traffic they can generate.
That being said, if you can find a few popular forums or sites of this type that have your audience, they are well worth it if your site is relatively new.
They will help you build up your initial audience, and you can slowly take away your focus and effort from them as you grow, and focus towards more scalable channels.
Where Can You Reach Your Target Market?
There are many marketing channels, beyond the 5 that I've listed here.
I chose the 5 that are going to be starting points for 90%+ of businesses. But if you know that your audience uses other sites (or even meets up offline), don't be afraid to connect with them and show them your content.
The final piece of advice I have for you is:
Pick 1-2 channels (the most promising ones) and put all your effort into them. You will get more results from that than giving half your attention to 3+ channels.
At this point, I'm curious if you know where your audience spends their time, and what challenges you're facing in getting them to visit your content. I'd love to discuss it with you in the comments below, just provide as much detail as you can.