On Ferraris in Singapore and How To Get More Subscribers
For many people, owning a Ferrari is a dream.
However, if you lived in Singapore, certain restrictions make owning a Ferrari a horrible luxury.
For instance:
The national speed limit is only 90 kph.

There are few straight roads.

Worst of all, it's expensive. Owning a Ferrari is 4 times more expensive in Singapore than in the US or UK.
From a logical standpoint, who on earth would want one?
The funny thing is, despite all these facts, according to the book, Oversubscribed, Singapore sells more Ferraris per person than any other country in the world.
But why?
And what does this have to do with getting more subscribers? I'll get to that in a second.
Meanwhile, here's….
The Simple Truth About Logic
Here's the deal.
When it comes to decision making, most people follow this rather than a logical route.
Click To Tweet
When it comes to decision making, in many instances, humans will follow the emotional route, rather than the logical path.
Emotions such as desire and impulse are more persuasive than logic such as facts and truths.
This is why it doesn't matter how expensive or inefficient a Ferrari is. If people want one, they'll get one.
And that's key to getting people to sign up for your mailing list.
If you give people what they desire emotionally, getting them to do something becomes a much simpler task.
On the other hand, if you give people what they need, they'll become indifferent.
Ultimately, logic is a need and want is an emotion.
Which brings us to the first step to getting more subscribers….
Step #1: The Offer – Prepare An Amazing Giveaway.
Singlehandedly, the offer is your most important thing. I'm not kidding. Forget tactics like the type of plugin or which a/b testing platform you want to use. All of this is useless if you don't have something good to offer your prospects.
But what's a good offer?
Simply, a good offer is one that focuses on what people want, and NOT on what people need. If you wish to create a good signup offer, produce something people desire.
The Problem With Many Email Sign-up Forms
Would you sign up to for this?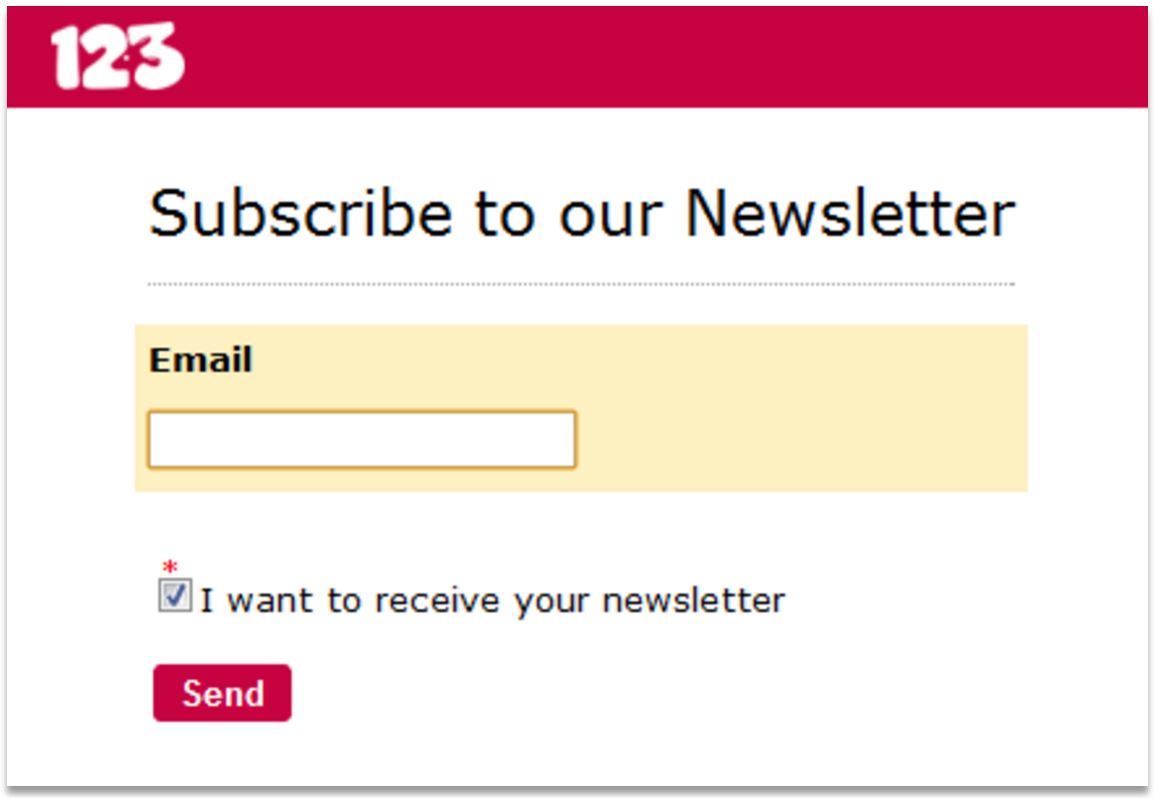 Be honest.
No.
It doesn't give readers a compelling reason to subscribe. There's nothing here that makes you think, "Wow, I better subscribe now, or else I'm going to miss out."
Instead, what you want to do is give people an incentive to sign up. Humans are reward seekers and rarely do we say no to free things.
That's why giving your readers something for free in exchange for their email address is a better method to get them to subscribe, rather than asking them to opt-in for nothing.
3 Examples of Offers that Give People What They Want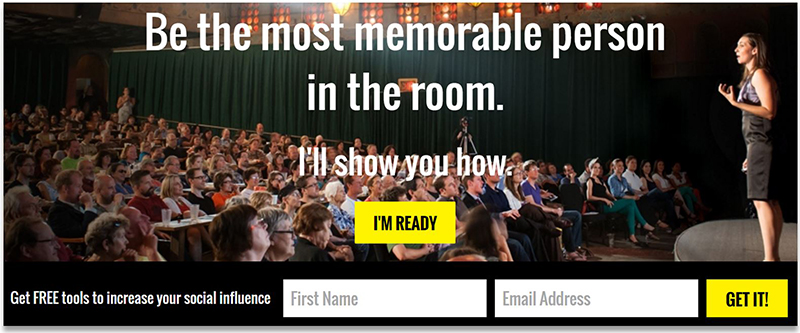 Does anyone really want their personality to fade into the background, believing they don't have any special qualities?
No, of course not.
That's why this offer from Science of People is perfect because it speaks to the end desire.
That people wish to be memorable.
And the outcome?
Readers will want to download it.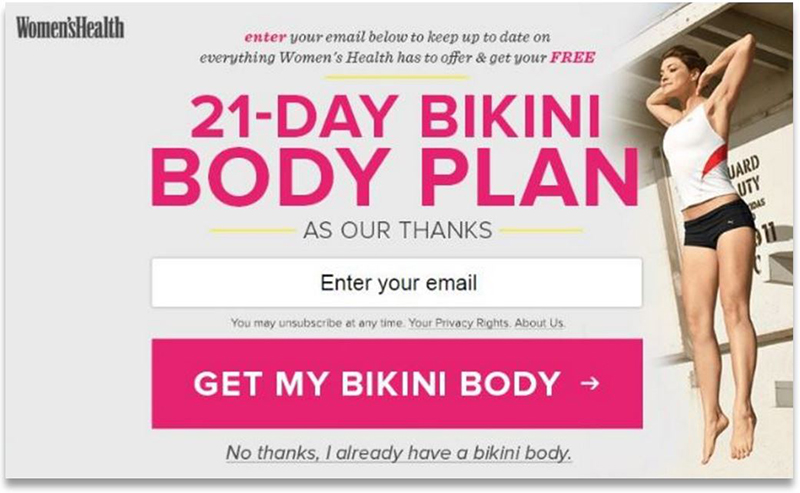 On the website, Women's Health, who wouldn't want this offer? In fact, how can their readers resist not downloading the secrets to a Bikini body?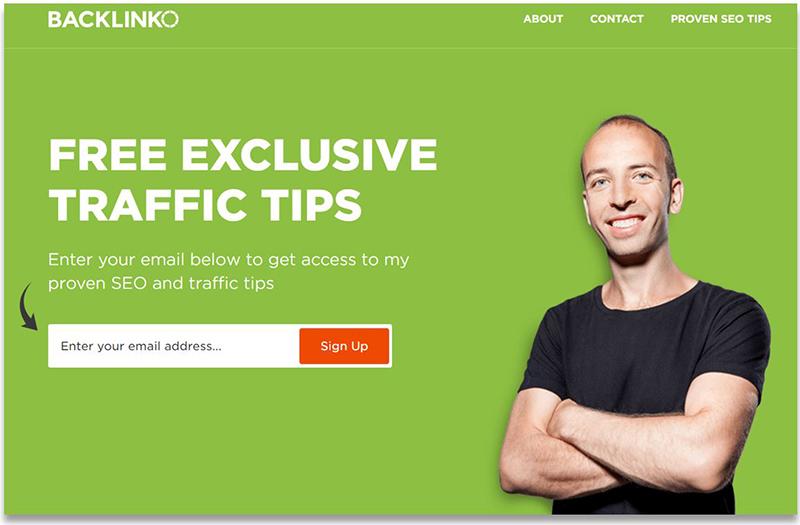 Brian Dean from Backlinko understands his audience of SEO practitioners don't want to learn how to understand their target market or industry.
Instead, he knows what they really want is to learn how to acquire more traffic to their websites.
So what does Brian create?
A traffic boosting guide that caters to his reader's desires.
Quick Tip
Having a hard time coming up with an opt-in offer? Try this tip:
Click To Tweet
If you're finding it hard coming up with an offer that people want, and you want helpful ideas, then try a "how to" Google search.
You'll find that Google keeps a huge database of all the queries people are searching for, such as:



In fact, the best part is that Google tells you exactly what people want, so before you pump time and money into creating a giveaway, you can validate whether your readers want it in the first place.
Step #2: Grab Your Reader's Attention With a Powerful Headline
If you can't grab attention, then your offer is dead in the water.
And that means zero chance your email list will grow.
So how can you generate attention?
Easy.
Use what's historically worked and don't reinvent the wheel.
For example, copywriting is not new.
The art of creating a headline has been around for centuries.
So why spend hours crafting new headlines when you can leverage the same formulas top copywriters have used to gain their results.
"Good artists copy, but great artists steal," Pablo Picasso once said.
Here Are 2 Tried and Trusted Copywriting Formulas
Problem-Solution Headline

– This classic headline states a pain your users are experiencing, then offers an immediate solution to resolve that pain.
For example, check out this headline from Jennifer Fugo from Gluten Free School.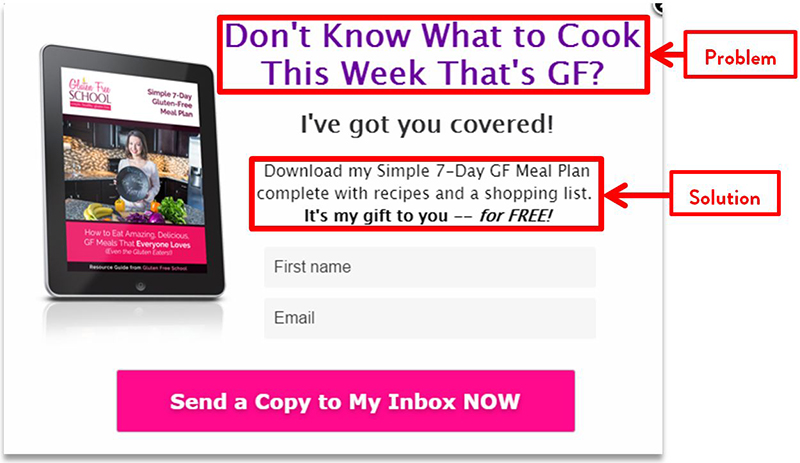 By leading with her audience's pain in her headline, then offering immediate relief in the form of a download, she gives her readers a compelling reason to subscribe.
Now it's your turn.
Use the formulas below to construct your headline.
Get Rid of [Pain] Once and For All
Get rid of stomach cramps when you eat once and for all
Get rid of your tennis elbow once and for all
Get rid of those flabby arms once and for all
[Do Something Difficult] in [Specific Time]
Learn how to correctly shoot with your weak foot in under 60 minutes
Bench press your own weight in 4 weeks
Overcome the [Unexpected Culprit] That Keeps You [Unpleasant Thing]
Fix the debt that keeps you broke
Overcome the anxiety that keeps you nervous when speaking
2. Benefit-Driven HEADLINE – The quickest and easiest way of grabbing attention in your headline is using a benefit your audience desires.
Notice this example, from Summer Tomato, is packed with benefits about looking and feeling great:

Clearly, they have done their market research because if I did a simple Google search, I can see people are already looking for ideas on how to look great and love their body.

And guess what?
She's baked these insights into her opt-in form, creating a perfect attention grabbing headline.
Now if you think the benefit driven formula works for you, start constructing your headline below.
Who Else Wants [Most Desirable Benefit of Your Giveaway?]
Who else wants to serve aces like Roger Federer?
Who else wants grade A results to make their parents proud?
Who else wants to reach personal fulfillment?
[The Benefit of your Giveaway] + [Time Period]
Cook delicious spaghetti in just 5 minutes
Setup an email signup form on your homepage by tonight
Get rid of belly fat in under 6 weeks
How to [Do Desirable Thing] Even If You're [Common Trait of Reader]
How to master group conversations even if you're shy
How to go from blank page to compelling post even if you're not a born writer
How to eliminate your debt even if you have no idea where to start
Note: don't promise something you can't give. Big claims are helpful, but only if you can deliver.
Step #3: Resolve Your Audience's Objections to Downloading Your Offer
Finally, bringing everything together, you've now created:
An offer people want to download

A headline that captures people's interest and brings them to the attention of your giveaway.
Now, it's your job to walk your readers all the way to downloading it.
It's time to convey the benefits of your giveaway.
The question is, what techniques can you leverage to get people chomping at the bit to know what your offer is so they happily give you their email address?
The Psychology of Bullet Points
Before the internet existed, master copywriters, like the late Eugene Schwartz, used a simple technique to generate intrigue.
A simple technique used by master copywriters to generate intrigue:
Click To Tweet
It's called the fascination bullets.
In a nutshell, the purpose of these bullets points is to generate curiosity and then tease about something, without giving away what you're talking about.
You see, when you hint at a benefit, but then not give away the details; it encourages your readers to think, "I want to know so tell me more," so they proceed to download your offer.
In this example, copywriter Gary Bencivenga used this powerful tactic to market his information product: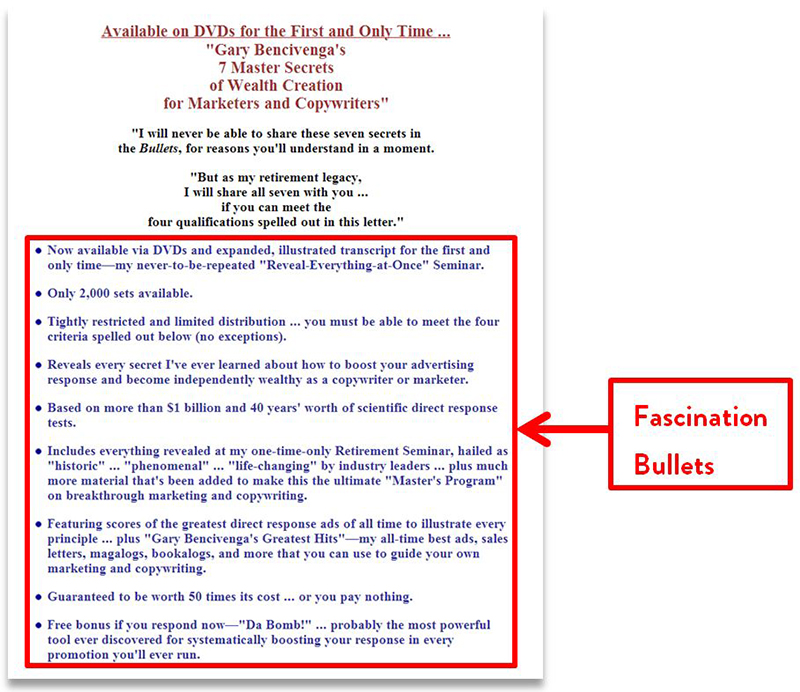 Notice, when you read each bullet, it emotionally reels you in so that you can't help but want to find out.
Here's a more current version, brought to us by Derek Halpern from Social Triggers: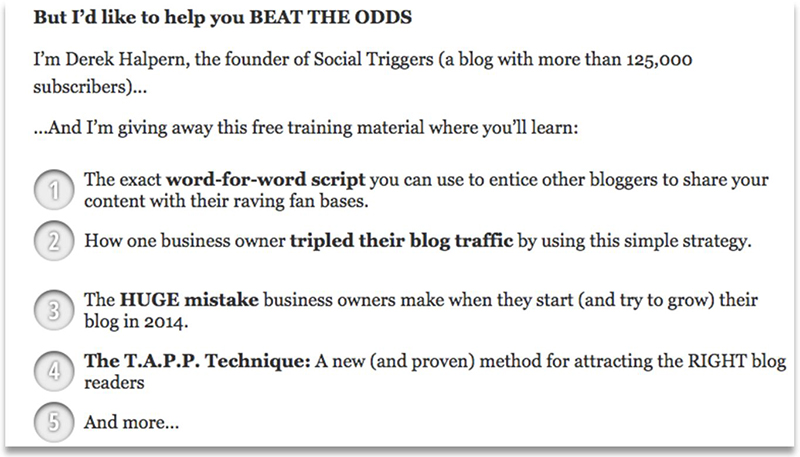 How to Create Fascination
The easiest and most effective way to create fascination is to get your readers curious by revealing the benefits of what you're talking about—without giving away the actual thing.
The following formulas can help you do this:
Would you like to learn about

[significant thing]

that helps you get

[desirable result?]

Ever wondered how you can get

[desirable result]

with

[significant thing?]

Why you shouldn't

[common wisdom]

, if you want

[desirable result]
For example, a fascination bullet for a physiotherapist could be:
Would you like to learn about [a simple exercise] which quickly [cures chronic ankle pains so you can be injury free?]
That's a fascination trigger at work.
If I carry a chronic injury, already I'm hooked. "What is this rehab exercise you speak of? I must keep reading!"
Let's try the formula with a health coach.
Ever wondered how you can get [a flat stomach] [without exercising?]
Below are some more examples.
Notice the author dangles some carrots without giving away any of the details: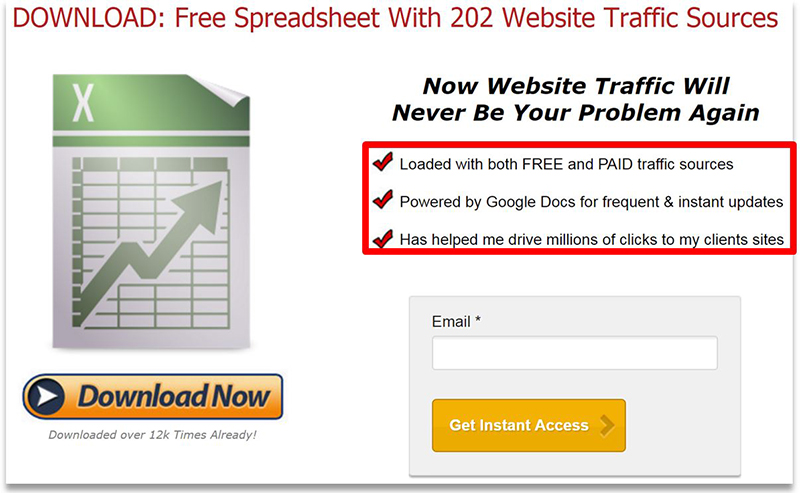 In the following example, Matthew Hussey's copy doesn't contain bullets, but the fascination is still there.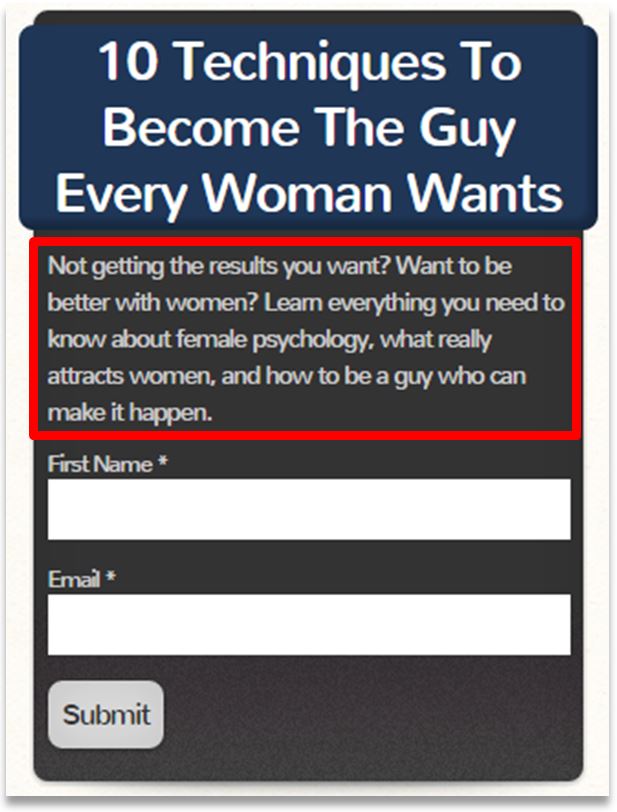 One paragraph is good enough to generate curiosity in the same way bullets do.
Quick Tip
When you make a claim, don't hold back. Your bullets have to be bold and dramatic. Though of course, you don't want to be promising the world on things you can't give, you also need to make a big promise to compel your readers to take action.
Final Thoughts
Now you have a better way to convert your readers into subscribers. Increasing your sign-up rate can only help you reach your marketing goals.
With this simple 3-step solution at your fingertips, you can start growing your email list faster.
What niche are you in and what type of giveaway could you offer your visitors?
10 Email Newsletter Ideas
Use these proven newsletter ideas to jumpstart your writing!