Get New Customers and Make More Sales by Fixing the Single Biggest Mistake That You're Making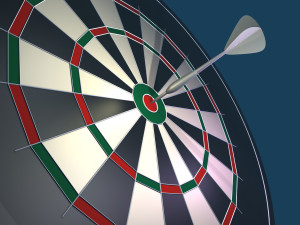 If there was just ONE piece of advice I wish I'd received when starting my business it would have been this:
"Natalie make sure you define your niche and identify your ideal customer BEFORE you start creating products and services".
Oh how lovely life and business would have been back then if I'd had absolute clarity on who I was serving and exactly what my ideal customer desired. Maybe then I would have known exactly what their challenges were and then gone about creating a solution to fix them.
But instead, I went blindly where everyone has been before – to no-niche-ville. Like so many entrepreneurs I speak to, I wanted to make sure I targeted everybody and anybody so as not to miss out on or exclude any potential customers.
Well I don't want you to make the same mistake any longer so in the next 5 minutes of reading this article I will:
Show you my real life example of how I went from disaster to niche-tastic
Give you an overview of how to define your own niche and define your ideal customer as you read my example
Put this knowledge into action by answering a real life question from my community
From Disaster to Niche-Tastic: How I Discovered My True Niche
 When I first started my blog WomanzWorld back in late 2009 I was dead set on targeting ALL women entrepreneurs around the world.
As a result of this ridiculously broad niche I ended up targeting nobody in particular and I wasted precious time confusing people who visited my blog.
I mean check out my tagline and Unique Selling Proposition below!

While it's not 'bad' it's not specific at all. My laser like target was to help them 'grow their business'. Whipdee-do.
What did that actually mean? How would I help them specifically? How could they identify themselves within this vast sea of everyone I was speaking to?
Most of them came to my site and thought it was inspiring and motivating but really had no idea what I did or what I offered.
Most of them asked themselves 'Am I Your Customer, Natalie?'
And because I was so unclear and undefined in what my exact niche was and who my ideal customer was, I ended up not answering their question and losing them to other people who made it downright obvious WHY they did what they did, WHO they did it for and WHAT they did.
Strike forward a few years and I've finally followed that wise advice from others who'd figured this out and clearly defined my niche and my ideal customers.
I distilled all that knowledge and the step-by-step process for finding your niche, attracting your ideal client and charging what you're worth into my new book Am I Your Customer?
Why did I write this book? Because this is still the number one question I get from my community and the biggest mistake I see people making time and time again.
Top Tip: You probably recognized that I took my own advice and created a product offering that fitted the exact needs of my target market at the same time!
How to Transform Your Business by Asking and Listening:
I didn't just write an eBook about something I wanted to or thought was interesting. Instead I followed this process I suggest you do too:
Undertook thorough research by way of quarterly surveys of my community where I asked them what their biggest challenges were and what they needed help with
 Listened to what my community had to say on the blog, in person, via email, on webinars and in the results of my survey
Curated all of this insight and looked for themes and patterns on which I could create products or services that would fill that need
Undertook in-depth avatar interviews (following the Ideal Customer Avatar template in my book) and got deep into the psyche of my ideal customers wants, needs and desires to make sure my curated results were indeed true and correct
Prioritized which of these areas identified I could make the most impact in the shortest timeframe, based on my existing knowledge, talents and skillset.
As a Result of This, Here's What Happened In a Matter of Months:
This instantly allowed people to understand 'more' about what I did and get a sense of my business and what I stood for.
People -without me telling them what I did – would conjure up thoughts such as 'lifestyle business', 'mobile business', 'A business you can take on your travels'.
And they were all correct. That's exactly what I help people do – build an online business they love from anywhere and create their ideal lifestyle.
2. Created a new tagline
My new tagline 'Create freedom in business and adventure in life' clearly explained what my 'Why' was and immediately intrigued people who wanted one or both of those things.
It also deterred people who didn't feel they fitted into that description (but why on earth would you not want more freedom..). This was a good thing as I wanted to go narrow in my niche and target those who ultimately wanted to build location independent businesses.
3. Knew who my ideal customers were
Thanks to this research and a shift in my entire brand plus my new found understanding of my clients, I started to attract more of the 'right' people into my community as customers and coaching clients.
As Peter pointed out in a great article here on Mirasee about Customer Profiles:
"You really don't want to be lots of things to lots of people. You want to be something inspiration to the RIGHT person – the one person. And if you inspire that ONE person and enough numbers of that ONE person, then you will dominate that niche."
That's exactly what I did with one caveat: As a result of conducting my avatar interviews though I found I had two ideal avatar profiles.
There are two types of people who were visiting my site – those just starting out in business or with a side hustle, and those more established entrepreneurs who were looking to take their business more mobile (even if that just meant running it from home or a local café).
So I make sure that EVERY single thing I do – blog posts I write, podcast episodes, videos, webinars, social media posts, I speak to one of these two people if not both, through beginner and advanced tactics, strategies and tips.
4. Developed offerings for my ideal customers
Thanks to following steps 1-3 above I continued to get crystal clear on exactly who would benefit from working with me, and what they most needed that I could provide (by the way it's still a work in progress and always will be as your business morphs and changes).
As a result I produced four new eBooks and one new program this year, as well as wrote my No #1 Bestselling book The Suitcase Entrepreneur, which is a culmination of everything I've learned in life and business in the last 3 years.
All of this has helped me develop a thriving and growing community who care about the work I do and see themselves as a fellow Suitcase Entrepreneur or lifestyle business lover.
You'll find this will happen to you too when you put this into practice. Your natural followers and fans will come out of the woodwork to share the journey with you and grow along side you and thatss a damn good feeling.
5. Created a Painted Picture
Earlier this year I took this a step further and clearly stated the vision I had for my life and business for the next 3 years by publicly stating them in my Painted Picture on Slideshare (which has close to 12,000 views to date and inspired many to do this for themselves).
Let me tell you that big things happen when you get clear on your vision, your niche and exactly who you're serving.
Real Life Niche Question
Taking all of this into account I'd like to now present you with the types of emails I get daily, much like those Danny gets and answers to thoroughly in his emails.
As you can see these questions are invaluable from the viewpoint that you get daily interactions and insights into what your community is challenged with and how you can help them.
---
Hi Natalie!
Your work as a business woman and nomad has completely inspired me and given me all the confidence to kickstart my freelance life and travel the world.
I'm working on narrowing down my target audience (I'm a web designer + developer), and I'd really like to start a niche web design practice targeted at restaurant owners, health coaches, and other food industry businesses.
I'm scared to pursue this though, because I've never made a website for these kinds of clients before, and I'm also nervous that doing only food-related websites would be TOO niche. I mean, how many people Google "restaurant web design"??? Don't people usually just search for web designers in their area/city? What do you think?
I would love to hear your thoughts. Please never stop being a butt-kicking rockstar.
Thanks so much!
Annie
---
Here's my response:
Hey Annie
I love that you're wanting to niche right down as it will allow you to focus big time on just that audience.
You mention in your email that you want to target restaurant owners, health coaches, and other food industry businesses. Already that's quite the diverse audience so I suggest you start by picking one.
In my opinion I would start wit the first one and go with that for now. Let me tell you I bet many more people search `who is a restaurant web designer' than you think. Searching on those terms on Google throws up around 317,000,000 results.
Of which the second one is a guy who specializes in exactly that: The premier Restaurant Website Design Solution.
Imagine being second in the Google search results for people who want exactly what you offer?
And by the way 'only' is a hilarious term when used here for your target market if you were to consider how many restaurants there are in the world.
If you can make a name for yourself in just one town, or for a certain kind of restaurant you'd likely have huge word of mouth and online referrals, if you're prepared to do great work and get them results
You'll become known as the go-to restaurant website design person in no time!
So I suggest you do the following:
Pick a narrow niche as is possible based on what offering you want to provide – for example Mexican and Italian restaurants in Texas!
Go and talk to a few restaurant owners about their challenges when it came to having their website designed and what solutions they would have wanted to see (using the Customer Avatar template in Am I Your Customer you will also understand who they trust, sources of info they use, social media sites they hang out on and more)
Distill this insight and knowledge into the best web design service package you can that you're capable of delivering on and fits their needs
Use the results of your avatar interview to set yourself up and establish your expertise on those key social media sites so you can attract your ideal customer
Use your own website and blog to showcase work you're doing for clients (as you start working with them) and the results they are getting with your new website design.
This just the beginning to establish the right foundations in owning your niche. But it's a great start.
From there you can extend beyond the local area you're targeting and type of restaurant and branch out into cafes or bars or a wider area. But only once you've established what your niche needs and who you want to work with.
Putting it All Together
While we are just scratching the surface here, I hope you have been given enough food for thought on why identifying your niche and targeting your ideal customer is so critical to your business success.
As Fiona mentioned in her article here on Finding Your Niche – Is Tarot + Marketing a Viable Niche?
"Being successful in cyberspace demands that you laser focus your niche and then some… Pick a niche, but make sure it's a big one."
As you've learned from this post you certainly can pick a big niche, but then you better make sure you narrow right down into it, and attract that ONE true audience you want to speak to, work with and make an impact on.
When you do you'll find everything you do will just come more naturally and your business will explode in ways you'd never imagined.