Go Viral: 6 Strategies for Viral Exposure and Growth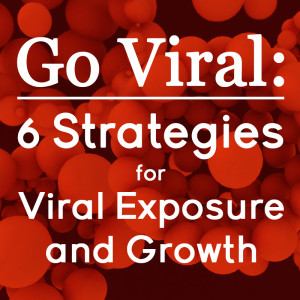 The holy grail of marketing is to create a viral marketing campaign that brings exponential exposure to your site or blog – but how do we do it? How do we go viral?
The theory of how to create one is pretty straight-forward, with four required ingredients to creating virality: you've got to create epic content, reach a critical mass of initial exposure, ask people to share your content, and make it easy for them to reach a lot of people.
(If you haven't read my viral content formula post on ThinkTraffic, then click through and read it – in the post I analyze two viral campaigns, and extrapolate a full-blown formula that you can apply to create virality for your site or product.)
But this post isn't about theory – it's about practice. You want to know what specific campaigns you can implement, and how to do it.
That's what you can expect in this post: five viral marketing strategies that are specific, actionable, and implementable, without being cookie-cutter or too generic to apply.
Let's start with the first idea…
Viral Marketing Campaign Idea #1: Viral Content Contest
This is a contest in which people have to share and comment on a series of posts in order to be eligible to win a prize. We did this when we  officially "launched" Mirasee with our FIRE-PROOF Selling Series, but we can't take credit – we got the idea from Peter Shallard. Here's how you do it:
Pick a topic that is in high demand by your readership, and that you have a lot to say about.
Write a series (3-10) of super-high-quality posts about that subject, with a question for the readers at the end.
Find an easy way for people to share – ideally, you can have them tweet about you, and include your #hashtag. This is important, and was a key lesson learned from our launch series.
Pick some truly awesome prizes that your readers would walk through fire to win.
Write an introductory post explaining the contest and the prizes.
Launch the contest; announce it on your blog, and reach out to your networks to ask them to help spread the word.
Thank your network for all of their help.
Viral Marketing Campaign Idea #2: Community Survey
Basically, the idea behind this marketing campaign plan  is to create a survey about what's happening in your niche, partner with an authority in your industry to host it, and reach out to other bloggers to help promote it, in exchange for access to the results. For a good example of what this might look like, check out Ingrid Abboud's Guide for Blog Post Schedules.
This is a great idea for which we can't take credit; it's the brainchild of Corbett Barr, the genius behind ThinkTraffic. Done properly, this can result in great branding for you, and tons of links to your site and the survey, after which you will have some great content that you can even use as an anchor along with a Pay With A Tweet Giveaway (see the next viral campaign idea).
We won't spill the beans on how to do it here, but he describes this idea in painstaking detail in his "B-List Breakthrough", which you can get as part of his free Traffic Toolbox (not an affiliate link, just an endorsement of awesome content). Go get it!
Viral Marketing Campaign Idea #3: Ask New Subscribers to Share
If you're running a site or blog, then you've probably got an option for people to subscribe for updates (and if you don't, go set one up right now!).
An area of neglected opportunity for most sites is the "thank you" page after visitors have subscribed. Generally, this page will feature a message of thanks and a link to download any special bonuses you had promised them in exchange for signing up.
Consider this example, which is the last line from the confirmation email that I received after signing up for the notification list of Gini Dietrich's Spin Sucks Pro:
In the meantime, you've been given a unique user ID link to share with your network on Twitter, Facebook, or via email: [TAGGED URL HERE]. You'll receive a $10 credit for every twenty of your friends that sign up by clicking on the link you provide them.
This is brilliantly done, and can serve as a multiplier of whatever sign-ups you are already receiving. This idea takes a bit more work to implement, but it's completely worth it:
If you don't already have a subscription option, then set one up using a service like AWeber, and create a free bonus that you can give people in exchange for their email address. This can't just be any old thing that you've thrown together – invest the time in creating something that people will actually want.
Think about what action you would like people to take once they have signed up to help you spread the word. Try to settle on just one action that you want them to take.
Choose an incentive that you can offer people to do it. It can be in the form of another bonus, or a credit towards your program, as in Gini's case with Spin Sucks Pro, but it can also just be in the form of goodwill ("if you share this with a friend, they'll appreciate it, and so will I").
Think about how you will track whether this is working – it can be as complex as an affiliate offer like Gini's, or as simple as having a bit.ly link so that you can track the number of clicks that you get relative to sign-ups.
Add your message to the subscription "thank you" page, and integrate whatever sharing or tracking technologies you need and have chosen.
Viral Marketing Campaign Idea #4: Pay with a Tweet Giveaway
The idea here is to create a "free" giveaway to compliment a really good piece of anchor content, that users can get by paying with a tweet. We did this with our Why Guru Strategies for Blog Growth DON'T WORK… and What Does! – there was a summary handout that readers could get by paying with a tweet. Here's how to do it:
Pick a topic that is in high demand by your readership.
Write a truly awesome post about it – think about what you would put in a manifesto or e-book, and turn it into a mammoth blog post instead.
Create a shortened URL to the post with bit.ly or another service. Don't leave it as a jumble of letters and numbers – change it to something memorable, like

bit.ly/GrowBigSteps

.
Create a complimentary bonus that goes with the post, and make sure that the bonus includes a reference to the shortened URL that you just created. The bonus can be a PDF handout or worksheet, an e-book, a video, audio, etc. – just make sure it's good enough for people to really, really want it!
Sign with a free service like Pay With A Tweet or Cloud:flood to give people access to the bonus once they've tweeted or otherwise shared the post, and integrate the link into your anchor post.
When the post goes live, reach out to your networks and ask them to help spread the word.
Thank your network for all of their help in spreading the word.
Viral Marketing Campaign Idea #5: E-Book of Expert Opinions
The idea with this campaign is to collaborate with a lot of other bloggers to create an e-book that your audience would value, which the other bloggers will then help you to promote.
You can do this by asking bloggers to write a short essay about a subject of interest to your readers, and then collect these essays into an e-book that you then give away to your readers (you can combine them with the Pay With a Tweet idea to get even more mileage).
Since you're featuring their words of wisdom, the contributors are going to want to help you spread the word, giving you access to a much bigger megaphone than you might otherwise have access to. Here's how to do it:
Make a list of medium-sized blogs whose audience would be interested in your content. These blogs should be big enough to have a sizeable audience, but not so big that they're likely inundated with requests. As a rule of thumb, think about Alexa rankings in the 50,000-100,000 range.
Think about a question that your audience, and their audience, would be really eager to have answered. Take your time with this one – if the question isn't good, then the end product won't be, either.
Cultivate a relationship with the bigger bloggers on the list. For an effective way to do this, read the Borrow Some Authority section of Why Guru Strategies for Blog Growth DON'T WORK… and What Does! (you could get some extra mileage out of guest posting for them, too!).
Reach out to the bigger bloggers that you have the best relationship with, and explain that you are looking to create an e-book of expert opinions, answering a question that is very important to your shared audience, and that you would like them to participate.
Once you have secured some bigger names to participate, reach out to the rest of your list, mentioning that the bigger names are already onboard. Set clear parameters in terms of what you're looking for in their submission, and mention a due date for their essay response.
Assemble all of the submissions into an e-book – invest in some nice design and layout work.
Write an awesome blog post to pique interest, and make sure to give credit to all of the contributors. Give free access to the e-book at the end, and integrate a Pay With a Tweet functionality to get extra mileage.
Tell all of the contributors about the launch date, and ask them to help you promote the post and e-book. Reach out to your network and ask for their help as well.
Thank your network and the contributors for all of their help with the campaign.
BONUS Viral Marketing Campaign Idea #6: Viral Video!
Viral videos are a particularly sexy sub-set of viral marketing campaign ideas; they're visual and in your face, which makes them easy for us to remember. And when they spread, boy, they really spread – we're talking hundreds of thousands, or even millions of views!
Update! This post was written back in 2011. Today, there are a lot more ways to make your content viral. So, we've added a few more — the updated 2015 list of 6 MORE ways to go viral! Join our community to get the list — along with lots of other free resources! 
Oh, one more thing – please leave a comment! Have you tried any of these viral marketing campaign ideas? Do you have an idea that isn't listed here that you can share with us?