Why You Need a Solid Customer Value Proposition Before You Publish Any More Content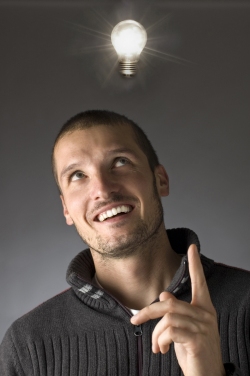 Consultants love to tell you what they think is wrong with your business. There's always a theory on why you're not attracting the customers you want.
I'm sure you've heard some of these statements along the way:
"You don't have enough presence on social media. You need to engage more."
"Your site isn't well optimized for Google and your backlink profile is not the best."
"You're not publishing enough content! And you need to promote the content you do have."
"You don't have any lead-generating material on your website. You're wasting all your traffic."
In fact, I'm pretty sure I've said these phrases in some form or another multiple times.
But there's something more important… more vital… and way more powerful that may be missing from your business that's holding you back from being successful: A big idea, in the form of a rock-solid customer value proposition.
A Big Idea: The Key to Attracting Your Online Audience
The main mistake I see content marketers making is producing content related solely to their products and services. There's no real engagement or interest in painting a picture of something bigger that could draw the attention of a large group of people. Product and service-oriented content in itself doesn't excite people.
What DOES excite people is something big: an ideal, a possibility or a goal that they could achieve that could make some significant impact on their life. The businesses who build responsive audiences get this right from the beginning.
You can see this here at Mirasee – the big idea is that if you build relationships based on a genuine desire to help – you will succeed in your business.
Like most big ideas – it's simple on its face – but hugely impactful in practice.
With a Big Idea in tow, content creation is effortless. Write posts, create videos or interview guests on a podcast that all point to the customer value proposition. Then, skillfully show how your products and services can make the it a reality. After all, you're not in the content marketing game just to produce content or build an audience – your content marketing plan is meant to add value to the marketplace and be rewarded for it.
But to even get the chance to show how your products and services fit, you have to figure out how to attract customers by capturing the attention and imaginations of your prospects.
Your Why Isn't Enough
One of the most common hypotheses I've heard that separates one company from another is that the more successful company has a strong grasp on their Why.
But I have to disagree here.
Asking why you do something is inherently focused on you. And, though we'd like to think we're above it, our human nature sinks in and many of our Whys come down to very practical reasons like "I need to provide for my family" or "I see lots of potential in this market."
The real question you should ask is:
"Why should anyone – including the stranger I meet in a coffee shop or the person next to me in line at the grocery store – feel compelled to learn more from me?"
You see you already know why you're doing something – you want to build a business, create an income, live the kind of lifestyle you want – and there's no good reason anyone else should really care about that!
When you flip the question on its head, and instead force yourself to answer why other people should be interested, is when you start to make business breakthroughs.
This is something that, like the big idea concept in general, sounds easier than it is – mostly because you really want customers to get your valueproposition. You crave it – and you can't always see why they don't. It's tempting to manufacture an answer to the question: "why would someone care" when you should be researching and actually asking people! This way lies true value.
A Big Idea in Action – Looking at Lomography
Have you ever heard of Lomography?
Maybe you have and maybe you haven't – but once you know about them – they're pretty hard to forget!
Imagine having only a few seconds to tell someone why they should be interested in old cameras and expired film, for example. Sounds difficult in a world defined by millions of pixels, phones with built-in cameras and high-definition, huh?
Not if you're telling people your Big Idea that "Photography should be about having fun, not overthinking or perfect results."
That's the secret behind Lomography – a company that keeps on growing even though their cameras are far from the latest technology. Their Big Idea came out of the belief that we are too inhibited with the pictures we take and that's why we fail to take memorable photos.
To help make their Big Idea a reality, Lomography even defined Golden Rules their audience could follow. One of these rules, Shoot From the Hip, has become almost a secret handshake among Lomographers.
Lomography has not only built an impressive online community with the help of a Big Idea, they have also sparked a whole movement defined by irreverence and enjoying the process of photography more than the result. In addition, Lomography can be credited with keeping film photography alive and well even in a time when there are children being born today who will never lay hands on a roll of film or a camera that uses it.
In short, they're a company that sells the Big Idea first and then the supplies next.
Your Big Idea Takeaway
If you're spending all your time using your website and your blog to sell your products, you need to stop publishing and start building a community around a Big Idea.
I want you to ask yourself the following questions and seriously reflect on them before you let another blog post, podcast or video out into the world.
Customer Value Proposition / Big Idea Defining Questions:
Is my Big Idea more than an intellectual statement? Does it have an emotional impact?
Does my Big Idea stand on its own, separate from my products and services?
Does my Big Idea point to an idea or a possibility that people desire to reach?
Is the goal of my Big Idea big enough that people need help to achieve it?
Would people feel compelled to engage in conversations related to my Big Idea?
Your goal is to answer yes to each of these questions. When you get there, you'll not only have a catalyst for reigniting your enthusiasm for creating content, you will also get a lot more attention for your business – the type of attention that can then be converted into leads and sales.
So, I have a simple question for you to answer in the comments: What's your Big Idea? How do you plan on using your Customer Value Proposition to change the way you write content and build an audience online?