Create Your Own Infographics with These Awesome Free and Low-Cost Tools
Victoria Chemko
Infographics are a visual representation of information that, once seen, can really stand out as a part of your overall digital marketing strategy.
Statistics and information jump off the page in colorful, bold, fun graphics, grabbing your readers' attention and translating that information into useful data that can be easily digested.
To put it simply: Infographics are a really awesome way to make otherwise boring numbers and text interesting and memorable.
But you've probably heard of all this before, right? The problem isn't that you hate infographics. The problem is that you don't know how to create them. After all, chances are you're not a graphic designer by trade!
The good news is that, with the right tools and a bit of planning, you'll soon be creating your own infographics!
Why Create Infographics?
Take a look at this full-page infographic posted by Neonam – studies show that people remember 80% of what they see, versus only 20% of what they read … and only 10% of what they hear.
Think about any presentation you've ever seen. Data of any kind is always enhanced with charts and diagrams and images, since visuals are more engaging, more persuasive, and easier to remember.
Educating your audience with killer content such as infographics is not only important for conversions, but for sharing as well, which means more recognition and more traffic to your blog or site.
Let's take a look at another example, this time in a previous guest post about high converting blogs. This post contains is a lot of textual information. But, you could also view the infographic for a summarized, easier to read overview of the post's topic. In this case, this graphic is also directly related to the topic of this specific post, as it allows the writer to more clearly explain his concept with the use of the infographic diagram layout.
Where and How To Get Started
Okay, so now you know why you'd want to create an infographic. But how do you get started?
The type of information to include in an infographic is really up to you – the world is your oyster. As long as you have information or data to be illustrated, you can do it with an infographic.
For example, you could create a visual article where you take large bodies of text, break it up into "interesting facts" and use cartoons and word bubbles to display it.  Or, you could create a numerical article, where you take your spreadsheet data and transform them into charts and diagrams, making them more visually appealing and easier to understand.
Other options include timelines in which you portray dates and events along a road or chart, or "vs" infographics that compare two bodies of information (ie: calories in one type of meal plan vs. calories in another).  Another popular type that you'd recognize is the flow chart, where you follow the flow of data to find a certain output answer.
Unbounce has created the Ultimate Guide to Marketing with Infographics, which is a fantastic reference that will help you decide what kind of content to include, how to research and find the data you need, and how to design the layout of your infographic to achieve maximum audience engagement.
Another great resource is visiting The Daily Infographic. They feature a different top infographic every day, which is great for design and data inspiration.
The Infographics Tools You Need
I'm a strong supporter of infographics (you can see one in a recent post) and how powerful and useful they can be. However, many small businesses or companies without dedicated graphic design resources find the process of creating infographics overwhelming.
Are you a non-designer who is totally overwhelmed by Photoshop?  Have no fear: I've done the legwork for you, and have come up with a list of some awesome online tools that will allow you to create your infographic from scratch – all while looking professionally designed.
Venngage is a powerful and easy-to-use design solution for everybody who needs to communicate engagingly. Likewise, Venngage's infographic maker is made for designers and non-designers since their drag-and-drop editor makes it a breeze to customize, brand, and jazz up your infographics. They also offer an entire library of professionally-designed infographic templates and other design assets, such as over 40,000 icons and illustrations and 3+ million free photos. 
But more than an infographic maker, Venngage's features are also great for creating timelines, graphs, checklists, and many other design projects you can incorporate into your infographics. 
The graph maker, for example, helps you create data visualization in no time and turn raw data into stunning visuals by simply pasting your Google Sheets link or uploading an Excel file. Then, you can add these graphs to your infographics with ease. This means you can rely on their graph maker to create charts, graphs, and diagrams to make your infographics more engaging and easy to understand. 
Also, a new feature, the Smart Editor, makes it easy to visualize ideas with flowcharts, diagrams, and mind maps. The Smart Editor auto-resizes shapes as you insert, edit or remove text, and you can copy and paste styles in just a few clicks.
The good news is you can start for free and, depending on your needs, upgrade to a premium account.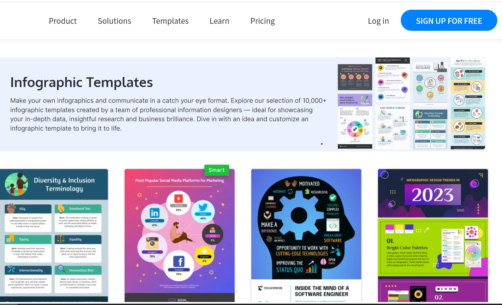 This free (yes, free!) tool is super easy to use. If you have your data on a spreadsheet, you simply upload it to your account, and use that to create a data visualization through a wide range of chart options (over 30 types – column, pie, scatter, treemap, financial – they have something for everyone).
You can also add your data from scratch, as they have a built-in spreadsheet function that makes it incredibly easy to type in your data, and then watch it get built into the chart type you have selected.
They also have a six design templates which are basic, but decent, and you can add pictures, text, videos or maps to enhance your charts or other data.  When your design is finished, you can share or embed it with a click of a button.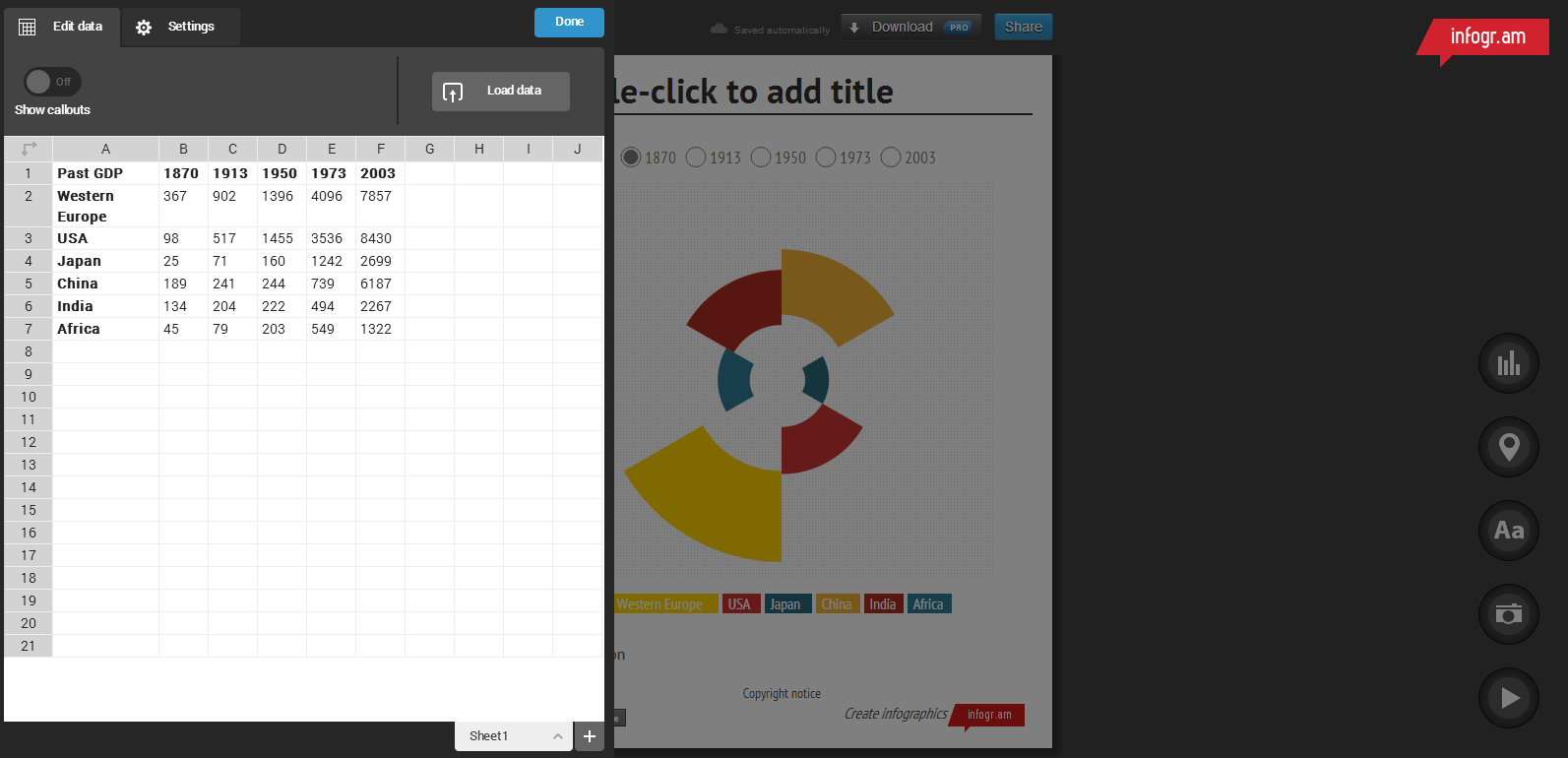 They also have a paid-upgrade option: $18/USD per month.  This gives you 4 additional design templates, and the ability to add in live data or download your finished product as a PDF or PNG file, which can also be password-protected.
Overall, we think Infogr.am is perfect for a newcomer. It's a very user-friendly, intuitive tool that will get you started with a relatively short investment of time.
**Cool sidenote: Infogr.am will soon be offering the world's first video infographic creator. Check out their demo video –  it looks pretty awesome!
Canva
I really like what Canva has to offer. Not just for infographics, Canva can also be used for a variety of other design projects, like spicing up your Facebook or Twitter cover/header, or creating a photo collage for a Pinterest board.
They offer a huge selection of Design Tutorials, which provide infographic templates and tips for anything from "Going Retro" to "How to Pick Colors that Look Great Together".
A recent addition, they also now provide a section of "Editor's Picks" of some really great templates, that you can choose to "remix" for your own purposes.  You can pick from a number of layouts, backgrounds and color schemes to create and visualize almost anything your heart desires.
These templates are obviously generated by professionals. Even if you are the most design-challenged person, you will still be able to pull off beautiful and classy graphics and make everything think you are the pro.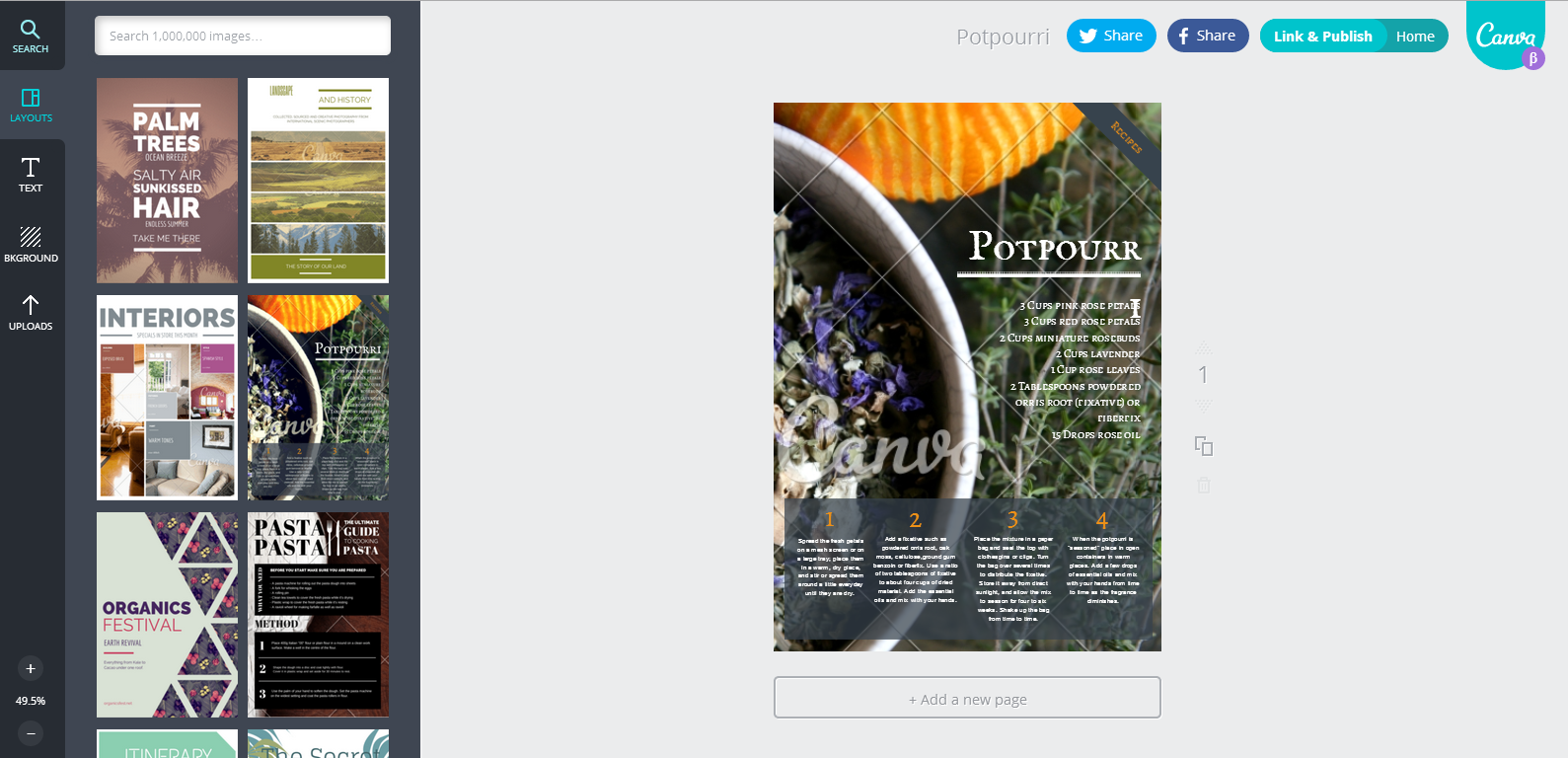 Another free tool, Canva is a perfect, step-by-step way to generate professional-looking designs without needing a degree.  It's also a great way to create flyers for that garage sale you've been meaning to have …
Piktochart is a perfect mix of what would happen if Infogr.am and Canva teamed up.  They offer the same spreadsheet and chart functionality of Infogr.am, with the customization and template options of Canva.  They have a User Showcase which displays a collection of users' infographics, which are a great way to get some inspiration and design ideas.
Good news and bad news: Piktochart does offer a free version, but it's limited to only seven basic themes.  However, the Pro Package can be purchased for only $29USD/month or $168USD/year, and this gets you over 120 themes, high resolution exports, SEO-friendly output and 27 categories of graphics, with the ability to upload 200 images.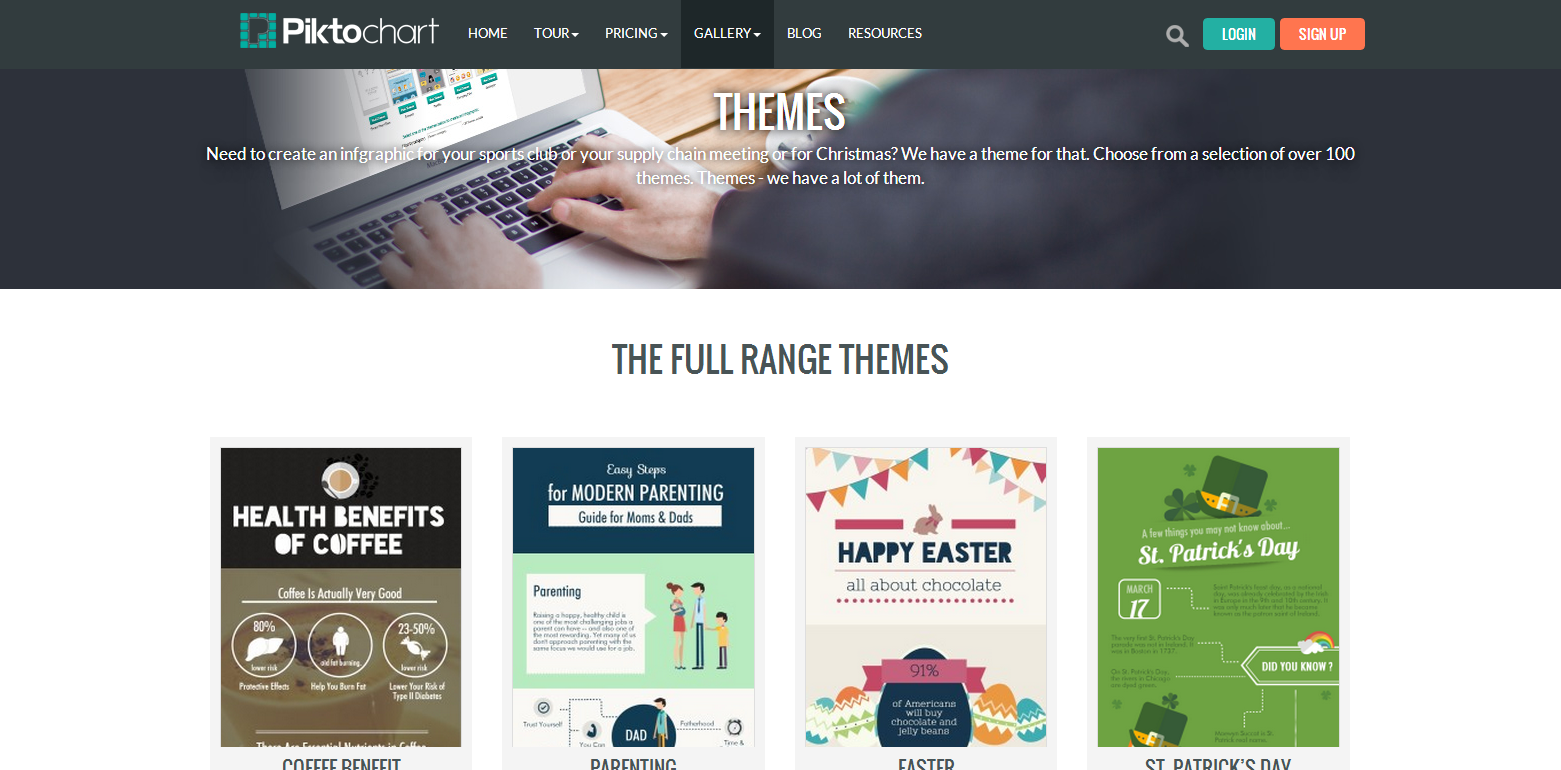 If you have the budget, Piktochart is a good investment, mostly due to the flexibility it offers in terms of multiple export formats and sizes, as well as access to beautifully pre-designed themes and images.  If infographics will be a regular thing in your marketing plan, then I recommend the spend.
The unique thing about Visual.ly is that it is a community tool, or "the world's marketplace for visual content".  The tool allows to create your own infographics in the same way as the three tools listed above. But, Visual.ly also has the ability to share them on social media, see others' (over 500 million users!) graphics (sorted with a variety of filters, from "trending" to "staff picks"), and the option to either spend or make money on infographics as well.
How, you ask?  Visual.ly's community website offers the ability to match up those looking for paid-infographics with those selling infographics.  If you are really looking to leave the design work to a professional, you can start a project, and the team at Visual.ly will set you up with those in the community looking for work.  Win-win!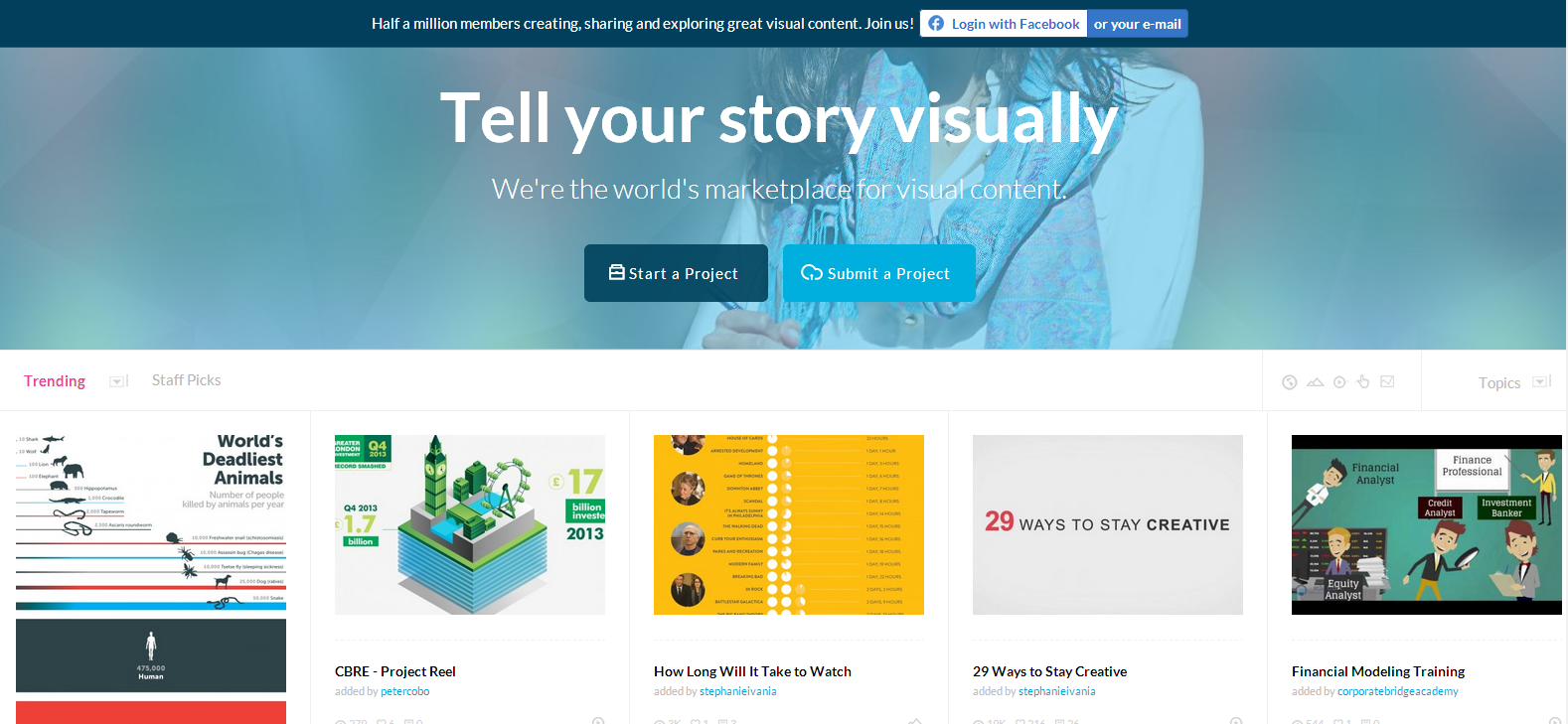 In a nutshell, Visual.ly is a free tool that will allow you to create your own infographics. But, if that isn't your thing, you can submit a request and have a community of thousands of designers create one for you.  It all comes down to your marketing budget, and if you're willing to do the work yourself or not.
Now, It's Your Turn!
Infographics offer a unique, fun and memorable way to visualize your data. And, you don't even have to be a graphic designer! There are a number of free and low-cost online tools available to help even the most inexperienced designer come up with something that is beautiful, intuitive and looks professionally made.
Reviewing your budget and time constraints will help you decide which tool will work best for the data you want to display.With some patience and a bit of creativity, you'll have interactive and fun infographics for your audience to enjoy.
How about you?  What type of information do you typically like to see displayed in an infographic? Have you seen a recent infographic that taught you something new, or that really stuck with you?  I'd love to read your thoughts in the comments below!