Essential Copy You Should Be Writing for a Successful Course Launch, Part 1: Launching with no Audience
Oleg Starko
So you want to launch your first online course? I want to say…
Congratulations!
I mean it. You'd be amazed at how few people get this far.
You've decided that you care about helping others and sharing your knowledge with the world— more than you're scared of failure. Unlike most wannabe entrepreneurs who sit on their course ideas for years, you are determined to bring yours to life.
There's one catch, though.
If you've been planning to launch your course for some time, you must have noticed something by now: it seems devilishly complicated. How do you learn to do something like that?
Your first instinct might be to look at those entrepreneurs who are already successful.
But when you look at their launches, they paint an intimidating picture. You've got:
Sales pages the length of "War and Peace"

Elaborate email sequences that last for weeks, if not months

Self-indulgent launch videos that might as well scream,

"Look at me! I'm rich and successful!"
For your first course launch, looking at an established guru's launch won't help you at all. You shouldn't compare your Step 1 to someone else's Step 100, and decide the direction of your online business based on that.
"Launching your first course? Don't do this because it won't help you at all! "

Tweet Me
But how do you know what kind of copy—or "launch assets," if you want to get fancy—you need to sell your online course?
Do you need the so-long-it-would-stretch-to-the-Moon-if-printed sales page? Or those sleek "look at me, I'm a closet narcissist" videos? Or that 4-week, 20-email sequence?
The good news is, you can launch your first course without any of those. In this 2-part series of posts, we'll talk about the essential copy you need to sell your course successfully.
We are going to look at two basic scenarios:
Selling a course with no audience.
Selling a course with an existing list (from 500 people and beyond).
I will do my best to tell you exactly what copy you are going to need. That said, I won't get into how to write the copy. If I did, we'd be here forever. 😉
But I will provide examples and sample scripts you can use for reference and inspiration when writing your own copy.
"Here are some sample scripts you can use for reference when writing your course launch copy. "

Tweet Me
For Part 1, we start with the assumption that you have no following at all. As you're about to find out, it doesn't mean you can't launch your course—just the opposite, in fact!
No Audience? No Problem! Here's How You Can Still Fill Your Course
You don't need an email list, or high-profile connections, or a marketing budget to launch your first course. With a bit of preparation and a deep understanding of your target market, you can launch your course with just the contacts you already have right now.
Every business is a relationship business. Your relationships are going to be your most valuable asset, because people who already know you are much more likely to become paying students than some poor souls you cold-pitch in some Facebook group.
But before you ever get to the pitching stage, you need to figure out if you can help your potential students, and how to do that in a way that benefits them the most.
You might be tempted to take a shortcut, to just shrug and say, "I know what Jane/Bob/Horatio is struggling with; we've been friends forever!" Don't. Of all the ways to guarantee failure, skipping steps and not doing your due diligence is right there at the top.
Doing research and connecting with potential students will determine how you structure your no-audience launch. Tackle it in two stages:
Stage 1 is all about validating your course idea. It involves talking to people, getting their permission to reach out again, and putting them on your prospect list.
And Stage 2 is when you make the offer—both to them and to anybody else you believe would be interested.
Now let's examine the copy you will need.
Stage 1: Validating Your Course Idea
1-2 sequential emails asking people for their time. Chances are, to talk to your potential students, you won't just ring them up. You will need to ask for their time first.
To do that, you want to send out two emails:
A short email that summarizes (in 1-2 sentences) what you're working on, explains why you want to talk to them, and asks them if they're interested in jumping on a short call by phone or Skype to chat. If you can do an in-person meeting, even better!

Here's an example email that you could send. Obviously, you will want to adjust the tone and the content based on what your relationship is with the person on the other end.
A longer email that contains your booking link (more on that later) and a more detailed summary of what you'll be talking about. Make sure to be respectful of their time, and make it as easy as possible for them to say yes.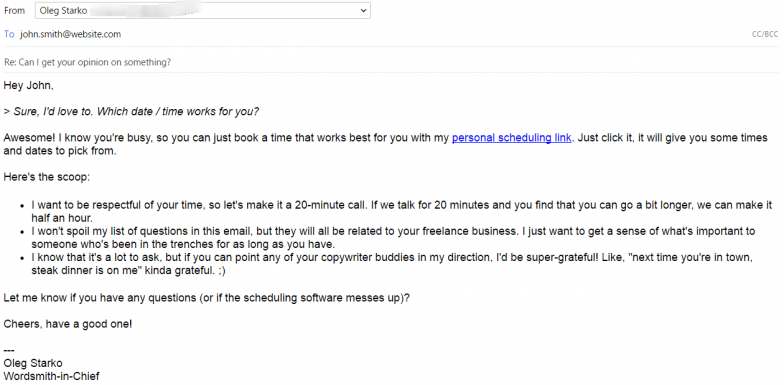 Here's the longer follow-up email. Notice that I'm also asking for referrals, on the off-chance that John knows someone else in my target market (freelance copywriters).
Note: People you know rarely say no to requests like that, but they can take a while to respond. When that happens, have a super-short, super-simple follow-up email ready, one that says, "Hey, did you miss this?" and includes your previous message.
Loose interview script. Interviews are the best way to find out about people's exact fears, hopes, and barriers related to your course topic. And the key to a successful interview is not to think about it as such. It's a chat, a catch-up call, a conversation.
That's why you shouldn't prepare a word-for-word script. Just have the questions ready, prepare a couple of small-talk conversation starters to put the other party at ease, and think of a way to get the interview back on track in case it veers off-topic. Besides that, just wing it!
Here are some sample questions you could ask during the interview:
To mine for problem language:

"You mentioned that [a particular problem or pain point]. Can you give me an example of what it looks like? Maybe a real-life case when it was especially bad for you?"

To define what the desirable outcome would look like for them:

"Let's pretend that you freed a magical Genie, and they can make your problem go away. What would that look like? What would it take for you to feel like the problem is solved?"

To determine how badly they want to solve their problem:

"So obviously, you're in a tough spot right now. However, it doesn't look like you're doing anything about it. I'm not judging or anything, but why not? What would it take for you to act on it? Just curious."

To bring the conversation back on track:

"A few minutes ago, you said / we talked about [something mentioned earlier in the conversation]. Can you tell me more about that?"
Note: Another critical piece of your interview script is your final request to follow up. If someone took the time to chat with you about their problems and challenges, chances are that your course will also be relevant to them. Ask for permission to update them later. Now that they've contributed to your project with their insights, they're emotionally invested in it—you've put the  Ikea effect to work! Use it to keep the line of communication open.
Booking page (optional but recommended). A booking page saves you tons of back-and-forth as you're trying to find a time that works for you and the person you want to interview. We highly recommend creating an account with a schedule-booking service like Appointlet, Calendly, Timetrade, or any of the others.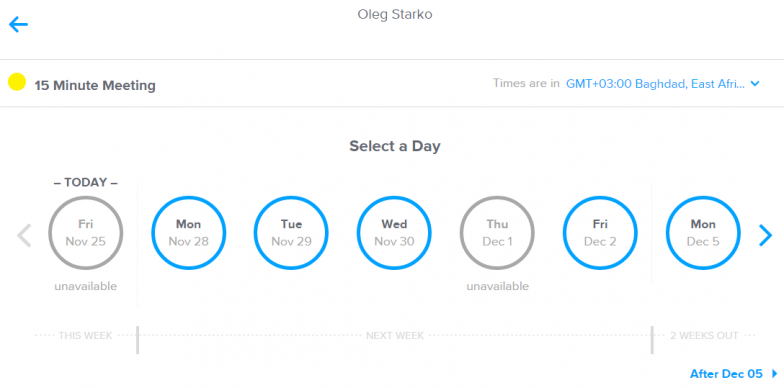 A booking page makes the scheduling process much easier.
Stage 2: Making Your Offer
Post-interview emails. Use these to follow up and ask the interviewees if they're interested to discuss your online course in detail. As with last time, write a short email, followed by a longer email for when they say "Yes."
Now, I'm going to assume that you haven't interviewed every potential student in your network. But when it comes to selling your course, you want to reach everybody who might want what you have to offer.
To do that, send a short-and-sweet prospecting message to the people you haven't interviewed but would like to have as students, and ask them for their time.

One of the sample email scripts we teach in the Course Builder's Laboratory
Loose sales call script. Once your prospect agrees to chat about the course, it's time to think about what you will say during the call. I promise you, this isn't the uncomfortable, scary, sleaze-oozing kind of sales call you probably have in mind.
The call is going to consist of two parts:
1. Explaining the idea behind your course: why you think people will want this; what problem it will solve; what kind of outcome it will create. Without mentioning the price or the format, ask your potential student if that's something they would be interested in.
If they say no, don't push back. Just ask for their honest feedback. You can do it on the spot by saying something like this:

Here's another sample script from inside the Course Builder's Laboratory, designed to get valuable, actionable feedback from a prospect who doesn't buy your course.
But if your prospect expresses interest and enthusiasm at the idea, you can move on to step 2…
2. Share more detailed information about the course: how long it will run for, what the format will be, how many people you're going to admit, and what the price is. Then, ask your prospect if they would like one of the spots in the upcoming online course.
That's it, that's your "script." You don't need it to be overly detailed; just cover the basics. And trust the conversation to flow naturally. The goal is not to get the other person to say yes, but to get a definite positive or negative response. "Maybe" isn't good enough.
Speaking of "maybes," here's something else that will come in handy…
Objections cheat sheet. Your potential students love to make up excuses. Even if your online course is everything they wanted, and even if they sleep on piles of money like those dudes in that one scene in Breaking Bad, they will still look for a reason to avoid making a commitment. They will still say "maybe."
It's normal. Change is scary, and avoiding a choice just so things can remain the way they are is easier than saying yes and doing something.
So when your prospect says something like…
"I'd love to, but I don't have the time."
"This looks awesome, but I don't think I can spare the money right now."
"Will this work for me if I'm [insert excuse here]?"
…you need to be ready with bulletproof answers to those objections.
Booking page (optional but recommended). A booking page is just as useful for the selling stage as it was for the interview stage. Have it ready!
Follow up to the sales call. Sometimes your potential student will ask for more time to decide. That's ok. When they do, ask them when they can give you an answer… and follow up on that specific date.
Even if they promised they would get back to you, you will want to reach out proactively, because life gets in the way, and with most people, second-guessing is second nature.
Payment page (optional). When you don't have an audience, you don't need a sales page as long as all the Harry Potter books put together.
That said, if you're collecting payments through a link (as opposed to, say, manually asking people to PayPal you the money), your checkout page will do a lot better if it has decent copy on it.
If you have an offer that people really want, even a sketchy checkout flow will do the job. But it doesn't hurt to summarize what they get and remind them why it's a good idea to buy from you.
Post-rejection questionnaire (optional). Sometimes you will offer a student to join your course, and they will say no. And that's ok. Rejection is a part of life, and it's a big part of entrepreneurship.
As long as you use it as a learning opportunity, and act on the feedback to become better at selling your online course, getting rejected will help you in the long run.
"Getting rejected when selling an online course will help you in the long run! "

Tweet Me
You already know what to say when you get a negative response on the sales call. But you can take it one step further: ask for permission to follow up later and ask a few questions. Once you get permission, send them these two questions after the call:
What was the #1 reason they decided not to buy your course?
In order for them to say yes and join, how would they want the course to be changed or improved?
When launching your online course for the first time, your copy doesn't have to be stellar. It needs to be good enough to tease out what your potential students actually want, so that you can validate your course idea, and to convey the value of what you can offer.
As intimidating as it might sound when you're just starting out, it isn't. As long as you follow the proven structure of validation first and making the offer second, you can write perfectly functional copy for a no-audience launch, even today, starting from where you are.
For Part 2, we will examine how you can launch your online course at scale, to an existing audience of 500+ email subscribers. Stay tuned!
In the meantime, which of these pieces of copy do you find most challenging to write? What are your biggest launch copywriting roadblocks?
[optin-monster-shortcode id="antwxh4vpxvpdziw"]