Looking Like a Business Expert when You're a New Entrepreneur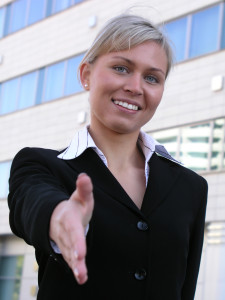 You've taken the leap of faith and have decided to start your own business. Your website is online, your marketing materials are ready-to-go, and over the past few months, you've invested countless hours and a mass of energy into crafting your perfect offering. Now it's time to step out of your comfort zone, hand your new business card over and meet potential clients.
For some entrepreneurs, meeting a potential client for the first time is exactly what they've been waiting for. For others, it's pure terror.
What will they think of you?
What if you're not taken seriously?
How do you convey the image you're a business expert when you have only a couple of clients…or none at all?
Without a doubt, these fears and insecurities haunt every entrepreneur's mind. Unfortunately for many, they can scare you back into the safety of your comfort zone.
But even though you may have these fears and insecurities, your potential client doesn't necessarily have to see them. You can mask these insecurities by using a few techniques that I reveal below so that on the day of your first meeting, you look the part, act the part and sound the part.
First Impressions
Your first impression is the key to conveying the image that you're a business expert.
Researchers from New York University found that when you meet somebody for the first time, eleven major decisions are made about you in the first 7 seconds. Basically, the other person will be deciding: Are you someone to approach or to avoid? Are you trustworthy, competent and confident? Do you have status and authority?
Once these decisions are made, they form a type of prism through which your potential client will look at you from that time on.
If their first impression is that you're confident, capable and an expert, then they will look for information during your sales pitch and in your marketing materials that support that decision. However, if their first impression is that you're insecure, weak, or don't really seem to be an expert, then unfortunately they will look for information that supports that decision too.
The difficulty for most new entrepreneurs is that when you walk into client meetings, you're alone. You don't have the backing of an established corporate name to carry with you to the meeting.
As a new entrepreneur, you're forced to find a way to convey this same amount of credibility, authority and expertise all on your own.
How exactly do you convey the image you're an expert in 7 seconds when you've barely had time to introduce yourself?
It's all about making sure you look, act, and sound like an expert.
Look Like An Expert
Regardless of whether you want it to matter or not, your appearance is the first thing potential clients will notice when you walk through the door, and more specifically, your clothes.
If you wear a traditional suit and tie when pitching your product to a client whose office wardrobe consists only of jeans and a polo shirt, then you will feel and look out of place.
Likewise, if you arrive in jeans and a dress shirt to be just a little more on the casual side when everybody else at the meeting is wearing a suit, then again you will be the odd one out.
The key here is to do a little research before every meeting and find out what the general dress code is for the office, then boost the formality of your clothes just a little more.
You want to achieve a balance between appealing to your potential client and dressing with impact.
Here are some guidelines to help you out based on industry types:
Traditional industries (banking, law, accounting, insurance): Men generally wear classic suits in navy, charcoal or black. You can add impact with a tie in a contrasting colour such as red, green, or blue. Women can choose either a pant or skirt suit, and add impact with contrasting belt, scarf or shoes.
Creative industries (marketing, PR, advertising): Men, you'll probably still want to wear a suit, but may want to loose the tie. Instead you can add impact by changing the colour of you shirt. Ladies, you have a lot more creative room here. You can add confidence to your look with a striking dress, or contrasting jacket with a pair of your favourite pants.
Relaxed industries (programming, IT, online businesses): Both men and women can wear jeans if that's what you're more comfortable in. But make sure they're neatly pressed and without holes. Ladies, you can add personality with your signature jewellery. Gentlemen, you can dress up your casual outfit with a classy belt or quality leather shoes.
Act Like An Expert
Your body language has a huge impact on how others perceive you. When you approach a potential client, he or she will be unconsciously but carefully studying your body language. They'll be looking for signs and messages that can help them form an opinion of you.
If you walk into a meeting room with your shoulders slumped, looking down, taking small steps, you'll emit signs of insecurity. If you walk into a meeting room taking large steps with your head held high, chances are you'll be perceived like an expert with authority.
Assuming you want your potential client to see you as an expert, then these tips will help you give that impression:
Keep your chin up. When you hold your head high, it exposes your neck (the most vulnerable part of your body) and shouts out to your potential client, "You're going to love my offering".
Take large steps. When you walk into the room taking large steps you exude decisiveness and assertiveness: two important characteristics of a powerful entrepreneur.
Spread your wings. People who are insecure often try to make themselves as small as possible. To combat this, you should take up as much space as possible. Stand with your feet shoulder width apart, and sit with your arms on the armrests.
Smile, it's contagious. When you light your face up with a smile, it projects positive energy and openness; two things that will help your potential client relate to you.
When you project confident, positive and open body language, it becomes self-fulfilling: you will soon feel as confident, positive and happy as you appear.
Sound Like an Expert
You've got your winning outfit and confident body language, but if you truly want to be recognised like an expert, you've got to sound like one.
Before your client meeting, think of a movie character or a successful entrepreneur who inspires you. Mirror their voice, and imitate the volume, tone, speed, grammar, and even word usage.
Here are a couple more tips to get you using your voice with more confidence and impact:
Avoid the "uptalk", "upswing", or "upspeak". When I say "upswing", I'm talking about the noticeable rise of your voice at the end of a statement. Making a statement sound more like a question. Instead, make a conscious effort to push your voice down at the end of your sentences using what I like to call, a "downswing".
Avoid qualifiers or minimising language. Allow the importance of your thoughts and opinions to shine through and avoid using language such as "Maybe we should…" or "Perhaps we could…". Make your message stronger and use words with impact such as "I think…", "I believe…", or "I would like…".
If you manage to convince your potential client in the first 7 seconds that you're a business expert then they will look at you for the rest of the meeting and every contact you have with them from that time on like you're the 'go-to' person and the one they can trust.