3 Signs that Your Business (or Blog) Idea Won't Work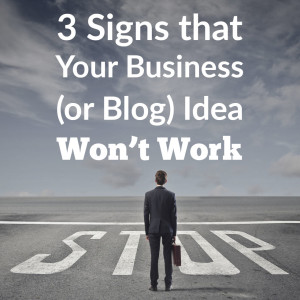 Your spouse, family, and close friends have faith that your business (or blog) can become a success story. Or at least, they're trying to keep their doubts to themselves.
But you have suspicions.
You thought you would've seen good results by now. And that's making you question your business idea and maybe even your ability to succeed.
So, did you make a huge mistake that took months or years (and possibly thousands of dollars) from you?
All of these three signs are bad—even on their own. But if you see all of them, it might be time to change the idea, start fresh, or pack your bags completely.
On the other hand, if these signs are nowhere to be seen, your idea is likely to be very good.
If that's the case, now is the time to figure out what's holding you back and turn your business or blog around.
1. You Can't Find Books or Courses About Your Topic
You need some number of people to be interested in what you do.
Some goals can be achieved even with relatively few interested people. But if you're even a little ambitious, you should find books about what you do and/or courses (free or paid) around similar topics.
If you can't find either, you might just be the first one to realize there's a market gap.
But unfortunately, lack of books and courses usually means that too few people are interested. You can try to change that, i.e., make more people interested, but that's challenging.
Usually, the better option is to change your focus. Often just a small adjustment is enough to grow your potential audience.
But sometimes your original idea is just very difficult to make work. A bigger change is needed.
How much do you need to change to start seeing books and/or courses that relate to your idea? You can't know before you do the research and find out.
If you find that you need to change your idea completely, it's going to hurt. But it's going to hurt even more if you keep trying and don't succeed.
If your idea can't work, you'll end up changing it eventually. The difference is will you still have the motivation to try again or will you just quit on your dreams after trying for so long.
2. You're Stuck, and You Know It, But You Aren't Dead Set On Changing It
This is a taboo, but here goes…
People love to blame circumstances that are outside their control for whatever is going wrong in their lives. But if you don't take full responsibility of what happens, you won't create the kind of life (and business) you want.
Things don't always work out the way you wish they would, even if you do everything right. But if you're dead set on finding the way no matter what it takes, you can reach almost any goal. Conversely, if you lack dedication, you'll only succeed with luck.
Especially in situations where someone has already proved that your goal is reachable, there's rarely a reason to think you can't do the same.
So, if you aren't determined to reach your goals no matter what it takes, you should probably change your goals to something more motivating.
If it isn't worth working hard for, it probably isn't worth working for at all.
What could you do today to take a significant step toward your business goal?
Then do it. Or at least schedule it for tomorrow.
It's that simple.
The reason most people never do this is that they're scared of admitting what they need to do. They come up with outside circumstances that they want to believe are the cause for not getting results. It's easy to find outside circumstances.  Acknowledging the truth can be very difficult.
Maybe you already know what you should do, but you haven't done it. Why?
For example, if you know you should get someone to help you, consider why you haven't already done it. Is it too harsh to admit you need help? Do you think you can't afford the help? Or haven't you found anyone you can trust?
Be honest. And then take action.
3. You Don't Strive to Be The Best in The World at What You Do
Just like you have to be dead set on finding a way to succeed, you need the drive to be the best in the world at what you do.
However, you don't need to be the best to succeed. You just need the ambition to get better, regardless of how good you already are.
If you don't want to get better, your business (or blog) will eventually feel menial and wither away.
There's nothing wrong with that. It's just a sign that you probably should do something else. (Unless, of course, your goal is to sell the business as quickly as possible.)
You'll also struggle to convince anyone that they should pay attention to you if you don't even want to get better at what you do.
Note that if you once had the strive, but it has eluded you lately, you can sometimes recoup it. Remember why you enjoyed your business and what caused to to get involved in this line of work.
Think about how reaching your goals would affect your life. Don't try to force yourself into liking it again, but don't give up the moment things start to feel a bit tedious.
But since there's no "undos" or "retries" in life, do yourself a favor and do something you're actually passionate about. If that means changing direction or starting from scratch, it's still the better call.
What If You Can't See These Signs, But You Can't See Results Either…
Hopefully you can't see any of these signs with your business or blog. But something is still wrong if you aren't seeing results either.
There are plenty of different "methodologies" and "processes" for figuring out what you need to change. I start by clarifying and strengthening your value proposition.
When you understand why people should pay attention to you and buy your products, it's easy to build your marketing strategy so that it compels people to take action.
From your blog posts to your sales funnel, everything about your marketing should aim to make people understand and believe the best reasons they have for paying attention to what you're offering. Or at least that's the reason I start with a strong value proposition.
But you should build your marketing with whatever method feels most natural to you. Just use a method you understand from start to finish; all methods fail, every time, if you don't know and understand each step.
Have you felt discouraged by the lack of results?
And are you dead set on doing whatever it takes to reach your goals? What action will you take today to get closer to them? Tell us in the comments.