Thinkific Pricing Plans for 2022 (& How to Choose the Best One)
Fran Trelease
Your knowledge is power. How do you share it with others? As a course creator, it can be challenging to find the right online course platform for you.
To set you and your course up for success, it's important to carefully weigh your options to ensure you choose an online course platform that meets your needs.
Thinkific is one platform that can help you move closer to success by offering flexible, all-in-one plans that meet any course creator's budget.
If you're wondering how much Thinkific costs, the truth is there's more than one answer, as there are several Thinkific pricing plans you can choose from. Each plan offers specific features catering to course creators at all different stages and levels of expertise. It's important to consider what each plan offers to make an informed choice about which package is right for you.
With this in mind, let's take a closer look at the different Thinkific pricing plans.
Thinkific Pricing Overview

There are actually four different Thinkific pricing plans available, so let's begin by reviewing the different pricing plans and what each one offers.
Thinkific Free Plan
The Thinkific Free Plan is great for the course creator who's just starting out. Its generous platform allows creators to build up to three courses – including a mini-course and two paid courses – and allows unlimited students, as well as hosting for many different types of content such as videos.
Key Features:
1 site admin account
Drag and drop course builder
Easy-to-use website templates
Email and phone support
Instant access to your funds
To sum things up, the Free plan is a good way to test your online teaching skills. So if you're new to the course creation game, consider giving the Free Thinkific plan a try.
Thinkific Basic Plan
Ready to step up your game? The Thinkific Basic plan is a great option if you know how to use the Thinkific platform and you're ready to build your online course business. At just $39 per month when you pay annually, it provides all that an evolving course creator could need.
Key Features:
All Free features
Unlimited courses and students
Live chat and email support
Drip (scheduled) content
Affiliate reporting
Custom domain
Email integrations
Zapier triggers
Manual student enrollment and exports
Thinkific App Store
So if you're ready to start growing your online course business, the Thinkific Basic plan is likely the best option for you.
Thinkific Pro Plan
The next step up on the ladder is the Pro Plan, where you can access high-powered features as part of the Thinkific Growth Package. One step short of the Premier Plan, it offers a complete suite of tools at a modest fee. If you find that you don't need the added features of the Growth Package, then you can stay at the regular Pro Plan fee of $99 a month ($79 per month paid annually.)
Key Features:
Unlimited courses, students, and content
Live chat support
2 site admin accounts
5 course admins
Private and hidden courses
Advanced course pricing options
Memberships and bundles
Advanced customization
Live Lessons over Zoom
The Thinkific Pro plan is perfect for the course creator who is actively growing their business, but not yet ready to go big league.
Thinkific Premier Plan
This is the big one! For advanced customers ready to build an education empire, this plan offers all Thinkific features plus the Growth package. If you're ready to scale, it's all here – a single sign-on (SSO) for integration with other tools, and for one flat monthly fee. More good news: it's only $499/month ($399 / month paid annually).
With the Premier plan, you can add five site admin accounts, 15 group analysts, and 50 course admins and authors. You'll also receive access to an onboarding call, training, and checklist review to make sure you're ready to launch.
Key Features:
Unlimited courses & students
Live chat support
5 Site admin accounts
15 Group Analysts
50 Course admins/authors
Single sign on (SSO)
Onboarding package
Unlimited Growth Package
In short, the Premier Plan is ideal for experienced course creators who have already had success selling online courses.
What is the Best Thinkific Plan for You?

Still wondering which Thinkific plan is best for you? Here are some things to consider when choosing your Thinkific plan.
Who Should Use the Free Plan?
The Free Plan works best for course creators who are new to the game and ready to test drive their ideas. No design or technical expertise is required, so if you're putting a toe in the water with mini-courses or free courses, this one's for you. Better yet – the free plan never expires!
It offers basic course creation, so you'll be able to create, market, and administer your courses to your students. In addition, you can have unlimited students and instant access to your funds (some plans, like Teachable's Basic plan, require a 30-day hold on funds).
Who Should Use the Basic Plan?
The Basic Plan has all of the features of the Free Plan with some significant upgrades.
One of the big advantages to the Basic Plan is that it affords you more features than the Free Plan, without the need to commit to a more expensive plan.
For example, you'll get access to the Thinkific App store and unlimited courses, which you don't get with the Free Plan. So if you're ready to expand your online course business, you'll want to start here.
Who Should Use the Pro Plan?
There's a reason the Pro Plan is the most popular one offered by Thinkific. The Pro Plan offers a complete suite of tools at your fingertips, and you can also access the Pro + Growth Package for just $99 a month.
The Growth Package, if needed, offers a half-step leap to the Premier Plan. It offers even more growth options for a managed monthly expense. Thinkific also offers a 30-day free trial with the Pro Plan, which is a good way to decide if the plan is right for you.
Who Should Use the Premier Plan?
Based on the Growth add-on calculator, it makes sense to upgrade to the Premier Plan once you have 4,000 or more students signed on. Thinkific recommends holding off on this plan until that level has been reached, and you have a proven success strategy squarely in place. This top level comes with 50 course administrators and authors, so there's a built-in team to tackle the largest and most complex challenges you might face as a course creator.
The Premier Plan is best suited to established online course creators who already have a thriving course business.
Thinkific Pricing: How Does It Compare to Other Course Platforms?
Still not sure if Thinkific is the best platform for your course? Then let's take a quick look to see how Thinkific measures up to some of its competitors.
Thinkific vs. Course Method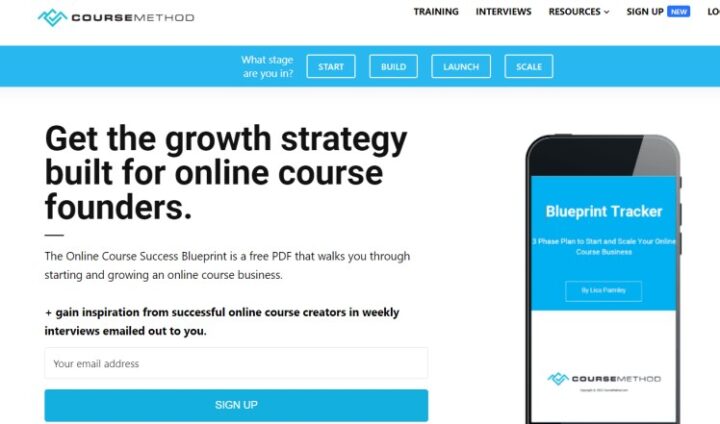 Course Method, an online training platform, offers a range of prices and packages, with a variety of different features. Most Course Method plans include: 39+ micro training programs, action oriented task-based learning, progress tracking, and access to a private community geared specifically for those in the knowledge business.

Their plans start at $20 per month and top off at $195 per year, which is lower than the premier package at Thinkific. On the other hand, Course Method does not include a free plan, which Thinkific offers.
Thinkific vs. Kajabi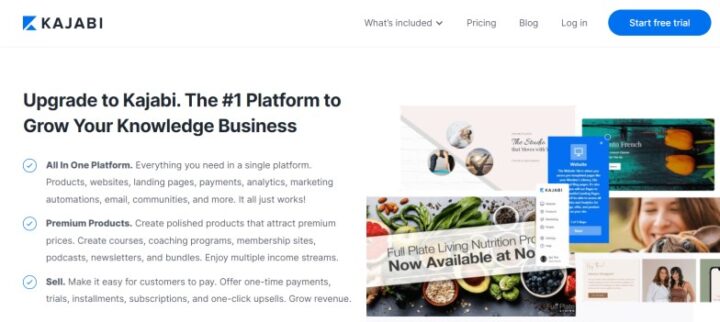 The all-in-one online course platform Kajabi helps you run your entire online business, which means it offers many more features and tools than Thinkific. Kajabi also provides course creators with a 14-day free trial and has no transaction fee tax on its platform, which some users will find to be a big plus.
Their plans range from Basic to Pro, similar to Thinkific, but the monthly costs run higher. Kajabi's Basic plan will cost you $119 per month, its Growth plan is $159 per month, and its Pro plan comes in at $319 per month. Some users might find this pricey, but it balances out the no-transaction fee feature. Also note that Kajabi limits the number of students on its lower priced plan, which is another important consideration.
Thinkific vs. Teachable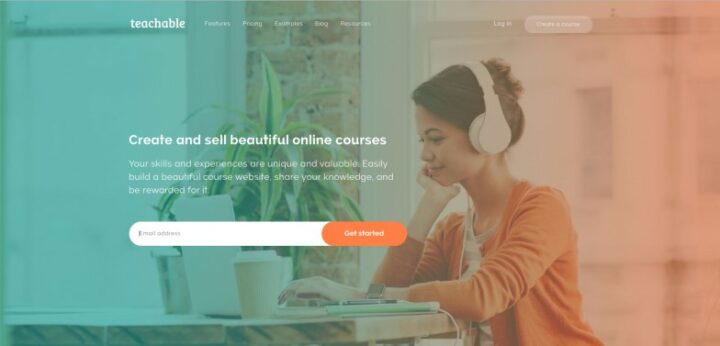 The online course platform Teachable is a chief competitor to Thinkific, but it comes with a lower price tag. Teachable's top plans are more economical, with a price difference of $1800 at the highest level.
In addition, Teachable also boasts better customization options for checkout and upsell pages and offers a number of add-on features. These include assistance to help customers build and run marketing campaigns, and the option to set up affiliate programs. While Thinkific and Teachable are both great programs that offer many similar features, Teachable provides the more affordable option overall.
Thinkific Pricing FAQs
1. Does Thinkific charge a transaction fee?
No, Thinkific doesn't charge a transaction fee on any of its plans. However, you'll be paying a processing fee to Stripe/PayPal for all transactions. While generally it's 2.9% + 30 cents, it can vary depending on your location and other factors.
2. Does Thinkific have any limit on the number of courses or the amount of content you can host?
Apart from the Free Plan, where you can create only 1 course, all other plans allow you to create an unlimited number of courses. In addition, there is no limit on the number of videos or other content types that you can host on Thinkific.
3. When would I choose the Thinkific Growth Package as part of the Pro Plan?
Think of the Growth Plan as an available add-on, should you choose to use it. It allows you to unlock additional features that otherwise would only be available with the Thinkific Premier Plan. The Growth Package costs an additional 10 cents per user, and your price is capped at the $499 per month you'd pay for the Premier Plan.
Putting Thinkific Pricing Plans Together
By now you should have a pretty clear idea of what the different Thinkific pricing plans have to offer.
While there are plenty of online platforms that allow you to create, host, and sell online courses from your own website, they're not all created equal.
The beauty of Thinkific pricing plans is that they offer a "pay as you grow" pricing structure, including a Free plan that allows you to test the waters, and ramp up your business slowly.
So whether you're brand new to online courses or are an experienced online course creator, you're sure to find a Thinkific pricing plan that will work for you.
Want to learn more about the online course creation process? We invite you to enroll in our Free Course Builder's Bootcamp so you can set yourself up for long-term success.
FREE Course Builder's Bootcamp!
In just 6 days, learn all the essentials to create a successful online course!