6 Tips on Managing Your Social Media Life on a Smartphone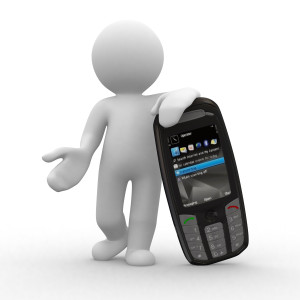 Managing your social media life isn't an easy task, especially if you're using it to attract and connect with as many people as possible. While social media is a great tool for all marketers, it takes patience and persistence to take advantage of its full capabilities.
Navigating the social media sphere on your smartphone provides the convenience of on-the-go communication with your clients, customers, and consumers. However, if you don't know how to utilize this tool and reach them in a way that matters, you're likely feeling frustrated.
Fear not, for there are ways to turn this frustration into success. With these six tips, you'll be well on your way to forming a social media strategy that works – on your smartphone.
Get the Apps You Use Most
Your smartphone can become your social media hub, but you need to download the right applications before you get started. If you currently use a Web browser to access sites like Facebook, Google+, and Twitter, then it's time to search and download their corresponding applications so you can access them directly.
It's a lot easier to open any of these social media sites on your smartphone through an application than to open a browser window and log in. As a result, you'll save time from having to open multiple browser windows every time you want to use Facebook and Twitter simultaneously. You can then use this extra time to network and interact with people on these platforms.
Remember to only download the social media applications you know you'll use. Using social media to market to people isn't beneficial unless you're investing your time and energy to it. It's better to focus on using two social media platforms consistently than to spread yourself thin trying to manage seven. Not only will trying to do too much frustrate you, but you'll never attain the results you're hoping for.
Consider Cross-Platform Apps
Being a social butterfly isn't easy, even when you're fluttering your wings through a virtual world. As a marketer, you have to know how to engage people on a variety of levels on a consistent basis. If you don't put forth the effort to keep in contact with the people you're reaching out to using social media, you'll likely lose their interest and business.
If you find it difficult to keep up with your profiles consistently, you should consider using a cross-platform application that'll help you manage them all from one place. Not only will this assist you in organizing all your social media accounts – if you're using more than a handful – but it'll also keep you continuously active on each platform with automated status updates. This tells your clients and customers that you're engaging and active, which is important to them.
Two of the most popular cross-platform applications include Hootsuite and Buffer.
Both of these will let you use at least two or more social media sites at once, cutting down on social clutter and making it easier to manage your social life with a smartphone. And the best of it all is that they're all free, so there's no financial risk of trying them all out to see which one caters to your personal preferences.
Know What You're Sharing
Your smartphone assumes by default that you want to share everything that you're experiencing. If you post a picture to your Facebook profile, it'll include your location and what time you snapped the photo. That's fine for some people and some scenarios, but not everyone feels comfortable sharing that much information with the world – some of us prefer a little privacy.
Luckily, most phones and applications give you the option to turn off certain functions. Depending on what type of smartphone you have, you can even restrict certain applications from accessing information about your location. If your phone doesn't let you do that, read about the application to turn off the functions that make you uncomfortable.
As a marketer, it's important to be in direct control of what you're sharing. After all, if clients, customers, and consumers are looking at it, then whatever the content is directly influences what they think about your product or service. Remember to remain strategic and not share anything that has the possibility of casting a shadow on your social media aspirations. Before sharing ask yourself, "Is this likely to help or harm me?"
Use Push Notifications (Or… Don't)
If you're serious about marketing and managing your social media life on your smartphone, then you need to learn about push notifications. Most applications will ask you whether you want to allow push notifications. This just means that the applications will alert you when you get a new message. If someone sends you a message on Facebook or Twitter, then your phone will beep or vibrate. Most phones also let you turn off push notifications, preventing all applications from checking messages until you do it manually.
If you're serious about keeping in touch and interacting with people on social media, then it's in your best interest to allow push notifications. As stated before, it's important to engage with clients, customers, and consumers. If you're not responding or replying instantly – or within a reasonable amount of time – then people notice and tend to keep you out of the loop.
In order to build a solid network and foundation through your social media platforms, it's important to stay in the loop at all times. With push notifications you can do this, being informed of new comments, posts, and other activities on your accounts.
Remember though, there's a price to pay. To use push notifications, your phone will constantly send queries to the Internet, which typically uses more data than having this option turned off does. As long as your smartphone has an unlimited data plan, you won't have to worry about it.
Protect Your Phone
When you rely on your smartphone to manage your social media life and market to millions of people, it becomes an essential tool that you can't afford to break or lose. If you don't think you'll break or lose your smartphone, give it some time and think again. Cell phone cases from T-Mobile will protect your smartphone from all types of drops and falls. Without having a protective case for your smartphone, one clumsy mistake could destroy your phone.
You should also consider using a service that helps you track lost or stolen smartphones. Lookout Mobile Security Premium only costs $4 a month. That's worth the price when you lose a phone that has all of your valuable information and passwords in it. Most of these services will let you locate your phone on a map or sound an alarm (in case it's just stuck under a couch cushion and you can't find it).
As a marketer, no matter how minute it seems, it's worth it to invest in these necessities. After all, your smartphone is your outlet to the world you're networking and interacting with. Without that world, you're not doing your job in developing and nurturing relationships with clients, customers, and consumers.
Know How to Monitor Yourself
Social media platforms have changed the world; they're more than just a fun way to play games with friends. And as a marketer, you probably know this more than anyone else because social media has become the go-to place to communicate with existing clients and find potential customers. While they've become a great tool for marketing, they've also enabled people to share information about important events (such as the Boston Marathon bombing and the uprising in Egypt) before traditional news outlets had any idea what was happening.
No matter what you're using social media for, it's important to monitor yourself. This is even more important as a marketer, because every bit of information you share, every comment you make, and every status message you spread is being examined by clients, customers, and consumers. Although it's tempting to take part in debates over serious political issues or discuss recent events, it's better to stay out of it and let the people who don't have to worry about upholding an image and reputation have at it.
Involving yourself in these discussions limits you to the people you can ultimately reach. People are passionate when it comes to topics like politics, and including yourself in these discussions and debates will likely attract some to your product or service and detract others. When monitoring your own activities, remember to remain strategic, think ahead before you post anything, and consider the consequences of what you share.
Social media has changed how people communicate with one another. As a result, it's become a valuable tool for marketers who use it to network with and reach millions of people daily. With the addition of the smartphone, doing so has become a possibility – no matter where you're at.
Do you have any other tips for beginner marketers using their smartphone and social media platforms? How have you used social media to further your product or service?