Choosing the Right Social Media Platform for Your Business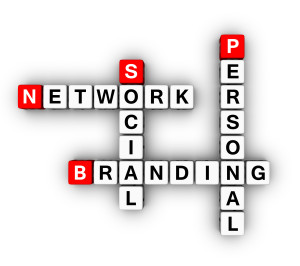 It's hard to keep up with the plethora of social media platforms available  to promote your business on. When Facebook came on the scene, you were skeptical, but you started because everyone said it was "the" place to be. And now that you've got the hang of it, there's Twitter, LinkedIn, Pinterest, YouTube and Google Plus. Where do you draw the line?
It's not enough these days to just be on social media – everyone else is there too. You need to be effective on social media and really be playing the game well. So rather than trying to be everywhere at once, you're better off just focusing on one or two social media platforms that really suit your business.
So which ones do you choose? At the end of the day, it's all about choosing the platforms where your audience hang out. Choose a platform that's going to help you get your message out to people who are genuinely interested in what you have to say, and ultimately what you have to offer them.
If you were reading carefully, you'll notice that I said choose one platform that's going to get you where you want to go. Let's take a look at the 6 major platforms and work out where you should be focusing your time and effort.
Facebook
What Is It?
Facebook is a huge social networking platform. Users over 13 years of age can create a personal profile and request to "friend" other users. They can update their status by sharing text, images, videos and links. Users can also communicate privately though an internal messaging platform.
As well as personal profiles, Facebook allows users to set up Groups and business pages. Business pages can then be "liked" by personal accounts, which allows people to interact with the business page and like, comment or share their posts. This opens up a whole new way of communication for business owners who can get into the news feeds of their fans and get their attention while their fans are browsing Facebook on their computer, laptop or mobile device.
One of the most powerful features of Facebook is their advertising platform. When a user joins Facebook , they agree to Facebook accessing their usage not only within Facebook but on their computer and mobile device as well through the use of cookies and pixels. This means Facebook knows what they are interested in, what type of websites they visit and what they have been searching for. To see how you can utilize this information for your marketing efforts check out "How to Target Facebook Ads".
Who's Using It?
With 1.23 billion monthly users, Facebook is by far the biggest social media platform. That equates to about one-sixth of the world's population!
Facebook first started in 2004 as a platform for college students. In 2006 it was opened to everyone – and that's exactly who's joined. It seems every man and his dog has their own Facebook account. And yes – many pets have their own accounts!
Although many businesses still see Facebook as a platform where only the younger generation hang out, this is certainly not the case. The number of Facebook users over 55 years old grew by 80% last year alone!
Many older users see Facebook as a great way to keep in touch with family all over the world by viewing photos of their grandchildren and keeping tabs on their kids.
I Recommend It For
Everyone! No I'm not kidding! I've yet to come across a business who can't benefit from Facebook. Last year I even put together a Facebook business page for a pet crematorium.
Your business doesn't have to be in a sexy industry to do well with Facebook. By having a page you allow your audience to "check in" to your location and also "tag" your business in their posts. Many people turn to Facebook for recommendations from their friends.
Your audience could be looking for a new dress, hairstyle, restaurant, accountant or lawyer. Whatever their need, there is bound to be someone on Facebook with a suggestion for them. By having a business presence you make it really easy for someone to link to you as an option.
Combine this with the ability to target your ads to specific users who would have a genuine interest in your product or service, and you would be crazy not to be on Facebook.
Facebook Tip – Post a minimum of twice per day and keep promotional post to a maximum of 20%
Twitter
What Is It?
Twitter is a fast paced social media platform where short sharp pieces of information are shared. Users can posts tweets of 140 characters only which can include text, links and images. Users can "Follow" other users to receive their tweets in their newsfeed. You can also favourite tweets by others, reply to tweets or re-tweet from your own account.
Twitter is responsible for the world of #Hashtags we now live in. #ThanksTwitter.
The great thing about Twitter is that you can interact with a community of people in real time. Imagine you're a hairdresser and you search for Tweets with the hashtag #BadHairDay. You could then reply to those tweets  offering advice or tips on how to deal with a bad hair day and what they could do to turn it around.
As a business you can monitor any mentions of your @username and reply to comments and questions as they arrive.
Years ago I remember hearing a story of a girl in Myer who was trying on a dress in the changing room. The shop assistant  asked if she needed help. The girl explained she needed a different size and gave the lady the dress she had tried on. Off the shop assistant went to get the other size – or so the girl thought. After waiting 10 minutes, the girl Tweeted from her mobile phone that the shop assistant had obviously gone to lunch and forgotten about her while she was standing in her underwear in a Myer changing-room. Myer saw the Tweet and immediately got another shop assistant to help the girl, take her the dress and gave her a Myer voucher to apologise.
It was a great outcome for the girl waiting in the change room- but also great PR for Myer!
Now, I'm not suggesting this scenario will happen to you. But it does show the power of Twitter and how its instant messages help you interact with your customers or potential customers in real time.
Who's Using It?
With 255 million monthly users, Twitter is certainly smaller than Facebook. But that's still a LOT of people we're talking about. 500 million Tweets are sent every day!
It is used by businesses, celebrities, industry leaders and everyday people, with the number of followers a user has often being seen as a measure of their popularity.
Many everyday Twitter users simply browse and absorb information from Twitter, and choose to actually tweet nothing themselves.
The most popular age group on Twitter are 18-29 year olds.
I Recommend It For
People who have a lot to say with the time to say it. Twitter is a very powerful platform, but to use it effectively you need to be posting several times per day and have new and relevant information to share each time. It's great for users who have specific updates to share each day like the weather, traffic conditions or latest news.
Although you can pre-schedule your Tweets, it is something you need to keep on top of every day. You need to know when someone has mentioned you so you can interact and respond.
Another clever use of Twitter is to build relationships with people. Perhaps there is someone high up in your industry who you would love to interview. You could start interacting with their Tweets and build a relationship with that person so when it comes to asking them for that interview you don't seem like such a stranger.
Twitter Tip: Search #hashtags relevant to your business niche to find conversations you can join
LinkedIn
What Is It?
LinkedIn is a corporate networking social media platform. It started out as a platform for job seekers to create a profile about their skills and experience, an online resume if you like. Since then it has grown into a platform for professionals who want to connect, network and build relationships.
Users can create a LinkedIn profile that can display employment history, skills, experience, awards, projects and information for getting in touch. It's still very much like an online resume – but LinkedIn is not just for people who are looking for work.
Much like Facebook, LinkedIn users can post status updates including text, images and links. There are professional groups you can interact with and talk about specialty topics relevant to you.
You can send invitations to connect with other users. LinkedIn then shows that you're a first connection with that individual. But, LinkedIn also shows you if you are a second or third connection to someone. This is really useful, because LinkedIn also shows you how you're connected so that you can request an introduction through the common person linking you and your second or third connection.
People can also endorse you for your skills and leave recommendations, which adds credibility to your profile.
You can find people on LinkedIn by searching for specific job roles, industries, locations etc. This can be very handy. My first business moretas4less was a discount card for Tasmanian tourism businesses. In order to sign up businesses, I needed to speak with the marketing person. Now if you have had any experience cold calling, you will know that if you ring a business and don't have someone to ask for you are not going to get anywhere.
LinkedIn changed all that. I used it to search for all the marketing people for tourism businesses in Tasmania and then call and ask for them by name, confidently – as if I knew them already. It was a great way to find out exactly who I needed to speak to. Disclaimer: Even with this strategy I was still terrible at cold calling!
Who's Using It?
LinkedIn has maintained a more corporate user-ship and therefore you don't see the sort of "check out what I had for breakfast posts" you tend to get on Facebook. It has 187 million monthly users with 2 new people joining LinkedIn every second.
As well as personal profiles, you can create company profiles which allow you to showcase your products and services, post status updates and list job vacancies.
I Recommend It For
Business professionals looking to network or establish themselves as an industry leader, especially with other business professionals. It's also a good way to meet your ideal clients, if you're targeting them based on their professional interests.
The best way to use LinkedIn is to be active in relevant groups, providing helpful information and advice for people's questions.
LinkedIn is one of the best social media platforms for business to business marketing.
LinkedIn Tip – Your LinkedIn profile has a high correlation with Google search results. If you're looking to be found for a specific service, I recommend optimising your LinkedIn profile. After customising my LinkedIn URL to au.linkedin.com/in/socialmediamarketingtasmania/ I was on the first page of Google search results for 'Social Media Marketing Tasmania' the same week.
Pinterest
What Is It?
Pinterest is an image sharing platform. Users can create boards and then "pin" images or videos to them. They can pin images from their computer, from a website or even re-use someone else's image (called a re-pin). Users will often create multiple boards, one board per topic, and pin images relating to that specific topic on that specific board.
For example, your audience may, like me, be planning a wedding and spending hours on Pinterest pinning images of wedding dresses, hairstyles, jewellery, ceremony locations, wedding rings, bridesmaid dresses, flower girl dresses… oh and the men's stuff too!
Imagine then that you come along on Pinterest and find my board called "Wedding Inspiration." You can re-pin images from my board to your own "Wedding Plans" board, or your can choose the follow my board. If you choose to follow my board, you will be notified when I add new images to it. You can also choose to follow me as a user, in which case you will receive notifications when I add a new image to any of my boards.
Now imagine that you're in ladies fashion and that you have a board for shoes, a board for dresses, a board for handbags, etc. Every time a user follows you, they get notified when you add a new product. Each image you upload also links back to your website where they can buy that product.
Who's Using It?
Pinterest's users are 85% female. So straight away: if your target market is men, you would be better off focusing your time elsewhere. If your target market is women, then stick with me here…
Pinterest users spend, on average ,$180 per order (more than double the amount spent per order by Facebook's users). This is more money per transaction per user than any other social media platform!
For many online retailers, Pinterest is the highest source of traffic to their website – even above Google!
Mums share 3 x more content on Pinterest than other users, so if your targeting parents it's a great platform for you. It's also a great platform for anyone who can present their product or service in a very flattering visual way. After all, who was it that said a picture is worth a thousand words?
I Recommend It For
Pinterest is great for sharing images of your retail items – clothing, accessories, shoes, home-wares, kitchen appliances, etc. But, it's also great for sharing infographics, blog images (directing back to the post on your website), DIY image, and inspirational pictures.
Real estate agents could post images of properties for sale, builders and landscapers could post before and after photos of their past work.
It's perfect for photographers and artists who want to build a portfolio of their work that's easily shareable.
If your business does not revolve around high quality images or have a product or service that could be captured through photos or videos, then this is not the platform for you.
Pinterest Tip – 80% of Pinterest users just re-pin images – be the 20% and upload original content. For more Pinterest tips check out "A Brief Guide to Pinterest Marketing for Your Business"
Google Plus
What Is It?
Google Plus is the new guy on the block for social media platforms. As the name suggests, it's owned by Google – which instantly makes it an important player. Google Plus has many similarities to Facebook in that it users create a profile with a large cover image and profile picture and details about themselves. They can then post status updates with text, links, photos, and videos. There are communities (groups) and business accounts.
The main difference is that your audience can choose to follow you, rather than having to request a friendship. In Google Plus land you also "+1" things instead of "liking" them.
Another major feature Google Plus has which Facebook doesn't is Google Hangouts. These are video hangouts which are steamed through YouTube. Hangouts allow you to have conference calls with many users (free of change) or even run a webinar through the free platform.
Who's Using It?
With 540 million monthly active users, Google Plus may be new – but it's not small. However I must mention that Google gets these numbers from people who use any one of their related Google Plus services, which can be a YouTube account or even a simple Gmail account. People who use YouTube or Gmail also automatically receive a Google Plus account, but that doesn't mean that they're actively using the platform. For this reason, it's difficult to say how many active users they have on Google Plus itself.
I Recommend It For
I recommend it for anyone looking to have their website rank well. Honestly, the fact that it is owned by Google means businesses with an active presence on Google Plus are sure to reap the rewards. Gather enough followers and your Google+ profile can be showcased on the Google search results page next to your search result listing. Your Google Plus listing displays your images, name, and number of followers as well as your bio – this is prime real estate!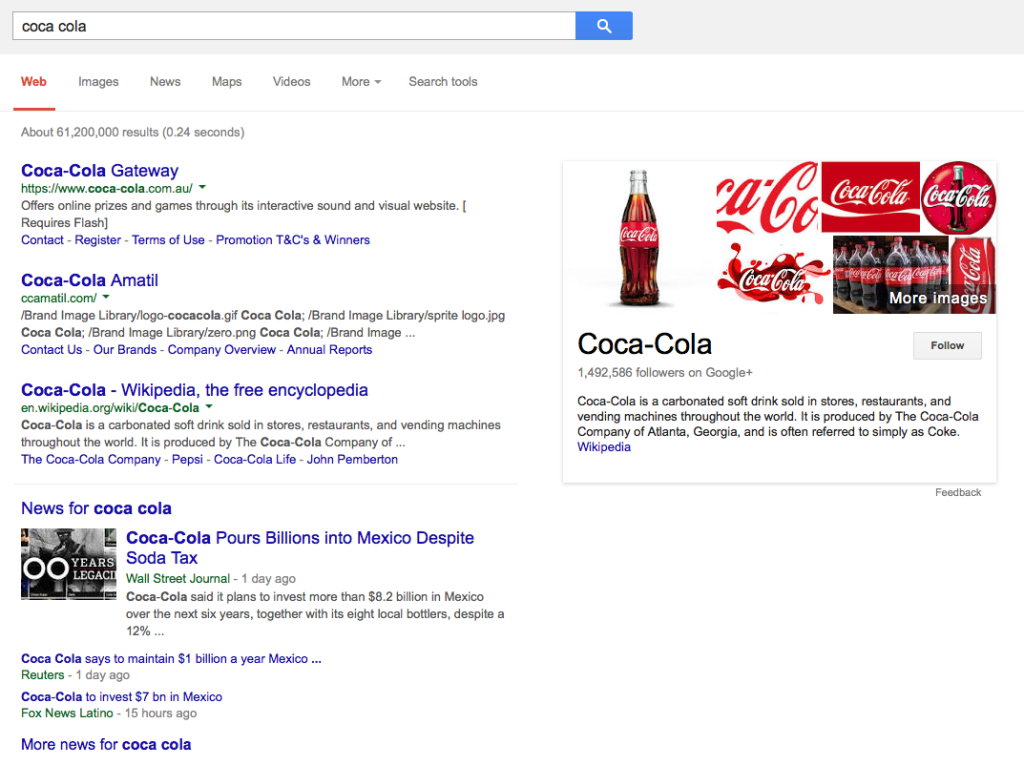 Google Plus is growing rapidly, but it's not yet as big as Facebook. This can be a good thing. If you get on the bandwagon now before everyone else does, you could just have an advantage over your competition.
For particular industries anything visual works really well. If you're a photographer I highly recommend it. Great photos are shared rapidly on Google Plus and they are making it easier and easier to upload high quality images with built in image editing tools.
Google Plus can also be a great way to connect with your audience based on their personal preferences. Using the groups feature, Google allows people who are interested in specific topics (running, cooking, blogging) to connect with other people who share their passion. This can be a great way to "meet" new audience members, and also to keep up with news about your area of expertise.
Google Plus Tip – Add users to different circles so you can write to different people with different messages.
YouTube
What Is It?
YouTube is a video sharing platform. If you haven't watched a YouTube video, you haven't lived! They flood our Facebook news feeds as well as Google search results. And these days, viral YouTube videos even make the news!
With more and more people searching via video YouTube has now become the second biggest search engine in the world after Google. After all, a staggering 100 hours of video are uploaded to YouTube every minute – that's a lot of information!
As a business, you can set up a YouTube channel where you upload videos for people to watch. Users can then choose to give your video the thumbs up or thumbs down and leave comments. The main aim with YouTube channels is to get people to engage and subscribe to your channel so that they will be notified every time you upload a new video.
Who's Using It?
Over 6 billion hours of video are watched on YouTube every month!
People from all walks of life are consuming video on YouTube. They could be watching the latest music video clip that's gone viral, a funny parody, a tutorial on how to cook a paleo-friendly meal, or how to change a tire.
You can search anything on YouTube and I guarantee you will get results! Whenever I want to know how to do something on the computer – whether it be editing my website or doing something complex on Photoshop – as soon as I get stuck I just "Google It." I click on Videos in the search results and there waiting for me are hundreds of YouTube videos showing me exactly how to do it!
Videos have become a part of our lives. People consume information a lot quicker through video that traditional text content. Given the length of this post I'm flattered that you are still reading. But, I'm starting to think perhaps I should have put it together as a video blog!
I Recommend It For
Anyone who wants to start marketing their business through video. Think about what your potential customers are searching for and then find a way in which you can answer their question via video. A local mechanic I worked with created a series of videos on basic mechanical things people were searching, for like "How to change a tire" or "How to check your oil and water." By creating a video he helped people all over the world, not just his local market. Think of all the brownie points he's getting! For those that are in his local area – and especially the lady he just helped on the side of the road trying to work out how to change her tire – you can bet his business will be top of mind next time she needs a service.
You can use video to build your credibility in an industry. As a hair salon you could do a series of how to videos for different hair styles. A dog trainer can record a series of training videos to teach your dog some basic tricks. At the end of watching your free videos, some people will want to learn more or want it done for them – and they will want it done by you, the expert. As an added bonus, video also does great thing for your websites SEO.
YouTube is not a channel you have to be on all the time. It can be – and should be – a long term strategy to post videos periodically and share them across your other social media platforms.
YouTube Tip – Check out Gideon Shalwick's "How To Make Your Video's Go Viral".
Still Not Sure?
Remember that the goal here is to focus your time and efforts on developing just one social media platform for your business. If none of these lept out at you as "the one" while you were reading, try thinking about what your business has to offer. Is it mainly image based, information, short tips, long articles, videos? Think about your content and then decide which platform allows you to provide this in the best way suited to you.
If you're looking to communicate and engage with a large community, look at Facebook and Google Plus.
If you're all about images, then Pinterest is for you.
If you have information to share via video, then get yourself on YouTube.
If you're looking to network and provide quality input to a group environment, then LinkedIn is where you should focus your time.
If you have a lot to say every day that can be broken down in a short sentence, then Twitter may just be what you're looking for!
When In Doubt, Ask Your Audience
If you're still confused and not sure which platform you're audience is on then there is only one thing left to do – ask them! If you have a social media presence already then put up a post on a platform you're already using and ask which platform they spend most of their time on. If you're in a brick and mortar store, make conversation with your customers and ask them. If you want to get more responses from a larger audience, why not run a competition and in the entry form ask which social media platform they spend most of their time on! If you have an email list already then send this out via email with a free survey from Survey Monkey.
There will always be a variety of social media options, because different people choose to communicate differently. That's why your social media has to be based on quality over quantity. It's better to be really active on one or two platforms and do a great job, than doing a mediocre job across all platforms.
I'd love to hear which industry you're in and which platform you see as the most important for your business? Maybe you still need some help to decide? Let me know in the comments below!