5 Myths About Social Media Marketing in 2016
What kind of businesses do you think need to be on social media in this day and age?
Possibly clothing or food shops, makeup boutiques, or maybe even law firms come to mind. But what about the ones that belong to a more "boring" market niche, such as pharmaceutical companies?
Are all of them doomed to fail in the social media era? Certainly, for each industry sector only a limited set of social networking services works, but that doesn't mean B2B efforts can make it without their help.
Here's a good illustration of how beneficial it can be: Novartis International AG, a pharmaceutical company, succeeded in establishing its presence on Instagram and Twitter. Both accounts have a total of more than 9,000 subscribers.
The content posted there is engaging and diverse: charity donation contests, health stats and facts, company and world news related to healthcare, and so on.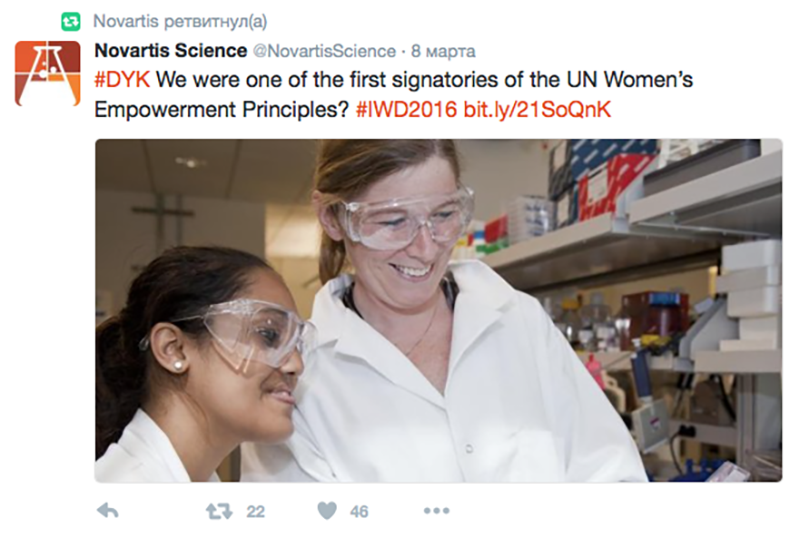 Source: the Novartis International AG Twitter account
It's an interesting mix of shock and inspiration.
But what if a company's expectations about social media simply haven't been met? It could be a clear sign of choosing the wrong methods for interacting with your audience. These failures are often the result of some misconceptions.
Below you will find five of the most widespread myths along with realities either totally or partly debunking them:
Myth 1. Social Media Marketing is Helpless in Generating Quality Leads
Reality. This misconception is very common. Social media is often associated more with raising brand awareness and increasing customer loyalty than with sales.
According to the figures provided by Hubspot, 70% of businesses are actively using social network sites for lead generation, with 34% of marketing specialists able to generate quality leads. These stats exceed the results obtained with either PPC or direct mail.
Anastasia Kononova, a social media marketing lead at Unplag, says that "social media is one of the first places checked out by potential customers. Here they learn about your brand, its features and read commentaries left by other customers.
To ensure quality lead generation, you just need to apply correct targeting settings. You can choose your audience by interests, age groups, income, etc. To keep holding their interest, craft compelling content and you will achieve the desired aim."
By finding your customers' pain points and tracking their behavior on social media, you double your chances to successfully sell them your services or products. Thus, if you intend to make the most of Twitter as a lead generation platform, why not keep an eye on your brand mentions? By doing so, you won't miss out on providing the right advice at the right time.
One of the tools able to assist you a great deal in ratcheting up your brand or company mentions is Sproutsocial.
Another good method is creating a custom tab on your company's Facebook page that is set it up specifically to collect leads. To better engage visitors, you can also take advantage of services like Pagemodo.
Myth 2. You Can't Accurately Measure Its ROI
Reality. The problem is that companies, regardless of their proficiency level, business model, or size, are all still struggling to estimate the value of their social media campaigns, and one recent study proves.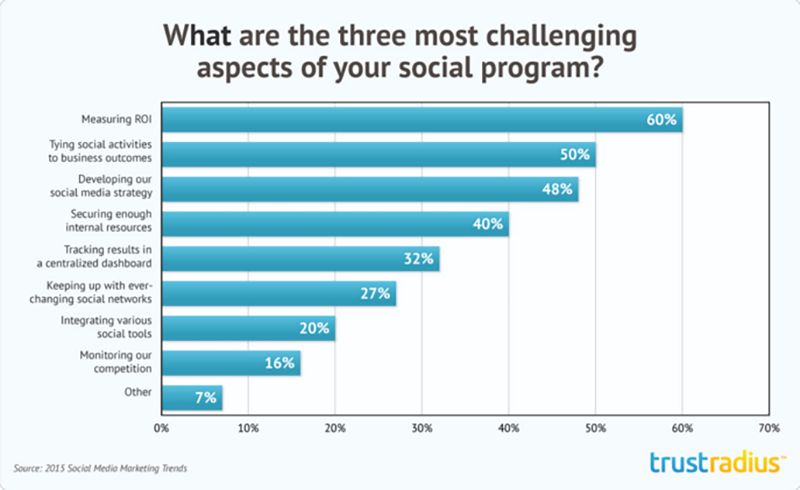 Source: https://www.trustradius.com/articles/2015-social-media-trends-report
This myth is both partly true and false. There are so many analytical tools available, and you still can't accurately calculate ROI. Why?
Hypothetically, your future customer sees your brand page on Facebook and after a couple of days decides to make a purchase. By entering your brand name into the Google search line, he or she comes to your website and buys the product. Therefore, according to your tracking software, your new customer has come via direct traffic, not Facebook.
Still, if a business marketing campaign is based only on social media, you've got a win-win situation. This is the only source of your revenue. That's why you can easily compare the quantity of resources spent to how much you received in return.
To make ROI calculations possible, marketers also advise creating landing pages in support of your social media campaign. Once Google Analytics is connected, you will be able to track conversions and web traffic.
To understand what budget you need to be further invested in social media, don't forget about customer lifetime value (CLV) assessment. To do this, just correlate the CLV of social media and other marketing tools you use.
Myth 3. Follow the Adopted Strategy to the End
Reality. Whenever you need to come up with a list of social media networks to advertise your brand, most often only Twitter and Facebook are given the highest priority. But what about others? Have you carefully studied their rankings? Take a look at the data below: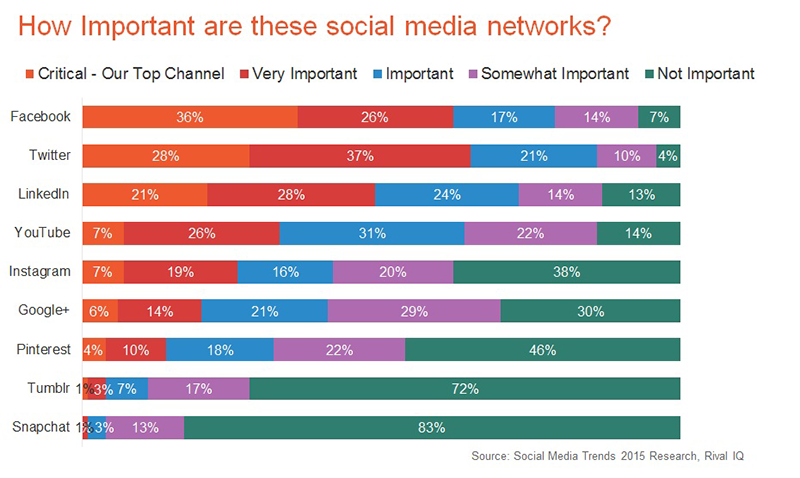 Source: https://www.rivaliq.com/blog/social-media-trends-2015/
As you can see, your social marketing strategy is incomplete if it doesn't include such important platforms as LinkedIn, YouTube, and even Instagram.
And because these platforms are constantly changing, you also have to keep adapting your content to make the most of them. Instagram has launched a new search functionality, allowing searches through other subscribers, and is also increasing video length from 15 to 60 seconds.
Myth 4. Making Posts Mobile-friendly Isn't Worth It
Reality. The fact is that mobile usage now exceeds desktop computer usage.
In 2016 it's crucial to consider mobile format when working on campaigns or digital programs. More users search, subscribe, and enter social media accounts via mobile devices. Even tablets aren't as popular as phones. Here's what the research data provided by KPCB reveals: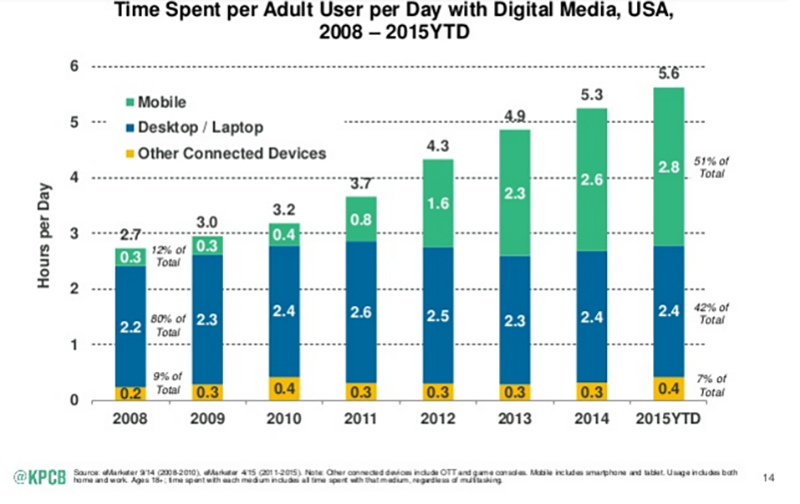 Source: http://www.kpcb.com/internet-trends
However, this tendency doesn't suggest switching from long posts to short ones. If you think that mobile users are fond of "skimming" and mainly prefer visual content, you are just plain wrong!
Mobile users look through posts on their devices ten times more than on desktops. In other words, even if something interrupted their reading, they would go back to the text later on. What is even more surprising is that mobile readers consider longer texts to be of more value.
Here are a few suggestions on how to increase social shares and make your content more mobile-friendly:
A so-called heat map of each article is now a must-have, so, you'd better take it into account when creating a new review, article, etc.
If you choose to bet on longer posts, edit each paragraph carefully. They all should be meaningful and bring some value. Otherwise, most of them will only be half-read.
Short headlines (three words is an ideal length) together with 3-5 line paragraphs will increase the readability of your posts a lot.
Introductions still matter a lot. It should make everyone interested in reading a post as well as explain why it is worth the time.
Avoid embedding too many illustrations. They will provoke your readers to scroll the text without digging deeply into it.
Myth 5. Disregard User-Generated Content
Reality. Unlike viral content, the effect of which is difficult to predict and control, user-generated content (UGC) has proven more powerful.
It can even help spread the news about your brand across multiple social networking sites. If arranged properly, you won't need to spend much time and effort on it, as most of the work will be done by your followers.
Here is how Sophie Turton, a Content Marketing Specialist at Bozboz, explains UGC's value:
"We can see it in the rise and rise of Instagram and the self-made stars it creates. In the 75% year-on-year increase in Pinterest pin creation, and the fact that over 65% of Snapchat's 100 million daily users are taking photos and creating 'stories' of their lives."
Additionally, UGC increases engagement, conversions, and assists in accumulating a lot of "social proof." Sometimes this type of content can even go viral, as happened with Lay's "Do Us A Flavor" campaign.
To successfully incorporate UGC in your social media campaign, start developing your action plan by answering the following questions:
Do you want UGC to be entertaining or informative?
Where do most of your customers spend time (YouTube, Twitter, Tumblr, etc.)?
What will motivate your customers to generate content?
UGC is very effective because it establishes a dialogue between you and your customers. That's why creating multiple opportunities for your brand "fans" to take an active part in it is essential.
Wrapping Up
When used wisely, social media channels bring a lot of good to your business. For that to happen, you must know your target audience perfectly. This enables you to find a way to give your prospects what they want and turn them into your loyal customers.
Remember that most people in the online community don't want to be sold anything. Instead, they are looking for information that they really need.
Keep that in mind, and you will have the long-term success you've always dreamed of.
How about you? Are you seeing the results you want from your social media marketing efforts? What platforms do you find most effective? Advice? Questions? Let us know in the comments below!