Struggling with Your Social Media Marketing Strategy? Start By Being Social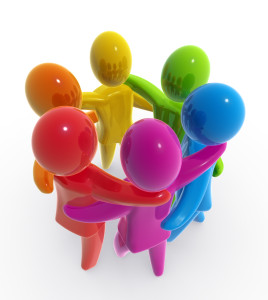 Are you struggling with your social media marketing strategy? Are you happy with the results that you're seeing?
If not, then you're not alone.
Sadly, many businesses and business owners aren't too savvy when it comes to social media. They jump right into promoting their product or service without first identifying who their target audience is, and how to connect with that audience.
This is a problem that plagues a lot of businesses.  Social media success requires that you be "social" first.
Let me explain.
Why do Businesses Struggle with Social Media?
Lack of Social Media Marketing Skills
When small businesses and entrepreneurs first look to social media marketing, they discover exactly how social media is a great place to uncover new business and generate sales.  So they set up a Facebook and Twitter account, and post a couple of "hey, we have X for sale – come and get it" messages. After months of following this tactic, they swear that social media advertising and marketing doesn't work, and that it's all a wild goose chase.
Only Doing What They Were Told to Do
The average business owner is engaging a social media marketing strategy because they were told that they ought to do it. You've probably heard several of these yourself: "social media is a great way to find more customers, get more fans, connect with more people!"
Those are good reasons to utilize social media. But, if you want to bring in brand-new clients, then you'll want to have a better understanding of what you – and your social media team – are doing.
To comprehend properly how to have social media marketing success, you first need to transform your approach to social media.
Step #1: Do Your Homework
Change How You Approach Social Media
The first step in changing your approach to social media is to realize that at first, social media marketing should not be used simply to earn money.
Everybody likes to buy, but no one wants to feel like a business is interested in them solely for their money. People get on social media for social reasons: for enjoyment, entertainment, connections. They aren't on social media to spend their dollars. The first step, then, is to capitalize on that social environment.
Here are some action steps to get you started.
How to Do Proper Research
Your first step is to do the proper market research involving your specific niche. Of course, you could hire a marketing firm to do this for you, but that's going to be a pricey undertaking. Nowadays more businesses are turning to social media as a cost effective way of conducting market research.  Here's how you can do the same.
Start by looking at your competition, especially their Facebook fan pages.  If you already have a page, there is a "Pages to Watch" feature in your page admin settings that features other fan pages relevant to yours so you know where to start.
If you look at your admin settings under insights and scroll down you'll see an area that looks like this: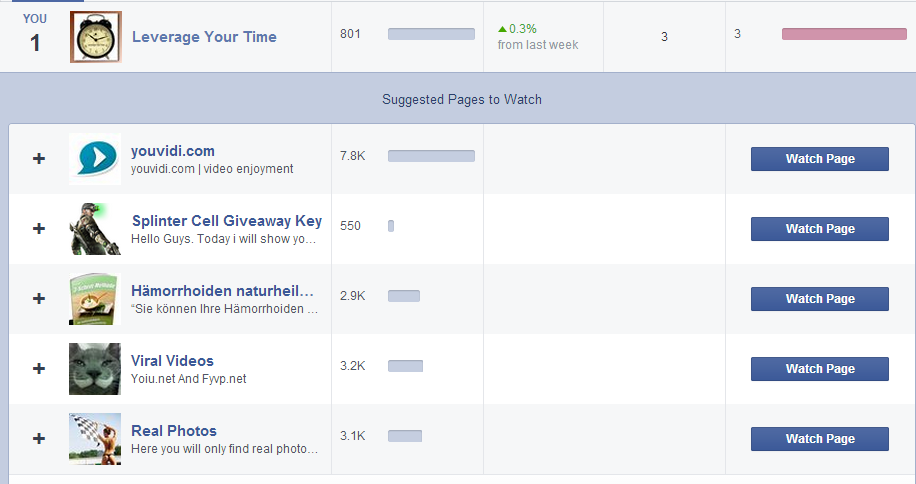 When you are looking at pages that are similar to yours, pay very close attention to what conversations are going on and what people are talking about on those pages.
A good indicator of a successful fan page is when the page has a good amount of likes, coupled with a good amount of active fans participating in discussions. One without the other should raise a red flag.
Using Trends and Insights
Nearly all of the social media platforms have search features for you to look at trends and insights. We will use Facebook as an example. Let's start with their "graph search".  If you don't know what that is, it's the bar at the top of Facebook that looks like this:

So let's say you're a yoga instructor and you want to put your routines on videos that can be bought online. By typing in "People who like Yoga" you will find that over 3 million people on Facebook like yoga.  Not bad for a "target market," huh?
Next you want to look at your insights in your fan page admin settings.  You are looking for whether your product or service is trending upwards, which represents a demand for your product or service. You're also getting a feel for what other opportunities are on the rise.
You can tell whether your product or service is trending upwards by the types of post on that you're submitting on your fan page. Click the "insights" tab, and then  "posts" to get this data. Look at the screenshot below:


In these screenshots, you're looking to see what types of posts get the most reach (number of people who saw the post) as well as the most engagement (number of people who liked, shared, or commented on that post). Which types of posts are getting a farther reach and more engagement: product-related posts, or with posts that are more content related?
Take a look at what is happening with your fan page and adjust accordingly. This will also help you to identify what trends are going up (remember you're in this for the long term!)
Another tool to use in your research is the keyword planner in Google Adwords to see what key words related to your product or service have the highest traffic and the lowest competition.  Please refer to the screenshot below:

Suppose I were to do a keyword search on "blog" and I customized my search by looking for keyword options that are closely related to my idea. I included terms like: blogging from home, "blogging from home", and make money blogging. Out of all of these keywords, you can see that "blog spot" has the highest number of searches and the competition is low.
Of course you want to experiment with your keywords to get the best results. And as always – the more you do it, the better you get. Another great source for you to tap into is LinkedIn's "Pulse" to see what is happening in your industry or niche.
The last research tool available available to you is the often-overlooked Google Alerts. With Google Alerts you can configure it to find content related to your niche or target market. You do not need a Gmail account to use Google Alerts. To create an alert follow the screenshots below.
Type in a search query like the one you see below:

Once you've created your alert you can edit it as shown:

In the editing mode leave the settings as shown below: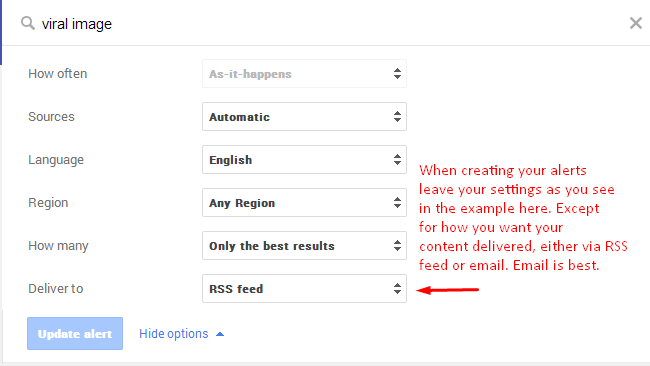 It's like having your own research assistant, isn't it?  But, you still have to get your own coffee.
Online Surveys (Survey Monkey)
You might also want to consider doing online surveys. Using a free survey service like Survey Monkey will provide you with a way to create effective surveys.  However, make sure your surveys are worded in a way that generates the info that you need.
Nothing will knock the wind out of your sails like developing a survey without a clue as to what the goal of the survey is.  Remember to keep your survey questions short, simple, and relevant, without any jargon that might turn people off and make your survey less effective.
For example: let's say you were going to use online surveys for market research. You could ask questions like:
What do you like the most about your current product or service?
What changes would most improve your current product or service?
What do you like the most about competing products currently available on the market?
What changes would most improve competing products currently available on the market?
What would make you more likely to use our product or service?
This is just a list to get you started. As you get better with your surveys, you will get a sense of what questions to ask that will work best.
Step #2: Connect with Your Audience on a Personal Level
Focus on Your Target Audience
Using a variety of tools, you've done your homework and gathered the information that you need. Now it's time to use that information to connect and engage with your audience.  It's important to grasp the fact that today's customer is very smart, and savvy.
Your customers are very savvy – they know how to discover your business (or your competitor) online. The question that they want answered is "Why should I do business with you?" They also need to understand even more about your company on a somewhat personal level.
This is why focusing on your target audience – and only your target audience – is so important.  Many businesses have made the fatal mistake of trying to promote a wide variety of products or services to a wide variety of customers, instead of just focusing on their core product or service and their core customer.
Reebok is a great example of this. Instead of remaining loyal to their core product (athletic footwear) in the way that Nike does today, they branched out into other areas and expanded way too fast. This hurt the growth of the company and as a result, they were acquired by Adidas.
Don't let that happen to you and your business.  Once you have your core product and service, and you've identified your target market, you need to establish yourself in that market.
Once you've done that, then and only then do you branch out.  Continue to conduct market research, identify trends, and find better and more efficient ways of getting things done.  Be innovative, determined, and focused.
Tips to Create an Effective Fan Page
In case you haven't logged in lately, Facebook recently changed the layout of their fan pages. If you want to create an effective fan page, then you first need to become familiar with the new features.
Make your page interactive by allowing people to post freely on your page. Also update the page with relative content such as blogs posts and webinar links as well as thoughts from other leaders in your niche.
Kim Garst of Boom Social is a great example of an effective Facebook fan page. Not only does she have a great number of likes, but she also has a good amount of comments.
Share and Tweet Interesting Things about Your Company
Social media advertising should be used to build connections with people. Use Twitter to share interesting and amusing things.  Upload photos directly in your tweets and share images directly with others in their news feed.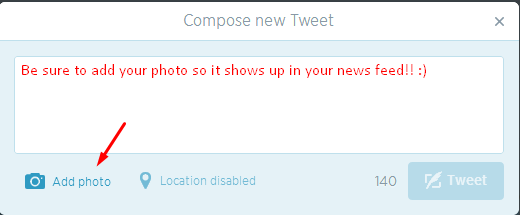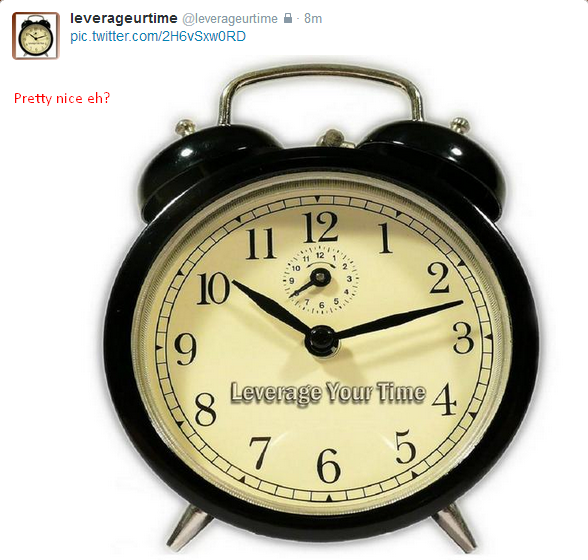 This is big for your business because it allows you to present your business in a more personal way.
Bring Them Inside Your Workplace and Culture
Remember that your customers are both savvy and smart – they want to know about the person behind the business. This is the perfect opportunity to share your workplace culture with the world! Share your thoughts with your Facebook fans and Twitter followers – you can even ask for new ideas!
A great example of this is a story I heard about a restaurant owner who harnessed the power of social media to show off his cooking skills in the kitchen.
He would ask his buddies and fans on social media for new ideas, and what they would like to see on his menu.  Guess which restaurant was packed with eager customers trying out some new and exciting dishes? Exactly!
Step #3: Ways to Effectively Build Rapport
Provide Customer Service
Now that you've done your research, and established a bit of a personal connection, it's time to nurture and grow those relationships .It's no surprise that building your business and building rapport with your target audience goes hand in hand. One of the best ways to build rapport is through customer service. This is a big one because it gives your company an opportunity to shine when challenges arise with your customers.
Regardless of which social media platform you are using, when providing customer service using social media, remember to be A.C.U.T.E
A is for Answer quickly and promptly. If you have a customer that posts an issue on your fan page, be sure to message them quickly and privately if possible.
C is for Concern. It's important that you show genuine concern for your customers. People don't care how much you know until they know how much you care!
U is for Update. Be sure to keep your customers and fans updated with any changes that they need to be aware of.
T is for Transparent. When dealing with customers, it's very important that you are transparent in all of your interactions. Remember, what's posted on the internet is available forever.
E is for Empathy. When you have a customer that is upset, sometimes the best course of action is to show empathy and let them vent before addressing their concern.
Develop Relationships
Take a moment to find out a bit about the people that you're dealing with. Pay attention to the things that they post. Sometimes they will drop little tidbits about themselves on your fan page.  
Using the phrase "Tell me" is a great way to open up dialog with your customers. "Tell me how your day is so far?"  Sometimes if someone is having a not-so -great day, they will thank you for taking the time to hear them out.
Include LinkedIn in Your Rapport Building
By far the best social media platform for building rapport is LinkedIn. When making connections here you want to make sure that you research their profile.  Find out what their hobbies and interests are.  Look at the content that they are posting and share articles and blogs that are similar, as well as content about their industry. Be careful not to overdo it. You want them to eventually reach out to you and connect with you.
Build a Large Following of Fans
This is a topic I enjoy blogging about because it dives deep into the mechanics of how to make use of social media. Try using a few of these principles in your own business and put your own twist on them. Keep in mind that a social media marketing strategy is more about forging relationships than promoting your product or service.
Your objective with social media is to build a big group of faithful and devoted fans who will certainly take a major interest in exactly what your business does. You can't have social media success without being "social."
Just take a look at Apple's fan page and the support from the fans of Apple computers. Notice that they care just as much about the Apple brand name and culture as they do about the products.                                                       
Step #4: From Fans to Paying Customers
Where the Rubber Meets the Road
Here is where all of the research and all of the fan engagement and building relationships pays off. It's great to do things, and do them well, but if you don't turn your raving fans into paying customers, then it's all for nothing.  So how exactly do you turn them into paying customers?  Funny you should ask!
Offer Coupons Exclusively For Your Fans
When you give your fans something that is free and exclusive to them it sends a message that they can't get it anywhere else. This makes your potential customers feel as if they are a part of a special club that only certain members can get into.
When you create a free coupon or a special offer exclusively for your fans, it not only gives them a sense of urgency, but also peaks their interest enough for them to choose to browse your products. Just do a simple Google search on "Facebook Coupons" to get some ideas.
Note: Most Facebook users have their Twitter feed linked to their Facebook account. This means that what goes on a Facebook Timeline also gets posted on Twitter's news feed, which spreads the word even more.
Statements Tell, Stories Sell
If there is one thing that everyone loves it's a good story. So what better way to sell your product or service than to tell a story that includes it?  If you're making statements to sell something, then you may appear as  someone who is trying to part people from their hard earned money.
However, if you start telling a story and it incorporates all of the wonderful features that your product or service has, then you'll naturally compel people to pull out their plastic, especially if those stories are from actual customers that are happy with your offering.  Remember the rule:
If You Say it, They Doubt It. If They Say It, It's True
Just because you say that your product or service is great doesn't mean that your potential fans are going to agree with you. But, if they already see great feedback as well as testimonials from your current customers on your fan page, then guess what?  They've done all of the selling for you!
Use your customers for leverage – they can be your greatest ally in selling more of your product. Have your happy and satisfied customers put their testimonials on your fan page to be seen by everyone.
Product Demos
Product demonstrations are a great way to sell your product, as long as you are well prepared for your demo. In this context, well-prepared means that you are engaging, and involving the customer as well as listening to their concerns.
If you can record a video of your product demo and post it on YouTube, then do so, and also post it on your fan page and encourage your fans to share it.
Be prepared to field questions from potential buyers and be honest with them. If your product is an online service, there are many screen recording programs that will allow you to record your online product demo so they can see it in action.
Social Media Works by Being Social
As you can see, taking the right approach to social media is very important, and it has its rewards. While it is tempting to just rush into your social media marketing strategy with a lot of excitement, doing so will probably only cause you to throw in the towel later.
With proper research that lays the groundwork for connecting with your customers on a personal level, building relationships, and turning those relationships into customers, you can definitely make social media marketing work for you. It's simply a matter of avoiding common social media marketing mistakes and devoting yourself to being social first, before you look to turn your fans into customers.
How is your business using social media and how savvy do you feel? Let me know by leaving a comment below.