The Ultimate Guide to Social Media Content Success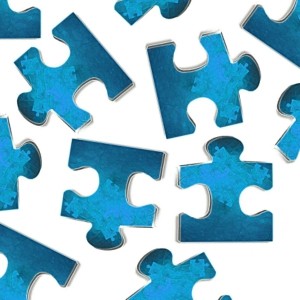 This post is a finalist in our Ultimate Guides Contest. Show your support for this, or any of the finalists, by commenting, sharing and joining the conversation!
Social media can be a phenomenal tool for building your audience, connecting with new people, and growing your business. Just one important thing – it only works when you are consistently present, engaging with your audience, and giving them content they will love.
Depending on your industry and target market, this means posting at least once a day on Facebook and five times a day or more on Twitter. And we haven't even started talking about Pinterest, Google+, and all the other options. But coming up with content many times a day, every day, can be an overwhelming challenge. Don't worry, this guide can help!
Read on to discover the six types of content you should be creating on a regular basis, how to make it work in a practical way that won't suck up all your time, and what will get your fans to love (not just like, but love) you.
Creating a Framework for Content
When we communicate in real life, we have all sorts of shared common cues with the person with whom we are communicating. Shared common cues are things like the place we are together, body language, tone of voice, time of day, etc. Even on the phone, we can often overhear background noise.
On social media we lack these shared cues. So instead, we tend to post whatever is top of mind for us, the poster. Hence all the pictures of what we are eating or drinking, or the thing right in front of our nose.
This is why sitting down at the computer and trying to think of what to post is a terrible idea!
Without planning ahead you most likely you will not be thinking about what your customer is thinking about on social media.
So what to do instead?
Create a Framework
Just like stretching a canvas gives you a place for a great painting, having a framework for your content allows you to open up your creativity and connect in whole new ways. And yes, this works in any niche and with any type of audience.
The framework consists of four parts:
Using tools to support your social media
Creating content based on post types that resonate with your audience
Using your "live" time to engage, take advantage of trends, and connect in real time
This is going to take some planning on your part, and a little time up front. The good news is that once you get the ball rolling, this will actually take less time and yield more results over the long term.
Step 1: Know the Goal
Effective use of social media requires that you have a goal in mind. Don't be surprised if social media feels like a waste of time when you are posting content without an idea of what the desired response is. Each and every single piece of content should be for a purpose within the framework of building relationships with your audience.
Most of the time when people talk about strategic content creation and setting goals, they are talking on the macro level. What are the big picture goals? Some examples are: growing your fan base, increasing sales, or improving retention.
This is an important part of creating strategy. As such, there are several good resources that delve into this topic.
However, people often overlook the equally important step of thinking strategically around each individual blog post.
People reading your post is a wonderful first step, but it doesn't get you very far. Reading all day means nothing to you if it does not lead to a deeper relationship with your audience. What is the action you want them to take?
Boiling your goal down to click-through rates and impressions is only half the equation here. There are so many more actions, internal and external, that you can guide people to make.
We will discuss the eight specific goal options and specific examples in step three.  For now, make the shift to thinking of social media as an active back and forth conversation of mutual expression and action instead of another broadcast medium. In other words, social media is more like the telephone and less like television.
Step 2: Pick Your Tools
The good news is that you don't have to do this alone. There are many tools available to help you be consistent with your content. Here are a few that I love.
Content Scheduler
Every day, I talk to people to whom the concept of a content scheduler is completely foreign.  Hence, a quick definition is appropriate here. For those of you who already know what a content scheduler is, just skip ahead to the next section.
It is impossible to be on every social network all the time. There may be times that you have something important to say and you won't be able to post in real time. Or, you want to be posting valuable content when your audience is online, even if you aren't.
This is where a content scheduler comes in.
It allows you to post content that will go live on your social media profiles at a later date and time. Be careful not to use this as an excuse to avoid live conversations. You still need to check in on a daily basis (we will talk more about this in a bit), but now you can have that consistency no matter what life throws at you.
The other advantage to using a content scheduler is that you can think about your content in a more connected and big picture way. Each post becomes part of a larger conversation, which is easier to do when you are creating the bulk of your content at the same time.
BufferApp.com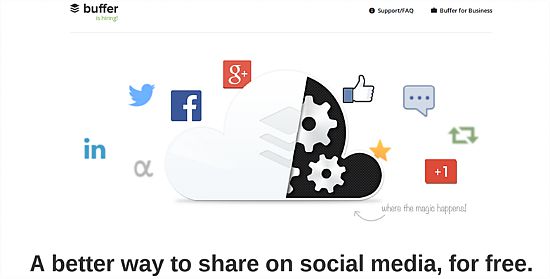 There are many different content schedulers out there. While everyone has their favorite scheduler, including HootSuite, I could not do what I do without BufferApp. Here are some of the things I love:
You can schedule content fast. Unlike other schedulers that require you to pick a specific time and date, Buffer allows you to add content and it will add it to the next available pre-scheduled time. You can also schedule to multiple platforms at the same time when appropriate. A word of advice here: do create unique content for each platform that you are on for best results.
Schedule content for specific days and times when you need to.
Built-in analytics and coordination with other useful tools such as Tweriod as well as the browser plugin that lets you post cool stuff to Buffer whenever you see it.
Just like Mirasee, BufferApp as a company has a strong focus on doing more than just selling. They value a great customer experience, transparency in their business practices, and are overall just a great company.
There is a free version you can try out (though this is one of those situations where I think it is definitely worth spending the $10 a month to get the premium version).
Content Curators
Swayy.co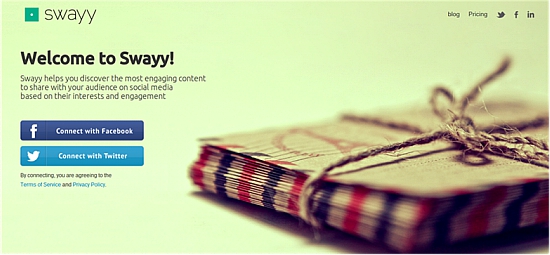 Swayy.co is a great site to see what is already trending in your circles, as well as to get new news and articles relevant to your areas of interest. Connect two social media profiles for free (there is an upgrade if you find you need more) and Swayy.co sends you an e-mail each day with articles you might want to check out from across the web.
LinkedIn.com
Yes, LinkedIn is a social media network. But, it is also so much more! One of the most overlooked parts of LinkedIn is the Interests section.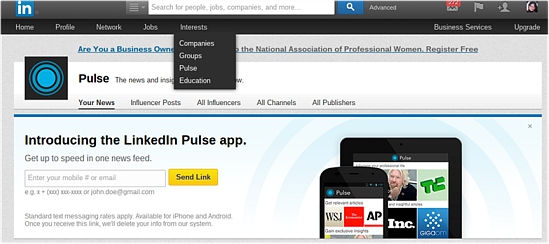 Go to the link that says "Pulse" and you will get to choose influencers, types of content you are looking for, and publishers. Then LinkedIn will create a news feed just for you with some of the best and most influential sources in your industry.
Google Tools
Sometimes the best things in life really are free. While most people just use Google for searching, there are many other ways that you can find relevant content on Google. How many of these are you taking advantage of?
Google.com/Trends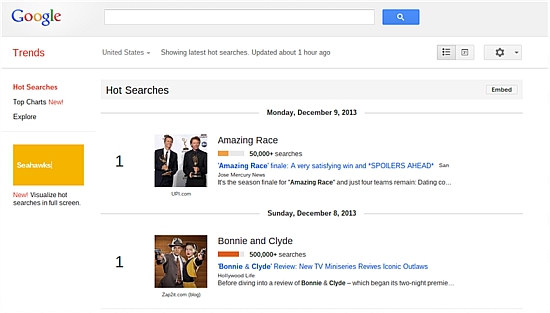 What if, instead of posting a random comment, you could post about the things that people are already talking about, excited about, and interested in? You can! Finding what is hot and trending is what Google Trends is all about. By checking out the top charts, you can look at the top trending searches or look for individual content areas relevant to your audience.
Google.com/News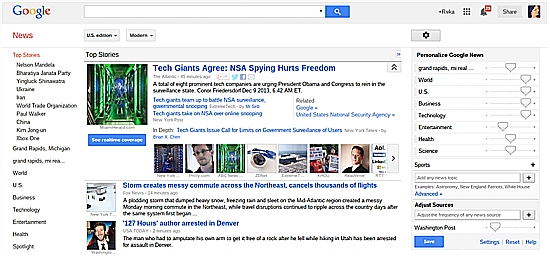 Did you know you can customize Google News? Just click on the gear image on Google News and you will get all kinds of personalization options about now only how much of each topic you want to see, but even adding your own personalized topics so that you can stay on top of what is going on in your industry.
Google.com/Alerts


Don't want to think about checking the news all the time? Get news updates delivered directly to your e-mail inbox by setting up a Google Alert. It is always a good idea to set one up for your name and business name to see what people are saying about you.
But, you should also set up alerts for keywords that are important to your industry, so that you'll be among the first to know about new developments. For example, I have an alert set up for the word "Facebook."
Technorati.com

Want to find the top blogs in your industry? Check out Technorati's top 100 lists. No matter what niche you are in, you can find relevant websites to follow and places to get more information.
Content Creation Tools
BeFunky.com

They are not joking when they say that they're the world's best photo editor. Or at least the best free one!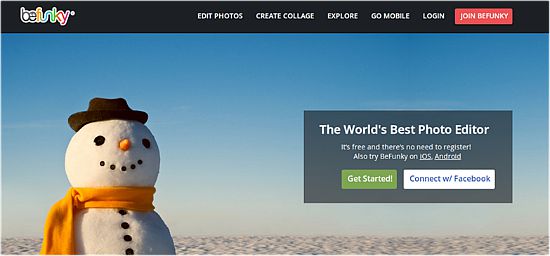 BeFunky is super easy to use, even for the not technical business owner. You can spice up your images, add text, and even make a new Facebook Timeline Cover image easily with this tool. And it is totally 100% free!
Amazon.com

Okay, this is really less about Amazon and more about looking outside the web for some of your content creation. Even though there are tons of free quote lists online, one of the best buys I ever made was a $3.99 Kindle e-book of 3,000 quotes. I use it all the time.
Reading can give you so much inspiration, and going to hard copy sources can sometimes help your content be fresh and new. Plus, it's less likely your audience has heard the same thing from ten other people already.
Skitch.com


Use Skitch to take a screen shot and then mark it up. This is perfect for tutorials, to illustrate a point, or simply as an alternate way to create your own images for your posts.
Unsplash.com
This one is so amazing, I almost don't want to give it away! But after all, this is the ultimate guide.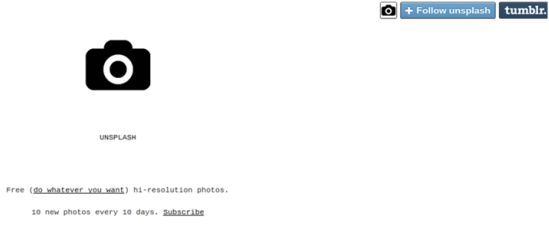 Unsplash.com is a site that gives you high resolution, totally free, use-them-for-anything-at-all photos. These come in handy with that book of quotes. Put the two together with Befunky.com and make magic!
Step 3: Create Your Content
Analyzing thousands of posts has led me to believe that good communication (whether in real life or online) will almost always fall into one of the following eight categories:
1) Inspire – Give your audience something to aspire to, get excited about, or be in awe over. Some of the most shareable content on the web is inspirational. This content goal encourages good feelings about you and your brand by association, and is likely to help spread your organic reach.
Example 1: Quotes.
People love a good quote. Hearing from the great minds of humanity lifts our spirits and pushes us to do and be more. This is one of my favorite and most successful types of social media content. The key is to find quotes that match your niche and overall business strategy and are appropriate for your audience.
Example 2: Encouragement.
Your audience is dealing with a pain point. At least they should be, if your business is going to thrive! Solving that problem is the purpose of your business.
But sometimes people don't want to hear solutions.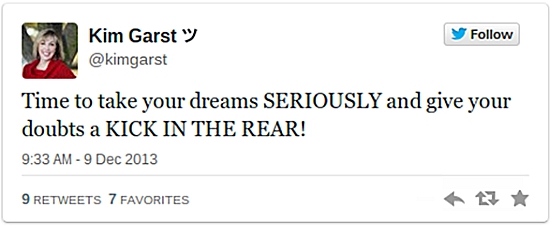 In that moment, they just need encouragement that everything is going to be okay. Just like the stereotypical supportive boyfriend who listens and encourages instead of always jumping straight to problem solving. Sometimes it can be great to just offer a "you can do it!" or "I know this is hard right now, but I am totally here for you" with no strings or buy buttons attached.
2) Engage – Get your audience to take some kind of immediate action such as commenting, sharing, or retweeting your content. Make this kind of content easy, obvious, and enticing.
Example 1: Fill in the blank.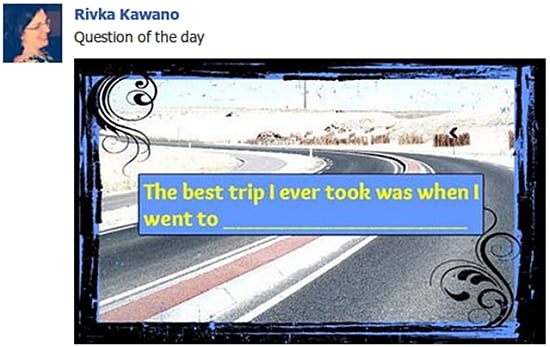 These are a great question variation that makes it really easy for people to respond. Plus, there is something compelling about filling in that blank space.
Example 2: Should we make this?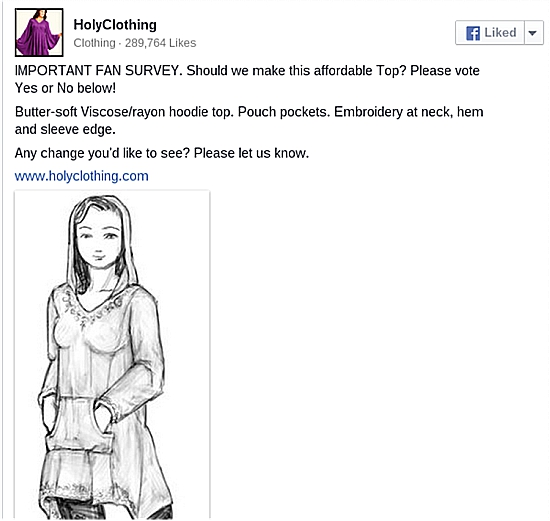 Want to know if people will buy your product or program? Ask them before you make it! Remember to keep the question to a simple yes or no for best results. Also, this tactic is best used when you know that your question is reaching enough people to get good feedback.
3) Reward – Every relationship includes rewards. Make it worth their while to be in a relationship with you. Rewards are completely free with nothing asked for in return. It can be as simple as saying thank-you or as complicated as giving away a free piece of content with no strings attached.
An important note: many people confuse this strategy with promotional posts (things such as contests or freebies your audience can sign up for). Rewards are a free gift from you to your audience with no expectation of action or return.
Example 1: Say thank you.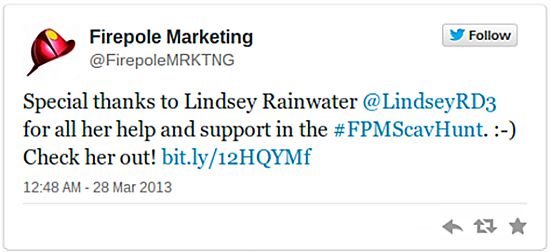 Never underestimate what a big deal it is to tell people thank you, for even the little things. It is an important part of relationships offline. The same is true online.
Example 2: Welcome the newcomers.
When you first meet someone they are sizing you up. Make that initial connection count by saying hello. But don't fall prey to setting up an automated "thanks for following" message. For this to really work, you need to take the time to mention something you have in common. If you don't have anything in common (not yet, anyway), use their name.
4) Entertain – Don't forget to make your audience laugh! And of course, the audience that plays together stays together.
Example 1: Caption this.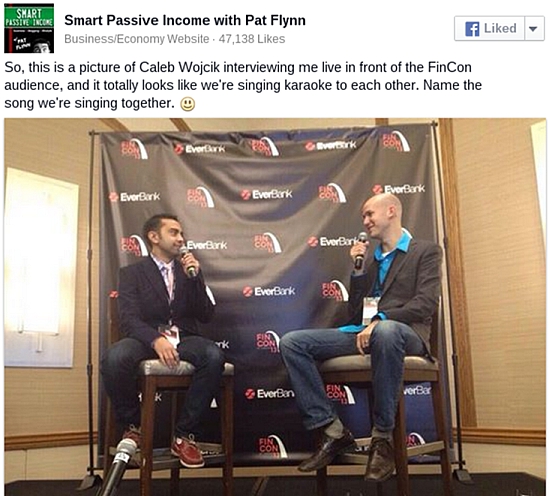 Do you have a funny photo? Let your audience in on the fun with some caption action. Remember, not everything has to be about a contest or have a winner. Just getting people involved is meaningful.
Example 2: Games.

What does your audience love to do? Can you make a game out of it? Trivia questions are fun on some platforms. Quick easy exercises like this writing game are another. Use your imagination! How can you play with your audience?
5) Understand – You can only improve your content by getting to know your audience better. When you seek to understand your audience through your posts, you get a chance to peek into their lives, thoughts, and feelings. A lot of social media ends up being one way, with you sharing your thoughts but never hearing from your audience. This is far from ideal. Healthy relationships are a two way street. Give your audience a chance to be part of the conversation.
Example 1: Which one do you like best?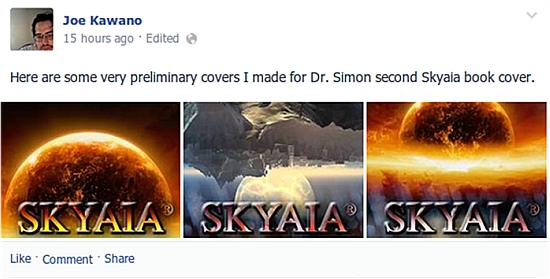 Just like doing A/B tests on your website, sometimes showing people options that you are considering is the best way to get feedback. As a bonus, it also shows them what you can do without a sales pitch. Usually, these types of posts are most useful when used with images.
And remember, it doesn't always have to be for a product. You can ask them which new profile image you should use or which title they like better for your blog post. Or, you could follow the example of our local weatherman, who asks for feedback on what tie he should wear on air each day.
Example 2: Questions.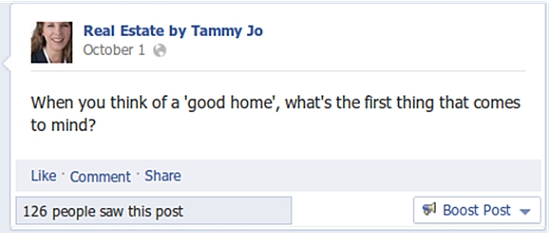 Asking questions is one of the most important elements of getting your audience to talk back to you. Make your questions simple and fun to answer. You can use questions to get insights into what people are looking for when they work with you or buy your products or services.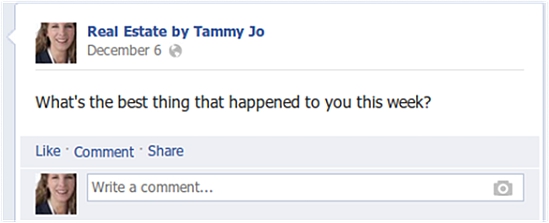 You can also use questions to simply be conversational or give people a chance to talk about themselves.
6) Connect – Social media is social, not just all business. This is true regardless of your industry. So share a little bit about yourself. If you have a team, share a little bit about your team, too! Candid pictures, fun goings-on, and sneak-peeks are all great ways to connect on a more personal level.
Example 1: Happy holidays!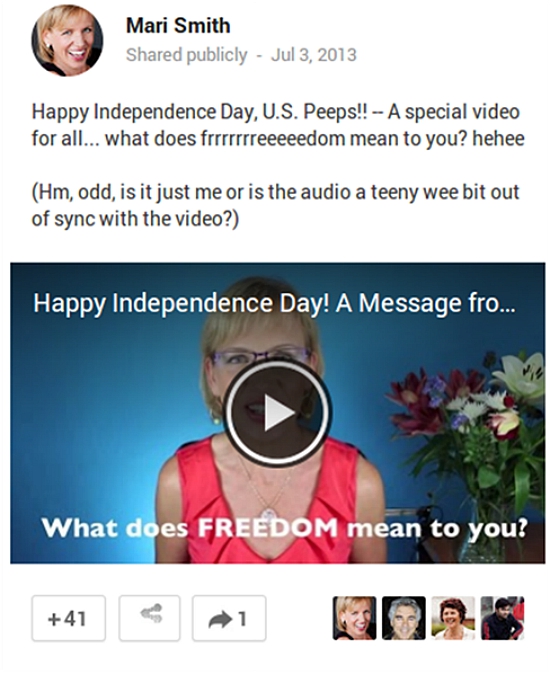 Most people remember to post on their major holidays. But do you check calendars for your audience in other parts of the world that might be celebrating something else? And don't forget the quirky, off the wall holidays that might be particularly relevant to your niche! (Example: National Donut Day.)
Example 2: Backstory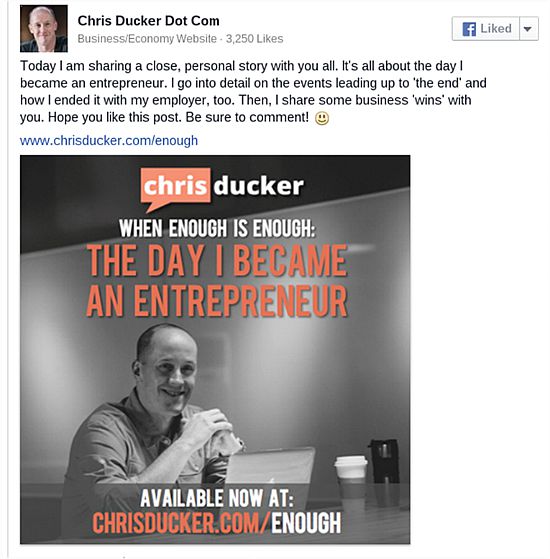 Don't be afraid to share where you have come from and some personal details about your life:  how you were feeling at a particular point in time or even your challenges and failures. These make you real to your audience and lets them know that it is okay for them to make mistakes too.
7) Educate – What does your audience want and need to know more about? Become the resource that they turn to again and again, and you will have a special place in their life.
Example 1: Tips Video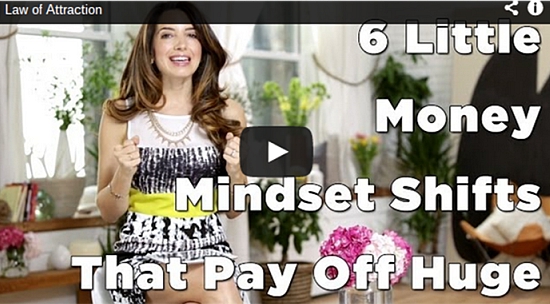 Anytime you can add more levels to the interaction on social media, do it! Video is one of the most powerful ways to add another level, since people can see your face and hear your voice. And of course, they'll get great info too!
Example 2: Best articles around the web.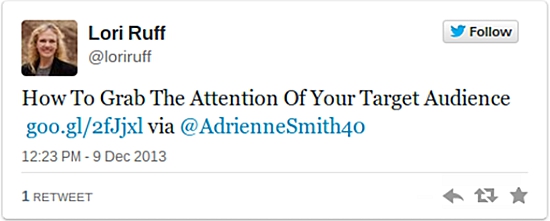 All your work to find great content that you did with the content curation tools in step two will now come in handy! Spread the love and share the most helpful content with your audience.
8) Promote – Now that you have taken the time to do all of the above, you have earned the right to do some promotion too. The key is to do this in such a way that you still keep your audience top of mind and connect with them in a real way, rather than pushing something on them that is not a good fit.
Example 1: Your own content.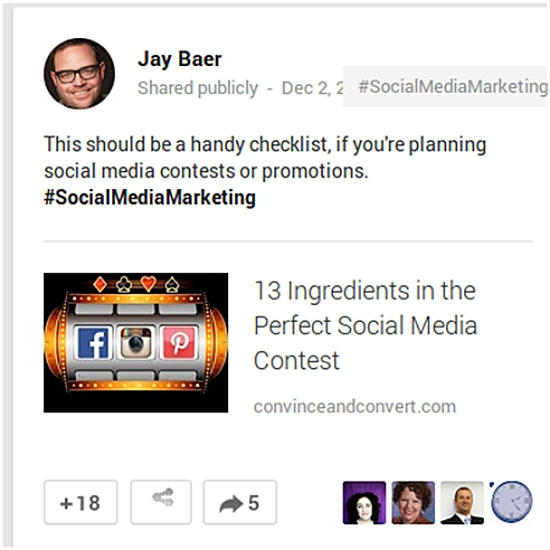 There are things to promote other than just stuff to buy. Sharing your free value proposition to get people to sign up for your e-mail list is one example. But it can be as simple as sharing your latest blog post too. It is amazing how many people forget this basic step!
Example 2: Buy this.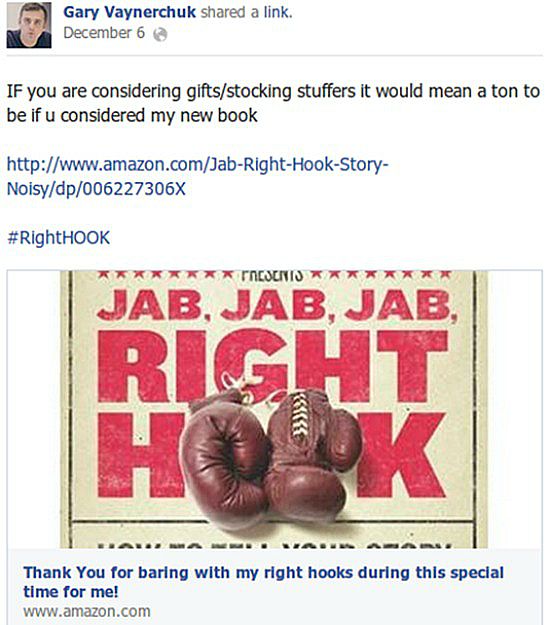 Yes, it is okay to ask people to buy stuff from you on social media. Always balance these types of posts with other goals and post types. Let people feel like they have a chance to be part of something great, rather than being pushed into something that maybe isn't right for them. Nobody likes to be forced.
Step 4: Real Time Connection
Last, but most definitely not least, you need to get online and actually have conversations. Since you are now doing the bulk of posting your major content ahead of time with BufferApp <wink>, you can focus your time on the next step of real time connection.
This looks a little different depending on the platform, but here are a few ideas:
Facebook
Respond to comments and messages
Comment on other relevant pages
Like and share great content from others
Twitter
Participate in a live Twitter chat
Retweet the best posts from others
Live Tweet based on trending hashtags
Start conversations with individuals you want to get to know better
Pinterest
Repin photos that appeal to you
Google+
Join the conversation on relevant communities
Comment and plus one on posts you resonate with
LinkedIn
Read and participate in group discussions
Read and comment on news and content
Give someone a recommendation or endorsement
Send an inbox message to someone you haven't connected with in a while to say hello
Once you have taken all these steps, it's a simple matter of rinse and repeat! Consistent effort over time is essential to social media, just like anything else you do for your business.
What's Next In Social Media?
Social media is not going anywhere. Those who become successful with social media will have an incredibly unfair advantage in building an audience. Just like letters, the telephone, and e-mail, social media is simply another tool for connecting with others. The more we can learn to use our real world social skills in this new medium, the better our online relationships will be.