Promotion Guidelines: How to Get Maximum Exposure for Your Guest Posts
So your guest post has been accepted and will be featured on an authority site.
Finish your celebration dance. You deserve it.
But don't stop there. Your next step is to plan your promotion strategy.
This is an important part of your job as a guest author, and done right, you actually become a partner with your blog editor, spreading the word about your post and building your authority in the process.
Many bloggers focus so much on the creative writing and polishing process that they let the promotion part work itself out—and then wonder why their post isn't getting the traction and attention it should be.
Use this post as your blog post promotion guide, and you'll quickly expand your reach not just for your current post, but for every post you write. Now that's something to celebrate.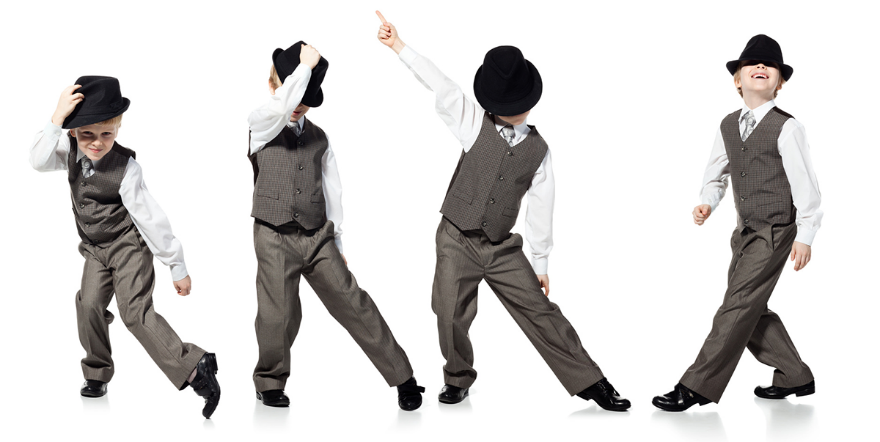 Get your Blog Promotion Guidelines FREE by clicking here.
Start with Social Media
Your first stop in promoting your guest posts is social media, and the rules are simple. Share your post on the platforms where you're most active.
Of course, you can expand your promotional reach by posting in multiple social media channels. But you don't want to send identical posts to all channels.
Your goal is to create posts that fit the expectations of your followers in the different channels.
For example, you can promote your post in Twitter multiple times a day, but if you were to post that often in Facebook, you'd probably be unfriended.
Here's an example of what your blog post promotional timeline could look like: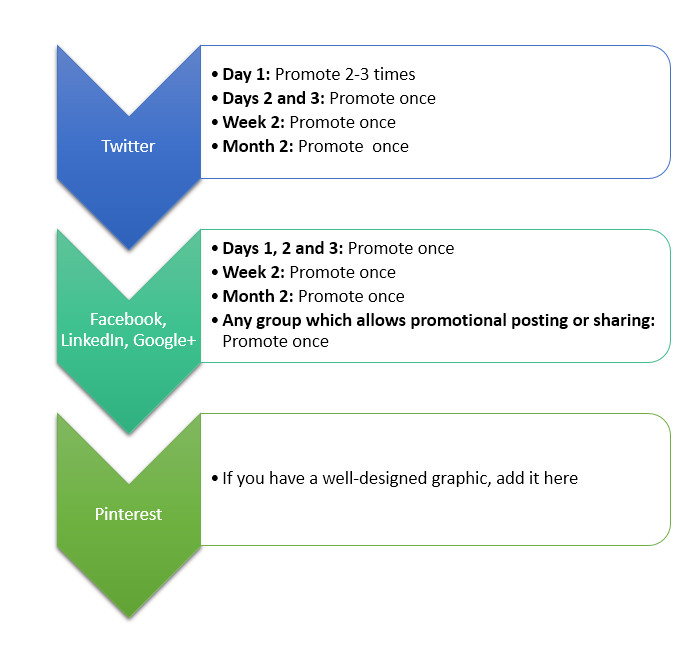 When my posts go live, I generally post about it in several channels right away. I then schedule follow-up posts, using the timelines above as my guide.
If you use a similar promotional schedule with each of your blog posts, you'll find that your social media queue quickly fills up with unique, interesting content, but it doesn't become so frequent that it offends—and that's the "sweet spot" of blog promotion that we're looking for!
Use these "Templates"
How you share your post is just as important as where and when you share. Do it wrong, and you come across as too self-promotional or self-absorbed. Do it right, and your readers and followers will look at your post as intriguing or helpful.
How you share your blog posts is just as important as where and when you share them.
Click To Tweet
The key is to create a variety of social media posts, so you don't become redundant.
Here are a few "templates" that can add variety and interest, even when you're promoting the same post in the same channel:
New post: title | URL @MiraseeOfficial
Honored to be featured on @MiraseeOfficial: title URL
Big idea of the article @YourHandle via @MiraseeOfficial
Why the article matters @YourHandle via @MiraseeOfficial
Quote from post | @MiraseeOfficial URL
And here are some examples, drafted by our content writer for one of our guest posts.
TWITTER:
How massive failure eventually led to a seven-figure business @dannyiny via @inc http://shortenedURL
Why losing $250,000 is more valuable than an MBA @dannyiny via @inc http://shortenedURL
What @dannyiny learned after losing $250,000 in a failed startup via @inc http://shortenedURL
From debt to 7-figure business in 10 lessons @dannyiny via @inc http://shortenedURL
This is what happens when you don't let failure stop you @dannyiny via @inc http://shortenedURL
FACEBOOK:
What @dannyiny learned after losing $250,000 in a failed startup http://shortenedURL
Did you know that before putting up Mirasee (formerly known as Firepole Marketing), Danny's first startup failed and left him $250,000 in debt? Here's what Danny learned from that experience http://shortenedURL
PRO TIP: Immediately after writing your post, compile a list of promotional posts like the ones above. Then you'll have them on hand when your blog post goes live.
Next Is Email Promotion
After you've done some social media promotions, it's time to turn to email.
First, send an email to your own list, letting your subscribers know about your guest post.
But don't stop there. If you featured any experts or thought leaders in your post, you need to let them know as well. Send them an email or tag them in Twitter or LinkedIn.
In many cases, especially if your article is good, they'll share it with their audience. And that will give your post a huge traffic boost.
Let experts know when you've featured them in a blog post. They appreciate the heads-up.
Click To Tweet
Here's a Google+ post by Marcus Sheridan, alerting people they were featured in his blog post.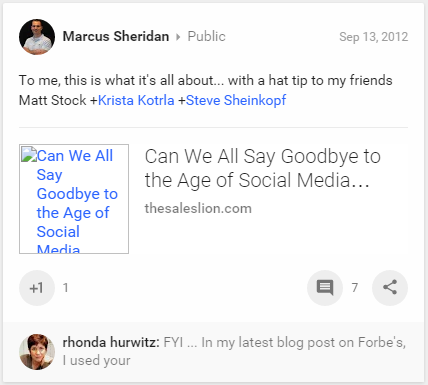 Here's a sample email that was recently sent to me. And yes, I was happy to share it with my followers.
---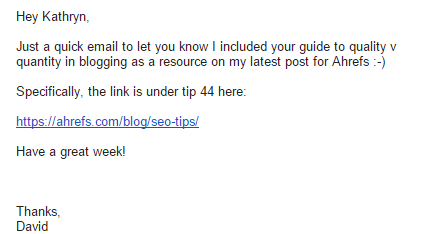 ---
Leverage Your Backlinks
Most guest posts are expected to include links to useful resources that add value to the blog's readers. That being the case, you can link to one of your own posts, provided it's relevant.
HOW TO DO IT:
Any time you're writing a guest post on a related topic, add a backlink to your best guest posts, particularly if it
Adds more information
Provides deeper explanations or how-to's
For example…
If you're writing a beginner's guide to blogging, it's helpful to include links to articles on inserting images and links, how to give proper credit, and so on.
Please don't link to your recipe for homemade spaghetti sauce, though.
Don't Forget Your Website
Your website is the perfect place to promote your guest posts. It builds your credibility while giving your visitors a chance to see more of your work.
The two best places to feature your guest posts are in your sidebar and your About page.
In your Sidebar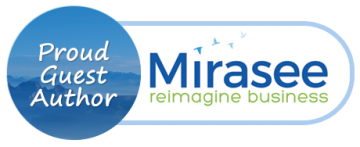 We give Mirasee authors an Author Badge that they can display on their site to boost their reputation and credibility.
This is a great way to help our guest authors promote their work on their website. But you don't need a badge to promote your guest posts on your site.
If you don't have a badge or other graphic, do this: Create a text widget in your sidebar, and list the blogs where you've been a guest author. Then link each blog name either to your author page or the actual article.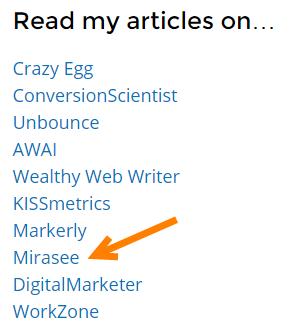 On your About Page
Your about page is where people come to learn more about you as a person—your mission, your successes, and your reason for being in business. This is a great place to list the sites you've written for, especially authority sites like Mirasee.
Consider adding a graphic with the logos of the brands you've written for, like this:

You can also create a list of blog posts that you've written or have been featured in.
Summing Up
As you can see, a lot that goes into blog post promotion. But with the right tools at your disposal, the proper scheduling of your content and creating a cycle of posting and sharing that makes sense to your reader, you'll not only grow your follower count and backlinks, but you'll do it organically—the smart way!
What are your best tips for promoting guest blog posts?
Promotion Guidelines
How you share your posts is just as important as where and when you share. Check out these guidelines to get maximum exposure for your guest posts.