7 Effective Tips for Better Networking and More Clients
Networking events have always been a popular way for people to meet potential prospects. It's inexpensive and can be a fun way to get out and meet new people.
But many people trying out networking events fail to get new business or form meaningful, long-term connections.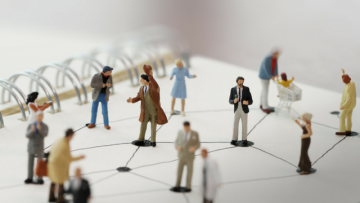 So… are these networking events a waste of time?
Or can networking actually result in meaningful business relationships?
According to a Forbes Insight report, 8 out of 10 business executives prefer in-person face-to-face meetings over virtual communications. While technology makes it easier and more convenient for people to connect with others, it's no replacement for the effectiveness of in-person networking.
Now let's talk about why people fail at business networking and cover the seven tips you can apply to become an effective networker.
1. Pick Activities You Like
A common mistake people make is going to only networking events. This approach often results in exchanging business cards, parting ways, and then never seeing the person again.
If you've gotten referral business before, then most likely it was from someone that already knows, likes, and trusts you. The real key to getting referrals is to build real relationships with people.
So instead of focusing only on business networking events, also consider getting more involved in activities that you actually enjoy and might go to regularly. After some time, you will find that you start getting to know people, some who may refer you business in the future.
For instance, a friend of mine often went salsa dancing and ended up doing freelance web design work for a well-known salsa instructor and also a popular salsa club.
So yes, even fun activities can lead to new business.
'A common mistake people make is going to only networking events.'
Click To Tweet
2. Make It a Habit to Go Regularly
A lot of people who try networking go once or twice, brush it off as ineffective and never go again. If you do choose to go to business networking events, make it a habit to go regularly.
The more often you see people, the more those people will like and trust you. Psychologists refer to this phenomenon as the familiarity principle or mere exposure effect.
Meeting people once and exchanging cards doesn't create a strong relationship. While many people will attend networking events just once, some people go regularly.
Get to know the frequent networkers.
These people are actively trying to connect with others and even if they aren't directly interested in what you are selling, they might be able to connect you with someone who is.
3. Identify High-Value Prospects & Seek Them Out
Claude Whitacre has a 40-year history in sales and broke sales records at many of the companies he worked with.
In his book Sales Prospecting, Claude explains why he was able to sell more insurance than the rest of the sales team combined. He created an ideal customer profile so that he could easily identify the best prospects to network with and focused on getting introduced to them.
As a result, he was able to close five times as many sales—or more—than other agents at the company.
If you've been in business for a while, you've probably noticed your best customers have similar characteristics.
For example, when seeking web design clients, I noticed businesses that have employees are better clients than individuals just starting out. The reason is because they are used to paying a decent salary to employees, so they usually won't be as hesitant to pay a fair price for a website as a solopreneur who isn't generating income yet.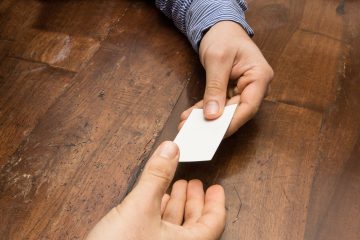 Another good quality I like to see in a prospect is that they already know about and see value in doing online marketing.
So when going to networking events, I ask people if they have employees and if they are doing or planning on doing online marketing. I can put business cards from these people in a separate pocket so I can reach out to them later.
4. Create Value, Don't Just Pitch and Sell
A lot of people try to pitch their services and sell to people that they meet at business networking events. The problem with this approach is that most people don't want to be sold to if they aren't interested in what you are selling.
Instead, focus on establishing common ground and building the relationship. Ideally, you want to try to find ways you can genuinely help other people without tying up too much of your own time.
'When networking, create value, don't Just pitch and sell'
Click To Tweet
It doesn't hurt to mention what you do and what you are selling in case they just happen to be interested, but if they aren't in a position to buy, don't push it.
5. Ask for Referrals
Sometimes, as you get to know people, simply asking for referrals is a good way to get more business. Be sure to let everyone know what you do and mention from time to time that you are interested in finding new work.
Don't be too aggressive about it, but casually bringing it up in conversation is fine. Sometimes people's friends and connections are looking for service providers, so getting business in this fashion can be a win-win for everyone.
A friend of mine joined a referral group called BNI that meets once a week. The purpose of the group is to meet regularly so the members can get acquainted and refer business to each other. He now gets enough referral business to keep him busy full time.
6. Figure Out Ways to Keep in Touch
Finally, if you do meet someone at a networking event, try to figure out a good way to keep in touch, stay connected, and build the relationship.
To get the most benefit, though, figure out ways to be proactive. Some people have created their own business mastermind groups or Meetup groups where they get together and share business ideas.
Or find out if you have similar hobbies.
Relationship building is most effective when done in person so try to find some common ground during your first meeting.
7. Connect Immediately on Social Media
Connecting on social media will give you an opportunity to get to know the other person and for them to get to know you. Add your new contacts on channels they use regularly. Facebook is good for personal relationship development and LinkedIn for business contacts.
Aside from connecting, make sure you post regularly on social media. Regular posting will allow your new contacts to get to know you better over time.
Finally, engage with your new friends when they post something by commenting on it. It takes time and a little effort to build relationships and form meaningful connections. If you are not in a situation where you meet up with someone regularly in real life, social media is a great way to build the relationship.
To Sum It Up
If you want to build your business through networking, remember that the key is building real relationships. As with any marketing activity, consistency is also important.
Most people fail with networking because they aren't consistent and aren't focusing on forming relationships.
Be proactive about developing relationships and be consistent with attending events to get the best result.
Are you an active networker? What tricks have worked for you? Leave a comment below!