How to Leverage Other Platforms for More Customers
When it comes to getting more customers, startups and small businesses need to move as quickly as possible.
For Facebook, in their early days, the growth mantra was to "move fast and break things. Unless you are breaking stuff, you are not moving fast enough."
Though growth is critical for every startup, not everyone can spend a lot of money on bringing more clients to the table.
In fact, entrepreneurs like Eric Barstow recommend you to "not to spend money before you make money." So the real challenge for startups is to come up with a growth strategy that requires little to no funding.
Platform hacking is one such innovative approach to grow your startup, by leveraging another well-grown platform that already has a massive user base. Let's take a look at a few examples of startups that utilized platform hacking as a strategy for growing their user base in their early days.
Platform hacking is an innovative approach to grow your customer base
Click To Tweet
Case 1: Airbnb's Integration with Craigslist
Airbnb's integration with Craigslist is one of the best examples of ad hoc integration for massive user acquisition.
In 2007, two designers, Brian Chesky and Joe Gebbia (who later became the founders of Airbnb) decided to turn their San Francisco loft into lodging space because they couldn't afford rent. They decided to list it online so it would benefit someone who was looking for accommodation in San Francisco.
Even though Craigslist was a popular platform where most people looked for accommodation, they decided against Craigslist as they felt the site was too impersonal looking. Instead, they built their own site to promote their lodging space, which was the beginning of Airbnb.
Though comparatively, Craigslist did look impersonal, there is one thing that Airbnb admired about Craigslist: its massive user base. They knew that their potential users were using Craigslist for listing and finding accommodation. Realizing if they could somehow bring those users to Airbnb, the users were going to love the site and most likely would become regular users.
To draw potential users from Craigslist to Airbnb, they implemented a wonderful growth hacking technique that allows existing users to easily cross-post their listing to Craigslist as well with a few clicks.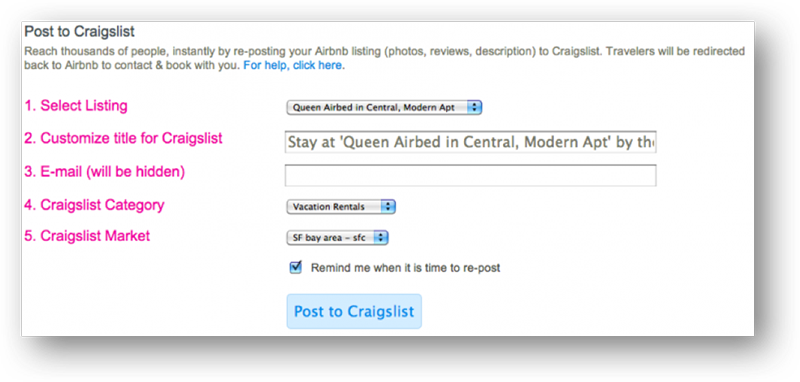 Source: The Next Web
In addition, the cross-posting on Craigslist also generates a backlink to the Airbnb site. This hack not only helped bring Craigslist users to the Airbnb site, but it also helped the Airbnb listings that cross-posted to Craigslist to book more often.
Lessons learned
First things first
No matter how good your marketing strategy, you need a solid website first in order to make visitors stick with your brand. Creating a community-powered listing site/marketplace can be a tedious task. As a startup, you can roll out the small version of the website first and enhance its features as the community grows.
Technically speaking, one of the easiest ways to build an online marketplace is by using any of the e-commerce platforms.
All you need to do is to compare different platforms either by reading the reviews or using recommendation engines like WebAppMeister, and decide which one is best for your requirements. Then you can start building a marketplace on top of it.
Find the loophole
Once you identify which site your potential customers are located, the next step is to find whether you can find a loophole in that site so that you can attract those users to your own website.
In the case of Airbnb, Craigslist didn't allow any integration for cross-posting. Without having access to the codebase, Airbnb had to reverse engineer how the forms on Craigslist worked and then make their own site compatible with it.
Applying the lessons to your business
So far we've seen Airbnb's growth hack by integrating the form with Craigslist.
In order to exponentially grow your user base, you shouldn't necessarily reverse engineer a popular marketplace. In fact, you can find a lot of simple and legitimate case studies of piggybacking a popular platform if you're looking for more inspirations.
Let's look at one of such impressive examples.
Blogger to WP is one of the most popular Blogger to WordPress migration services that leveraged WordPress.org's official plugin marketplace to build a sustainable business.
They created a free migration plugin and uploaded it to the official plugin directory. Instead of hard selling their migration service right from their plugin page, they created a DIY tutorial on their blog explaining how to migrate the content from Blogger to WordPress and encouraged users to migrate their blog by themselves for free.
Because it is the most popular blogger to WordPress migration plugin in the official directory and the article they promote offers exceptional value to end customers, visitors flock to the company's website from the plugin page, which likely drive the same visitors to hire them to migrate their blog.
Let's talk about you.
If you're looking for exponential user acquisition by leveraging a well-grown marketplace, the following tips will help you.
Click To Tweet
Choose the right marketplace to acquire customers
Find the loopholes of the marketplace or opportunities to grow your user base. Create a strategy to attract users to your website.
Try building an independent business, so even if you're removed from the marketplace you can grow a sustainable business.
Case 2: Zynga's Social Gaming for User Acquisition
Social gaming is a great example of a new breed of user acquisition that takes advantage of the viral capability of a social network.
Zynga was one of the early companies that aggressively put their effort into user acquisition, which helped them build a massive user base using this strategy.
It all started in 2007 when Facebook invited other companies to make applications to add to its social network.
The company jumped on this opportunity and by April 2009, Zynga had 40 million monthly active users and its poker game was the top title on Facebook. Moreover, in just 19 months, Zynga became a member of the "fastest from founding to $1B valuation" club.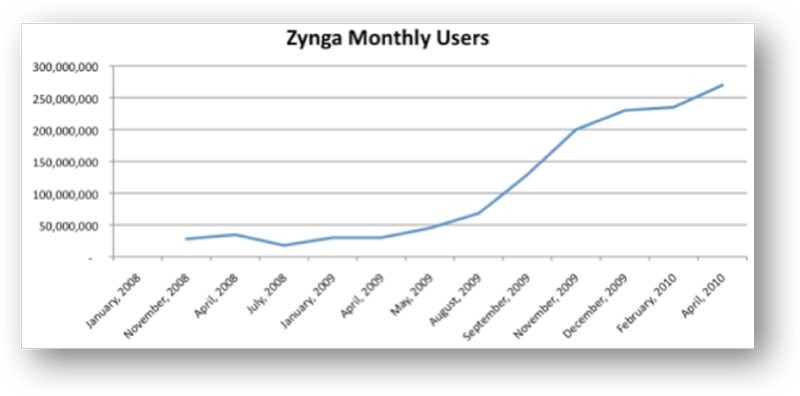 Source: TechCrunch
So how did Zynga successfully piggyback Facebook to grow their user base exponentially? Here are a couple of ways…
User invitation: Zynga provided incentives to their current users for inviting their friends to play the games.
News feeds: They aggressively promoted game updates in users' news feeds.
And, the result was huge. According to a TechCrunch report, more than half of Facebook users played Zynga's games until 2010.
Lessons learned
Become an early adopter
Zynga was one of the first apps to leverage Facebook as a viral user acquisition channel on such a huge scale with great success. Though Facebook has now changed the way it treats social gaming and user acquisition of this kind, Zynga was lucky enough to gain the traction in the early days, as they were the first to show up to the party.
Seize the opportunity at the right time
Nonetheless, Zynga is the prominent social gaming app. Rivals like Slide, RockYou and Social Gaming Network emerged as rival makers of casual games on Facebook. Though they could have become what Zynga is today, they didn't seize the opportunity at the right time like Zynga did, and they didn't have the vision that Zynga had.
Applying the lessons to your business
You don't need to be a huge startup like Zynga to master social customer acquisition. Put your feet back down on the ground.
So how would you apply the lessons from the above case to your business?
Scenario #1: Grow your Facebook app
According to Ankur Nagpal who built 10,000 applications on Facebook, while using a Facebook app, no one cares how useful it is.
After getting sick of building many useful applications, when he launched his first ever personality quiz- "How Good a Lover Are You?", it turned out to be a huge hit and attracted 300,000 people in a matter of weeks.
If you're building an app and are concerned about growth, make sure it has every ingredient that promotes viral sharing.
Make sure your app has something valuable and/or fun to share
It must be easy to share and for friends to join.
Offer incentives to users for sharing and returning often to your app.
Scenario #2: Growing your non-app business
Social customer acquisition is not just limited to Facebook apps. In fact, a lot of businesses such as Innocent Drinks, a London-based fruit and juice brand is using social media sites for customer acquisition. Why?
Because 70% of consumers trust brand recommendations from friends and family, but only 32% trust information on brand websites (and even fewer trust ads) forcing companies to focus on social customer acquisition.
If you're looking forward to social customer acquisition, the following tips will help you.
Instead of focusing on all of the social networking platforms, choose the right platform where most of your potential customers are.
Offer customer service via social media sites because almost half of your customers are expecting it.
Social networks are a great platform for relationship marketing. Instead of hard selling your products, make sure you keep your followers engaged with your products as well as your online content and community.
Drawbacks
The above stories are impressive real life examples of growing a user base by integrating a product into another platform. Instead of trying to build a customer base from scratch, piggybacking other well-grown platforms lets you easily acquire new users without spending a lot of your marketing budget.
At first glance, it may look like a great deal; however, there are a lot of shortcomings in integrating a product into another platform.
Each platform is different:
Choose the right platform that fits your market. Each platform is different, and you might not have the time or resources to go after every platform available. While your integration may work well today, you can't guarantee that it would work well tomorrow—especially if you are mainly relying on a developer platform like Facebook that's always in flux. Moreover, once you pick a platform it is harder to back out if it turns into a bad match.
No control: Since you have no control over those third party platforms, piggybacking another platform should not be considered as a long-term user acquisition strategy.
Spam complaints: At its core, a social networking site is a publishing and sharing platform. The best way to piggyback a social platform for user acquisitions is not to spam, but to add value to the users and make them genuinely want to spread your name and message by word of mouth.
Are You Ready?
Needless to say, traditional ways for user acquisitions are costly. Leveraging another well-grown platform for growing your user base can be the right choice, especially for startups with limited marketing budgets.
What are your thoughts about platform hacking? Share it in the comment section.