You Lost Your Big Client… Now What?
Your newly printed business cards have arrived, you have an invoice template, a colorful accounting spreadsheet in Excel, and company letterhead paper.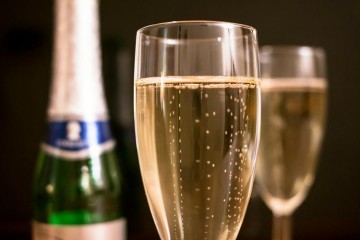 But most importantly you have a regular income from your first big client. Whoop whoop! Crack open the champagne!
After years of procrastinating and dreaming of being your own boss, you finally made the jump from working for someone else to being self-employed—the freedom, independence, flexibility!
Then the worst happens, and it all comes tumbling down when you lose the big client. Waaah!
Pour the champers down the sink and climb back under the duvet. The dream is over.
How did it come to this?
The signs were there.
The mutterings about tight budgets, poor cash flow, difficult times ahead… But you went to their summer staff barbecue, shared hot chocolate and lengthy chats in their kitchen, and even given career advice to their kids about working in marketing.
Surely you're safe. Right?
Wrong. They can't pay you anymore, and you're back to square one.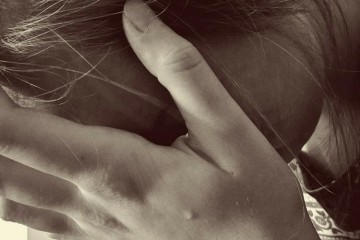 This is exactly what happened to me two years ago.
I finally secured a wonderful client with a growing business after leaving my full-time job and endless networking. I got on well with the directors, supported their ethos and knew I could help them get grow quicker.
It was all falling into place.
Then six months in, and it was over.
After a short meeting in a coffee shop, we parted ways. I was all hugs and smiles on the outside, but inside I was broken. Where did I go wrong? And how could I have stopped this?
I got so comfortable with my one client, so focused on marketing their business, that I'd neglected everything else.
What was I thinking?
Looking back now, that was a sliding doors moment—one that changed how I ran my business forever.
So I'm here to help you learn from my sliding doors moment. Here are some tips to save you from the same worry and sleepless nights from losing your main client.
Tip 1: Diversify
Offer a variety of service packages and products to suit a range of budgets.
You might like shopping in high end stores but can't always afford the top of the line designer handbag all the celebs flash around. So instead you settle for a small designer purse—still a slice of the luxury but a small slice that doesn't max out the credit card.
Do the same for your clients.
Offer your clients choices. Make it easy to buy from you, whatever their budget.
Click To Tweet
For instance, if you're a web designer, offer a low cost start-up package as well as an all-singing, all-dancing luxury e-commerce website for those with bigger budgets.
Include off-the-shelf lower price products and services as well as customized bespoke solutions.
Action step
Consider and answer the following questions:
What packages do you offer that cater to a wide variety of budgets, sectors, and businesses?
Do you provide a range of price brackets that satisfy all budgets?
Tip 2: Manage Your Time
One of the most precious resources for any business is time. There's never enough of it so it's important to manage it well.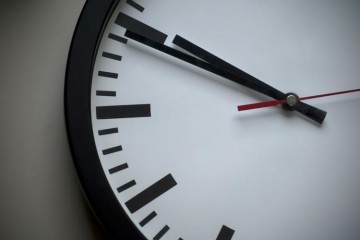 Knowing how much each client takes identifies possible problem areas early. Then you can take action before things go too far.
I was spending 80-90% of my time marketing my big client's business, which meant I wasn't promoting myself or looking for other clients.
How much time does each client take up? What proportion of your monthly income are they providing and how does that relate to time spent?
I love this value quadrant tool from a previous Mirasee post.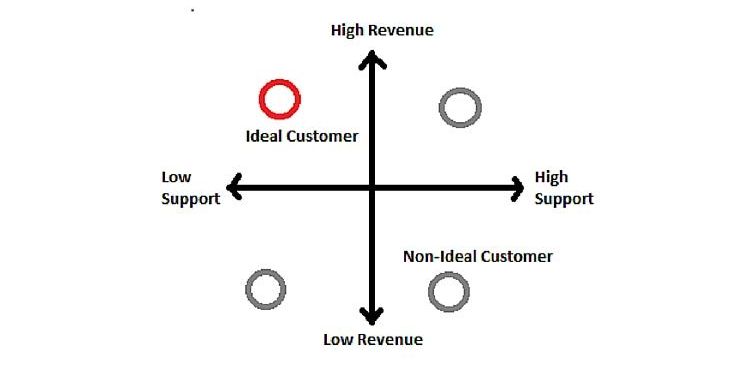 Action step
Use the value quadrant tool to position your clients in terms of revenue and support.
It seems obvious, but the hours allocated to each one should relate to income generated—not how much you like them, how tasty their barbecued pulled pork is, or how well they make hot chocolate…
Tip 3: Talk Often
Regular meetings with clients ensures there are no surprises.
When I was working with my first regular client, I was beavering away, creating optimized content for their website, capturing email addresses through guest posting and nurturing leads through e-marketing and social media.
Go me!
I'm almost too embarrassed to include this, but I only met with the directors every couple of months, normally when there was a problem. Looking back now, I realize this was stupid.
*Bangs head on desk*
Action step
Schedule regular appointments with your clients—by Skype, in person, or over the phone. Use these meetings to check how sales are looking, identify new opportunities, and keep them informed of progress.
This also helps keep you informed which helps prevent any unwelcome surprises.
Tip 4: Demonstrate Value
Twenty years ago, marketing success was measured by units sold—much like today—but also by column inches gained in the papers and the number of leaflets posted through people's mailboxes.
Today, it's much more complicated.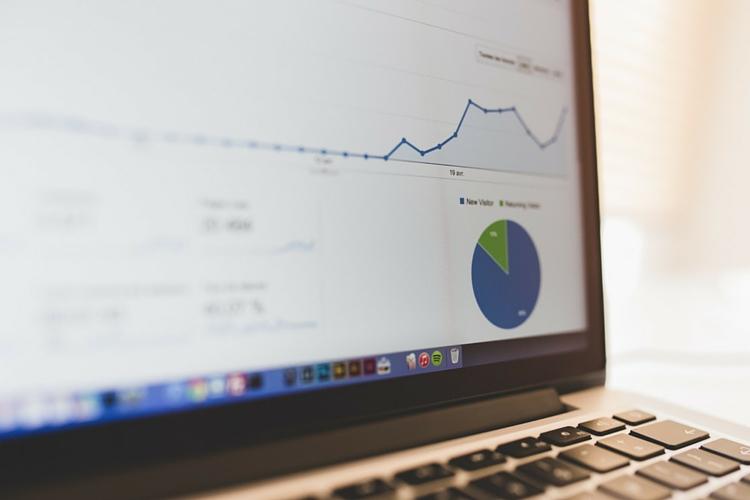 Web traffic, Facebook reach, open rates, click through rates, subscriber numbers…
These are all important metrics., but it still boils down to sales.
Many see digital marketing as a bit of a dark art (you and I both know that's not true, right?), so it's important to link what you're doing to outcomes.
How do you demonstrate a return for your customers?
Action step
Every month, provide a detailed report for each client, summarizing key metrics including sales and revenue.
If sales are going up, show how you are contributing. Show how your contribution adds value making it a no-brainer to keep paying you.
Your reports should also identify ways to improve the business, increase conversions and capitalize on internal changes and the wider market place.
BONUS…

Here's a template for the report I send to my clients.

Tip 5: Get to Know the Team
My first introduction to a company is normally through the director or owner. Perhaps we meet over pastries at a breakfast networking event, or via LinkedIn.
The process normally includes a formal face-to-face meeting with the owners or managers to clarify objectives and get an idea of the bigger picture. Then I put together a proposal which is either accepted, tweaked, or politely declined.
When you're a freelancer, working with the senior team often means the rest of the staff have no idea who you are.
Action step
Once your proposal is accepted and work is underway, make an effort to get to know the rest of the staff.
They are often a fantastic resource for information about customers, the market and even competitors, and if they know you're listening, they'll keep talking.
Before you know it, you're one of the team.
Tip 6: Have a Contract
I know, I know. As a freelancer it can feel icky to raise the issue of contracts. It's something I avoided like the plague when I first started out.
But just take a minute and think of the risks of no contract. You wake up one morning, confident and relaxed that you have a good regular monthly income from a client, and then by lunchtime, one short informal chat, and you're left with nothing.
How will you pay the mortgage? Your suppliers? Yourself?
It doesn't have to be that way. The uncertainty of having the rug pulled out from under you is easily avoided with a contract.
And the businesses you work with most likely expects some form of contract. It helps both sides understand what's expected and is a normal part of outsourcing.
It also provides reassurance to them that you can't drop them and leave them in the lurch if something better comes along.
But getting a formal contract in place doesn't have to involve expensive HR specialists.
Action step
Decide what kind of contract you need.
If you can speak to a lawyer. But you can also look into the many templates available online from sites like Rocket Lawyer, Docracy, Entreprenuer, as well as from business organizations like your local Chamber of Commerce.
Tip 7: Be Open to Opportunities
Just because you land a client doesn't mean you can sit back and relax. Things change.
Keep networking.
Keep your face out there, both physically and digitally. you never know what doors will open.
Action step
Check for business events taking place in your area.
Are there any that are popular with your target audience? You can't attend everything (nor should you), but you can be selective and choose one or two regular networks to join and actively participate in.
Review and update your online profiles.
LinkedIn is the biggest professional network out there, with 400 million users as of 2015 and two million groups. How up-to-date is your profile? Does your profile picture make the right impression, or is it a cropped photo taken on the beach in 2010?
When was the last time you answered a question in a group or asked a question?
If you can't remember, schedule in some time to engage with your online network and build those connections. Just a few minutes a day could make a big difference.
Lessons Learned
So there are my lessons—my tips to avoid the situation I was in a couple of years ago.
As is often the way, that moment was a blessing in disguise. It gave me the push I needed to refocus on my business, grow my client base and introduce a new range of services that led to my best year yet.
I still have to pinch myself when I look at how things have worked out—it really felt like the end of the world when I lost my first big client in that coffee shop. But being a freelancer is the best career decision I ever made.
And now I've changed how I do things, I'm loving it.
What lessons have you learned while on the roller coaster of self-employment? Let me know in the comments below (just so I don't feel like such a naïve idiot) along with your tips on what not to do for a stress-free freelancing life.
Impress Your Clients!
Get the template to quickly create clean, professional marketing reports.