6 LinkedIn Publishing Tips You Can Use Today to Reach Thousands of LinkedIn Users
For years, established businesses and popular bloggers have had an advantage over everyone else: they already had a large audience to share their content and influential connections to collaborate with.
Marketing with content was hard work and it took time to gain traction. It is still is hard work, even though there are now more channels to promote your content than ever before.
But what if you could quickly gain visibility based on the quality of your message,rather than your pre-existing audience? What if you could reach other like-minded business people and career-oriented individuals who share your opinions and ideas?
That time has come! In February 2014, LinkedIn opened its publisher platform to the public for early access. That means that anyone on LinkedIn can now become a publisher and share ideas with the LinkedIn population.
What is LinkedIn Publishing (aka the Pulse) and Why Should You Care?
LinkedIn's publishing platform allows you and millions of other users to blog on LinkedIn. Imagine being able to guest post on LinkedIn and potentially reach LinkedIn's 200 million members. LinkedIn's publishing platform allows you to do just that.
What's unique about LinkedIn's publishing platform is that a quality article can get featured on content channels which can send lots of traffic your way, even if you are a new publisher.
Posts that receive lots of views will also gain additional exposure through the main Pulse page, where top performing articles are shown. (This is LinkedIn's equivalent to the "trending" feature in Facebook's sidebar.)  These top-performing posts are then shared with your followers and connections, as well as with other people with whom you aren't connected.
LinkedIn's platform allows new publishers to gain exposure quickly by creating quality content, even if they don't have a large following.
How Publishing on LinkedIn is Different from Guest Posting
Guest posting is a very effective way to grow your email list, but it comes with its own challenges.
Many new bloggers will find that high quality blogs are booked weeks or even months in advance. New bloggers may also have difficulty writing an article that appeals to the blog's editor.
Writing articles on LinkedIn is similar to guest posting. Like guest posting, you can choose your own topic and link to your own site. But, there are some differences with writing on LinkedIn. Here are some advantages of posting on LinkedIn:
Articles are published instantly. There's no lengthy moderation period or wait time for publication.
You can post fairly often. While some blogs do allow regular contributions, many popular blogs have a backlog, which makes regular posting difficult. On LinkedIn, some publishers write new posts every day.
Short articles can do well. With guest posting, articles often need to be long and detailed. However, LinkedIn's audience consists of busy professionals, so a short article with a useful tip can do very well.
You can choose to write about whatever topic you want. However, topics that target LinkedIn's audience will typically get the most traction.
While guest posting is still highly recommended, publishing on LinkedIn opens up new opportunities to reach even more people.
How Can You Succeed as a Publisher on LinkedIn?
Although having a large number of connections can certainly help, some people have experienced success and got more than 10,000 views to their very first articles even without a large following.
So what makes some articles successful on LinkedIn while other articles fail? After studying 100 articles that were featured as LinkedIn's top daily posts over a 10 day period, here are some observations that will help you make your next post on LinkedIn a success.
Observation #1: LinkedIn's Most Popular Topics
When I wrote my first LinkedIn post, I chose to write about SEO, which was a topic that I specialize in. However, the post did not do too well and only got a few hundred views.
After studying 100 posts that made it to LinkedIn's top daily posts, I now know that top performing posts are those that appeal to the general LinkedIn public, rather than to niche specific audiences.
The most popular topic among top performing posts was careers and job hunting. Out of the 100 posts from this study, 45 were on career topics. Business and self improvement consisted of 12% of the posts and were tied for the second most popular topics.
Other topics that were featured included sales & marketing, hiring & management, technology, networking and a few personal blog posts.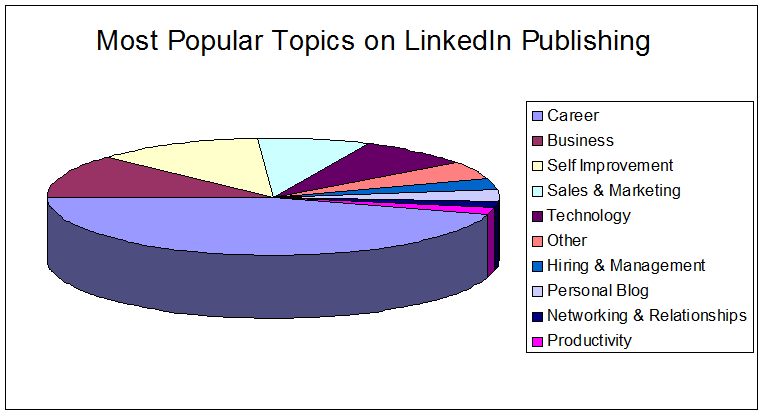 Writing about these topics makes sense if you think about it. Most people are connected to a variety of people. Although my primary field of interest and expertise is digital marketing, most of the people I am connected to have a variety of other backgrounds.
Topics like careers and business that appeal to the general LinkedIn population have a higher chance of getting views, comments and shares than niche topics.
Tip #1: If you are just starting out with LinkedIn publishing, then careers, business and self improvement are good topics to write about.
If you don't want to write about those topics, take a look at LinkedIn's content channels. Some of those channels have tens of thousands – or even millions – of followers. So getting featured in one of these channels could net you a lot of page views.
Observation #2: Type of Post Matters
After studying the writing styles of LinkedIn writers, I classified LinkedIn posts into 5 main categories. Here are the categories and their descriptions:
How To – Posts that tell you how to do something.
Humor – Posts that are intended to be humorous.
Opinion / Editorial – Posts where the writer expresses their personal opinion about something.
List – Posts where the writer creates a list to present information.
Other – Any other post, mostly consisting of freely written paragraphs. These are where you'll find the traditional blogs and guest posting articles.
And here is the breakdown:
How To – 5%
Humor – 2%
Opinion / Editorial – 10%
List – 30%
Other – 53%
Many posts were written like a normal blog post, but list posts were also quite popular. LinkedIn also seems a good place to share your opinions; some popular editorial posts generated lots of discussion in the comments.
Tip #2: As long as your writing is interesting to the LinkedIn population, then you can just write it like a normal blog post. The list post is also a good format to use.
Observation #3; Use of Images is Essential
Adding images can be a bit of a hassle for writers and many bloggers don't use them. However, among posts that were featured in the daily Pulse, only 13% of them didn't use an image.
Most of the posts that used images had stock images or images that were republished from other websites (82%). A few people used personal photos and a couple of people even created their own illustrations.
Tip #3: Since it is a common practice among top publishers, take the time to add an image to your post, even if it is just a simple stock photo. Images are shown on your article page, people's home page feed and the main Pulse page, so a good image can increase clicks and visibility.
If you don't want to purchase stock images, check out this resource for finding free images that you can use.
Observation #4: It's Good to Have Some Followers
Do you need a lot of followers to do well with LinkedIn's publishing platform? I believe that having a minimum amount of followers can certainly help, since your post will show up in the feed of your connections. That means more people can potentially see your article.
You need these initial views for your article to be shown to other LinkedIn members.
17% of top article writers had less than 1,000 followers, but only 1% had less than 500. However, a statistical analysis of featured writers reveals there is no correlation between the number of followers and article views.
The chart below shows a plot of followers vs view count. As you can see, people with significantly more followers didn't get more views than people with less followers, once their article was featured on the Pulse.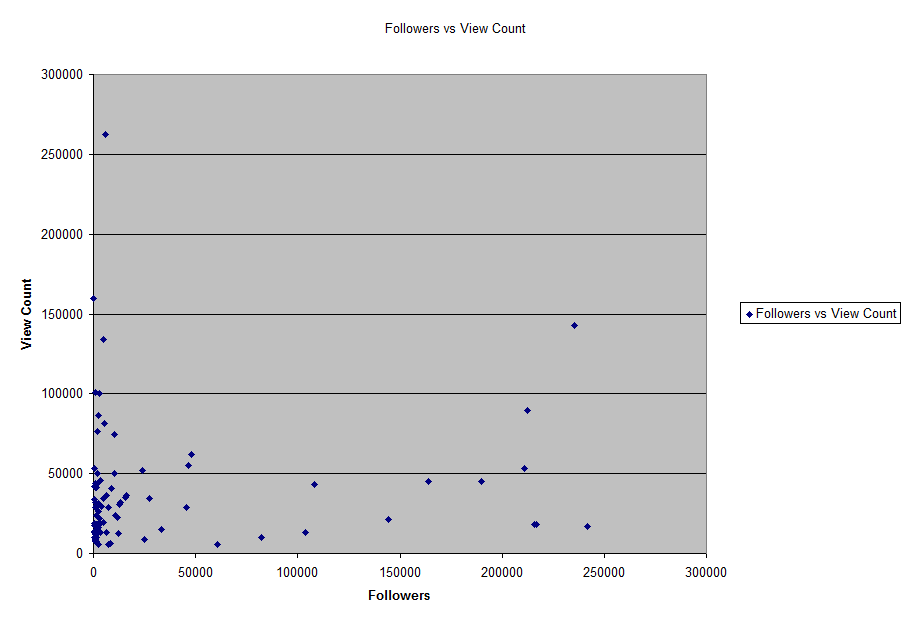 Tip #4: Spend some time building your LinkedIn network to at least 1,000. Network online and offline and get into the habit of adding new connections on LinkedIn. Even if you don't have a large following, write great content and you could still do well, but it never hurts to be increasing your followers.
Observation #5: Ideal Post Length
LinkedIn recommends that you write short posts and post often to get the most out of their publishing platform. However, recent studies of articles on the web have shown that longer posts tend to do better than shorter posts when it comes to receiving more social shares and backlinks.
The average post length of a top 100 LinkedIn post was 920 words, but LinkedIn posts had a wide range for word count. The shortest post in this study was only 202 words while the longest post was around 7,400 words.
Most posts on LinkedIn were fairly short with 21% of posts being under 500 words and 76% being under 1000 words. So it is possible for both short and long posts to do well on LinkedIn.
Tip #5: If you are a new publisher on LinkedIn, try starting out with a short post, since most people have had success with posts under 1000 words. Experiment with longer posts too to see what works best with your followers.
Observation #6: Is LinkedIn Publishing Friendly to First Time Publishers?
Can a first time publisher do well on LinkedIn's publishing platform? Or does it take time to build up an audience and gain traction?
One of the most exciting discoveries was that first time publishers can in fact get featured on the Pulse. 15% of the articles in this study were from first time publishers, meaning their very first LinkedIn article was featured as a top post for the day in the Pulse.
Tip #6: Even if you are a first time publisher, give it a try. Focus on writing great content with a catchy headline and you might get featured as a top post on your first try.
What Happens After You Publish a LinkedIn Post?
One thing I noticed was that many publishers are not taking full advantage of LinkedIn's traffic to build their email lists. They spend all their time writing great content, but never get their readers onto an email list.
Only about a third of publishers on LinkedIn linked out to their website in their posts. And an even smaller percent of those people sent visitors to an email opt-in page.  (Most people just linked to their home page.)
Smart content marketers are linking their LinkedIn articles and posts to their own sites to capture leads. Linking to a squeeze page with a free PDF resource is a great way to grow your email list.
As more and more people start to follow you on LinkedIn after reading your posts, you will likely find that it becomes easier and easier to get article views, gain social shares and grow your list.
You can also promote your post through LinkedIn groups after it is published to generate even more traffic to it.
Closing Thoughts
LinkedIn's publishing platform is one of the most exciting opportunities that people can use to gain exposure to your brand and to grow your following. It follows many of the same rules as guest blogging, but on a different platform and with a slightly different focus. Give it a try and start tapping into LinkedIn's massive audience.
What have you tried publishing on LinkedIn and how successful were you?  Let me know in the comments below.