LinkedIn Publishing Tips: How I Got 1 in 3 Articles Featured on the Pulse
Brian Lang
Until recently, I always recommended that content marketers focus on high ROI activities like guest posting and SEO while limiting time on social media.
However, I was able to get 1 and 3 articles featured on LinkedIn Pulse by putting my own tips into practice.
While I do still recommend high ROI activities over social media, LinkedIn's decision to open up its publishing platform to its members has created an exciting opportunity that a lot of marketers haven't taken advantage of yet.
I signed up for early access in 2014 and spent over a month studying top posts that got featured on the Pulse and released the details of my findings on my blog.
Then the fun began, and I started experimenting with writing my own articles for LinkedIn.
Getting featured on a LinkedIn channel greatly increases your article views and accelerates your audience growth. However, most writers rarely (if ever) get featured.
Despite experimenting with different ideas and approaches, I was able to get one out of three posts featured on a LinkedIn channel. More importantly, I was able to generate hundreds of LinkedIn followers and new email subscribers to my list.
Want to do the same? Then here are some techniques and tips that helped me accomplish that you can use, too.
Write an Amazing Clickworthy Headline
If I could give just one tip for writing for LinkedIn, it would be to focus on writing an amazing headline.
[tweet_box design="default"]While headlines are important for any type of content, they are especially important for LinkedIn when you are competing with hundreds of other writers each day for exposure.[/tweet_box]
One of the things I noticed when writing for LinkedIn was headlines that work well for blogging don't necessarily work well on LinkedIn.
LinkedIn Publishing Tip #1:
Take the time to study the headlines that are being used for articles that get featured on content channels on LinkedIn. Then spend time writing a great headline for your own articles.
Create an Awesome Featured Image
In my previous article, I mentioned that most people use images in their post.
While I was studying the Pulse and experimenting with publishing my own posts, I discovered that creating an interesting image is another good way to stand out from other LinkedIn writers.
The featured image is displayed in thumbnails to potential readers. Much like having a good headline, a good featured image can also get people to click through to your article.
However, most people just use boring stock images for their featured image.
I found that one easy way to stand out is to add your headline to an image. If you're not great with graphic design, tools like Canva and Pinstamatic, make it easy to create your own text based image graphics without spending too much time.
LinkedIn Publishing Tip #2:
Instead of just using a stock image, consider adding your headline to an image or choosing another image that will stand out.
Choose the Right Publishing Day
When studying top articles on the Pulse, I noticed that articles published during the week tend to get more views on average.
But I also saw articles that were published on Saturday that got over 15,000 views.
For me, publishing during the week seemed to provide the best results.
But since most influencers publish during the week, publishing on the weekends can be less competitive and still potentially get you a good amount of exposure.
I recommend experimenting to see what works best for you.
LinkedIn Publishing Tip #3:
Publishing Monday through Thursday is your best bet if you want to maximize potential reach of your article. But publishing on the weekends can help you reach members that don't have time to get on during the week and is also less competitive.
Do a little experimenting on your own to find out what works best for you.
Let Editors Know About Your Article
Most LinkedIn publishers don't know about this trick, but you can actually inform LinkedIn's editorial team about your article if you think it deserves to be featured.
This post explains how you can get your post featured, including a pro tip for ensuring the editorial team sees it.
Basically, in your tweet, you will want to explain why your article is unique, add the URL and then "Tip @LinkedInPulse" at the end.
I had a good article that didn't get featured within the first couple of hours, so I sent them this tweet to let them know about it:

They decided to feature the article a few minutes after I tweeted them.
LinkedIn Publishing Tip #4:
If you write an amazing article, but it doesn't get featured on the Pulse within a few hours, try tweeting it to "Tip @LinkedInPulse".
Link to an Email Capture Box to Capture Leads
One thing I noticed is that only about half of people writing on LinkedIn linked out to anything in their posts. And the people that did link out only linked to their home page or social media accounts.
However, I've found that LinkedIn is a great place to get new leads and email subscribers.
When I published my articles, I linked out to an email capture page from each post.
This email capture page has been thoroughly tested by Lead Pages and converted about 40% of visitors into subscribers.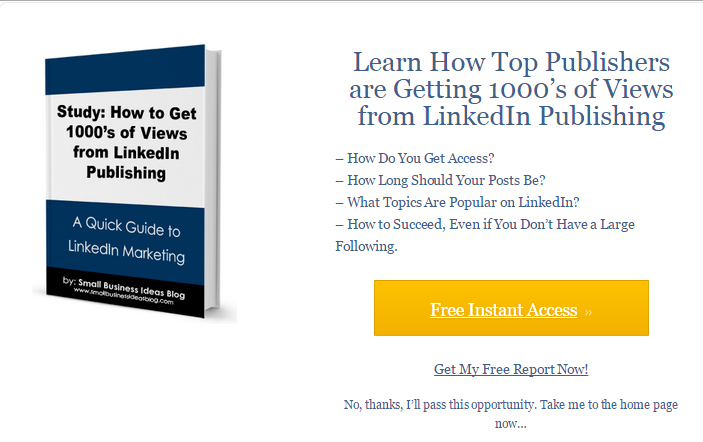 In comparison, only 1-2% of people that land on a blog post or home page will subscribe to your email list (on average).
LinkedIn Publishing Tip #5:
Link out to an email capture box at the end of your LinkedIn posts if you want to capture leads.
Final Thoughts & Recommendations
I see a lot of people copying articles from their blog on to LinkedIn and while syndicating content is allowed on LinkedIn, it is important to keep in mind that LinkedIn's audience may be different than your own.
Most articles that I see on the Pulse are unique and freshly written for LinkedIn.
I suggest you read this article again as well as my previous article. Study successful articles and writers on LinkedIn, get a good understanding of the audience there and spend time writing quality headlines and articles.
I'll be continuing my LinkedIn publishing experiment and hope to do even better going forward. Feel free to connect with me if you're an open networker or follow me on LinkedIn if you want to follow along.
What did you think about the tips above? Have you had success with writing on LinkedIn?