"Learn Anything in 20 Hours" with Josh Kaufman (Marketing Insights Podcast)
Danny Iny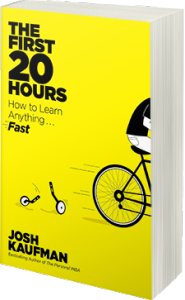 What would it mean to you and your business if you could identify one skill or ability that was missing in your business – from closing sales to working Photoshop – and learn how to do it, and do it well, in just 20 hours?
I wouldn't have believed it was possible myself – but after listening to the following podcast interview with Josh Kauffman by our own Danny Iny, I'm not only convinced – I'm itching to get started. Josh knows how to learn something fast – and he tells all, with great examples, tips and stories.
Josh Kauffman is the author of the wildly popular personal MBA, and has a new book coming out called the first 20 Hours. Today, he and Danny are going to chat about the core message of the book – and how it can make absolutely massive changes in your business.
Click here to download the transcript.
Distilled Wisdom
To bring this home to business, look at the five essential elements of business, (value creation, marketing, sales, value delivery and finance) you can choose any one of those and develop at least a starting mastery of it as it applies to your business in 20 hours.
Learn how to ask yourself the questions that will tell you what single thing, or few things you need to make the biggest impact in your business – then devote the time (20 hours!) to learning the skill that will make that change.
When we're really excited about something, we may start the learning process – but at the beginning, when you suck, it's so intimidating that we give up before putting in the necessary time.
If you had three hours to fill, you need to identify the one next thing you really want to learn. List all of the things you think you want to learn, and then narrow the list down by cutting out half, and then half again until you're left with one. Once you have one, go pick up 3 to 5 books on the topic, the skimming of which will let you know what the most important things to focus on in order to start your learning are.
Remember: at the end of the 20 hours, you will have either attained your desired learning objective, or have spent 20 hours getting darn close!
And don't forget that you can also download the transcript of this podcast.
Resources
If you all got out of that what I did – it's time to run pre-order the book to get the cool bonus resources, and start learning things fast. Pre-order the book in any format and forward your proof of purchase to extras@first20hours.com – you'll get access to the core of the method, as well as a bunch of super cool bonus information about awesome skills you could learn.
I'd love to hear from you in the comments of this post – what ONE skill do you want to learn to improve the heck out of your business?