How to Market Online: The Worst Advice You'll Hear About Starting an Online Business
Jeff Goins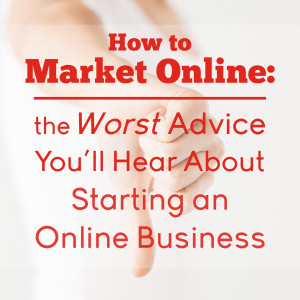 You've done the research. You've read the blogs. You're prepared. Now, it's time to launch your business.
But as you take this giant leap, you just might fall victim to a fatal piece of "how to market your business online" advice. You might make a mistake that could cost you a lot of time and money.
And it wouldn't be your fault. Because all you'd be doing is following a popular piece of advice that's just downright, well, wrong.
What is it?
"Find a Niche"
This is the typical cliche about how to market online that you hear from bloggers and online marketing experts all over the web. And it sounds like a good idea, but it's terribly misguided.
The idea is this: the world is full of advertising messages that people are tired of hearing. So the way to get noticed is to set yourself apart by targeting a unique segment of the market, some special group that has gone unnoticed.
And when you do this, once you connect with those people and make them matter, they will pay you money. They'll buy whatever you have to sell, and you can make a fortune.
Sounds good, right? Maybe too good to be true? And that's the problem.
The Problem with Niches
But what is a niche, really?
A quick Google search will return a smattering of definitions for the word "niche." But one is particularly telling:
Niche: noun. "A shallow recess."
Shallow recess? A hole in something that doesn't go deep? Sounds about right.
Here are some (somewhat silly) examples of niches:
middle-aged women who are cat lovers
twenty-something social media marketers
stay-at-home dads who want to make a side income
over-educated coin collectors from Vancouver
But what do these descriptions say about people's dreams, desires, and hopes for their lives? What does a hobby say about a person's perspective?
Not much.
Do you see the problem here? A niche is a shallow way to look at a group of people. But what's the alternative?
Isn't this the best we can do? Isn't this the way we've been told to market online and build a successful business? Isn't this what the gurus do?
In a word: no.
A Better Way to Build a Business
Let's look at a more traditional company that has achieved worldwide success with a less-than-traditional means and see if the niche argument holds water.
Let's look at Apple.
On the surface, you might think that Apple has become one of the most successful, highest-grossing companies in the world by identifying with a powerful niche and leveraging the power of that connection.
After all, aren't all Apple users hip, young, urban dwellers?
Well, no. My mother-in-law has a Mac, and my dad used to run his restaurant with an iPhone and a Square card reader. And I'm pretty sure there's someone in your life who doesn't fit the stereotypical hipster vibe, either.
So what's the power behind Apple, if not a niche? They spend a fraction of the marketing dollars their competitors pay and still manage to stay at the top of not only their market, but the world. What makes them so special?
Consider the "Think Different" campaign of 1997, one of the most memorable marketing campaigns ever. Here's the transcript:
"Here's to the crazy ones. The misfits. The rebels. The troublemakers. The round pegs in the square holes. The ones who see things differently. They're not fond of rules. And they have no respect for the status quo. You can quote them, disagree with them, glorify or vilify them. About the only thing you can't do is ignore them. Because they change things. They push the human race forward. And while some may see them as the crazy ones, we see genius. Because the people who are crazy enough to think they can change the world, are the ones who do."
Misfits? Rebels? Troublemakers? Does this sound like a niche to you?
What makes Apple's message so strong is not that they targeted a niche. They did something smarter than that. They focused on a worldview.
The Power of a Worldview
A worldview, in case you don't know, is the way you view the world. It's a paradigm, a global perspective, a personal ethos. In short, it's your values — what makes you, you.
And the funny thing about worldviews is that we think they make us unique.
"You are one a million," our parents used to tell us. They meant it as a nice way of saying we were unique and special. And maybe it actually meant something in 1959, but now that the world has more than doubled and there are more than 7 billion people on this planet, all of a sudden "one in a million" stops sounding so special.
I'm not great at math. So correct me if I'm wrong here, but in a world of 7 billion people, you being one in a million means that there are seven thousand people out there who are just like you.
How's that for a niche?
So, you see, instead of focusing on some random special interest group that you may or may not have anything in common with, what if you did something truly revolutionary? What if you wrote for yourself? What if you were your target audience? What if you built the kind of business that you would want to buy from?
Lots of folks have done it, including Basecamp (formerly 37 Signals) who built one of the most popular project management tools online.
Why did they do it? How did they succeed? They built something they wanted.
Case Study: Basecamp / 37 Signals
37 Signals was a group of designers who built websites for companies. They got frustrated at the lack of organization tools out there to help them manage the multiple projects they were working on for their clients.
So they decided to build a solution that worked for them. In fact, every time they faced a problem, that's what they did. Then they started sharing those tools with clients and saw how much others enjoyed using them. Pretty soon, they realized they had an entirely different business than that of a web design firm.
All they did was see a problem, fix it, and find others who felt the same way — in other words, who shared their worldview.
As the founder of the company, Jason Fried, wrote in his book ReWork: "The easiest, most straightforward way to create a great product or service is to make something you want to use."
There's a lot of truth to that.
How to Identify Your Worldview and Build a Business Around Your Belief System
Right about now, you might be thinking: all this talk of worldviews and big companies  is interesting, but what does this have to do with me?
A fair question.
Do yourself a depressing favor and Google whatever it is you would like to do for a living. Take your blog topic, your book title, your great big idea, and search for it on the interwebs.
Chances are, someone's already had that idea. Someone's already doing what you want to do. Frustrating, isn't it?
Or is it?
An overcrowded market is a sign of demand. It means people want that thing, that service or product or whatever it is you have to share. And that's not bad news at all.
The challenge is how to make yourself stand out in such a market, and figure out how to market yourself online.
Here's what you need to do:
Find your worldview by answering one simple question: "What makes you mad?" What irks you?  What can you just not stand? This is an indication of something you're supposed to fix; it's a sign pointing to your unique purpose. Take Firepole Marketing, for example. They can't stand sleazy, slimy, pushy marketing. So they are all about one thing: letting people know there's another way.
Write a short statement of purpose about why this thing is wrong with the world and what you can do to fix it. Publish your manifesto and give it away for free, sharing your message with anyone who will listen.
Connect with other people who feel similarly. These are advocates who can help you reach more people. Through guest blogging and webinars and meetups, your reach will begin to grow exponentially because of the people who now champion your work.
Once you've built an audience of people who care about the same things you care about, who get frustrated at the same injustices, ask them what they want. You can do this through a blog, on Facebook, or by conducting a survey ( my favorite). The point is to find out what need people have that you can serve.
Build something. Whatever it is that people want, create it. Maybe it's a product like Basecamp. Or maybe it's an experience, like the Audience Business Masterclass. Whatever it is, it needs to not just be your idea, but something that people want, and that they've been asking for all along.
Does this work? It absolutely does. And it is, in my experience, the smartest way to build a business in an overcrowded market. Don't look for a niche; find a worldview.
If all that sounds overwhelming, just do this: start writing. Write for yourself — do it honestly and vulnerably, in a way that shares your biggest hopes and frustrations. And see who connects with it. A great place to start is with that manifesto.
Because regardless of what the gurus say, if you don't have an audience, if people aren't listening to you, then you don't have a business. You just have a good idea.
So I want to hear from you: What's your worldview? Share it in the comments, along with an idea for a manifesto you could write.