How This Introvert Accidentally Networked His Way from Scratch to a 6-Figure Consultancy
It was done. Over. Finished.
The business that I had worked so hard to start, fund, and build was officially dead.
Customers had been told, employees had been let go, and investors had been notified.
All that remained was me.
Plus, a substantial amount of debt to keep me company, along with questions that kept me up at night, and gnawed at my soul.
How would I pay my bills?
Should I quit this whole entrepreneurship thing?
Should I (gasp!) think about getting a job?
Painted into the Entrepreneurial Corner…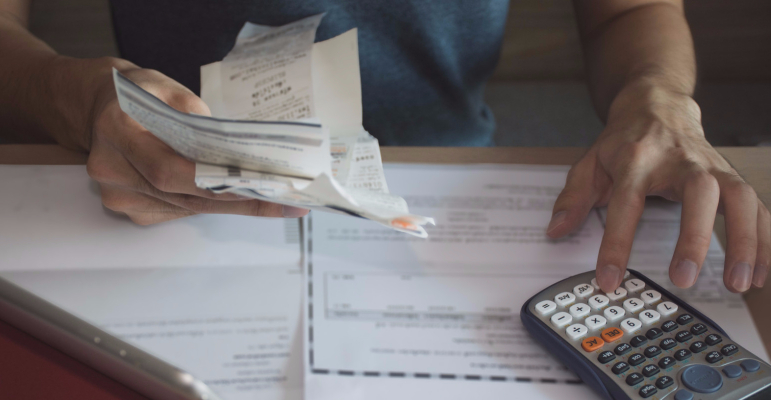 It soon became clear that most of those questions were moot.
The "get a job" idea, for example, was a non-starter.
Back then I wasn't particularly credentialed or qualified… and even if I found something in the higher end of the market value that I thought I could command, it wouldn't have been enough.
Even if I put every cent of my disposable income toward repaying the debt, after taking out taxes, rent, groceries, and other minimal living expenses, it would take me a couple of decades.
So that was a no-go.
And even as an entrepreneur, I had my limited options.
Click To Tweet
And even as an entrepreneur, I had my limited options.
I definitely couldn't start something big and elaborate that required venture funding. Even if there had been capital to be found back then (and there wasn't), I had run myself ragged building that kind of business and didn't have the appetite to do it again.
And while I liked the idea of someday building something scalable and online (like the business that eventually grew up to become Mirasee), I knew the economics just didn't work in the short-term. Put simply, when you need a large amount of revenue in a short period of time and don't have a substantial audience with which to do it, you can only count on getting a small number of customers—which means the price of whatever you sell has to be high.
In other words, selling low-priced e-books or courses to thousands of people was a great vision for later, but until I was in a position to reach thousands of people, I needed something with a higher yield in a shorter amount of time.
The only real choice I had was to build a service business, selling the highest-value expertise I had to offer.
How does one go about building a high-dollar service business—from scratch?
Click To Tweet
But how does one go about building a high-dollar service business—from scratch?
Putting Myself Out There, Version 1.0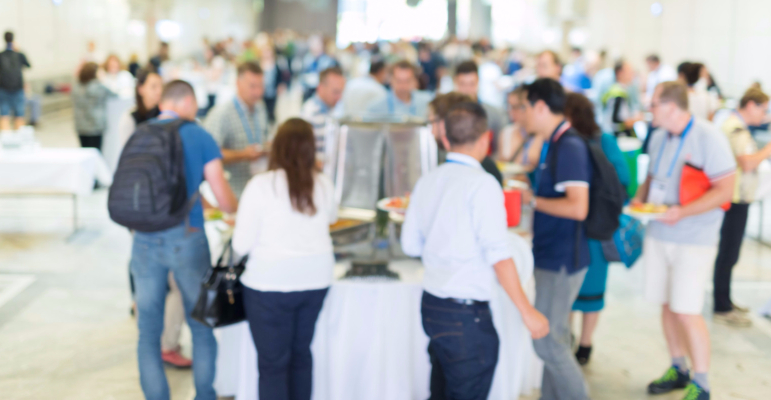 To make sales, you need to meet people who could potentially be interested in buying whatever you're looking to offer.
So I did what everyone does in that position: networking.
I signed up for every available opportunity: Chamber of Commerce events, BNI breakfast meetings, entrepreneurial cocktail mixers, and everything in between.
I went in with visions of meeting all the right people, shaking their hands, handing out business cards, and sweeping them off their feet with a clear and succinct one-liner about what I do, that would quickly lead to whipped out wallets and outstretched credit cards.
But it didn't work out that way.
Approaching people was awkward. Offering unsolicited business cards felt icky. My elevator pitch was long, clunky, and unclear. I couldn't even get it out because the question of "what do you do?" was always semi-rhetorical. Nobody was ever really interested, and none of it led to business.
This experience repeated dozens of times each night, under constant pressure to "work the room."
It was uncomfortable.
It was frustrating.
And as an introvert, I found it incredibly draining.
None of it was working, but thankfully a better and smarter strategy was just around the corner….
The Accidental Pivot:
Putting Myself Out There, Version 2.0
It was almost imperceptible at first and completely accidental.
The way I was working wasn't working—but still, I figured that as long as I had bills to pay and no better idea, I should keep working on the best idea I had, until something changed.
And something did change: the way I was going about it.
It wasn't a premeditated strategy, so much as a natural avoidance of things that were unpleasant.
So I stopped handing out business cards nobody had asked for.
I let go of the pressure to "work the room."
And I stopped delivering the elevator pitch. When someone asked me what I did, I literally changed the subject!
(Hey, the elevator pitch wasn't working for me anyway, right?) 😉
Changing the subject was the first step in a much more lucrative direction….
Click To Tweet
Little did I know that changing the subject was the first step in a much more lucrative direction….
"Enough About Me, Let's Talk About You"
I brushed off questions about what I do with a quick, perfunctory answer, "I'm a writer," and pivot the conversation to focus on the person in front of me:
"I'm actually much more interested in you, and what you do. Tell me about that."
And the business cards? They stayed in my pocket unless someone asked for one.
This was a powerful pivot.
Soon I found that my mental stance going into a networking opportunity was less about "might there be people here who will pay me some money?" and more about "might there be interesting people here to meet?"
To my pleasant surprise, I found that once I let go of the urgency to turn every contrived conversation into a sale, many of the people I met were, in fact, interesting. So much so that I wanted to hear more about their work and their stories.
There was just one little problem: we were at a loud and crowded networking event, and they were there to meet as many people as they could.
Clearly, continuing the conversation necessitated a change of venue….
An Invitation to Coffee and an Offer to Help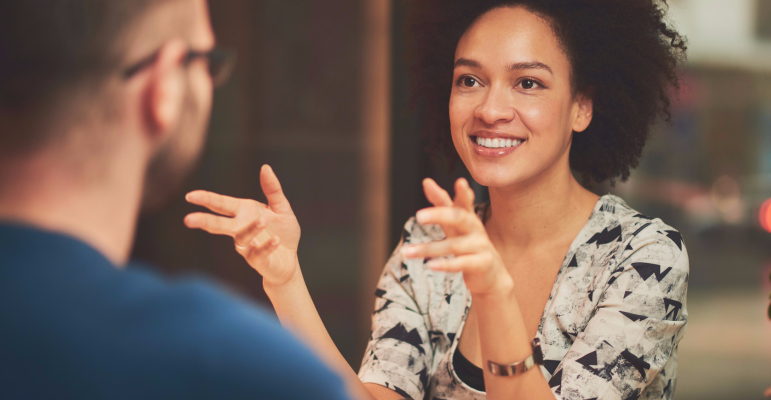 I wanted to continue the conversation.
If we clicked, I wanted to deepen the relationship.
And I wanted to be helpful.
To accomplish all of those things, after a short introductory conversation in which I just wanted to see if there might be something interesting about them to explore further, I would say something like this:
"That sounds really interesting. I know that you're here to meet other people too, but I'd love to learn more about what you do and see if there are resources or clients I could send your way. How about if we continue this conversation over coffee sometime in the next couple of weeks?"
They invariably said yes and handed me a business card. A simple follow-up would soon have us in a coffee shop together—a much more comfortable setting for me than a crowded networking mixer!
Now, the bit about offering to make introductions was part wishful thinking that might tip the scales in favor of a meeting, part genuine desire to be helpful, and part self-fulfilling prophecy—simply because the more people I got to know deeply, the more I started seeing the potential connections between them.
Making those introductions was an easy way of helping out and building goodwill. Before all too long, something strange happened. I found myself at the epicenter of a network of entrepreneurs and service providers… all connected within this little community that had cropped up around me!
Almost overnight, I was now seen as helpful, influential, and even important.
Click To Tweet
Almost overnight, I was now seen as helpful, influential, and even important.
And that wasn't even the best part! Those lengthier conversations, that started with my deep curiosity about them, invariably ended up taking the same turn….
"Enough About Me, Let's Talk About You" (But in Reverse!)
There's only so long that you can go in a conversation focused on one person before, out of genuine interest, or just politeness, the tables get turned.
In other words, after talking about them, they wanted to talk about me.
They asked what I did, and this time they really wanted to know. So whereas it used to be hard to hold someone's attention for 30 seconds of a clunky elevator pitch, now we engaged in a 30-minute discussion of what I did, who I served, and how my work made their lives better.
Lo and behold, that deep exploration into my work started leading to sales and referrals!
It began with one sale, and then another. Then an introduction to a colleague who needed exactly what I offered. It felt easy, smooth, and serendipitous. And for the first time in a while, I had money left in my bank account at the end of the month.
I had unintentionally hit on a winning strategy, and it was time to add a healthy dose of…
Adding Intentionality to the Mix
This all started as a way of showing up and doing the work that needed to be done, but without the awkward and uncomfortable parts.
But when it all started working, and I saw the dots beginning to connect, I doubled down on the strategy. More networking events, more breakfast meetings, more cocktail mixers, but with a very clear strategy and plan: ironically, I found myself "working the room"—but differently.
My process looked something like this:
I would systematically work from person to person, introducing myself quickly and then asking about them.
I was looking to quickly see whether they might be interesting in some way or not. If not, I just waited for them to lose interest in the conversation (which usually didn't take long) and moved on.
If they were interesting, I suggested we reconvene over coffee and got their contact information.
After the event, I followed up and setup the coffee appointment.
Meeting in person, I just focused on them: asking about what they did, listening deeply to the answers, and looking for ways to help through introductions and connections I might make within my growing network.
This flywheel started turning faster and faster, with more and more coffee meetings, more inquiries about my work, more referrals, and more paying clients.
Two years after I called "time of death" on my startup, I was earning six figures...
Click To Tweet
Two years after that fateful moment where I called "time of death" on my startup, I was earning six figures, with a process that was replicable, repeatable, and eminently suited for those of us who aren't comfortable with the glad-handing of a slick networker or salesperson.
It worked for me, and I hope it will work for you, too. So follow the same steps, reap the same results, and enjoy the journey along the way!
Yes, You Can Succeed with Integrity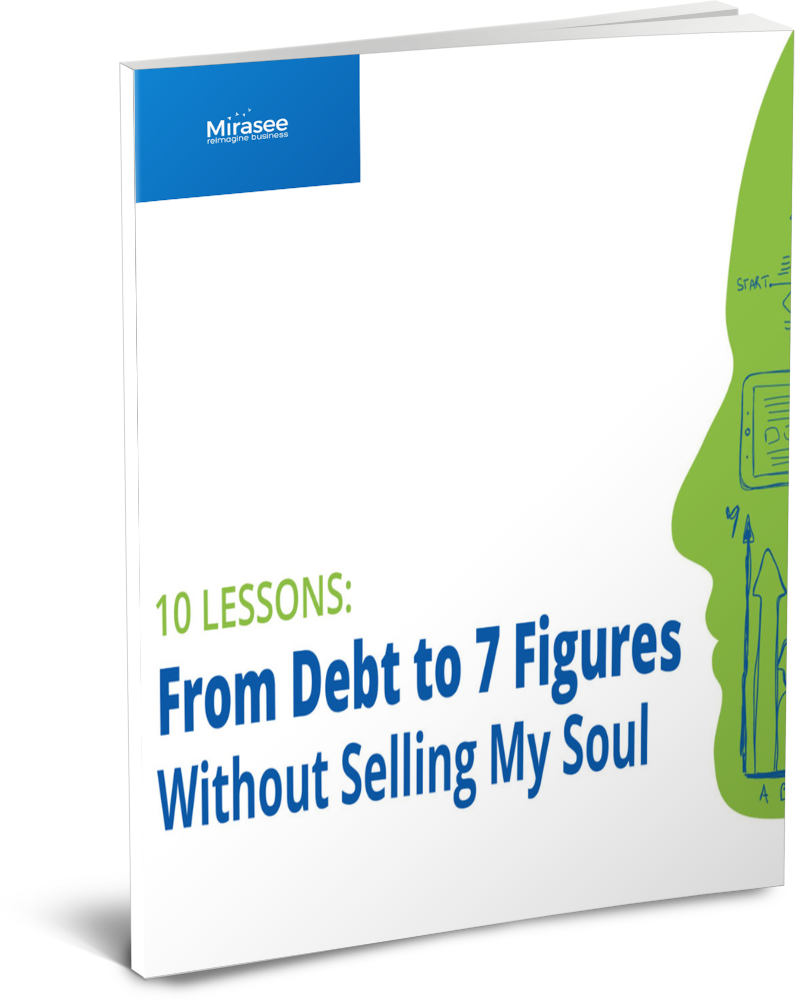 It takes a different kind of entrepreneur to build a successful business that makes the world a better place, without compromising your values. Are you up to the challenge?