How to Crowdfund: It Lives and Dies In Community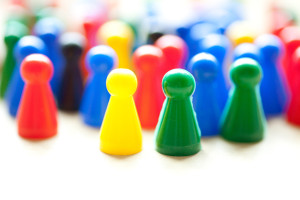 Crowdfunding is becoming an ever-popular avenue for not only raising money to realize a project as well as an effective avenue for engaging your community. One of the most common questions I get asked by people creating crowdfunding projects is "what does it take to be successful?" Although there are a wide variety of tactics and tips, at the end of the day, there are four basic best practices that must be followed in order to be successful with your crowdfunding project:
Identify and Engage Your Community
I have seen several projects that made beautiful videos, solid descriptions and offered great rewards that barely made it out of the gate. As an industry, less than 50% of crowdfunding project successfully reach their goal. Why? Your project is only as good as the people who engage with it. Hence the name "crowdfunding" (or "community funding" as we call it), the most beautifully crafted project will fall flat on its face if it doesn't have a primed, engaged community who that is ready to hear their message and take action to support it.

This misconception of "if we build it they will come" is what we call the "crowd fallacy", the idea that there is this magical Internet community that will see your project and fund it. The most powerful piece of knowledge you can equip yourself with before you begin your project is the reality of who will actually be supporting your project. The answer? Your community. The reality is that 80 – 90% of the money that will come to your project will be the result of direct driven traffic – people that you are driving to support your project with your message and call to action.
So who is your community? Who are those 80 -90% that you will go ask?
The first people in the door to support you are what we call your "first degree of separation," your family and friends who will support you not only financially but that will advocate for you to their communities. They are ready and willing to help you spread the word to their networks, share your social media posts, and most likely be the first ones to throw money in the pot (if you ask them personally, we'll talk about that in a minute).
As a small business, your customers and target customer base comprise the rest of your community. My friend Dave and his business partner, Danny, who I'll be referencing several times throughout this post, successfully raised over $6500 to start his tofu business, Mama's Tofu Collective and were masters at engaging their community. "Danny and I are both vegans and were already part of the community that ultimately ended up supporting our project…we had done our market research and we knew exactly who our target customer was and how we could connect with them. We spent time before launching our project to build that community and connect with them. By the time we launched, they were all ready and excited to engage."
The key is personal investment – your community must be invested in your success either because they love you personally or they love what you are doing and want to be a part of it. Identify and engage those people even before you start and they will engage when you ask. Dave's advice: "do everything you can to be engaged in that community before you start the campaign."
Set An Attainable Goal & a Reasonable Timeline
Two of the most common questions I get asked as I consult those creating new projects is: 1) How much should I ask for? and 2) How long should I run my project?
My advice is always to set a realistic goal and timeline that creates a sense of urgency.
It's often difficult to assess what is "realistic," particularly if you're a rookie project creator. Start by looking hard at what you are trying to accomplish and the financial needs you have to achieve those goals. Keep in mind that money will be coming in in $20, $50, $100 pledges that all add up, but the larger your goal, the larger the community you will need to attain it.
I always go through a little exercise with project starters – here's how it goes. Assume the average donation size is $75 (which is a reasonable assumption in the industry).
Take your total financial goal for the project and divide it by $75. That number is the amount of people you will need to donate $75 in order for you to reach your goal. You have already identified the community who you will be engaging; considering that community, is that a reasonable number? If you are doubtful about your ability to engage that many people to the point of opening their wallets, consider reducing your goal. Remember that you can always exceed your goal and be clear in your messaging about what the funds will be used for if you do exceed your goal – be clear that you have a plan.
So how would I reduce my goal and still accomplish what I need to? Keep in mind that you don't have to ask for the whole enchilada your first go around…maybe just enough to get the tortillas. What I mean is, it is likely that the entirety of your project can be broken down into smaller steps that will still allow you to make progress. Let's take my enchilada example. I want to start an enchilada cart, I love me some enchiladas. I've carefully created a budget and broken down my startup costs: materials, promotion, overhead, let's say the whole cost is $20,000. But as a small businesswoman, part of the goal of my project is not simply to raise money but to verify that there is a market for my product. It is equally valuable for me to determine how much demand there are for my delicious enchiladas as raising the money to make them. So, instead of asking my community for everything I need to get started, I ask them to help me take the first step to buy materials to make the enchiladas. I can still make progress towards my goal, I'll have what I need to make my product and test before asking my community to shell out for the entirety of my startup expenses before I have proven my concept.
Once I've proven that my enchiladas will be wildly successful, I can go back to my already-engaged community and ask them to help me take my project to the next level.
As far as timeline goes – keep your project short and sweet. If you have set an attainable goal and have engaged your community, there is no reason to run a project longer than 30 days. More time does not equal more money; your community will respond to urgency, and it is much more effective for you as a project creator to have a concentrated effort rather than a long, drawn out campaign. "We ran a 60 day project for Mama's Tofu…don't ever do that," according to Dave. "If I were to do it again, I would have run it for 20."
Keep Your Community Updated
The community of people and organizations who support you (or potentially could support you) do so because they believe their $20 will have a real impact. Whether it is through e-mail, social media, blogs, or all of the above, it is crucial to keep your community in the loop about what is happening, not only with your financial progress but with the progress of the project itself. The second you start to lose momentum with updating your community, they will start to lose interest. People's attention is being pulled in a zillion different directions; keep reminding them that you are still out there, you are still grateful, you are still going for it, and you still need their support.
The content of your updates is just as important as frequency. Your community doesn't want to be inundated with hundreds of hard asks for money, they want to see your progress. "Our updates weren't 'hey, support our project,' they were designed to keep people up-to-date about what we were doing with a link back tour project rather than just a direct ask all the time."
Remember too that your supporters aren't just financial backers, they can be empowered your team members and advocates; evangelizing your project to their friends, family, and colleagues because they believe their contribution will make a difference. Provide them with a steady stream of updates showing your gratitude and progress coupled with the continued message that they are part of your team and you need their continued to spread the word about your project. Dave from Mama's Tofu told me, "We were posting on Facebook every day; using the Community Funded update system, making flyers and handing them out in the community, and just taking about it any chance we go. There were times when I felt like I was spamming my friends, but I knew that was necessary to make sure this thing was a success. If we hadn't engaged at the level we did, there is no way we would have made it."
Get Personal
The uniqueness of crowdfunding is that it makes fundraising highly personal and interactive. At the end of the day, people will support your project because they feel their $20 will make a difference, and the beauty is that it will. Feeling a personal connection to a project makes it a lot easier for your supporters to engage.
Your video is a great way to start "getting personal" by putting a face and passionate voice behind the project. It suddenly becomes personable, intimate, relatable. The Search For El Dorado, Copia Community Farms, and Wasteland Hop Support the Morph were a few (of many) projects that did a great job putting the "personal" aspect to their video.
One of the most effective ways to engage people is to ask them for support personally and directly. This takes time, but it is so worth it. I ran a project on behalf on an organization I volunteer with to a small $2K project. This project was very near and dear to my heart so I made a list of all the people who were also very near and dear to my heart who I could ask for support – my parents, aunts, uncles, sister, friends, classmates, even co-workers. I made an effort to contact each one of them personally, let them know what I was doing, and ask "would you be willing to help us out with a small donation?" Nearly every person I asked in this manner contributed to my campaign. Not only that, they were sharing my message to their communities, which resulted in some people donating who I didn't even know.
Asking for money generally tends to make people nervous, myself included. That's why we often prefer faceless asks such as e-mail, social media, and blogs. These are absolutely essential to keeping your project top of mind for your community and keeping people updated, but, by far, the most effective way to engage people is to make it personal. When I was running my project for the nonprofit, I was in a work meeting with an old acquaintance from grad school. We were chatting for a few minutes after the meeting and I thought, why not ask her to support the project? It felt a little awkward at first but I looked her in the eye and shared with her my passion for this project and asked her if she would be willing to make a small contribution. Her eyes lit up and she said "of course!" The next day I saw she had made a contribution to the campaign.
Crowdfunding is not easy, but it's not rocket science either, and the results can be tremendous both personally and professionally as I have seen time and time again. The most important thing to remember is that the value of the money you will receive from your efforts is secondary to the value of a community of people supporting you in your journey.