It's 5 P.M. and You Need a Headline. Here's Help.
You squirm in your chair. Your fingers hover over the keyboard, ready for inspiration to strike.
Ideas bounce in your head, but none of them are any good. You think so hard your eyes twitch. With a sigh, you fire up YouTube and watch cat videos while you put off writing your next great headline.
Whether you're writing a blog post, drafting a sales page, pitching a guest post, sending an email, or posting on Twitter, you need a headline—a darn good one. Your headline must seize your readers' eyeballs and seduce them into devouring the rest of your content.
Your headline could make or break your content's success.
For such a short piece of text, headlines do a lot of heavy lifting. Good headlines sell newspapers and magazines.
They're key in making a mile-long sales page irresistible. They spell the difference between getting 100 social media shares or 100,000.
And research shows headlines even affect how people read an article and remember what it's about.
So much pressure! No wonder you struggle with writer's block, second-guess the headlines you do come up with, and distract yourself with internet nonsense.
Writing headlines is downright hard—when you try to write a good one from scratch.
Fortunately, you don't have to. You can swipe headlines that are already successful, those that are already getting clicks and shares. Why work harder than you have to? Find headlines that are already working and use them as models or templates for your own. (Don't copy them verbatim).
While this won't guarantee the success of your headlines, it does increase your chances of coming up with a winning one. And getting inspiration from successful headlines sure is easier and a lot more fun than coming up with them on your own.
(But, hey, if the juices are flowing and headline writing comes easily for you, then by all means, keep doing what you're doing. And tell us what your secret is in the comments below.)
Now, pretend we need a headline for a post about using Instagram to market a business. Let's head to the following websites for some headline help and inspiration.
9 Websites For Tried-And-True Headlines to Swipe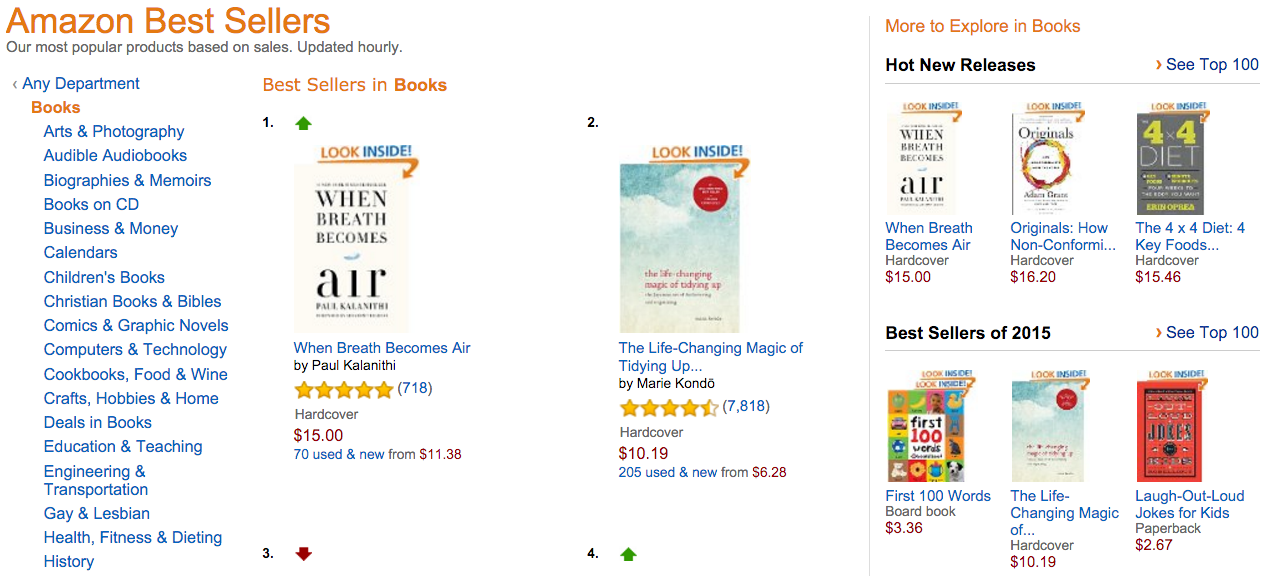 The largest bookstore on the internet is a great place to find headlines.
Go to the Best Sellers and The New York Times Best Sellers sections. Certainly, many factors go into making a book a bestseller, including having a large marketing budget. But the book's title makes a difference, too, because we do judge a book by its cover.
Why not swipe the book titles people are already voting for with their wallets?
For starters, look at the overall best sellers. Here are some headlines I wrote after glancing at Amazon Best Sellers in Books:
"The Life-Changing Magic of Instagram for Marketing Your Biz"
"Insta-Traffic: A Guide for Instagram Marketers"
"Instagram: A Proven Plan to Stop Wasting Time and Start Building Your Community"
First, look at the best sellers in the same category as your topic—such as business in our example.
Then check out some totally unrelated categories. Those can spark your creativity, and you might come up with headlines you normally wouldn't think of. From Best Sellers in Cookbooks, Food & Wine, for example, I came up with:
"Instagrammed: Turn Pictures Into Audience Builders"
"The Insta Lab: The Scientific Way to Build Your Audience Through Instagram"
"Instagrammer Fast & Easy: The Tried-and-Tested Recipe for Effective Instagram Marketing"
2. Link Bait Sites Like Buzzfeed, Viral Nova, and Upworthy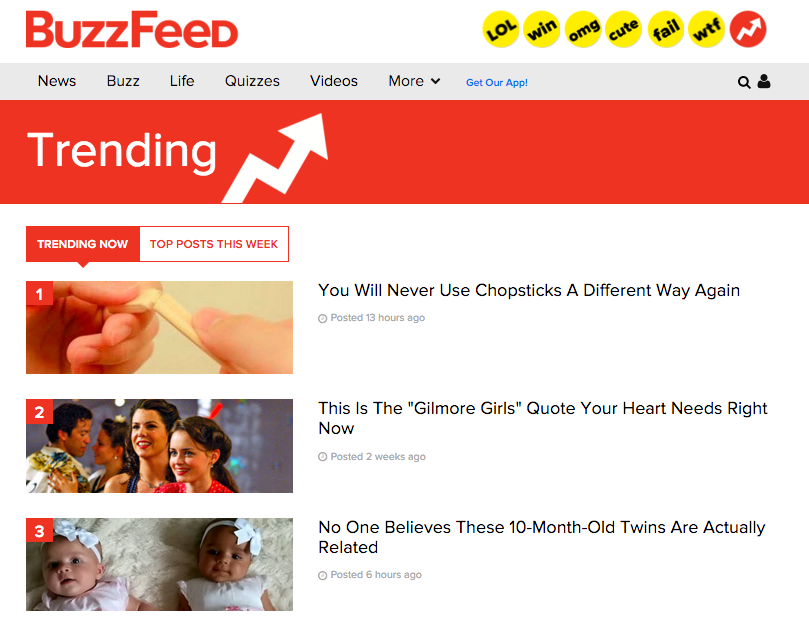 Link bait sites curate online content and present them to their readers, with the hope that the stories will go viral.
Headlines are critical to the success of their stories, so their writers and copy editors have mastered writing headlines that get clicks and links. Their survival depends on it.
Look at What's Trending and Top Posts This Week in Buzzfeed, or the Most Shared stories in Upworthy to see which headlines have been winning with the public. These types of headlines do particularly well in social media.
From these sites, I got ideas for the following headlines:
"Want To Do Everything Possible To Build Your List Fast? Take More Pictures."
"We Did Instagram Marketing For A Month And This Is What Happened"
"What Instagram Did For Our Business Will Make You So, So Jealous"
3. Community News Websites Like Reddit and Digg

Reddit and Digg are like a mash-up of news and social networking. Digg also curates content, so it belongs to #2, but I grouped it with Reddit because both sites give readers the ability to vote for their favorite stories.
You'll find swipeable headlines in Digg's Most Dugg Videos and Most Dugg Stories and Reddit's Hot or Top tabs.
Continuing on with our example, here are some headlines inspired from top stories in these sites:
"A Field Guide To Getting Leads Through Instagram"
"The Science Behind Marketing With Pictures On Instagram"
"I Saved All Our Best Pictures And Turned Them Into Lead Magnets"
4. News and Magazine-Type Sites Like Huffington Post and Inc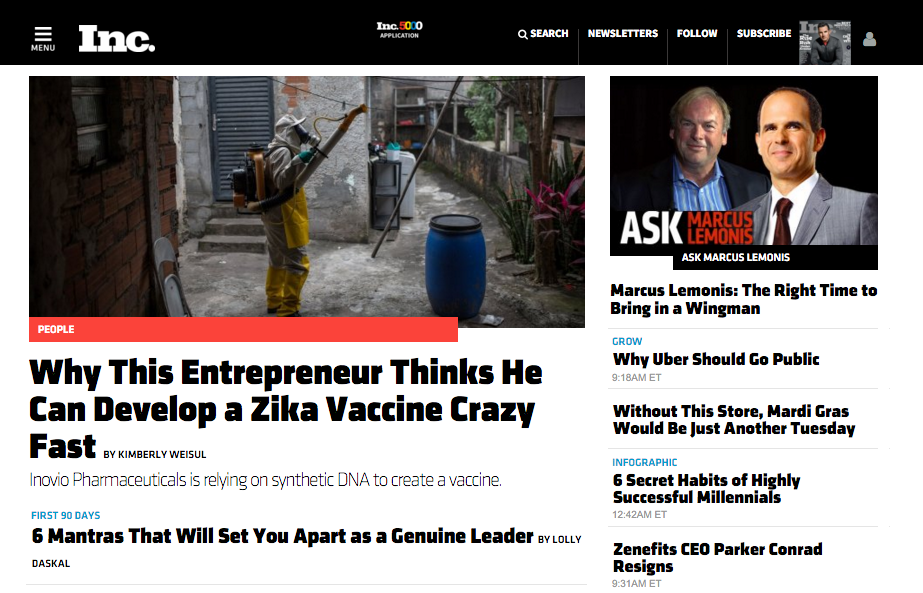 These websites get such massive traffic that it takes them only a few minutes to A/B test headlines. They use only the winning headlines. So most of the headlines you see on these sites are proven pageview magnets.
Here are my HuffPo and Inc-inspired headlines:
"Instagram: The Secret Weapon To Saving Your Email Newsletter?"
"12 Things Successful Instagram Marketers Do Before They Get Off Work"
"Be A Successful Instagrammer: 9 Secrets Of Exceptional Instagram Marketers"
5. Magazines.com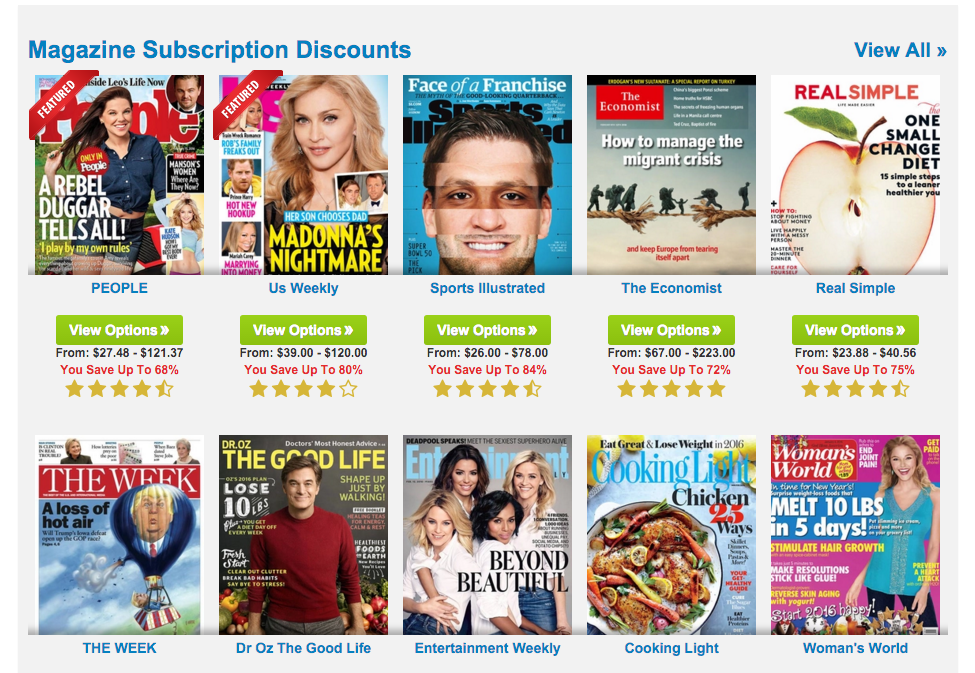 Magazines, like newspapers, use compelling headlines to sell. Magazine editors are adept at writing headlines that grab attention and make readers want to read the stories inside.
At Magazines.com, you can see current and recent covers of leading magazines in a wide variety of markets, from business and entertainment, to fashion and crafts. As with other sites, look at the headlines in your topic, but also explore potential headlines from other areas.
Here's my final set of headlines swiped from magazine covers:
"Inside The Most Underutilized Marketing Tool Of The Year, Instagram"
"The Epic Migration Of Marketers To Instagram And What Lies Ahead For You"
"Rise Of The Instagrammers: 20 Tactics Put Instagram In Its Place"
As you can see, in just a few minutes, I've written 18 different headlines for our Instagram blog post! And we've only skimmed the surface of what these websites offer.
Of course, while writing this post, I had to follow my own advice and use those websites to write a post title.
Next time you need a good headline, look for your headline writing muse in these websites. Write at least 25 potential headlines; that's how professional copywriters sharpen their headline-writing chops.You never know when the right one will pop out of your head.
Pick the best one and use the others for sub-headlines and tweets. Some will even give you ideas for new content.
The more headlines you write, the better you get—and mining these sites for headlines is plain fun. Just don't get sidetracked by cute baby photos.
Can you find the inspiration for this post's headline? Let us know in the comments if you think you know!
Design Your Audience Business
Follow these 4 steps to design a profitable and sustainable audience business in just one year.