How To Guest Blog In A Way That Doubles Your Organic Traffic
Note: This post was part of the "Marketing That Works" Ideas Contest, showcasing 20 of the most innovative marketing ideas from the blogosphere's up and coming marketers. We've since picked a winner – check out this post for the details! 🙂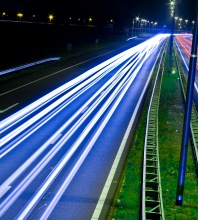 Most of us know how effective guest blogging can be if it gets in front of the right audience.
A quality guest post in front of your niche often generates a quick spike in traffic hits (usually pretty good ones!) or increase in sales, not to mention long-term relevance to your brand.
And, on an SEO stand point, Google's algorithm makes that Super Mario extra life sound every time it sees a quality link pointing to your site from a reputable domain.  They are simply some of the best links you can get, and your keyword rankings will increase with an influx of these types of links.
However, if anyone has tried guest blog, they know that it is an exhaustive and time-consuming process.
That is, unless you do it my way… 😉
The Old School Way of Guest Blogging
You could spend hours finding targeted websites, harvesting the correct contact info, and then emailing each webmaster or blogger.  From my experience, I would say that getting 5 emails off in an hour would be an effective outing.  Then, you can expect 1 or 2 responses and perhaps one guest blog spot.  All the while you still haven't created your amazing content, which can tag on another 2-3 hours.
Although I don't have a shortcut for the amazing content, (I wish I knew this one as well) I have mastered the most effective way to reach out to guest blog opportunities.  Enjoy!
Getting Started: Using the Right Tool
First, you will need a special tool called a link prospector tool.  There are plenty of these on the web, (simply Google "link prospector tool") but I haven't found one better than the link prospecting tool found on the bottom of this page (still in beta, apparently).  I had to send the software owner an email to get beta access, but he replied within hours.  I am still on the free beta option with him, (and I have generated dozens of reports) and I haven't had to pay a dime yet.  I am assuming this will change when it is not in beta anymore.
The tool is very simple to use.  You enter a couple of keyword terms that you are looking for in blog content, and then it searches for relevant blogs.  To give you a better idea on how this works, I will go over an example:
In my case, I was optimizing for tech-savvy Apple keywords like bamboo iPhone covers, for one of my personal websites.  I knew that my product would appeal for the Apple enthusiast audience, as well as the environmentalist-tech savvy niche (because bamboo is sustainable).  So I used these terms for my search: iphone, apple blog, iphone case, eco-friendly, bamboo design.
The next day, the report was generated and I exported a list of over 2,000 domains of qualified niche-related websites and blogs.  The list isn't perfect, so I went through and eliminated 300 or so of the domains before I began the prospecting.
Set Up Canned Responses from Gmail Labs
Next, I created a Gmail account specifically for guest posts prospecting.  I went into the Gmail labs and turned on canned responses to enable a feature to send email templates.  Then, I simply went down the list of domains and quickly found the contact information of the webmaster or blogger.  Typically, there will be an email address, but you might have to resort to use their Twitter handle or web contact form instead of emailing them.  While I am finding the correct email address, I will make a small observation about their blog and put it in my notes on a master guest blog spreadsheet (to add a personal touch when you email them).
Optional: Use a Contact Finder to Find Email Addresses
You can take the automation a step further and use a "contact finder" tool that crawls websites for contact information.  Most of the contact finders I have seen are only paid, and again, I have tested a couple and have found the Citation Labs version to be the best.  If you do go this route, don't substitute the contact finder tool for your manual finding of harvesting emails.  You will overlook hundreds of great opportunities.  From my experience it scraped about a third of the domains successfully.  It also can complicate the process a bit as it crawls every email address it finds on a domain (you know how many email addresses the Boston Herald has?) It can be time consuming to go through and clean out all the extra email addresses.  However, this process does save a lot of time as well.
The Emailing Process (Add a Personal Touch)
Finally, I will go down my spreadsheet and email each webmaster or blogger.   Since I have the general email template saved inside my email via canned responses, I automatically paste that into the email and I will make a quick addition to add a personal touch to their blog (this is where the notes come into play).  I avoid talking them up too much as this often sounds like you are expecting something in return.  Instead, I keep it simple or sincere, like: "Hey I noticed a lot of your readers are from Canada.  Are you from there originally?"
Using these steps, I am able to reach out and email about 50 guest post opportunities an hour.  This includes the time of creating the list, cleaning the list, finding the contact information, and emailing.  Using these techniques an addition to a contact scraper, my output increases to over 100 guest posts an hour; however, the quality of the prospects declines, and the rate of response goes down as well (no personal touch, not the correct email address on domain, etc).
Is This Process Worth My Time?
I have been able to get my product in front of iphone audiences, environmentalists, even high traffic blogs such as ReadWriteWeb, where my article went live two weeks ago.  These are ideal locations for my product to gain momentum.  Brainstorm the news channels or niche blogs where you would love to contribute.  What niche or specific audience would be ideal for your brand?
Remember, most blogs won't let you be over-promotional on your product and service, so be prepared to contribute amazing content in exchange for a brief mentioning of your service or perhaps a link in your author bio.  It's still well worth it.  People will still notice the brand you represent if your content is great, and from an SEO perspective, a link is a link.
Summary: Step by Step Call To Action
To simplify the strategy, let me break down the process one more time:
Find a link prospector tool (I recommend the last one on the list that is still in beta)
Enter 3-4 search queries in the tool pertaining to your niche or target audience
Export results (takes a day to generate report) to an Excel Spreadsheet
Filter the results and delete unrelated domains
Harvest domain email addresses and make annotations of blogs and websites
Optional: Use a contact scraper tool to scrape email addresses
Email prospects, using a Gmail Canned Responses template
Add a personal touch to each email to convert on more opportunities
Keep track of all your guest post progress on an Excel spreadsheet or Google Docs
Write amazing content and get published on quality, relevant websites
Enjoy exposure for your brand and increases in your organic keyword traffic
Hope you enjoyed my "Innovative Marketing" submission.  I felt it was worthy to share because this simple, actionable technique has doubled my organic traffic from targeted keywords the past 2 months and has delivered exposure to my product brand that is very difficult to find elsewhere.
How are you going to implement this strategy for your company?  Do you have suggestions on how to guest blog in a way that is more effective?