How to Write a Hypnotic Guest Blogging Pitch

I'm going to be honest with you…
I am a hoax, a fraud, and a charlatan.
I did not study marketing. I'm not even that interested in marketing. AND I don't even like marketers.
Seriously.
Yet, I'm still being picked to place my writing and advertisements (they are now one and the same), on some of the biggest marketing blogs this world has EVER seen.
I guess the following two questions are now forming in your mind:
Why are you doing this?
Simple really. Online marketers have an almost perfect audience for a new marketplace I have spent six months building.
And I love helping other people, of course 😉
How are you doing this?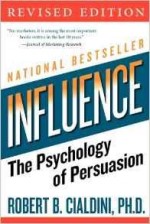 Using basic psychology I learned in a couple of weeks from the book Influence: The Psychology Of Persuasion and the Fogg Behavior Model. (More on these later.)
At this point, I need to say something very important.
Don't be misguided by the comment on my personal feelings about marketing. Things weren't always so easy.
For instance, here's my first guest blogging outreach attempt:
---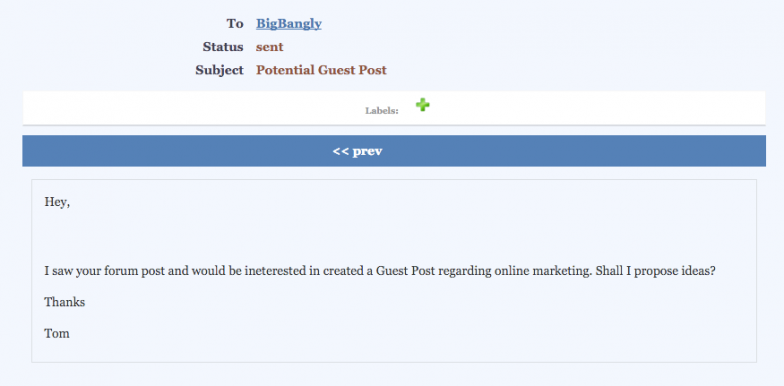 ---
WEAK!
Compare that to one of my most recent:
---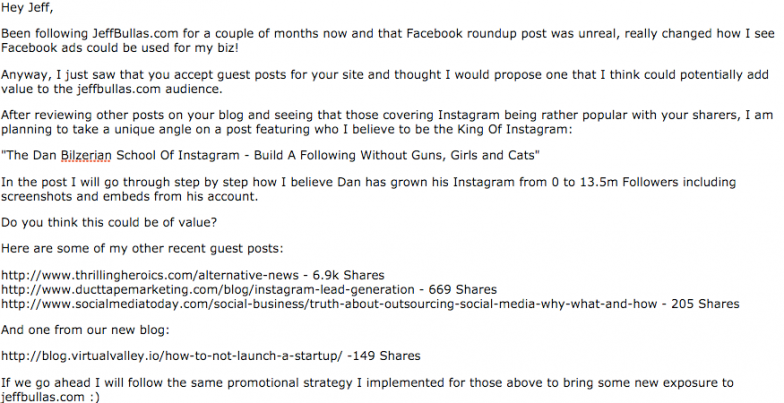 ---
Can you spot the difference?
Here is Jeff's response:
---

---
This email exchange led to this post being published on Jeff's blog and consequently being shared 913 times and counting.
The rest of this blog post will chart my learnings through this process and the 5 simple steps that will enable you to replicate my journey from 0 to 27 (and counting!) guest posts in six weeks.
My goal was to have 50 posted on top marketing blogs by 1st February 2016. I fell a little short, but you can see a full list of my guest posts here.
Your goal is to select an online niche at will and systematically dominate the top publications over the space of three months—all with the power of a hypnotic guest blogging pitch.
But before we jump into the 5 steps… let's talk theory: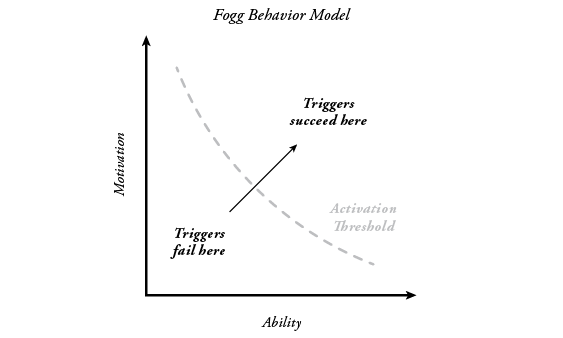 As shown by the chart above, a person's likelihood of doing something is the product of their motivation and ability to do the thing, if a relevant trigger is present.
So let's look at your guest post from the perspective of the targeted blog host:
Motivation – What do I get out of posting the guest post?
Ability – How easy will it be to publish the guest post?
Trigger – Our outreach email and email/tweet reminder.
Now let's look at my 5 steps to get your guest posts on top blogs in your industry. Steps 1-4 are all concerned with increasing the motivation of the blog host/editor to publish your post. Step 5 is about you and your ability.
Let's get started…
1. "Perspectiving"
I had to put the title of this section in quotes—as apparently it's not a real word—despite being what I believe is the number one skill marketers must develop.
"The ability to see and understand others perspectives on a deep level"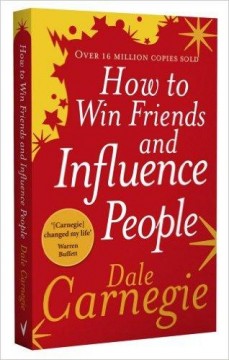 I'm going to assume you have read one of the best-selling self-help books of all time, How to Win Friends and Influence People.
And if you haven't, my favorite section of this book focuses on the importance of talking in terms of the other person's interests.
I strongly believe that in order to have anyone agree with you (your spouse, potential customer or blog host), you must talk in terms of what they achieve from the agreement.
This is the most crucial part of your outreach mail.
Let's review this example again:
---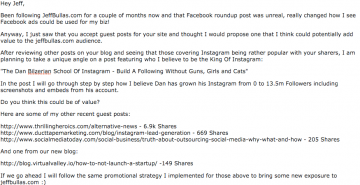 ---
Can you see that I speak almost exclusively in Jeff's interests? Here's are just a few of my comments:
"… I think could potentially add value to the jeffbullas.com audience."
"After reviewing other posts on your blog…"
"Do you think this could be of value?"
"… bring some new exposure to jeffbullas.com :)"
Though it may be hard to stop thinking about your own needs for a second, you MUST focus almost exclusively on the needs of your potential blog host in order to construct a hypnotic guest blogging pitch.
2. Research
A potential blog host is much more likely to consider your post if you propose an idea that will resonate with and be well-shared by their readership.
Here are the six questions I ask myself when considering a topic for a specific blog:
Can I mention people? (It will lead to more shares.)
Is this contrarian? (It will lead to more shares.)
Does it tie into what this audience likes/shares? (It will lead to more shares.)
Has the topic been covered on this blog before? (I don't want to replicate.)
Have I done this/can I provide evidence? (This builds credibility.)
Do I find it interesting? (This will enable me to write a better post and have a better day.)
I believe each question is of equal importance—apart from the first, which is about twice as important. If you are able to mention influencers in your niche, there is a chance that they will share your post, leading to much greater engagement.
Here is the research process I performed when preparing my pitch to Jeff Bullas.
First, I went to BuzzSumo and pasted in the link of Jeff's blog: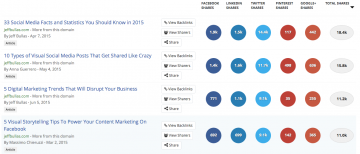 What is this telling me?
Jeff's most shared posts discuss social media… Hmmmmm.
Next, I cross-referenced a popular topic against my knowledge at the time, and it just so happened that I had been spending a lot of time on my Instagram account.
I then search Jeff's blog for posts on Instagram:


This told me that Instagram is a valid topic for the blog and there currently are not any Instagram case studies on the blog.
I decided I would pick an Instagram influencer to profile, potentially leading to more exposure if they shared the post.*
I drafted out a number of headlines and tested them using this headline analyzer.
Thus I decided on the topic: The Dan Bilzerian School of Instagram – Build A Following Without Guns, Girls and Cats.
*Unfortunately, I did not manage to get Dan to share the post on Twitter despite multiple tweets, I think he was probably busy.
3. Words
There are specific words and phrases to include and avoid in the hypnotic guest blogging pitch mail:
Maximize Use Of:
You
Add value
Share
Exposure
Traffic
Minimize Use Of:
I don't know about you, but when I have a busy inbox and only five minutes to review it, I scan for keywords. If I get the sense someone is trying to take something from me—often is signaled by the frequent use "I" and "Me"—the email goes straight in the trash folder.
The lesson?
Take as much time as you need to get your pitch right. It needs to focus on your potential blog host, not you.
Click To Tweet
For a more comprehensive guide on email copywriting, check out this post.
4. Social Proof
People are lazy.
We are biologically programmed to attempt to achieve maximal output for minimum input.
Thus, if you are able to minimize the time a potential blog host spends reviewing your pitch, you need to do it. One simple solution is to show them that you have been accepted by other reputable publications in the same niche.
I include a list of my previous most popular and relevant guest posts at the bottom of the email:
---

---
Why is this necessary? Well, let's look at your pitch from the perspective of your potential blog host. Here's the voice in his mind:
"Oh, so Cody, John and SMT accepted this guy? He must be good. Yeah surely he is. Let's give him a chance… I wonder what's for dinner tonight…"
The more awesome the blogs that accept your posts, the greater your social proof becomes when you pitch to a new blog. That leads to more yesses by even more awesome blogs, which then increases your social proof further.
This creates something called "The Flywheel," a term coined by Jim Collins in his book Good To Great. Getting your first guest post published is hard, since you have no social proof.
But over time, your efforts compound, and in a couple of months, you start getting invitations to produce guest posts:
---

---
Now you may be asking, But what if I just started and don't have any social proof?
I'll be honest, it will be nearly impossible for you to land a spot on the top blogs in your niche. Which is why you need to start at the bottom.
Start with smaller blogs that will accept you without social proof. Then as you gain more posts on slightly bigger blogs, you can start reaching out to even bigger blogs.
This is one of the first guest blog posts I created six weeks ago, and two weeks from the date of this writing, I have a post being published on the HubSpot Marketing Blog (one of the biggest, most reputable marketing blogs in the world).
Go figure…
5. Ability
Right, that is enough motivation. Let's move onto the X axis of the Fogg Behavior Model: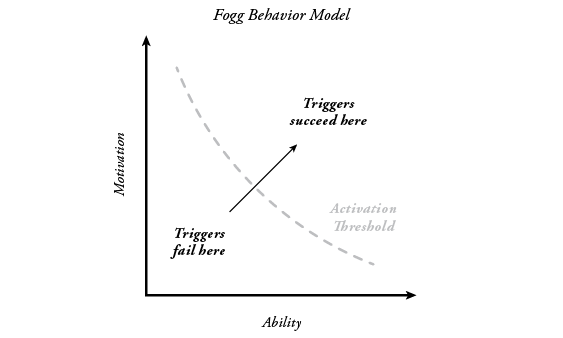 We must also consider the ability of potential blog hosts to accept your awesome article.
Even if they're highly motivated to publish your post, which they could easily be if you implemented Steps 1–4 correctly, they still will NOT accept your post if they have a low ability to do so.
Here are my best tips for minimizing friction in your hypnotic guest post pitch email:
Do not provide author bio and image in first email
Keep it brief
Include your Twitter handle linked at the bottom of the email
Remove any promotional signatures
Make sure key info is formatted CLEARLY
Propose just one single, well-researched headline
In summary, if there is anything in the mail that does not help build motivation as shown in Steps 1-4, it needs to be removed.
It's Up to You Now
Ok, so you now have 5 simple steps to writing a hypnotic guest blogging pitch. But beware. Use it sparingly. You don't want too much traffic 😉
Only joking. Head out there and start dominating!
But quickly before you start "perspectiving," I need a favor…
Do you have a friend struggling for traffic and influence? If so, use the share icons on the left of this page to send this post over… You do want them to succeed, right?
And finally, if you are unsure of how to apply this hypnotic guest blogging pitch to your blog or industry, just let me know in the comments below, and I will be in touch!