The Anti-Strategy For How To Grow Your Business Online
Rebecca Tracey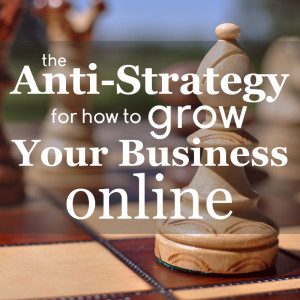 When you start a business, putting yourself out there can be kind of extremely scary.
You look around at what everyone else is doing, and you wonder how the hell they were able to get so much exposure!  You feel like a really little fish in a big pond, and it can be overwhelming even knowing where to start.
So your logical first step is to start to immerse yourself in the best online marketing and business growth strategies out there. You do a few Google searches, find some great courses, and start to build a strategy for getting the word out about your new business.
You read the blogs, and follow the gurus, but at some point, you have so many business building strategies that you have no idea which ones to do or where to start. According to them, you should be guest posting, and creating a freebie for your opt-in, and getting interviewed, and doing free talks, and commenting on other people's blogs, and being on Twitter and LinkedIn and Facebook and Pinterest and the list goes on.
You get lost in the business of business-building, and it all becomes about the latest strategy or trend… to the point that you start to forget WHY you started your business in the first place – to help people.
There are 3 main problems with most of the common strategies for how to grow your business online:
They don't take our differences (as human beings, and as businesses) into consideration
They place the focus on business building, rather than being of service
They turn basic human values into "strategies" and "systems"
If you have been struggling with your marketing and business building because all the tricks and tools just don't quite seem to "fit" for you, it's time that you kick "strategies" to the curb and take on the anti-strategy in your marketing.
How to Grow Your Business Online With an Anti-Strategy
1. Account for Your Strengths, Weaknesses, Skills, and Uniqueness
As small business owners, most of us tend to run businesses where WE are the main focus (this is especially true for service-based online businesses). And where most business strategies fail is that they usually take on a one-size-fits-all approach. Do interviews. Be on Twitter. Write guest posts. Host free calls. Create an affiliate program.
But last time I checked, my personality, my strengths, my skills and my business was not identical to anyone else's. Even if you DO the same thing in your business as someone else, you (as an individual and as a brand) are different. So it's bogus to assume that there is just ONE strategy that will work for everyone.
It's essential to not only be aware of your strengths in your business, but to leverage them in your marketing.
StrengthsFinder and the Fascination Advantage are two fabulous tests that help you discover your true talents (the latter being particularly clever, as it focuses on what it is that makes people drawn to you).
Playing to your strengths in your business will make business building so much easier (and WAY more fun). If you suck at writing, guest posting will likely feel really challenging for you, and you might want to focus your energy on videos or interviews instead. Likewise, if you're not very skilled at speaking on the fly, you don't have to pitch yourself for interviews (and you don't have to have "TED talk" on your list of big business dreams!).
Try this: Get out a notepad or open up your Evernote, and write a list of all the business-building strategies that you have in your head that you think you "should" be doing.
For example:
"I should start tweeting more."

"I should pitch myself to get interviewed."
Then, go through your list and change "I should" to "I want to", and see how each statement feels now.  If the statement feels true, great – keep it on your to-do list. If you can't honestly say, "I want to ____", scratch it off. It's not the best place to focus your energy right now.
2. Come From a Place of Service First
The most important thing to remember is that you are in business for a reason that is bigger than "building your list". All the tactics and strategies you learn are secondary to the real reason you started your business – to help people and to do some good in the world.
Business building becomes easy when you take the focus away from "how can I get people to sign up", to "how can I be of service to people in a bigger and better way".
One of the most common questions I get asked by my clients is "How can I grow my email list?" My answer is always the same, "Why should people be on your list?"
And most of them don't have an answer. They were just told they needed a big email list. So I take them back to basics – who do they serve, what problem do they solve, what do they offer, and then finally, how can they help people for free on a smaller scale that would feel really fun and easy? Create from that space, and list building becomes easy.
Many of the traditional business building methods are still great, but the key is to come at them with a mindset of being of service, rather than growing your business.
Everything from your Twitter posts, to the comments you leave on someone else's blog, to your own blog posts should be done with the intention to provide value and help people. The business growth it may or may not get you is secondary.
Try this: Anytime you are stuck on what to create (maybe it's your opt-in freebie? Or your next blog post? Or a new service or program?), take 5 minutes to come back to the core message of your business. What did you set out to do? What problems do you LOVE to solve for people? What is your bigger purpose (big question, I know!)? Then brainstorm a list from that place.
You'll find that it's easy to come up with new ideas when you come from a place of service rather than just trying to arbitrarily "grow your business".
3. Be Yourself. No, Really.
When "authenticity" becomes a strategy, you know something is wrong.
It's gotten to the point where basic human values have been turned into trendy tactics.
Yuck.
But what does "authenticity" really even mean? The word has been so overused that despite its good intention, it's starting to feel like just another slimy marketing phrase.
The basic concept still remains though – you have to be YOU.
Not a "strategic authenticity"version of you.
Not a you that is carefully planned and branded.
But the real, live, version of you.
Because YOU are what people are buying. Your energy is your strongest business building tool. So being clear on what makes you unique is crucial to growing your business.
This is often easier said than done, though. It's so common, especially if you're just starting out, to now really even KNOW who you are. This happens all the time: you have an idea of the brand you want to portray, but you struggle to "find" a unique voice to get your message across.
But if your voice is unique, it's already inside of you, and not something you have to go out and "find".
The key to being yourself is to stop trying so hard to be yourself. Ironic, isn't it?
Try this: Here are a few of my favorite strategies for making sure that you really are being YOU in your business:
Get your closest friends and family members to read your blog posts. Ask them if it sounds like you, and if not, what feels different to them. Take their words as constructive feedback! They know you inside and out, and it's usually easier for them to see where you are out of alignment than it is to see it for yourself.
Choose a topic you feel passionate about, and record yourself talking about it for 1 minute. Then, choose one of your recent blog posts or articles, and read it out loud into your recorder. The listen to both recordings side by side. Do they sound the same? What feels different about them? This is a really good clue as to where you are trying too hard to sound a certain way in your content.
Poll your current subscribers (or Facebook fans, or anyone else you have in your community), and ask them to give you a list of 5 ways that they would describe your personality. You may find that people have a MUCH different perception of you than you do of yourself. This may be a good thing (sometimes people notice our strengths more easily than we do), or their image of you might be way off. You can use this data to adjust your content accordingly.
YOUR Way of Doing Business is the ONLY Way
At the end of the day, the only way to create a business that feels sustainable for you, is to do things your way.
Forget what anyone else is going. Let go of all the strategies and gimmicks and formulas.
Tap back into WHY you have your business in the first place. Focus on your strengths. Be of service before anything else. And at the risk of sounding cliché – just be yourself.
What do you think of the "anti-strategy" to business building? What conventional business building tactics are you taking off your "should" list? Tell us in the comments how you will start to build your own anti-strategy.