3 Mistakes That Keep Your Subscribers From Turning into Buyers
Neal Samudre
"Why don't my subscribers buy my products?"
Do you find yourself asking this question? If so, you're not alone.
You might have a decent list of subscribers, but it's frustrating when they don't buy from you. You present an offer, and you end up with little to nothing to show for your efforts. All the email marketing tips and optimization advice you've tried haven't helped.
This might cause you to blame your products or services. You start to suspect no one wants your offers or they're not good enough.
But I want to suggest something different.
Maybe it isn't your products/services that are to blame. Maybe it's the way you've been doing email marketing.
If you have a business, building and engaging the right audience is essential. Many online gurus will tell you to build a huge email list. But if that email list isn't made up of the right people, then it isn't worth anything.
"Many gurus teach to build a huge email list. But if it's not the right people, it isn't worth anything."

Tweet Me
Speaking to the right audience benefits your business in a number of ways, such as:
Giving you clients you truly want to work with, rather than clients you have to develop custom solutions for.
Allowing you to create systems and scale, because you know the clientele you're serving.
Bringing in more recurring revenue by serving the group of people only you can help.
On the other hand, when you speak to the wrong audience about your products/services, you waste your time, money, energy, and focus. When those elements keep going south, you could lose your business.
So if you aren't making sales with your current audience, then you're probably making one of these three mistakes in your email marketing:
1. Your lead magnet isn't targeted to your ideal buyer.
A lead magnet, according to OptinMonster, is, "an incentive you offer to potential buyers in exchange for their contact information." In other words, you use a lead magnet to build your email list.
But it's not just about getting as many email addresses as you can. You need to be smart about who your lead magnet appeals to. If your lead magnet appeals to people who aren't a good fit for your offer, then it's the wrong lead magnet.
This is why specificity with a lead magnet matters. If your lead magnet is not specific, then your conversion rates will be low, and the small audience you do gather will not be the audience you want.
Let me show you an example. Imagine trying to build an email list to buy your course about building an audience with the following opt-in form: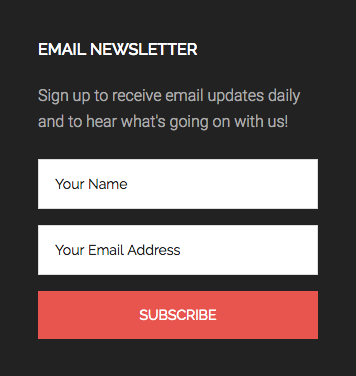 This is not even a lead magnet, but you would be surprised by how many businesses and entrepreneurs expect to gather quality leads from a generic form like this.
A more effective lead magnet for selling a course on audience building would be this one from Mirasee: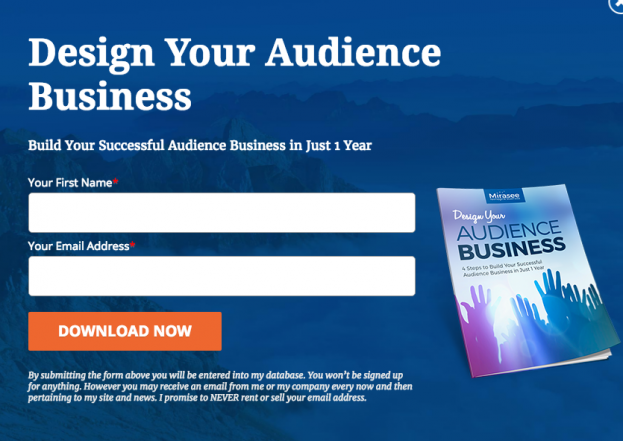 This lead magnet displays a clear offer ("build a successful audience business") and will gather the audience who are interested in audience building online. Those who sign up for this lead magnet will be the perfect potential buyers for a course on audience building.
I repeat, you can't use just anything as a lead magnet. You need the right magnet to bring in the right people.
"3 questions to ask yourself before releasing your lead magnet to the world:"

Tweet Me
Here are some questions to ask about your lead magnet before releasing it to the world:
With this lead magnet, am I targeting people in my industry (for example: teaching photographers to become better photographers), or am I targeting people who need a product or service from my industry (for example: people who are looking for photographers)?
Is there a clear correlation between this lead magnet and the product/service I want to sell?
Does this lead magnet sell the value of my product/service, or will subscribers still need to be convinced about my product/service after they consume this lead magnet?
In an ideal situation, you will have a targeted lead magnet bringing in a targeted audience. This brings us to the second email marketing mistake.
2. Your content isn't compelling enough to keep your audience engaged.
I've seen this countless times: entrepreneurs and small businesses build a great lead magnet that attracts thousands of people . . . but then they mess it up with the content that follows.
These entrepreneurs and businesses all follow the classic mistake of only selling their core offer to their audience, and never giving.
In other words, they never seal the deal with their content. Instead, they try to squeeze money out of people whose trust they haven't earned yet.
"Your audience becomes an asset only after you wow them with your content. "

Tweet Me
But how do you know if your content is impressive enough for your audience? Easy. You track the open rates and click rates of the emails you send out after they download your lead magnet. If they're low, fix your content.
You want to offer value more than you sell, especially in the beginning, when you're still gaining the trust of your audience. Without having the trust of your audience, your business will suffer.
Woo your subscribers with compelling content, even while you're going for the sale.
We've got a worksheet to help you plan an email autoresponder series
with the right balance of helpful content and pitches. Download it now.
Here are a few tips for writing compelling content:
When you write emails, start with a story of some kind. Think about your target audience's situation, and develop a story that'll make your audience think, "This is exactly what I've been through before!"
Address a common misconception that your target audience might have in one of the early emails or content.
If you have a piece of content that has done well in the past, like a webinar or a blog post, then send it to your audience. Write an email with a short description of then content, and wow them with it.
If you are pitching your product/service, don't just talk about its features. Highlight the transformation possible.
When writing content, keep a balance of talking about your audience's main pain point and their main aspirations. Really dig into their pain, and then show them what life could look like.
Social proof is everything. When speaking to your audience, brag about yourself a little. Show where your work has been featured, but be humble about it. Testimonials add power to your pitch.
Whenever you write content, make it visually appealing. Include pictures and break down long paragraphs.
Finally, be yourself! No one likes feeling as if they're speaking to a faceless brand rather than a person.
3. You don't do anything to level up your subscribers.
I'm guessing many of you don't want a list full of just freebie-seekers or people who never buy from you. So when do you take subscribers to the next level? When do you give them the opportunity to become customers?
Some entrepreneurs and businesses wait forever to level up their subscribers. But the truth is, your subscribers should become customers as soon as or shortly after they join your list.
I can see you scratching your head out of confusion. I know that in the previous point, I told you to not sell right away.
But if you remember, I said to not sell your core offer immediately. There's a big difference between hitting subscribers with a $500-offer right after they opt in and making a $7-offer.
Turn your subscribers into customers early on by selling them a tripwire, not your core offer.
Let me explain.
A tripwire is "an irresistible, super low-ticket offer (usually between $1 and $20) that exists for one reason and one reason only… to convert prospects into buyers."
The goal of a tripwire isn't to make a full-time income. That's what your core offer will do. But having a tripwire will change a subscriber's relationship from a prospect into a buyer.
Let me show you an example of a tripwire from Digital Marketer. If you subscribe to a particular opt-in with Digital Marketer, you get redirected to this thank you page.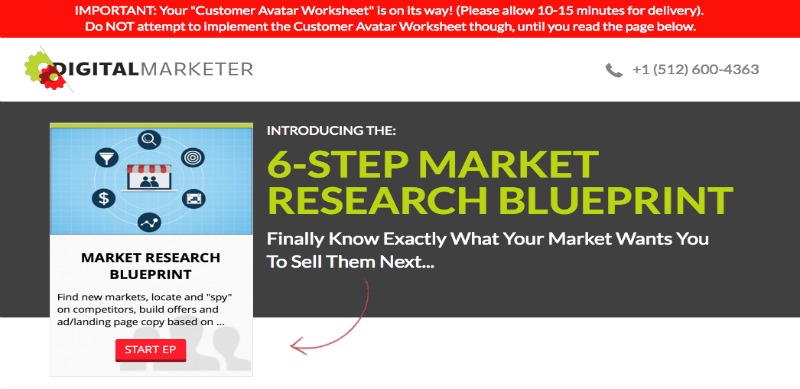 Notice the red bar at the top, urging new subscribers to read the page. When you scroll down the page, you'll see this tripwire offer: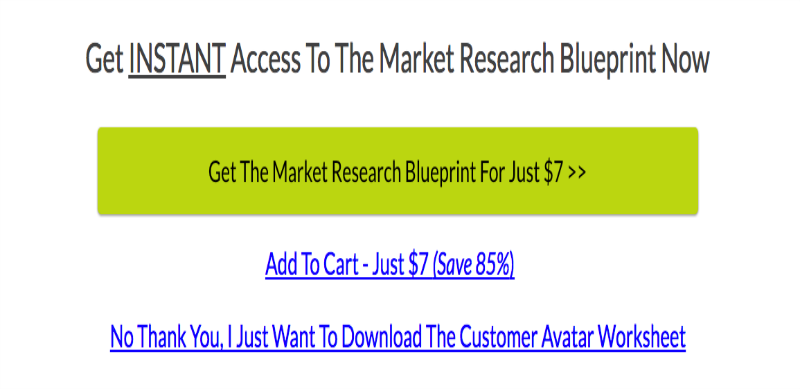 The goal of a tripwire offer is to turn new subscribers into buyers. That's because if someone has bought from you before, they're more likely to buy from you again! This is why it's so important to level up your subscribers early on.
Don't wait to level up your subscribers. To build a quality audience, that audience needs to become buyers fast.
In the end, building an online audience isn't just a numbers game. Sure, a huge email list does help. But if that list doesn't buy from you, it's not worth it.
"If you're making these 3 email marketing mistakes, your list probably isn't buying from you."

Tweet Me
The good news is, it's not too late to course-correct. Try these email marketing tips: Build a lead magnet that's aligned with your offer, develop compelling content, and level up your subscribers early.
Trust me, your audience will thank you for it.
Can you think of other email marketing mistakes that prevent your audience from becoming buyers? Let's talk about them in the comments below.