7 Steps on How to Create an Email Newsletter and Have a Profitable Launch
Adam Costa
One of the biggest lies in marketing is "the money's in the list".
It's simply not true. I once had a list with over 25,000 subscribers and it didn't make me a dime.
Why? Because I never built a relationship with them. I basically sent them ten pitches in a row and hoped they'd buy.
That hurts to admit, but it was a valuable lesson. And once I provided useful content – instead of hammering them with pitches – things began to take off.
People actually read my emails, took action on my advice, and bought what I recommended.
Now I'd like to share with you how to create an email newsletter and the exact autoresponder series I used to build long-lasting, profitable relationships on autopilot.
After all, the money's not in the list… it's in the relationship.
You're going to need a worksheet to implement these advanced ideas. Lucky for you, we've got it for you. Download it now and keep reading to learn how to use it.
Can You Really Build Relationships On Autopilot?
At first, it sounds a bit foolish. Relationships by their very nature require an active participation on both parts, right?
Wrong. Bestselling authors, rock stars and Academy Award winning actors don't know their fans personally. But their fans look up to them, buy their products and post pictures of them on their walls.
So as you can see, there is a relationship… and a very profitable one, at that.
But how do you build relationships like this?
In essence, a profitable relationship consists of three parts: your readers must understand who you are, how you can help them and (most importantly) trust you to follow through on your claims.
If you know how to create an email newsletter that is effective it will accomplish all three. Over the course of several weeks or months, your readers are exposed to a stream of valuable content. At first, your emails help them understand who you are and how you can help them.
The third step usually takes longer. But it's well worth it, because once your readers know, like and trust you, they'll buy from you over and over.
The following seven steps outline how to walk your readers through this emotional process on complete autopilot…
Step #1. Figure out what you're going to offer.
Not your existing products/services… you need a free offer to lure people into your autoresponder series.
"Sign Up for Updates!" just doesn't cut it, anymore. You need something irresistible. Something people will gladly hand over their email to get.
Whatever it is, make sure it's specific.
For example:
10 Days to Lower Your Blood Pressure By 10%
24 Crucial Steps to a Recession-Proof Retirement
30 Steps to Successfully Marketing Your Product Online
See how each has a specific number? Not only does it let readers know exactly what to expect… it also sets the expectation they'll receive several emails from you.
This is important. If you release everything as an eBook, people will subscribe, read the report and unsubscribe immediately.
Once you've got your free product in mind, create an email series that delivers on what you promise.
Step #2. Map out your emails on an excel spreadsheet.
OK, for the rest of this post we'll use Dave, a financial planner, as an example.
Dave dreams up a course on retirement planning. He's decided to call it "24 Crucial Steps to a Recession-Proof Retirement."
Rather than start writing, he maps out his overall content strategy using an Excel spreadsheet.
Since he's got a 24 part course, he needs to write 24 emails which will be drip fed to his subscribers.
So in Excel he writes the subject lines (headlines) for his emails. (Note: I prefer to write several subject lines for each email, then choose the best of the bunch).
If you're struggling for headlines, check out these templates:
The next step is to…
Step #3. Organize headlines into a logical order.
Dave's got thirty killer subject headlines for his free retirement course. But the problem is, they're all over the place. He's got one email about annuities, another about estate planning and three emails about life insurance scattered about.
Dave needs to get organized.
He begins by grouping emails together by common themes. So those three emails about life insurance? They're drip-fed to readers one after another.
But Dave finds some emails don't fit his overall strategy. He deletes them, and writes more headlines that are more in line with the others.
The list looks good. But he's got one more step before he starts writing.
Step#4.  Find complimentary products/services to offer
At some point, you won't be able to satisfy all of your market's desires.
The answer? Referrals.
You could easily refer your readers to complimentary services (e.g. estate planning, bankruptcy attorneys, etc.) and receive a referral fee.
Better still, let them generate leads for you at the same time.
How? Create a free guide covering these services (as well as your own) and let them distribute the content to their clients.
For example, you could write a free ten page guide on planning for retirement, then give it to attorneys who specialize in estate planning. They pass out the guide to existing clients (hopefully they have a newsletter, too) who are exposed to your bio at the end.
And where would your bio lead them? To your newsletter, of course! (Note: if someone calls you directly to do business, that's obviously good too.)
Picture how powerful this is.
With just a few relationships like this, you could have your own automatic lead-generator, working for you 24 hours a day.
Best part? It's completely scalable: so you could have five leads a month or five hundred… all for the same amount of effort.
Plus, these aren't cold leads. They:
Were given your report by someone they already know and do business with,
Read your report and were impressed enough to sign up for your newsletter, and
Are constantly receiving quality content from you via email
So when you do speak with them, they already know, like and trust you. Which skyrockets your conversions.
Step #5. Write the non-promotional emails.
Now it's time to write.
Dave gets busy writing his emails. Because he doesn't have any web design experience, he simply sends his content in plain text emails.
If you have some HTML experience, however, (or are willing to hire a designer) you can do it a bit differently.
Pro tip: Instead of sending everything in an email, write just a teaser with a link to the full article on your site.
Doing so has many advantages. First, it adds valuable content to your site (which attracts links and traffic from the search engines).
Secondly, it gets your readers used to clicking your links. Every time your reader gets an email from you, they click a link and BAM!
Something valuable.
So when you send them an email for your product/service, they're much more likely to click through.
Speaking of which…
Step #6. Write the promotional emails.
Dave selects three of his subject headlines to write "pitches" for.
So his subject lines aren't ">>>BUY NOW!!<<<" or any such nonsense.
Instead, they promise a specific benefit and then deliver on it in the pitch. Then, towards the end Dave mentions how his product can help with the current problem.
For example, his product is pitching a one-on-one consultation. His email starts with "The One Thing You Must Do Before You Buy Life Insurance" and he talks about how you need to catalogue your assets and debts to find out how much insurance you really need.
But the problem is… that's a lot of work, right?
So Dave offers to help them straighten out their paperwork for a fee. Suddenly, he's the hero. He's explained the problem and offered a solution his readers feel comfortable with.
Some people call right away.
Some are hesitant.
So Dave follows up three days later explaining how many people signed up for his service, and how he can only offer this to a specific number of people (this should be true).
Suddenly, those on the fence commit.
Easy, right?
Now at this point you need to…
Step #7. Schedule the emails in your autoresponder.
Try every 3 days or so.
How often you send your emails varies by industry. In a desperate market (e.g. foreclosure, medical issues, etc.) you may want to send an email every single day. Since your prospects are probably nervous about their problem – and eager to solve it – you can build trust in a much shorter timeframe.
On the other hand, if your market is about scrapbooking, consider sending weekly emails. It's less work for you, and you'll get far less unsubscribes.
Here's a screenshot example of the autoresponder series: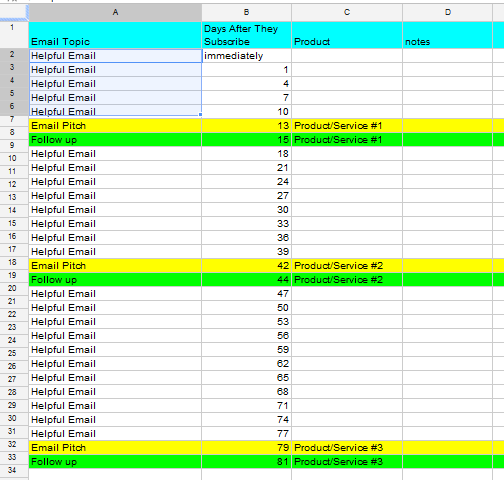 You can download the worksheet here.
As you can see, there are 33 emails in this series over 81 days. Only six are even slightly promotional… and even those are useful.
Think about this. Someone signs up for your course and you stay in touch with them for 81 days and pitch them three times… on autopilot.
Not bad, huh?
The Biggest Asset of All
As I mentioned at the beginning, the money is not in the list… it's in the relationship. By knowing how to create an email newsletter that rocks you can build these relationships for months, if not years to come.
Learn from my early mistakes: never sacrifice your relationships for a quick buck. Instead, play for the long-term. Even if someone never buys from you, they're likely to share your content with someone who will.
I hope you see the power of this strategy. I hope you understand how much bigger your business can be (and how much less you have to work) using this strategy.
And most of all: I hope you take action.
Got questions? I'm in the comments below!
Plan Your Email Campaign!
Create a plan for autoresponder emails with this worksheet.