Building Meaningful Relationships for Your Online Business
Take it from someone who's been there: Starting and building an online business from scratch is a challenge. A big challenge.
Digital business startup entrepreneurs have so much to do and keep track of—copywriting and content marketing, SEO, web design and graphics, bookkeeping, and on and on…
As if all that isn't't daunting enough, here's a challenge that just may dwarf the rest: building and maintaining thriving, mutually-beneficial long-term business relationships.
No, this aspect of business is not easy. But it's worth it. Build enough valuable relationships and you can open doors that might otherwise have been shut tight.
You can enjoy a robust level of sales, a high number of repeat sales, and have happy customers and members of your online community who become your passionate brand evangelists.
You can enjoy solid relationships with your peers and other business professionals in related or even substantially different fields. I'm talking about relationships with people who, even if they don't buy from you, become avid referral sources and give you solid word-of-mouth credibility by referring their friends to you.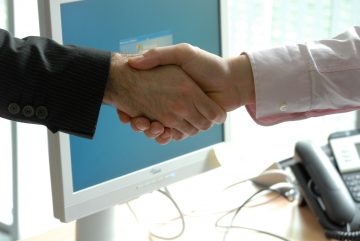 And regarding relationship building in business, please note this: It has to be done. But don't fret.
Even if you are a beginner, or if you think of yourself as a painfully shy introvert, it can be done.
So let's talk about how you can successfully build and nurture win-win relationships to help grow your business.
Start Offline. Take It Online
A lot of the relationship building strategies and techniques that work online work just as well offline.
Building relationships online is more challenging than doing so offline, especially for the beginner. Building relationships face-to-face will help you build your online presence, so I highly recommend that online business newbies engage in local networking.
Some of you may have just broken into a cold sweat at that last sentence, but relax. Face-to-face networking can actually be enjoyable, and it can do wonders in helping you get your online business off the ground.
A Networking Paradigm Shift
A lot of the problems people have with networking have to do with the "icky" feeling of thinking you have to go and push your products on other attendees. But this is not the way to network effectively.
Don't go to a networking event with the intention of telling anyone and everyone all about you. Go with the intention of listening to them. We think of the fast-talking, glib extroverted types as being the best networkers. Not so. The best networkers are introverts who act in spite of their shyness.
Why? Introverts make better listeners. And listening is not only important to business success, it's incredibly attractive to the person you are listening to.
In How To Win Friends And Influence People, Dale Carnegie tells the story of a "conversation" he once had with a woman at a dinner party. I put conversation in quotes, because it was mostly one-sided.
The woman talked on and on about herself (please don't do this!). Carnegie said almost nothing. But he listened intently. At the end of the "conversation," the woman praised Carnegie for being a fascinating conversationalist.
Are You Truly Listening? Or Just Waiting for Your Chance to Talk?
My recommendation?
In conversations, one-on-one or at networking events, listen. Listen more than you talk. And don't just "listen" while you merely wait for your chance to speak. Actively listen with sincere interest to what the other person is saying.
They are giving you the gift of their time. Give them the gift of your attention.
It has been said that givers gain, and I believe it. When you are networking in person or online, when you are building your business, look for ways to give. Give unselfishly. Give with no expectation of return. Give with the attitude that "the getting will take care of itself."
At this point, you may be thinking, "I want to build my business online. Why are you talking about going to networking meetings?"
Like I said a moment ago, the skills you gain from in-person networking can help you more effectively build your online business. It's important to listen and respond to your online customers. It's important to approach building your online business and community with an attitude of giving and serving.
And the people you meet in person can help you build your online business. They become vital parts of your social media networks. And once they are, they can help you build your online business by introducing you to members of their online networks. And they can become your first customers.
Here's an example from my own experience in building my freelance copywriting business from scratch.
While I now have a robust social media presence and routinely make connections with clients from all over the US online, I didn't start out this way.
I made connections locally. I landed small, low-paying projects with people I met face to face. I met people in person who helped me build a basic work portfolio and testimonial list. As we met and developed in-person relationships, we connected on social media. Then they helped me grow my presence online.
Once I had an online foothold, I worked to make new connections through social media (for my business, LinkedIn is huge; your mileage may vary). I approached these relationships with an attitude of giving.
When I felt like I had nothing tangible to give, I gave thanks and appreciation to members of my network for being part of my network and for inspiring me in my quest to build my business. Please note: I did this where appropriate and where I considered these individuals to be important members of my network who had indeed inspired me. In all areas of business building, especially when it comes to relationships with others, be sincere!
With the goal of developing trust, credibility and thought leadership status, I shared articles I had written, my thoughts on marketing, sales, etc. I became a connector. I looked for and acted on opportunities to connect members of my network with each other for their mutual benefit. I still do all of these things.
Once you have built online relationships, you need to keep them going. In a digital environment, your contacts can easily forget you.
Do things to remind them of your presence. Routinely post updates and links to valuable content (some of it yours. Most of it from others) in your social media channels. Send regular messages to your email list. Congratulate your connections when they get a new job. Wish them happy birthday.
Always approach your business relationship building with an attitude of gratitude.
Click To Tweet
Be genuinely grateful to your customers. Be genuinely grateful to those who boost your image online by sharing your updates or commenting on your blog. And remember: it's called social media for a reason. Be social! Interact with members of your social networks. Where appropriate, try to have phone or Skype conversations to see how you might collaborate or otherwise do business with them.
But remember what we talked about a moment ago when discussing the natural aversion many have to networking: don't use these calls as an opportunity to push your products on them. Use them as an opportunity to learn how you might serve them and help them thrive.
Rome Wasn't Built in a Day—AKA How Do You Eat an Elephant?
And be patient. Don't get discouraged. Don't be overwhelmed by the task in front of you. Start small, and take it one step at a time.
When I started my copywriting business, I had no client experience and no samples for my portfolio.
I went to a local nonprofit and offered to write fundraising letters for free. The condition was (assuming they found my work to be valuable, which they did) that I get a testimonial from the Director and finished samples on the nonprofit's letterhead that I could add to my portfolio.
Voila! I had my first client and my first successful work project. I took my samples and the confidence I gained from this experience, and I sold my services to local business owners I met through various networking groups.
I referred to that nonprofit as "my client." I viewed the fact that I had done the work for free as irrelevant and didn't feel the need to mention this to future potential customers, unless they asked, which they didn't.
I continued to build my business and online presence one step at a time.
The nonprofit's Director became a LinkedIn connection. Her testimonial and the samples became building blocks as I worked to establish my presence, both online and off. As I moved forward, continuing with the small steps, the experience and confidence I gained, the client and networking relationships I built, and the new samples I added to my work portfolio along the way all served to help create the online presence I enjoy today.
Once again, do like I did, and start small. Building your online business and the relationships that will help it thrive takes time. There will be setbacks. Push through them, and keep moving forward. Change course when needed. Eventually you will see results and will enjoy the fruits of your hard work.
I have put a lot of effort into building online and in-person business relationships, and it's been worth it. The process has been rewarding in more ways than one.
I now have a business that is location independent; I can do my work from anywhere. I have clients and contacts all across the US and as far away as Argentina and England. And my online presence is still growing. I'm finding that there is a snowball effect.
The more my online network grows, the easier it is to grow it to an even larger and more robust level.
So what about you? Are you in the process of growing an online presence and network? What challenges are you faced with as you do, and what successes have you enjoyed? What recommendations do you have for budding online entrepreneurs who want to do the same thing? I look forward to your feedback in the comments section!