Does Blog Commenting Really Matter? Should I Even Care?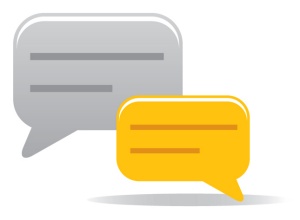 Comments are down.
Many bloggers would tell me that this is a big red flag; if blog commenting is down, then people aren't engaging with your writing. They aren't forming a community.
Except that all of the other indicators disagree.
Comments are down, but traffic is up.
Comments are down, but your previously low subscription rates are up.
Comments are down, but sales are up.
And despite all the other indicators, I was worried about the comments – but I'm not anymore…
Why Comments Might Be Down
A decrease in blog commenting is often hailed as a symptom of a blog's decline – or at the very least, the canary in the coal mine warning you that something is very, very wrong.
Well, I don't agree with that perspective. It might be true for some blogs, but it certainly isn't true for all blogs.
It's hard to see, because we're all afflicted by some "theory-induced blindness" (adherence to a belief about how the world works that prevents you from seeing how the world really works).
Here's what I mean – blog commenting is an indicator of discussion and conversation, and the hype about social media is all about discussion and conversation. Discussion is good. Conversation is good.
So no blog commenting = no conversion = bad, right?
Wrong.
Conversation is good if you're trying to create a conversation, but for a lot of bloggers, that isn't the case; what you're really trying to do is expand your circle of influence, demonstrate value, and provide your expertise by educating your audience.
None of those goals necessarily require a lot of discussion in the comments section of your blog.
No, It's Not about Engagement, Either!
And no, comments aren't the be-all and end-all indicator of audience engagement, either. There are much better indicators of a successfully engaged community, like:
Direct messages from readers. These are emails, phone calls, and text messages from people telling us that they value what we've written, and what they were able to accomplish by applying what we've taught. That's the best instant feedback that we can get about whether we're on the right track.
New opportunities. This is when you're asked to be interviewed by major blogs, invited to join exclusive mastermind groups, invited to write guest posts for major blogs, interact with major figures, speak at telesummits, and more.
Sales. Yes, sales. If you're running a subject-area blog (like we do on business and marketing), then ultimately it's because you want to make money and grow your business. The ultimate engaged community that you want to create is a community of customers.
I won't go into too much detail about better indicators of engagement, because my friend Marcus Sheridan has already done a great job of writing that particular post.
All to say that blog comments aren't the best indicator of having grown an engaged community, and certainly isn't the best indicator of blog profitability. As Marcus recently wrote, 10,862 comments didn't lead to a single sale, and based on the discussion in the comments of that post, this is not an isolated experience (ironic, I know).
And comments come at a cost…
The (Not So) Hidden Cost of Blog Commenting
Blog commenting makes up a huge part of the blogosphere – depending on how much discussion a post generates, it isn't uncommon for popular posts to attract hundreds of comments, or for the comments section of the blog post to run ten times the length of an original post.
This is all fine and dandy, until you stop to think about how much work a thriving comments section means to a blogger; of course, you've got to read all of those comments, otherwise you don't know what's happening on your own blog, but you've also got to respond to all of those comments – and that's no small undertaking when you're dealing with hundreds of comments.
I've experienced it myself with more popular posts, especially the ones that went up on larger blogs with bigger followings – it can take over a big chunk of your day, and this has led some bloggers to wonder if it's sustainable to keep on doing it, and others to just turn off their comments altogether.
They aren't just time-consuming, though – lots of things are time-consuming (almost everything related to blogging and social media, in fact!), and marketers and entrepreneurs happily do them because they know that the time is well-spent, and will translate into more business, and more dollars to their bottom line.
Except that with comments, that often isn't the case.
So… if comments aren't turning into business, then why do we care about them so much?
From "Up in the Air" to "Home Alone"
I think it has a lot to do with our lifestyles as bloggers.
Take me, for example. When I first started my consulting practice, I did a lot of good, old-fashioned offline networking.
You know what I mean; BNI meetings, chambers of commerce, and other networking events, where you shake a lot of hands, and hone your elevator pitch until it shines.
There are a lot of things that I don't miss about those days; I wasted many hours commuting from event to event, and client prospecting meeting to client prospecting meeting. The deal values were a lot smaller than they are now, and I wasn't making nearly as much money.
Today, things are a lot better – Mirasee is growing fast, and more and more of my business is coming in through people who read my work here, or elsewhere. We also make a lot more money than we used to from sales of our training program.
This is all great, but an unexpected side-effect is that I'm spending a lot less time in the physical presence of other people;
When people buy our training program, there's obviously no face to face interaction.
More and more of my consulting clients are spread across the country, the continent, and the globe, making face to face interactions impractical.
My more recent projects involve remote and often global collaboration; for example, one of my partners on Motiv808 alternates between New York and Vancouver, both of which are too far from Montreal for a quick meeting. And of course, the contributors to Engagement from Scratch! are spread across the globe.
My effective hourly rate keeps going up, which makes it harder and harder to justify wasting large amounts of my time in commute – so more work is done from home, rather than face to face, even when clients are local.
The result of all this is that my time is more efficiently-used than ever; I get more work done than ever before, on more interesting projects than I've ever worked on in the past. Which is great.
What isn't so great, though, is that I can have a super-productive day without leaving the house or seeing/talking to another human being (until my wife gets home from work, of course!).
Comments as a Cure for Cabin Fever?
Blog commenting may not be the best indicator of engagement, but they certainly make up for that with the potential for volume; you have to get really, really big to get more than a handful of congratulatory emails and new opportunities per day, but a "successful" blog post can easily generate dozens of comments.
And while dozens of comments might not translate into sales, and will probably take a big chunk of my time, they do wonders in terms of making me feel connected to other people.
Having realized this… should I keep on chasing after comments?
No, of course not.
Instead, here's what I'm planning on doing:
Make a point of getting out every single day – even if it's just to take a walk, or go to the gym.
Pivot towards more coaching work, that will give me the opportunity for much richer interactions with people, in a profitable way.
Not worry about comments as a business indicator.
Keep on interacting with people in comments on my posts – because I like it, and it's fun. 😀
Now I'll turn it over to you, my readers. What do you think? Do you agree with my take on comments? And the reasons why people want them? Leave a comment and let me know… 😉

Danny Iny (@DannyIny) is an author, strategist, serial entrepreneur, expert marketer, and the Freddy Krueger of Blogging. Together with Guy Kawasaki, Brian Clark and Mitch Joel, he wrote the book on how to build an engaged audience from scratch.