Will You Marry Me? (Audience Engagement Strategies That Work!)
The following post was an entry by one of our spectacular finalists in our Awesome Engagement Strategies Contest. Finalists showcased their ideas, and whoever got the most traction (i.e. comments and social shares) within five days of publication was crowned the winner. Check out this post for the complete list of Engagement Strategies Contest finalists!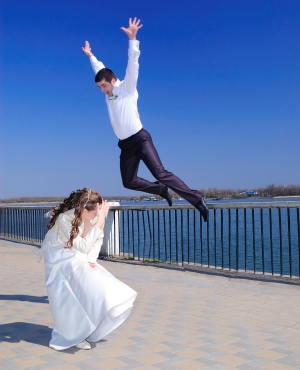 Do you want to know what the scares people the most?
Nope, it's not spiders.
Nope, it's not Freddy Krueger.
And no, it's not even Donald Trump's hair. 😉
The big, hairy monster I speak of is fear itself… fear of rejection, fear of failure, and fear of being utterly, utterly, utterly alone in this world. It's scary to put yourself out there and commit to the pursuit of a dream. It's hard to know where to start in overcoming fear.
Whether it's dating, starting a business, or in my case, starting my humorous blog in order to gauge interest in my writing, the beast I speak of keeps the average Joe from succeeding.
The reality? I had guts, and it paid off. My blog, Everyday Underwear, is more successful than I imagined it would be at this point and I've been given opportunities I could never have dreamed up. Still, I would be lying if I didn't tell you how scared I was when I hit "Publish" that first time…
Sure, I had guts, but my confidence was shaky. I wondered if I'd gone temporarily insane. Would anyone care about me, understand me, commit to me? Or would I just have fun for a while and get dumped?
I don't sell anything at all… at least, not yet. I'm still in the "building a platform" stage of the romance. My strategies have worked well so far, and I've gone a long way in overcoming fear of failure. Someday, there will be books to sell; hopefully, lots and lots of books, and I'll want people to buy them. After just over a year running my blog, I have a lot I've learned and I'm a sharing kind of gal, so I want to tell you what's worked for me. I'll keep this as brief as I can. Trust me, that's difficult for me, but if I share what I know, perhaps you can get engaged as well! Exciting, isn't it? I wouldn't want anyone to turn into a lonely cat lady – or a lonely cat dude. That would just be sad, and unnecessary.
Have no fear! I'm here to save you from the possibility of a miserable existence.
Be Brave and Put Yourself on the Market
I have learned time and time again that if I don't put myself out there, nobody will "see" me.
If you live in Timbuktu, you might have to utilize an online dating site in order to find the perfect mate. In my case, Timbuktu is just down the block from where I live, in the Middle Of Nowhere, just down the road from BFE. The town I live in has 350 people. Wait, scratch that… 354 since we moved here. There are no writing jobs, no big city opportunities, no way for me to become engaged in the writing community at large.
I had to get creative – just me, my laptop, and a zippy little DSL connection. Yes, that's right, we made magic happen via a long distance relationship – me and the writing world.
Find Great Places to Hang Out and People to Hang With.
Join groups, forums, social media sites, and professional organizations.
Comment, comment, comment!
Tweet. Update. Contribute.
Meet people!
Get your name out there or it will never become a household name. Like, ever.
Make a good first impression, but don't try too hard. Just start making your presence known and get to know who's important in your field of knowledge.
It all builds from there.
Introduce Yourself, But Don't Sell Anything – Yet
It's easy.
Start that blog, open those doors, start up that start-up and say, "Hello world, I'm blabbity-blah-blah and I'm happy to meet all of you. Can I buy you a drink?"
What this really means is, "Can I earn some of your time and get to know you better? Perhaps we need each other and don't know it just yet." I want to state this again, for the record – if you don't make your presence known in the circles you wish to be a part of, I guarantee nobody will know you're there. You'll sit in a dark corner by yourself, disengaged. And nobody puts Baby in a corner!
Get out on the dance floor and shake it like a Polaroid picture, baby. Show your prospects what you've got. Be confident. Get noticed with your Patrick Swayze moves and meet some people, but be careful not to jump into bed with them just yet.
That would be trashy and then you could get into trouble and have to ask your father for money and well… just don't go there.
Be Brutally Honest
In the dating world, we tend to put up some monster pretences  "Why, no siree – a fart never escapes these lovely buttocks!"
Yeah, right.
I fart, so I talk about it. Have some cojones and own up to it! I burp, too. Ladies burp and fart, but most won't tell you about it.
I will.
And I get male readers when I do.
I get upset, I talk about it. I like something, I talk about it. I have a problem with something, I talk about it.
I am who I am and if people don't like it, they know exactly who I am and I never have to hide a thing. I'm raw, like steak tartare.
People like me that way and they appreciate it. People don't want to wonder if you're hiding any skeletons in your closet (or the office supply room).
Don't Be a One-Trick Pony, But if You Are… Make Sure You're a Thoroughbred
I don't even know if a pony can be a thoroughbred horse.
See, that's why I don't blog about horses unless I want to tell a funny story about them. And trust me, I can. I was nearly devoured once by a herd of hungry… wait, I'm getting off track.
The point is, I'm no expert on horses and I don't pretend to be. If your business is horse-based, by all means make that your focus and shine bright like a diamond in the sky. If not, show the world your many talents, as long as you have skill in each of the areas you highlight.
Don't pretend to know everything. You'll come off looking like a pathetic shlub.
When I met my husband, I was in awe of his talents. He could cook. He could juggle. He could play guitar. He could weld on tall buildings. He had a very diverse skill set. This made him very interesting to me and I was intrigued. If he could do all of those things, what else could he do?
I married him to find out.
I haven't been disappointed yet. I learn from him. He teaches me how to be better, to strive for more, to try new things. He inspires me! Do you inspire your readers?
People will marry you to see what you can provide.
What do you have to offer now? More importantly, what do you have to offer in the future? How will you keep people interested long-term so they don't go looking for other horse farms? Be fresh, be creative, but know what you're talking about. Do your research.
Never be iffy. Putting false information out there, or even conjecture, will get you de-friended, un-followed, and ugh… dumped.
Make 'em Laugh
Have a sense of humor, for God's sake!
If you can make people giggle, you are providing more than a service. You are improving their health and their mood!
You might be selling widgets or fingernail clippers, but if you have a funny blog, website, or sales pitch, you'll keep people coming back just to see what you have to say. It's a great way to earn a second date.
ThinkGeek comes to mind for me. They are expert at being an interesting company. They draw me in with their humor, their customer interaction, and wit. Oh, and they have interesting stuff! They don't e-mail me too often, so I don't feel stalked, they say something funny to draw me to click on the link in the e-mail, and I buy stuff while I'm visiting the website.
Yep, just like that.
Make 'em Feel Smart
Don't just talk at people, talk to people and let them know that you want their input! Ask them what they like about you. Ask about their experiences and how they would handle situations. Make a testimonial page of good things said about your business/service/blog and give people shout-outs. Have contests. Give prizes for good input (that's what they're doing here, duh).
When you don't know the answer to some life question you've lost sleep over, ask your readers!
I have gotten fantastic advice just by saying to a reviewer, "Hey, would you review my blog?" Sure, it's scary to ask people to play truth or dare, but the information you receive will prove to be invaluable after the party. I have received great advice and insight from my readers when I ask them for comments on a post topic. They have taken the time to not only read my stuff, but give me their two cents. A penny saved is a penny earned. Two cents are all the better then, don't you think?
If you show them you need their input and you respect it, they will respect you in return. Never ignore them. Always respond to their comments. You might even get to second base.
I started following a writing blog recently and I thought it was great.
The writing was great, the content was great, and I was enamored. The writer stated that he responds to all e-mails and comments. Really? I LOVE interaction! I decided to test him. I've e-mailed, I've commented, and I haven't gotten the time of day from this guy. I'm ready to dump him. I have plenty of good "how to write better, smarter, faster, whatever" material in my inbox. I'm not important? Well then maybe you're not either.
This brings me to another short point…
Don't Throw Out the Baby With the Bath Water
Check your spam filter!
Mistakes happen and good people end up in the slush pile of your website's security system. Check it regularly!
There might be real humans, new friends, and diamonds in the rough in there! And you almost threw them out… what's wrong with you? Sometimes a website name will catch you up and throw you in the trash. Trust me, the web thinks my Everyday Underwear is dirty or lingerie or something.
My Everyday Underwear is clean, I swear! I have to have people whitelist me all the time just so I can be a part of the conversation on their blog. If you have a website and don't know what whitelisting is, find out. It's quite useful.
Share What You Know, But Not Too Much of It
There are many types of services.
Me, I'm in the entertainment business. I write stories to make you laugh, think, cry, spew coffee at your computer screen, or scream obscenities at a virtual person you've never met. More on that later…
I write non-fiction stories about my own life and my own opinions. My business is emotion. I am selling… well, me! That's what a writer does. I write on things I think will interest people and will be entertaining. So naturally, I share what I find interesting and entertaining.
I mainly do humor, so I share funny memes and stories on my Everyday Underwear Facebook page for my followers to see, I share interesting photos on my Pinterest page, and I promote other bloggers I feel might rock your world by highlighting them with a mention, a link-up, or a peer award. I bare my soul to my potential "partners" by making it plainly obvious what I'm all about.
However, I guarantee you that if I stalk people with too much me too much of the time… they'll leave me at the altar
Give them something to look forward to, but don't give them the whole enchilada. Give 'em cool freebies sometimes, but not all the time. Why buy the cow when you can get the milk for free? Well, the milk you buy might be a better grade. 😉
Make 'em Feel Loved
Create relationships.
Don't just look at a comment, and read it. Phhht! That's just being lazy.
Go a step further, without attaining stalker status, of course. Click on the user's image. Find out what they blog about. Take a look at their website or blog and comment on it. Whatever they do, you might need it or at least a reference to it in the future.
If you find something useful they've done, a tweet you like, or a post that touched you, share it with your own readers.
Don't be afraid to say I Love You (blogger/customer) early in the romance and prove it with the real roses of the internet… a mention. The right mention from the right person can get you a rock-solid audience engagement. And hey, I scratch your back, you scratch mine. You buy my book someday and I might just buy your widget, even if I don't need one. "I recall that you asked me to guest post once and I gained 100 followers. Yes, yes I will buy your e-book!"
Don't Be a Stalker
Your business might be different than mine, but it's the same concept of audience engagement no matter what you sell.
If you are in the business of making widgets, share what you know about widgets. Other widget enthusiasts will love it. Put it on your website, start a widget blog, and tell the world why you are passionate about widgets. Give people a taste of what you're all about, but keep them wanting more. Tweet about it, but not too often. Don't try to sell yourself or your widgets with ten links a day to your "Wonderful World of Widgets" book. Don't overload them. Give them space. Give them options.
If you blog five times a day about your widgets, it might be a bit much. Give your partners the option to receive a weekly summary. I don't blog that often, but some do. I pass on probably 5% of the content I receive, so it's a worthy investment for good material, but I just don't have the time to read five separate e-mails a day about it. But if I only have to devote a chunk of time to sifting through it once a week, I'm much more likely to not hit delete without looking when I see who's calling. Offer a daily digest or weekly newsletter. Nobody wants widgets in their face 24/7. There is a fine line between selling yourself and becoming an annoying spammer/stalker. Don't cross that line.
Finally: Pop the Question
You don't have to have a long engagement to make it work, just the guts to take the plunge. I married my husband four months after I met him.
Note: Danny proposed to his wife 5 and a half months after they met. She thought he was crazy, but still said yes. 😉
People thought we were crazy and they seriously wondered about our sanity, but ten years later… we love each other more than ever and our relationship strengthens and grows with each and every year under our belts and every fat roll we accumulate.
I'm pretty sure it's because I farted in front of him within the first few weeks of our courtship. I laughed really loudly at myself. He farted back. It was love. I digress…
In summary, if you follow the simple steps above, your readers will be enamored. When you get down on that one knee and pull out that box (of widgets), their hearts will skip a beat.
You'll say softly, "I'm so glad I've gotten to know you. I don't have much to offer, but perhaps you'd be interested in this widget." They will swoon. They will buy your widget (nail clippers, horse, whatever) – simply because they love you.