How to Get 100+ Subscribers from EACH and EVERY ONE of Your Guest Posts
This post was updated by Lexi Rodrigo on February 20, 2018.
Many marketing experts urge you to use guest blogging as a way to grow your email list (Danny and I included).
But it can be just a huge waste of time if you don't get results-especially if writing each post takes you more than a couple of hours.
A few months ago, I surveyed my list about how many subscribers they expect to get from each guest post they write. And 46% said, "less than 25," which might be nice when you're just starting out, but it's hardly enough to justify the time it takes.
However, you can get very good results with guest blogging if you get it right. Getting 100+ subscribers on average per post is achievable for most people.
But just "writing great posts" doesn't cut it. There's more to effective guest blogging than that.
Writing To Your Own Blog Is A Waste Of Time
…until you have at least hundreds, preferably thousands, of people on your list.
'Writing to your own blog is a waste of time until you have your own audience.' @peter_sandeen
Click To Tweet
Before that, posts on your site have no chance of building your list as quickly as guest posts because too few people ever read them.
Exceptions always exist, but if writing a blog makes sense for your business, guest blogging is almost always going to create better results than writing for your existing audience when it's still small.
Altogether, there are several things you need to get right to get exceptional results with guest blogging, but here are the three aspects you should focus on first.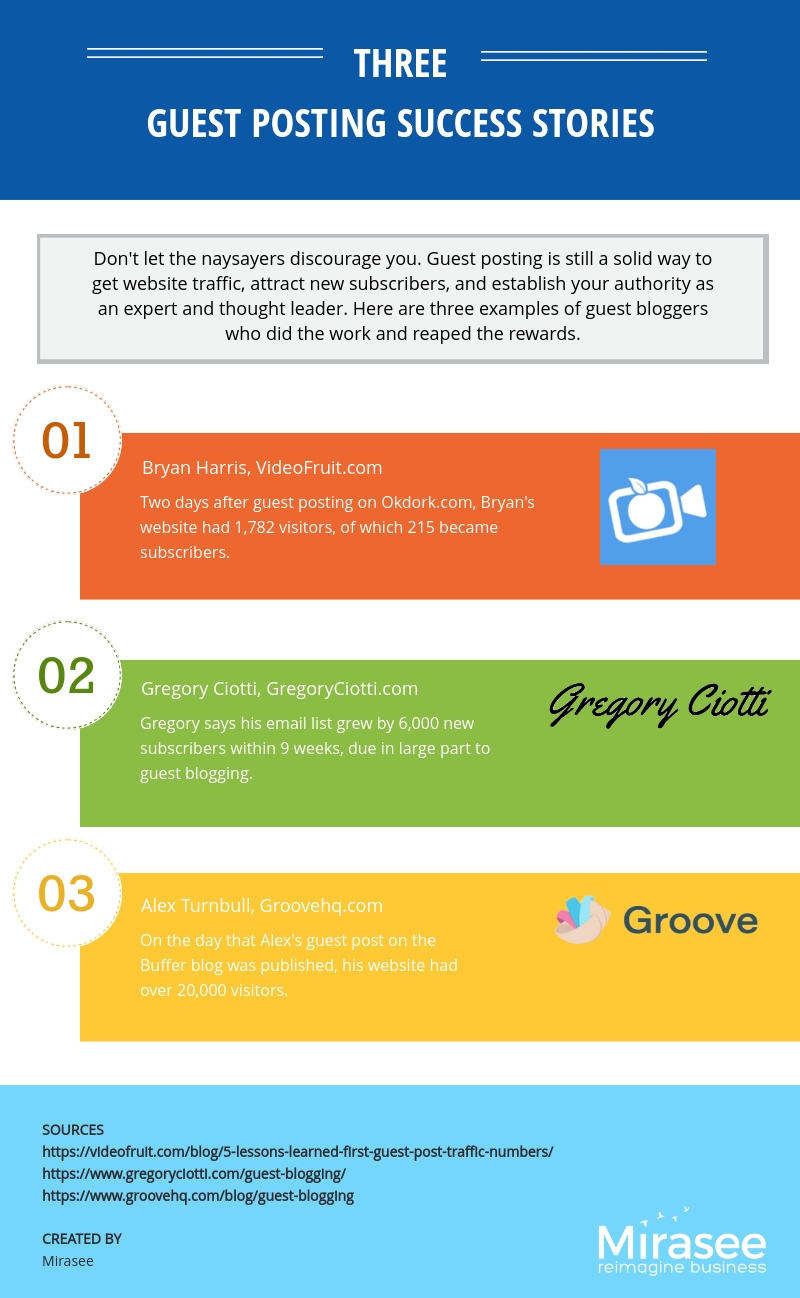 1. Write For The Right Sites
Yes, this seems obvious. You have to get your posts to sites where your target audience is likely to read them.
Yet, one of the most common questions about guest blogging people ask is, "How do I find the right sites to write for?"
You can get good ideas from a list of guest blogging sites, but still, you're left with several options. And in the end, only writing for them will tell you which sites are worth writing for.
But there are a few things you can look at first:
Email list size gives you the best indication of popularity-or lack of it. You should generally aim to write for sites with at least 10,000 subscribers, but there are exceptions to this rule. And often you can't find a site's list size anywhere anyway, so you can't rely on it.
The number of comments and social shares posts usually gives you an idea of how many people read the site. If both numbers are low, it generally means the readers aren't engaged or there's only a few of them. Either way, it's usually not worth it to write for them.
How well their audience matches the one you want to attract. For example, if you target health enthusiasts, you shouldn't write for a site about weight loss; you'll find few enthusiasts there. Don't just look at all sites in your general industry. Rather look at the readers' interests and experience.
If all indicators look positive, you can almost certainly get good results, but only trying will tell you for sure; I've been surprised a couple of times by smaller than expected results from big sites.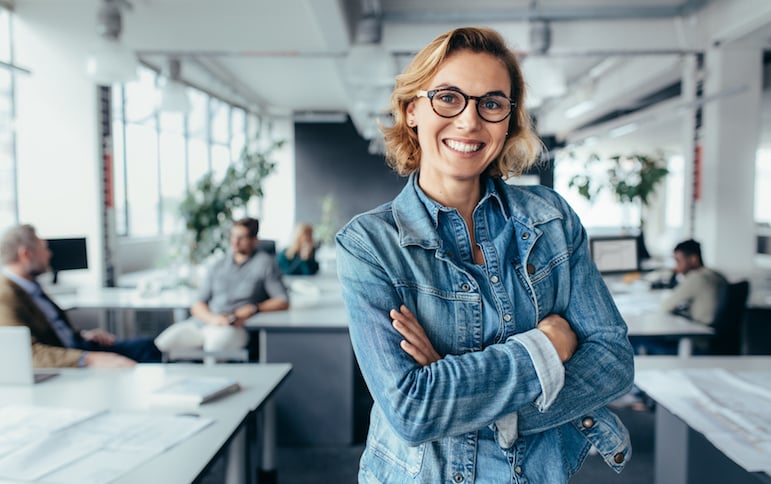 2. Pick A Grabbing Topic
Topic selection is the most important aspect of successful guest blogging after picking the right sites. The difference can be that you get 35 or 440 new subscribers (not a typo).
'Topic selection is the most important aspect of successful guest blogging' @peter_sandeen
Click To Tweet
One way to find a great topic is to look at the "most popular posts" lists many sites have in their sidebars.
But you're not limited to those topics. In fact, you're almost guaranteed to get the best results with something that's not on those lists-yet.
The key is to consider what is the most pressing problem the site's readers have and/or what goal they're most driven to achieve. Then write a post that clearly helps them with that.
Alternatively (or additionally), you can go with something provocative/controversial. For example, "Avoid the mistake that even Copyblogger, ThinkTraffic, and Derek Halpern are making"  is the most successful guest post I've written here in Mirasee (resulted in 440+ new subscribers). That said, controversy fails more often than it succeeds, so consider if you're sure you know how to make it work.
As long as you help with an imminent problem or an important goal you're going to get results.
3. Offer Something More
A great post-a true masterpiece-will flop miserably in terms of list growth if you don't get this part right.
And far more than 50% of guest authors forget this key aspect completely.
This step is what most guest bloggers get wrong and keeps them from getting results.
Click To Tweet
The usual way to direct readers to your list is to have a link in your byline to a free ebook etc. people get when they join your list. That's good.
But if that offer has nothing to do with the topic of the post, very few readers will be interested enough to download it.
To some extent, this means you have to stick to writing about topics that closely relate to an opt-in incentive you already have. But that's not the whole truth.
It's enough to tie in the topic of your post to the free offer you have; the topic doesn't have to be identical.
For example, if you write a guest post about portrait photography and your opt-in incentive is an ebook about lighting, you could mention (within the post) how important lighting is to portraits. When the readers then notice the mention of the ebook, it makes sense for them to get it; they're in the mindset for learning more about lighting.
Without that connection, you can write countless guest posts and still have few people-if anyone-join your list.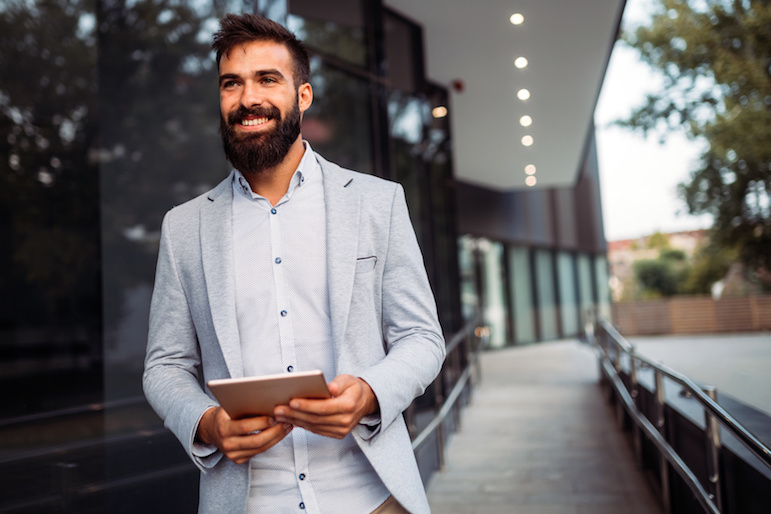 Build Your List Without Losing Time
The most common frustration people seem to have with anything related to online marketing is how slow it can be to build an audience.
And sure, it's going to take forever if you write for an empty room, that is, your site before you have a significant number of readers. But you could build your list by hundreds if not thousands of subscribers in the next weeks and months-not years.
So, next time you think about writing a blog post, consider if you should write a guest post instead.
If you want even better results from every guest post you write, download this free "7 Key Steps to Guest Blogging Success"  ebook (takes 10 minutes to read).
It shows you in more detail how to find the right sites to write for, how to pick the best topics, and how to get your posts accepted to big sites.
You'll also learn how to drive more readers to your email list and how to build a lasting relationship with the site owners you write for.
And if you have any questions or thoughts to share, leave a comment below.
Get Started With Guest Blogging
Use this handy guide to get started with guest blogging!