Frustrated by Too Many Marketing Strategies That Aren't Working?
Laura Leigh Clarke
Do you sometimes feel that, despite your best efforts, you're still the world's best kept secret?
Do you find that, despite working really hard to get some results in the bank, your blog remains invisible on the web, and no one is paying any attention to your social media efforts?
It's almost as if your business is a top secret project, and no matter how hard you work, you just can't expose it…
If this is you, don't worry. You're not alone.  This is a situation that most new bloggers and business owners face. The problem is, there are so many differentiation strategies, and if you're a solopreneur, it's unlikely you're ever going to have the time, energy and money to implement everything that the Gurus say you should be doing…
So what do you do?
Give up?
Or keep running around like a crazy person trying to cram everything in to your meagre 24 hours a day?
If you're driven and enthusiastic, you probably fit into the second category… but if you stop to think about it, you probably know in your heart of hearts that in trying to do everything, you're doing none of it as well as you could if you were to focus…
If you're anything like the entrepreneurs I work with, you're probably sick of feeling burnt out with too much on your to-do list.
Maybe you're tired of coming to your computer on a Monday morning, still feeling the same you did on Friday night because you've had the laptop open all weekend, and maybe you feel guilty for working so much when your significant other just wants to spend some time with you…
But this has come to feel like the norm for most people trying to run a business.
Here's the good news: it doesn't have to be this way.
It's time to get your secret agent genius working, not to keep your business undercover, but to expose it once and for all!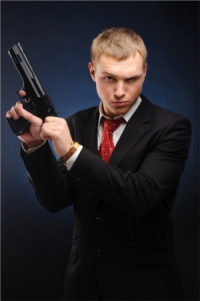 Now, you've probably noticed how some talented individuals make buckets of money consistently, without ever breaking a sweat? They're like the James Bond of the Business World…
Is it because they are super human? Super organized? Or have some intel we don't?
Keep reading and you'll see that it's none of these things. It's about finding your marketing sweet spot, your personal cross-hairs where you do only what comes naturally to you. This is your key to dropping the stress and pressure and finally getting your marketing mojo on, and having a blast doing it! The feeling is kind of like Neo waking up from the matrix, or a secret agent getting his memory back and finding he has all these super skills he's not been using.
Well, how does that work Laura?
If  your special skills were communication interception, and you had a mission that you could use these skills, would you suddenly decide to try and learn safe cracking? Or if your special powers were in escape and evasion, would you go and learn hand to hand combat before a special assignment? Of course you wouldn't. (You'd hone the skills you were naturally good at.)
But this is what I see struggling entrepreneurs do all the time in their business, and especially in their marketing strategy.
The thing about people who make money as easily as falling off a log is that they've found where their natural flow is, and they do more things in that flow. In other words they use the strategy that works best for their personality type.
The solution:
"Find the strategy that works best for your personality and making money becomes fun and easy, rather than hard work." (click to tweet this!)
All you need to know then is which Secret Agent Genius Type matches your specific personality.
Let me explain.
You see there are only eight distinct ways to make money. Yep, you read that right.
Just eight.
Each strategy you can think of is a variation on one of the eight. And each of the eight strategies has a corresponding Money Genius personality that excels at that strategy. So knowing what your Money Genius/Wealth Dynamics profile is, you automatically know which method you should be using to get the best results in your business.
So How Do You Discover Your Secret Special Agent Skills?
There is a test you can take to get all the details, but here's an overview of the different Skill Types, and the strategies they use to assassinate the competition.
The 8 profiles sit on a matrix, as show in the diagram.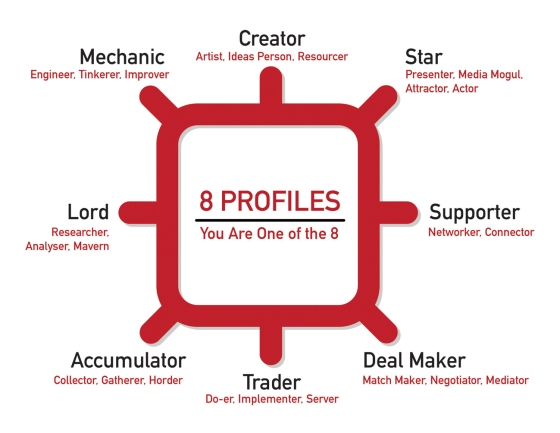 At first glance these different types of marketing may seem a little complicated, but you don't read Mirasee for fluff. Fluff doesn't get real results in your bank account!
When you understand the rhythm of this matrix your marketing focus will snap into exquisite clarity.
In just a moment you'll see how working to your profile can help you save time, energy and focus so you can stop trying to do everything and getting nowhere fast.
Let's break it down.
Overview of the Genius Matrix
First let's look at the top and bottom of the matrix.
At the top of the profile square you will see the Creator profile: the ideas person. Creators tend to have more ideas than they can possibly implement. They're artistic and creative and think outside of the box. When they're on top of their game, they're excellent at bringing resources together and seeing the big picture. Drawing board thinking is their favorite past time.
The Trader profile at the bottom of the matrix, by contrast, is very grounded and in the present moment. Apart from this they are masters of timing and trends. I'm always fascinated by the Trader profiles' ability to know what the real trends are in online marketing, interior decoration and high street fashion – everything! They're often spot on because they are interested and engaged with what is happening in their niche. They pay attention because this is what is important to them.
Supporters are the epitome of people people. They would far rather be connecting with people than dealing with systems. They are sociable and their value is in their network… they know people, and they know things about those people. Think of Malcolm Gladwell's Connectors and you'll have the idea.
Lords are the opposite. They are the equivalent of Gladwell's Mavens. They're awesome at research and analysis. They're great at understanding the detail in data and in systems. If there is fat to trim in a business, these are the chaps to do it.
Ok, now you've got the key dynamics. Now, let's get into the meat and look at the eight marketing genius profiles and what they mean in terms of the marketing strategy you should be using right now in your business. The goal is to get real results in every campaign you run.
Agent 001: The Creator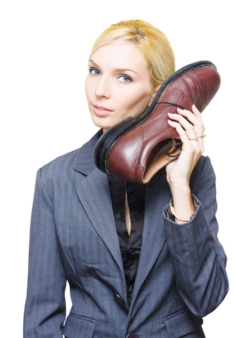 An example of a Creator profile would be Steve Jobs. He didn't get bogged down in "what is". He focussed on "what could be". He saw the world as malleable, not fixed. Creator profiles all have this in common – they are big picture thinkers and not bound by their current reality. In marketing, Creators excel at creating products, coming up with original ideas, and novel methods of getting their message out to market.  However, they also tend to get caught up in inventing, and reinventing the wheel, rather than promoting something that already exists. In order to overcome this tendency they need to surround themselves with certain other profiles to get the implementation done.
Jeff Walker, the creator of the stunning training: Product Launch Formula, comes across as a Creator profile. He always has fresh content and novel ideas of how to bring it to market. But rather than reinventing from scratch, he has mastered making it better at each iteration. This second trait is actually a characteristic of the Mechanic Profile. Mechanics are great with systems that already exist. But because they are so close to the Creator profile on the matrix they are plugged into this creative energy and can easily see improvements within a structure that already exists.
To the best of my knowledge Jeff hasn't taken the test, but I suspect he is likely to have a primary Creator profile and secondary Mechanic… accounting for his being able to re-launch his Product Launch Formula again and again, making it even more comprehensive and insightful each time. The Mechanic tendency is essential in most marketing endeavors to test what works and tweak accordingly. More on this later.
Agent 002: The Star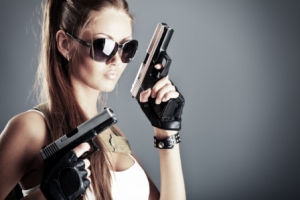 Moving clockwise around the matrix, we then come to the Star profile. Stars are very attractive to an audience. They ooze charisma, and this is their deadly talent. They are great at making a connection with an audience: in one-to-many interactions. Their marketing strategy therefore hinges on a media-like strategy. Their intrinsic value is in their brand, so what they stand for and the message they convey is an important part of their collateral.
If you're a Star profile then you need to build a brand around your personality. Be as authentic and real as you possibly can, and then don't let people down. Everything that people come in contact with should then have the same message whether it's your website, your social media profiles, you, what you say, how you come across on stage or on webinars… how you dress. Play with options until you're completely comfortable. Speaking from the stage and appearing on webinars in the online world are then essential ways to build your tribe.
Agent 003: The Supporter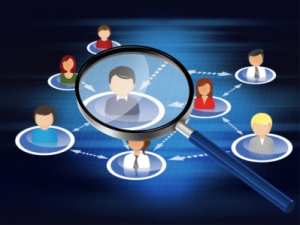 Next we come to the Supporter profile – the King of Engagement!
The Supporter profile is adept at connecting with people. They deliver a huge amount of value to their network, and are always happy to connect people. This is Danny's Marketing Genius Strategy for Mirasee –  He is the Master of Engagement, of course. 😉
(Aside – Danny's actual profile is a Creator, but the engagement strategy is most natural for a Supporter. Danny's profile is a fascinating story!) 😉
Danny advocates building relationships in order to build your business. If you build enough value into enough of your relationships it can't help but convert into money in the bank. The key to this though is in genuinely wanting to help people. If you see it as a way to use people, to eventually get something back from them you'll fail. Read and inwardly digest Danny's core material and you'll be well on your way to implementing the Supporter strategy.
Supporters are also really good at managing teams. If you're a Supporter profile, and you're struggling on your own at the moment, think hard about whether being out on your own is really what you want. It could be that given your huge talents at working with people and networking you could be a far more valuable asset on someone else's project, and might benefit more from plugging into their existing momentum, rather than trying to do everything else from scratch.
Agent 004: The Deal Maker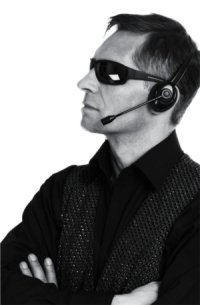 Next up: Deal Makers. Deal Makers are mid way between being people people and Traders. Traders are great at moving lots of product, and making money from the spread. (Think market trader and you won't go far wrong). Deal Makers, however, are naturals at negotiation. They are great at seeing all the variables that the other profiles tend to be blind to. They make brilliant campaign managers and promoters because they are expert at finding the relationships on behalf of a cause and negotiating the best terms.
A Deal Maker is easily recognised as the person that has to be connected to what is going on all the time. They tend to have more than one phone, and will always take a call, even if they're already mid-conversation with you!
Another thing to be aware of is that sometimes Deal Makers feel guilty for having too much fun doing the negotiations and building the relationships. Let go of that – your value isn't in sitting in front of a computer doing admin or numbers. It's in being out and about with people and nurturing those relationships.
Agent 005: The Trader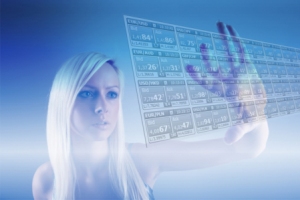 As we've already mentioned: Traders are really good with trends and timing. They're also super hot at getting things done, and working under pressure. They make great emergency room doctors, because they are great at triage, and making good decisions within a system, under pressure.
Traders don't just trade on volume in a market though. They also really care about people. Traders are often the glue in a team. They're not too concerned with the big picture because what is happening right now is most important for them. In a business they are super at just getting things done. If you have lots of transactional sales of lots of things doing within a frame work that is already set up, then you need a trader to run that part of the business.
In terms of marketing strategies, Traders should position themselves where they have control over a market niche and have sufficient buyers and sellers to be able to make money in the margins of shifting goods/services. Without having control of both sides of the transaction, there is no control over pricing and this is where things fall apart.
Agent 006: The Accumulator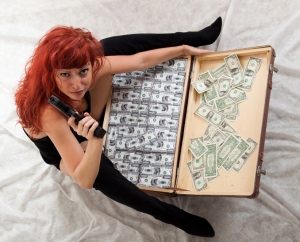 While Traders buys and sell, Accumulators specialize in just buying. In fact, in order to make money Accumulators need to learn to buy things that are increasing in value, or things that they can generate cash flow from by renting out. Websites with traffic or an existing customer base are the kind of thing they can find and make money from. Accumulators are really great at researching good deals, and are fab with detail. They often benefit from having a Deal Maker in the mix to bring them the deal, as they don't tend to mix much with others, and so don't come into contact with deals that regularly.
Accumulators are great to have as part of your core team, or close friends, simply because they are very prudent with money. Some of the best solopreneurs I have worked with have been Mechanic/Creator/Star/Supporter profiles, but are married to an Accumulator profile. For instance,  Stars are brilliant at making lots of money quickly – but are also expert at spending it. Being married to an Accumulator is a great (and often unconscious strategy) to making sure that they hold on to more than they get rid of!
Agent 007: The Lord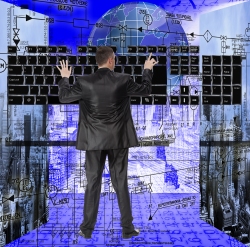 Next round the profile matrix is the Lord profile. Lords are the masters of research and analysis.
I brought a Lord profile into my own team to implement some of the strategies that Danny talks about in his Write Like Freddy course, that need a little bit of data collection and analysis. It's been awesome getting such high quality results: Not only did I not have to get into the nitty gritty detail, but the chap really enjoyed it and got a lot out of the exercise.
A great example of a Lord profile who has mastered and monetized his art is Ramit Sethi. Ok, so again, he hasn't taken the profile test, but looking at the strategies he employs to create really hot content that hits the sweet spot for his tribe, he uses the Lord strategy in the best I've ever seen on the web. In his material he talks about really knowing your audience and what they want: a no-brainer for any marketer worth his salt. But he takes this further by revealing that when he creates a training he collects thousands upon thousands of data points to deliver exactly what people want. He even uses surveys to work out what specific language to use in his marketing material.
Not only that but he only talks about strategies and tactics that can be implemented immediately, and backs everything up with research and statistics. This is grounded material that keeps the intelligent, driven people in his community coming back for more every time.
I have total blog-envy over all of Danny's work… but I have to admit I have a professional-crush on Ramit Sethi's material, too. 😉
And that brings us to the final profile in the matrix: the Mechanic.
Agent 008: The Mechanic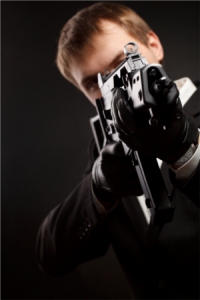 As we've already talked about, they are great at taking something that already exists and making it better. Mechanics have historically been good at the old information marketing strategies – packaging up information and processes, and then using the process to market the package. They also excel at AdWords strategies where you can have endless long tail key word phrases which perform to different degrees and then need tweaking to improve the click through rates, and therefore traffic. For this very reason they also make brilliant copywriters – because they test and pay attention to the phrases which produce the best results.
They make natural marketers too – and see a marketing funnel as a system which people flow along.
So there we have it: a complete run down of eight Marketing Genius Special Skills Types.
As we've said, when you know which one you are, then you can stop doing all the stuff that isn't getting you the results, and you can just focus on what works for your personality. Not only does this give you crystal clarity and the ability to focus, but it also gives you the opportunity to master the one thing that you are wired to excel at… You get to play you're A game, rather than you B or C game. Never undervalue the power of mastery!
So, two things to do right now to make reading this article the most valuable thing you've done this week:
Thing 1 – Write down all the elements that are within your natural flow. The things you're naturally good at and enjoy – not the things you've trained yourself to do well because you've had to. From this it may be obvious which profile you are.
Thing 2 – Leave a comment, with your best guess at your Marketing Genius Agent profile, and tell us precisely what things you're going to stop doing as a result of understanding where you best chance of results lie.
I can't wait to hear from you!
To Your Inevitable Success,