The Twelve Rules of Writing Great Content (and When To Break Them)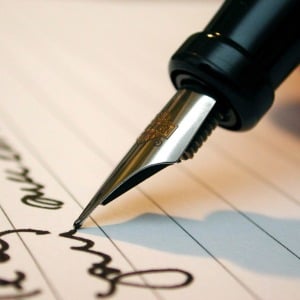 Do you struggle with writing content for your blog, newsletter, or even your social media accounts?
If you're an entrepreneur first and a writer second, you might find yourself spending a lot of time putting together content that you're ultimately not happy with.
Even if you love writing and the words flow easily for you, you might find it tough to create posts that are truly effective.
The good news is that writing great content doesn't need to be hard.
You just need to follow some straightforward rules… and know when to break them too.
Rule #1: Come Up With Ideas Ahead of Time
You've got "write blog post" on your to-do list – so you sit down at your computer, open up a blank document, and stare hopefully at the screen, waiting for inspiration to strike. Sound familiar?
Coming up with ideas one at a time is a pain. It's much more efficient to create a bunch of them at once. Sit down once a week (or even once a month) for a brainstorming session … and you'll find it much easier to get those ideas flowing.
Keep a notebook handy, too; that way, you can jot down a few extra ideas during the time you spend waiting for appointments and meetings to start.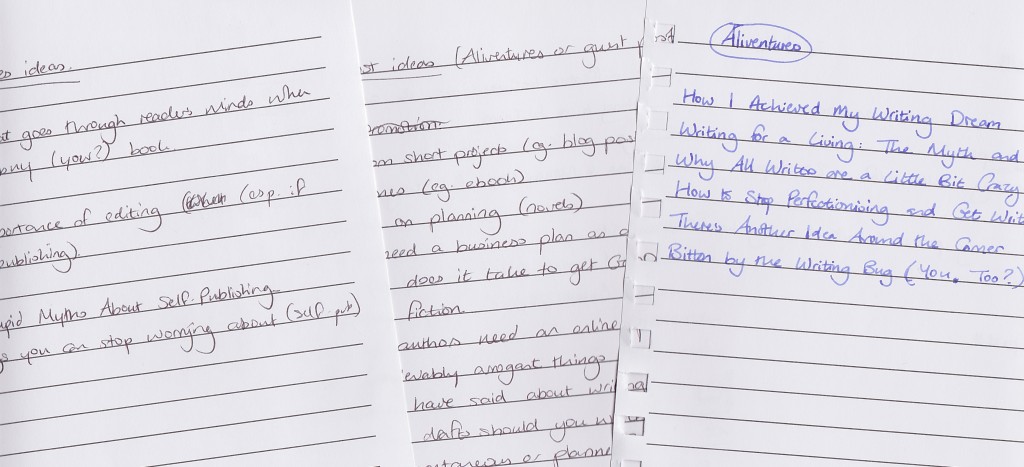 A (very small!) sample from my own notebook.
Break This Rule When…
…something in the news, or at an event you're attending, sparks off a topical idea. You'll want to get that post up quickly while it's still relevant.
Rule #2: Plan Your Content Calendar
If you're going to come up with ideas well in advance, it's easy to also figure out what you'll be writing when.
By creating a content calendar, you can check that you're giving your readers a good balance of the types of content they're most interested in. (One simple way to do this is to have recurring themes, e.g. doing a round-up every week or month, or making Fridays your "ask the readers" day.)
When you know what you should be writing when, it's easier to stick to a regular posting schedule – this is important so readers know what to expect, and so you can build momentum.
You can use a plugin like Editorial Calendar to create your calendar, or a separate tool like Trello: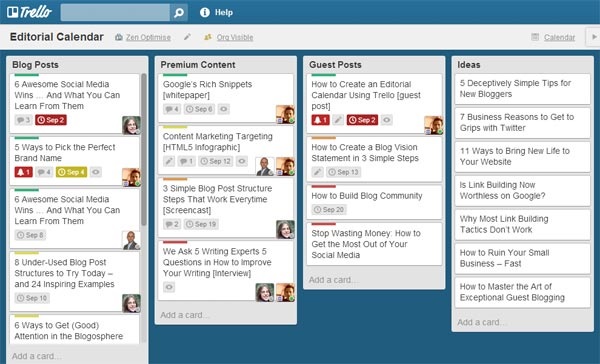 Image from How to Create an Editorial Calendar Using Trello (and Why You Need One)
Break This Rule When…
…your blog is brand new. You won't yet have a good sense of what types of post perform well. You will want to have a lot of flexibility so you can easily adjust if something doesn't go down as well with your audience as you'd hoped.
Rule #3: Work Out Your Structure in Advance
All posts need a beginning, middle and end (or introduction, main body and conclusion) at the very least. You'll often want to get more specific than this – notice how this post is split into a series of 12 rules, each ending with a "break this rule when…" paragraph
You may well find you can use the same template for every post, as Michael Hyatt does: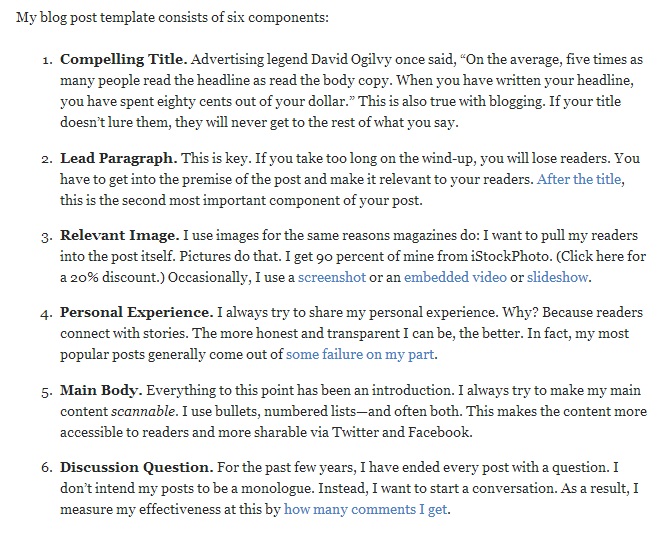 A well-structured post is easy to write and, just as importantly, easy for your readers to take in.
Break This Rule When…
…you're writing a very short post (say, 300 words) and you have a good sense of its structure in your head. Be cautious about writing without a safety net, though: it's easy to go off on a tangent.
Rule #4: Write Consistently (Daily, or Several Times a Week)
Just like exercise, writing great content gets easier when it's a habit and when you're using your "writing muscles" regularly. If you struggle to write more than one or two posts a month, it's probably because you're not writing regularly enough.
You don't have to write every single day (though it's great if you can). Aim to write at least twice a week. You also don't have to produce a whole post in a single writing session – it's fine to write for 30 minutes a day and create one or two posts a week.
Break This Rule When…
…you're on vacation, enjoying the holidays, or visiting family/friends. Even writers are allowed time off! Take that notebook with you, though; ideas often strike when you're out of your usual routine.
Rule #5: Write in a Conversational Way
Does your blog feel stilted and formal? Online, readers expect an informal, casual tone; you don't want your blog posts and emails to read like a dry business report.
The best way to make your blog and newsletter seem welcoming is to write in the way you'd speak, using contractions ("I'm" for "I am") and avoiding formal language (write "go ahead" not "proceed").
For plenty of examples of great conversational writing, read any post by Sonia Simone on Copyblogger. Sonia has a real knack for writing in a friendly, engaging way.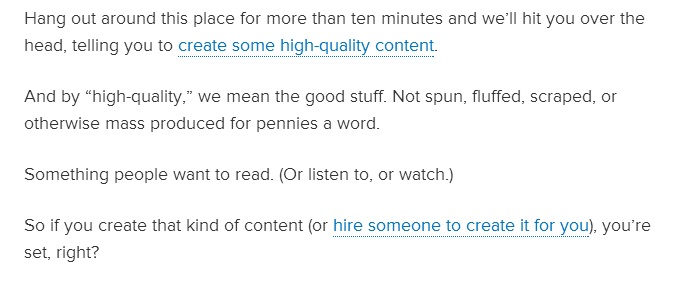 Excerpt from What to Do If Your Great Content Isn't Getting Found
Break This Rule When…
…you're thinking about structure rather than word choices. "Conversational" doesn't mean "rambling and unfocused" – even if your real-life conversations often meander from the point.
Rule #6: Stay Focused While You're Writing
Don't go back and edit while you're writing – focus on forward progress. It's fine to fix the occasional typo, but rewriting your introduction a dozen times won't get you far.
When you're writing, write! Don't answer emails, check Facebook, or take yet another BuzzFeed quiz. If you're struggling to focus, set a timer for 15 minutes and promise yourself you'll do nothing but write till it goes off.
If you draft straight into WordPress, give the full-screen editor a try: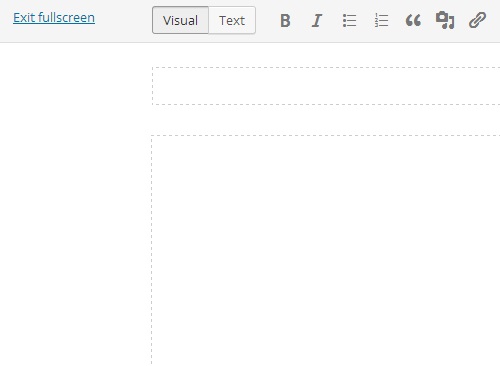 If you prefer writing content offline, check out these Six Great Alternatives to MS Word and Mac Pages for More Productive Writing.
Break This Rule When…
… you need to take a short break. You don't have to write for two hours at a stretch – instead, try focusing for short bursts of 20 – 45 minutes. If you've not tried it before, have a go at the popular Pomodoro technique.
Rule #7: Write to One Person – "You"
In blogging, it's fine to use "I" and "you" (forget anything your English teacher taught you about avoiding these in your writing). In fact, addressing the reader directly is a great way to build a stronger connection.
This should also help you target your content: if you know your audience well, and have an ideal reader in mind, you can write your blog post or email newsletter as though it's just for them.
Use the singular "you" rather than the plural (don't write "some of you may…" or "most of you will have…" or similar).
Break This Rule When…
… you're writing to a specific group of people and you want to foster a sense of group identity. In this case, you might choose to use the plural "you".
Rule #8: Give Concrete Examples to Help Readers Understand
If you give high-level theory, or write about ideas in a very general way, readers may get a bit lost. It can be hard to truly "get" something without concrete examples.
The examples you give might be real-life ones (e.g. case studies) or ones you've made up. They could be written or graphical – a screenshot, photo, graph, or even a video. Your examples don't need to match up to every single reader's experience; your audience will be able to extrapolate and see how something similar could apply to their unique situation.
For an example of an example (!), read Brian's story in Discover $10K In Your Business by Turning Frustrations Into Opportunities: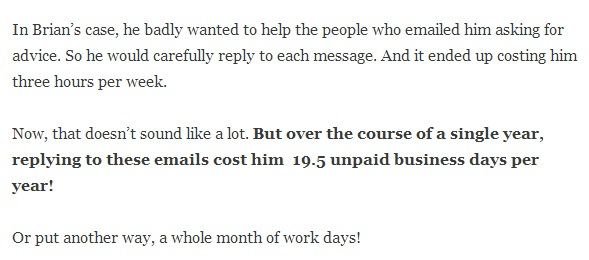 Break This Rule If …
… you're writing a series of posts, emails, or similar, it's OK to give the theory or "why" in one post, then move on to a series of case studies or other examples of the "how".
Rule #9: Include a Call to Action at the End of Your Content
When a reader gets to the end of your email or blog post, what do you want them to do next? Depending on the content and your goals, you might ask them to:
Leave a comment – it's often a good idea to give them a specific, straightforward question to answer.
Join your newsletter – link to a landing page that explains more.
Take action based on what they've learned – you could give them "next steps" or even "homework".
Check out your products – it's best if you can relate these to the content they've just read.
Here's a great example of a call to action, from Ask the Readers: Who's Responsible for Success in an Online Training?

Break This Rule When…
…you've written something short and powerful and you want to end on an inspiring note rather than an action-driven one. Sometimes, your post itself will stand just fine alone.
Rule #10: Spend Time Perfecting Your Title and Introduction
However amazing your post is, you won't get far if no-one reads it. Your title (or headline) and introduction are absolutely crucial: if you get these wrong, you'll lose the vast majority of your (potential) audience before you've begun.
If you're not convinced, take a look at these two titles. Which post would you rather read?
Writing Better Content
The Twelve Rules of Writing Great Content (and When To Break Them)
If you struggle with titles, check out Jon Morrow's excellent resource Headline Hacks, and Cosette Jarrett's post here on Mirasee, Is Your Blog Title Worth the Click?
The best introductions are short and to the point, and pique the reader's interest by giving them a promise of what's to come. If you're not sure how to begin, try one or more of Mary Jaksch's tips in 11 Ways to Write an Irresistible Intro to Your Blog Post.
Break This Rule When…
…you're already confident you've got a great title, as you probably won't need (or want) to tweak it much. A good example is when you're writing a series of posts with the same title structure, or when you've "borrowed" the structure from a popular post on another blog.
Rule #11: Set Your Content Aside, Then Edit and Proofread
Some bloggers make the mistake of skipping editing and proofreading altogether. More often, though, they'll try to edit too quickly. Ideally, set your post or email aside for a full day before you start editing it.
Approaching your editing with fresh eyes means you can spot not just mistakes (e.g. grammatical errors), but also bigger-picture problems (e.g. you need to re-order a few paragraphs in the middle of your post).
Try to tackle all the big-picture editing first; that way, you won't end up perfecting a paragraph you later cut.
If possible, always allow time for a final proof-read where you check for typos and any mistakes you've accidentally introduced while editing – yes, it happens!
Break This Rule When…
…you're truly in a rush. Take a quick coffee-break. Convert your content into a different format (e.g. a PDF or a blog post in preview mode) or print it out. This can help mistakes jump out at you.
Rule #12: Allow Plenty of Time for Promotion
Promotion might not seem like part of the writing process … but if you don't promote your content, you might as well not write it at all. It's especially important to allow yourself time to build traction around major pieces of content, like pillar posts and downloadable guides or ebooks.
Your promotion might involve:
Emailing anyone who you linked to in the post (or ebook etc) – they'll often be happy to send out a tweet.
Writing guest posts that connect with the theme of your content, and linking back to your piece in the body of your post or in the bio.
Including a link to the new content in your email newsletter, and in regular social network updates. (Don't overdo this – it can become annoying for your followers.)
If you feel like you're spending too much time writing or too much time promoting, check out Content Creation vs Content Promotion: Where is the Balance?
Break This Rule When…
…you're building up some content on your blog before a full launch. You don't need to promote it straight away: wait until your blog is ready for visitors.
Writing Your Own Great Content
If you follow all twelve rules (and break one or two when appropriate), you'll be well on your way to a popular blog and an engaging email newsletter. Getting these things right won't take you ages: in fact, there's a good chance that you'll spend less time creating content than before.
By planning ahead, structuring your posts, writing regularly and in a conversational way, and giving extra value with examples, calls to action, careful editing and great titles, you'll find writing a breeze. And when you round everything off with effective promotion, your content will finally get the attention it deserves.
Have you been inadvertently breaking one (or more) of these rules when you shouldn't be? What small tweaks will you make to your writing process so that you can create far better content in much less time?
Let me know your thoughts – and any additional writing rules of your own – in the comments.