12 Simple Tactics To Writing Viral Articles That Spread Like Wildfire
The server with your website just went down. But you're smiling.
It's that article that you published yesterday. It brought so much traffic to your site that your hosting company simply couldn't handle it.
To be honest, I've never been in these shoes myself.
I wrote a few articles which were very successful, but I was never able to make my server go down (though I always wanted to).
So if you're like me and you consider killing your website with traffic an accomplishment rather than trouble, you're going to enjoy the tips I have for you below.
Most of them are based on my personal experience of writing viral articles and quite a few were stolen from other popular bloggers.
#1: Study What's Popular Before You Write Your Own Piece
Some call it "looking for inspiration" while others are convinced that it's nothing but "stealing".
But if you ask me – I'm with the former.
Michael Jackson was not the first person to do the moonwalk, but you can't deny that he did it way better than anyone else before him.
Thus, whenever I decide to write a new article, the very first thing I do is open Content Explorer by Ahrefs and drop a few relevant keywords, to see what's trending: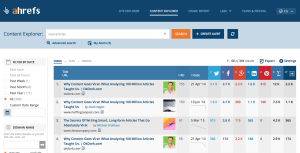 Go do a search for "viral articles" in Content Explorer and you'll find a great article, which served as my inspiration for this post.
#2: So You Have A Catchy Headline, Now What?
It's not that hard actually to come up with a headline that will urge people to click it.
Let's see how I could name this post if I wanted:
12 Proven Tactics to Get 350% More Shares On Your Next Article;
12 Secret Strategies That Famous Bloggers Use To Make Their Content Go Viral;
12 Simple Tweaks That Will Turn Any Article Into A Viral Hit;
12 Ways of Making Your Articles Go Viral That Pro Bloggers Don't Want You To Know.
See? Coming up with catchy headlines is incredibly easy.
The hard part is to actually follow up with the kind of content that will fulfill the promise in your headline:
I can't guarantee you 350% more shares on your next article;
My strategies are not a secret;
They are not "simple tweaks" – they require a solid amount of work;
And no one is hiding them from you.
Your headline dictates the angle of your article that you're obliged to fulfill. Viral headlines followed by miserable content won't get you far.
In one of my recent articles I used a catchy clickbait headline:
50 Respected Bloggers Gave Me WRONG Advice On Twitter Marketing. Oops!
That headline irritated a lot of people and they immediately opened that article with a sole purpose to tell me how big of a jerk I was.
But luckily I was able to adequately explain, why I thought that the advice of all these experts was wrong, which saved me from a guillotine: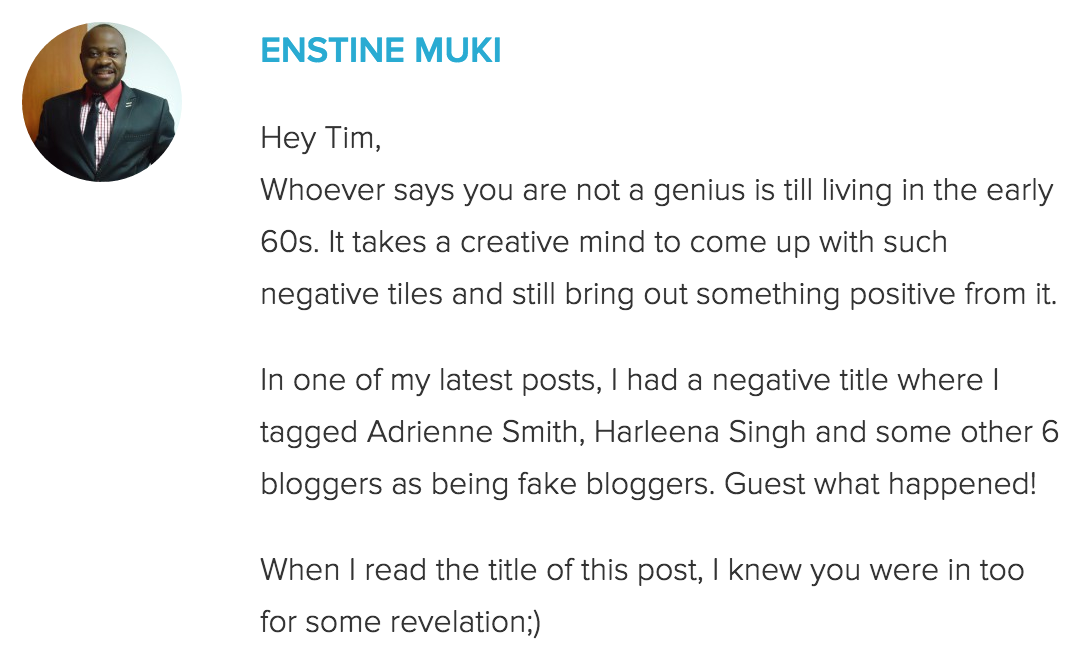 One of the best guides on writing headlines and then delivering on your promise is obviously "52 Headline Hacks" by Jon Morrow.
If you haven't ever read it – you're seriously missing out!
#3: Test Your Idea Before Writing The Article
Let's say you have a great idea of an article but you're not sure from which angle it would be best to approach it.
You should use community sites to give people a taster of different angles and see which of them would stick.
I'm an active user of Quora and I love answering similar questions differently to see which of my responses will resonate better.
Take these two answers for example:
What are the best ways of using content marketing to get more referral traffic? – 65 views, 0 upvotes;
What are the top 3 content marketing secrets? – 283 views, 4 upvotes.
This clearly tells me I'm onto something with my second response!
I've yet to write an article about "content marketing secrets," but this little test on Quora proves that this angle is going to get much more traction than "the best ways to get traffic with content marketing."
#4: Add Some Practical Utility To Your Content
Studies have shown that content with a fair amount of practical utility tends to get more shares.
According to Jonah Berger (NYT bestselling author and professor at the Wharton School of the University of Pennsylvania) human beings are wired to help others.
And "helping others" is exactly what we do by sharing articles that have some practical value in our lives – we help our followers to solve their problems.
So whenever you finish your article, consider taking a little extra step that will guarantee you more shares:
Give your readers the exact action steps of how they can implement what they've just learned in their own lives.
#5: Activate High-Arousal Emotions
There's another interesting study carried out by Noah Kagan and the Buzzsumo team.
They've analyzed 100 million articles and created this cool pie-chart that shows you which emotions you should cultivate in your article to get more shares from your readers: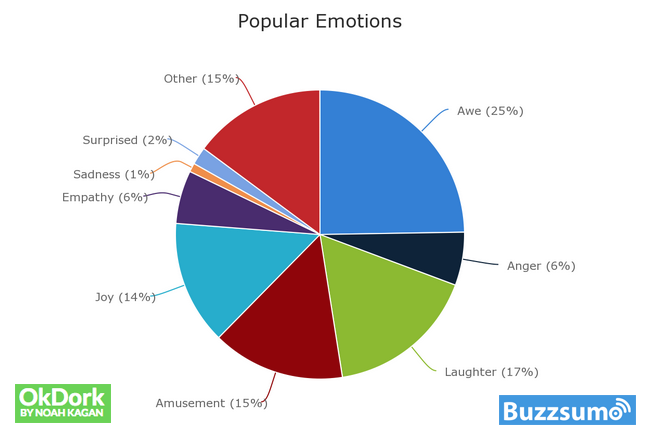 As you can clearly see this pie-chart is dominated by what is called "high-arousal emotions": awe, anger, amusement, joy, etc.
But making your readers experience these emotions just by reading your article is not an easy task.
Luckily Derek Halpern has created an awesome guide on activating all kinds of high arousal emotions in your articles.
Adopt what he teaches you and try to use that knowledge in your next article.
#6: Wrap Your Message With A Cool Story
60 Minutes is the longest continuously running prime-time television show in history. It obviously tapped something deep within us.
What was it?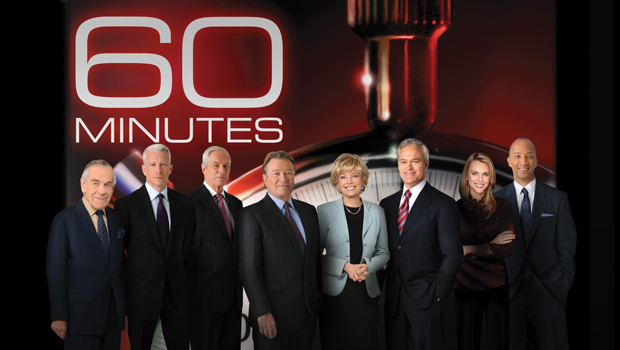 Producer and mastermind Don Hewitt has said that the reason for the program's success is as old as the Bible:
"Even the people who wrote the Bible were smart enough to know: Tell them a story. The issue was evil; the story was Noah. I latched on to that."
Stories make us empathize because as we hear them our brains can't really differentiate if that is happening to us or to someone else.
That's why a story will easily get its place on the shelf of our memory and sit there for a very long time.
One of my favourite examples of a message wrapped into a great emotional story is this article by Jon Morrow: "On Dying, Mothers, and Fighting for Your Ideas".
It was published 6 years ago, but I still remember it well and link to it whenever I have a chance.
#7: Play With Some Moderate Controversy
If everyone has the same opinion the conversation won't last long, because there's nothing to discuss.
But when two people can't agree on something – they can argue for years!
Just be very careful when picking what to argue about.
You can scream at each other about the color of that damn dress for as long as you want and still be friends. But say something wrong about politics or religion and you may end your friendship that same moment.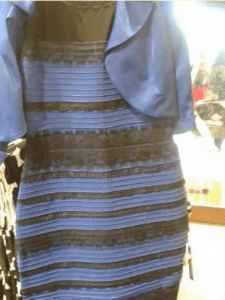 Here's what researchers from Wharton Business School say:
"Data shows that controversy increases likelihood of discussion at low levels, but beyond a moderate level of controversy, additional controversy actually decreases likelihood of discussion."
Want to see a perfect execution of leveraging a moderate controversy topic to get some traffic?
Check out this brilliant article by Derek Halpern: "The "Content Is King" Myth Debunked."
I've seen people arguing on "content is king" argument for years, but Derek attacked this myth so perfectly, that he ended up getting almost 250 comments and a ton of traffic to his site.
#8: Invite A Few Influencers To Contribute
The blogging world has gone crazy about "expert roundup" posts.
That's because these kinds of articles exploit a simple traffic generation formula to its fullest potential:
Step #1: Ask influential people to contribute to your article.
Step #2: Let them know the article with their quote went live and ask them for a tweet.
Step #3: Enjoy traffic from their tweets.
Remember that study by Noah Kagan and Buzzsumo that I've referenced earlier? Well here's another one of their findings: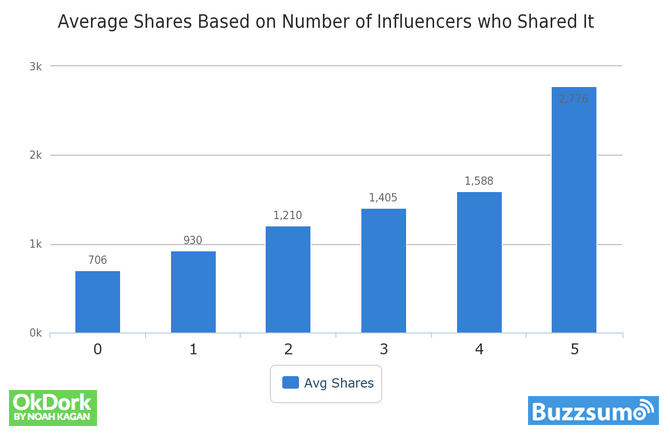 This graph shows that tweets from influential people have a multiplier effect on the amount of shares that your article eventually gets.
But you can't write only expert roundup posts, can you?
(actually you can; the expert-roundups.com domain name is still available; hint-hint)
However I would suggest you to try The "Drip" Technique introduced by Gregory Ciotti.
Once you finish your article, you can reach out to a few influencers, who you know are the leading experts on that topic, and ask for their opinions.
Then you embed their contributions into your article, which turns it into a perfect egobait that will make the influencers who you have featured share your piece.
#9: Write A Longer Post Than You Originally Planned
So this is the third time I'm going to reference that cool study by Noah Kagan and Buzzsumo.
Another one of their awesome findings suggests that long form content tends to get more shares: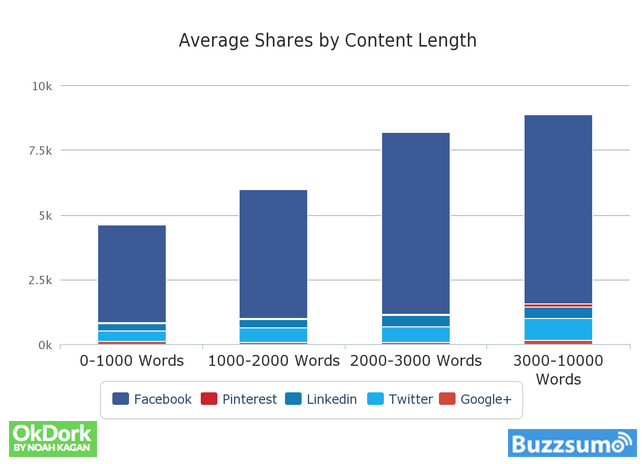 But hey, don't get me wrong here. I'm not suggesting you to bore your readers to death with pointless dissertations on something you could've said in just a few words.
If you can use less words to say what you want to say – please do that.
So it's not about the actual amount of words, it's about the amount of value that's hidden behind them.
My most successful article on BloggerJet so far is my longest one: "The Guide To Strategic Writing" – it's nothing but 7000 words of pure value.
#10: Make Your Article Visually Appealing
Here's something I'm sure you didn't expect to hear:
According to Josh Schwartz of Chartbeat, there's no correlation between social shares and people actually reading your article.
Now think of your own behaviour – do you read all of the articles that you tweet? Or do you tweet some articles without reading them, just because they look like something worthy of a tweet?
That's what I thought!
Here's another great finding for you:
According to Jakob Nielsen, 79% of people always scan through any new page that they came across and only 16% read it word for word.
This explains why all professional bloggers are so obsessed with making their content appealing to the so-called "skimmers":
They use big font size, which is easy to read;
They break long chunks of text into paragraphs;
They use a lot of sub-headings to break their articles into sections;
They use bulleted lists;
They use a lot of high-quality graphics;
And they reference a lot of other articles, which makes their content look trustworthy.
Check out how guys from AuthorityHacker grew traffic to one of their articles by 9275% just by re-formatting it.
But formatting is not the only thing that has an impact on how well your content spreads.
The actual design of your blog matters as well!
(read the following as if I were the Old Spice Guy)
– Look at your blog;
– Now look at mine;
– Now back at your blog;
– Now back to mine;
– Can you write articles the same way I do? – NO;
– Can your blog look as good as mine? – YES!
There are plenty of talented designers and web developers out there. Their services aren't cheap, but the ROI would be incredible, trust me.
Within a few months from redesigning my blog I got hired by Ahrefs to become their head of Content Marketing. Obviously the look of my blog wasn't the main reason they've hired me, but I'm convinced it played its part too.
#11: Create Custom Visuals To Illustrate Your Ideas
Remember I told you that if you can use less words – you should obviously do that?
Well, if you can explain something without using words – that's even better.
Let's talk about man shoes. How long would it take you to explain the difference between Oxfords and Brogues?
I can do that in one second: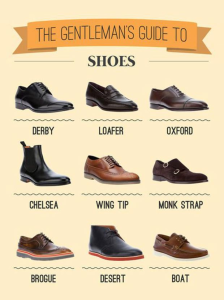 Bloggers love images and they reference and re-share them a lot! I love how Gregory Ciotti calls images the "snacks" of the internet.
Scroll back to the top of my article and see how many images I've used, while linking to the original source.
And I'm going to do that again right now.
According to a study conducted by Moz, a single image in your article will increase the likelihood of other people linking to it: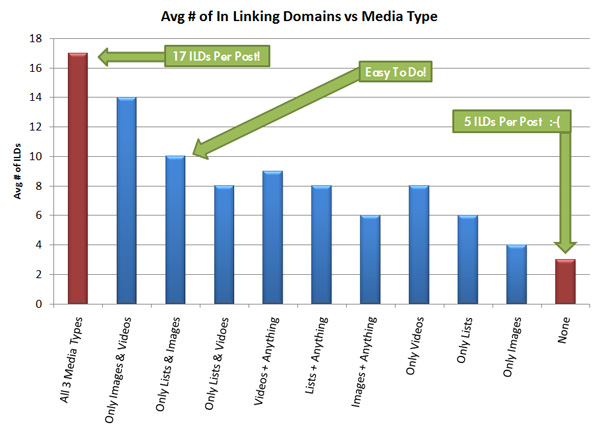 See? I've just linked to an article, because that image originates from it.
PRO TIP:
If you don't need pictures to describe what you are discussing in your post, go deeper until you do.
Click To Tweet
#12: Plant Some "Tweetable Quotes" Into Your Content
Last but not least as they say.
The art of summing up your whole article in a single great sentence can have a dramatic impact on your shares.
This simple strategy is known as "sound bites" or "tweetable quotes."
I have an awesome example that I love to reference, whenever I talk about that strategy.
Michael Hyatt used a great quote by Jeff Goins to sum up his article on the success we find in failures: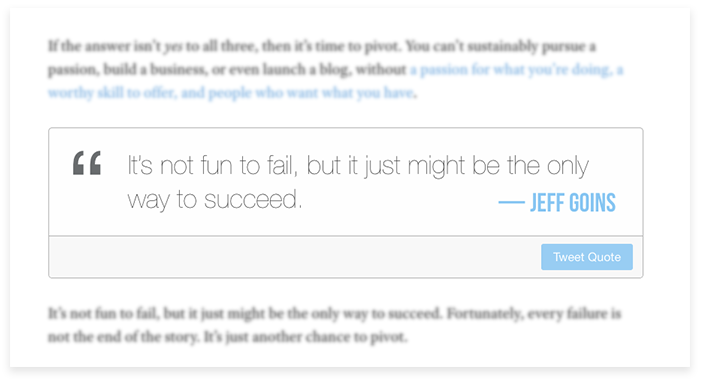 The result?
That quote was shared like crazy on Twitter by many of his readers: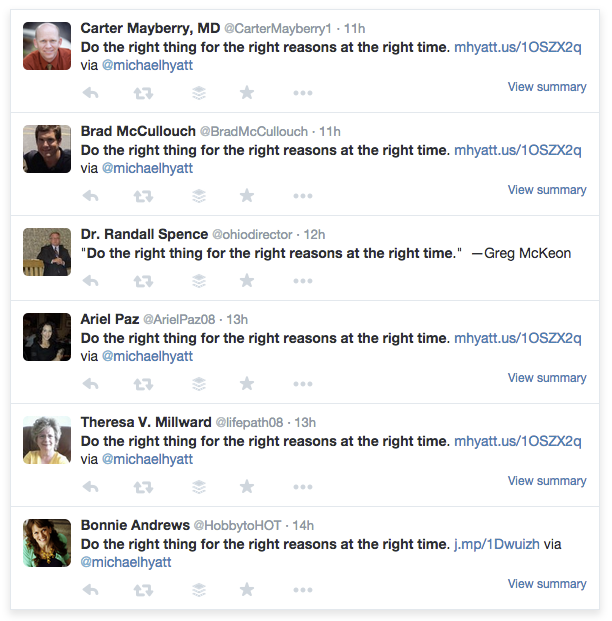 I'm sure you've seen many famous bloggers embedding tweetable quotes into their articles and you can easily do this on your own blog.
You can use a free online service called ClickToTweet or try my own premium plugin for WordPress, called TweetDis.
Just come up with a catchy quote that perfectly fits your article, make it big and bold and let people tweet it with a click.
That's all you need to do to get a few extra shares.
La Fin
So these were my favourite tactics to writing the kinds of articles that get a lot of traction.
Which of them resonated with you the most? Do you have a cool tactic to add to my list?