The Super-Simple Method Smart Bloggers Use To Write Great Content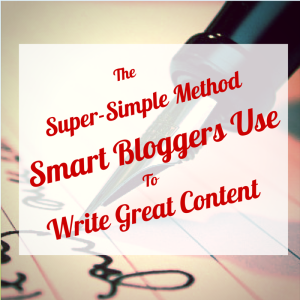 Listen to any blogging expert and they'll give you this same well-worn advice:
If you want traffic you need to write great content.
If you want more readers you need to write great content.
If you want to make money from your blog you need to write great content.
There's no denying that the most successful blogs out there have some truly great writing.
But, who else thinks "write great content" is actually pretty lame advice to give someone like you who wants to get noticed? Someone like you who wants to get recognised and applauded for the quality of their content and make a difference? Someone who wants to change lives and simply make their mark on this world?
I mean, have you ever sat down with the intention of writing crappy content?
Of course not.
You're smart. You already know great content is how you stand out, get recognised and grow an entertaining, relevant blog. Right?
Still, you can't help wondering …

How Do You Know If Your Content Is Great?
Great writing doesn't just happen by accident. Readers decide if your writing makes the "great" grade.
This means your writing isn't great unless your readers say it is. And they show this by how much they share your writing.
Your job is to persuade readers that you deserve "great" writer's status. So …
How Do You Persuade Readers Your Content Is Great?
Give them what they want to read.
Great writers get tons of shares and links to their writing because they know what their readers want.
They know, before they sit down to write, what will blow their readers away, because they know how to get readers on their side.
They know how to make their writing stand out from mediocre content, and make their readers think: "Wow! This writer seems to be reading my mind. How does he/she do it?"
Well … How will you do it?
The answer is simple: you'll do it because your readers will  tell you how to do it.
Great writers are smart bloggers who create and nurture engaged audiences that tell them what they want to know, what problems they're struggling with, what they want to achieve.
It's not about practicing mind-bending tricks that create this willingness in your readers to tell you what they want you to write; what content they'll share and tell their friends about (and make go viral).
Writing Great Content Is About Asking
It's about asking QUESTIONS of people you want reading your content.
And it's about asking these questions in ways that give you insight into what they want you to write. To do this you need to:
get good at asking questions and ..
get good at creating channels of openess for your readers that makes them feel good about giving you these insights.
In short, to get your readers' "great writer" vote, you have to go out and really get to know your audience.
Your goal is to spend time getting to know what problems they're struggling with. What are their dreams, their goals and aspiration? What's holding them back?
Ask your readers what they're struggling with most in the area of your topic (or niche). Give them a chance to let it all out, guilt free. For many people, this chance will be a priceless stress release – and it provides great information for you.
When you they tell you what they're struggling with, it's your chance to shine in their eyes. If you can offer a solution to their problems (no matter how small), you'll be on your way to "great writer" status.
Writing Great Content Is Not About Being (Or Becoming) an Expert
Writing great content is about being willing to find out what people are struggling with, offering empathy and establishing something that creates a common bond of understanding and experience between you.
It means being willing to help, facilitate and guide people along the route you have taken to get to your solution.
You don't even have to have all the answers. You can invite other people; other experts, who do have the answers to talk to your readers, either literaly via podcasts or Youtube videos, for example. Or via guest posts or feature posts on your blog where you feature a fellow blogger and their answer to whatever question you want answering for your readers.  All it takes is for you to be a few steps ahead of them, a few steps closer to the result they want and to be ready to act as their guide and leader.
A lot of bloggers set out to do just this. But their readers don't react favourably to them because their help comes from a "I know this is what you want" stand point. Whereas you, as a smart blogger implementing this super-simple method of asking your readers first and inviting them to tell you, will be helping from a "You told me this is what you want. I listened. And here it is" standpoint.
Becoming a writer of great content is about searching for what your readers most.
And it's about LISTENING too.
6 Places To Start Listening To What Your Readers Want
Place #1: Comments On Your Blog
The first place to start listening for questions in the comments on your own blog. What are your readers telling you? Are they simply saying "Great post" and moving on? Or are they asking for more help on the topic your post is covering?
Commenters who leave the most responsive comments, such as sharing their experience, expressing a frustration, or offering their take on some issue or point you covered in your post, are going to be the most responsive to your getting in touch with them.
So get in touch. Email them. Send a tweet to their Twitter name. Thank them for taking time to comment, then offer to help them out further with their problem or frustration.
Your intention here is to open up channels of openess between you and your readers. This is huge, because those commenters who respond positively to your getting in touch are most likely to become your primary source of feedback.
Place #2: Ask The Reader Posts
Ask the Reader posts are great ways to engage your readers and encourage them to tell you what they want directly, or through the opinions they share in the comments.
When you write an Ask The Reader question, make sure your readers know about it and know that you want their responses, opinions and answers.
Also, be sure to ask your readers to leave a comment on your post! Explain why you really want them to comment. It's often a good idea to explain that their responses will help the whole community of readers, not just you.
If you've never run an Ask the Readers post on your blog before, introduce this new type of post so that your readers know why you're writing the posts, and that you're looking for their insights, feedback, and contributions. Highlight these posts by calling them something like …
Ask The Reader [Question]
Or …
What's Your View On [Question]
Or …
Tell Me Your Thoughts On [Question]
You'll find great examples of Ask The Reader posts here and here.
Place #3: Emails Your Readers Send You
Emails from your readers contain priceless insights into what your readers want. Treat their emails like gold, and go out of your way to respond quickly and fully.
Now, a word of warning – don't write out an entire blog post in your email response to your readers! Be courteous and friendly, but don't go overboard. Be professional and give emailers the feeling that their email matters to you.
Then, keep track of the common problems or questions that come up. Each one of these common questions is a good candidate for a future blog post that will wow your readers!
Place #4: Reader Surveys
You can conduct a reader survey by sending 1 to 3 questions in an email to your readers. Or you can use something like SurveyMonkey.com.
The trick is to ask questions that will give you insight into how your readers are thinking and feeling, as well what they're thinking and feeling too.
The best way to do this is to ask questions like "What are you struggling with most right now in your [yoga practice / work-life balance / business / etc.] ?" or "If you could sit down with me for 15 minutes, what problem could I solve for you?"
Place #5. Start A Facebook Group
If you haven't started one yet, now might be a great time to start a Facebook group for your readers. I'd recommend setting up your group as a closed group, meaning that only your readers can join. The purpose of your Facebook group is to interact with your readers, answer questions, and give advice. It's also a great place to watch the conversations that your readers have with each other. Because the interactions in your group are going to help you write great content, it's important that you go into the group at least once a week.
Facebook groups also work well for conducting the odd reader survey too, as long as it isn't very often.
Place #6: Webinars, Podcasts and Google Hangouts By Influential Bloggers
Eavesdropping on webinars, podcasts, and Google Hangouts hosted by other influential bloggers are an excellent – often untapped – resource. Here you can enter as a participant, get great advice from the hosts and listen in on what their readers are asking them.
If you hear someone asking a question that you think might be a question your readers might have too, you can validate if your readers are  curious about that topic by including it in an Ask The Reader post.
The Questions That Smart Bloggers Look For Most …
So far, we've talked about the importance of finding out from your readers what they most want to know on your blog. And we've talked about where to go to listen for those needs. But what types of questions are you actually listening for?
The truth is, you're not just looking for any questions. As a smart blogger, you want to look for a certain type of question. You're looking for questions that keep popping up – in reader comments, in social media exchanges, and on webinars and podcasts.
In other words, you're looking for questions that stand out to you as BIG QUESTIONS. Because these are the questions that people are desperate to find answers to!
For example:
If you're a social marketing smart blogger, big questions that stand out to you might be:
"I seem to have stopped getting as many retweets as I used to. Do you have any suggestions about why this might be happening?"
"My Twitter followers were increasing nicely. But then they started un-following me and I don't know why."
"I grew my Twitter followers to 500 quickly, but I can't seem to get passed this number. How do I get more followers?"
These are three different questions from three different people. But they all have a similar theme: trouble with Twitter follower numbers plateauing and not knowing what to do about it. Would writing about that topic get you a great thumb's up from your readers? The odds are looking good!
You now have all the pieces you need to produce great writing: how to find out what your readers are struggling with, and how to listen for those questions that are repeated across different people and platforms.
The final step to this simple method of writing great content is to, well, write it!
Turning These Big Questions Into Content That Readers Call "Great Writing"
When it comes to writing content that gets voted "great" by readers, smart bloggers take what we've covered in this post and use it to:
Research and track big questions asked by their audience about their topic area or niche.
Combine those questions to find the larger question at stake.
Give answers that speak directly to the person asking AND their actual problem.
Let's go back to the Twitter questions in the example above. The second question, about being unfollowed, isn't really a question – it's a statement. But when you combine it with the other two questions, the big question these people are asking is:
"People on Twitter seem to have stopped following me. Don't they like me any more?"
A smart blogger would write a post to answer this question, using the question itself in the headline:
"3 Reasons Why Your Twitter Followers Don't Like You Any More – And What to Do About It"
Any reader asking this big question would be instantly attracted to this post. It would be doubly valuable if you addressed each of the questions in the post: why a reader's retweets have stopped, why followers are leaving, or why follower numbers have plateaued.
And then , after you've clearly shown that you understand exactly what problems your reader is having, you give them knock-out suggestions for encouraging their Twitter followers fall (back) in love with them.
This is the way smart bloggers turn readers questions into blog content that gets these same people giving their "great writing" vote.
Hey, Smart Blogger! It's Your Turn …
If you're looking for advice on how to write great content, the best people to tell you are your readers. 
Readers don't want clever writers. They don't want fancy writers. They certainly don't want boring writers. They want bloggers like you who take the time to find out what they want you to write about, and give it to them.
And yes, you may have to practice writing your content. All the smart bloggers do, so you'll be in good company. Jon Morrow of BoostBlogTraffic.com (and formerly an associate editor of Copyblogger.com) spends around 12 hours writing a single blog post.
And yes, you might have to spend time getting to know your audience and finding out what it is they want you to write about. You should probably plan to spend an hour at least twice a week. But you're ready for that, right? Because you are a smart blogger.
Because you care.
Because you don't just want to stand out, be relevant, make a difference and write freaking great content. You mean it. Right?
So, get started now. Your readers are waiting. And now, you've got access to the smart blogger's club where each member knows that the lame "write great content" advice doesn't stand a chance against the simple method of asking and finding out what your readers want to read, then writing content that gives it to them.
Welcome to the club. ; )
What big questions are your readers asking you? What great content are they waiting for you to write for them? Let me know in the comments below!