How to Write a Blog Post That Wins Your Audience's Undying Loyalty
Sophie Lizard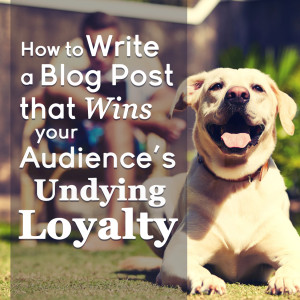 This post is a finalist in our Ultimate Guides Contest. Show your support for this, or any of the finalists by commenting, sharing and joining the conversation!
You want hordes of screaming fans hanging on your every word like you're a charismatic cult leader. Admit it.
OK, maybe they're only screaming on the inside and there's nothing scary in the Kool-Aid, but you want loyal readers devouring every word of your blog posts, right? Same thing.
We all know that building a devoted audience of hardcore fans is one of the keys to marketing success. And blogging is a way to do just that; if we can attract that loyal audience, everything else will work out fine…
At least, that was the plan.
In practice, attracting readers to your blog posts turned out to be harder than you thought. Even when it works, holding their attention long enough to read a whole blog post is tricky.
Do you know why that is?
It's because people aren't loyal to a blog post. They aren't loyal to a website or a business.
People are loyal to people. If they don't think of you as a real live human being, your blog post will be forgotten.
Also, people are loyal to themselves. If your post doesn't align with their perspective – at least at first – they're not going to spontaneously defect to your point of view, no matter how nicely you write it!
There are three distinct phases to creating a blog post that captures hearts and minds…
Phase 1: Align and Intersect
You might've heard this phase described as "researching your target audience", as if it's something you do to them.
Forget that shit. It's accurate but unhelpful because this is marketing, not Assassination 101. Your mission isn't to stalk readers and get them in your sights.
Your mission, should you choose to accept it, is to find your alignment with your reader so that you can walk together in the same direction. And here's the joy of this part: if the values and objectives you express in your blog post resonate with your reader, they're naturally inclined to walk with you, too.
Identify the places where your ideal audience hangs out online. Read their posts and responses. Soak up their attitudes and make a note of the words they use when they talk about your chosen topic.
While you're there, talk to them! Learn to understand the audience you're blogging for – how they live, think and feel – so that you can figure out where your offering fits into their world.
Once you've found your alignment with the audience of your dreams, what you need is an intersection.
[Somewhere, somebody's pointing out that two lines going in the same direction won't intersect. Just for that person, here's the trick: if you and I both walk due South, we'll bump into each other at the South Pole. Isn't geometry awesome?]
You've looked at what your ideal audience has to say, and how they say it. Now compare that to what you've got to say, and find the places where the two overlap. Those intersections are where you can say something that matters to your reader.
Want examples? If you're blogging about the benefits of baby massage and your ideal reader is worried about their baby's sleep, that's an intersection. If you blog about grammar and your ideal reader has an essay to write, there's your intersection.
It's not all about problems; your reader's equally interested in pleasure. If you blog about baking and your ideal reader wants to serve up a luscious blueberry pie at the weekend, that's an intersection too.
One intersection is all you need, but the more you can find, the better – save the rest for future blog posts you'll write for your loyal audience.
Phase 2: Write It for Them
OK, now you can break out your best keyboard and say what you've got to say to your ideal audience about one of those intersections you found.
There are two keys to getting this phase right:
Don't write for yourself.
Don't waste words.
I know, you've got a point to make. It's an important one, too. But if you want a crowd of loyal readers walking with you as you blog, don't neglect them by merely writing what *you* think.
Outline your audience's feelings and desires about your topic's intersection with their lives. Show that you're paying attention to them. Your research from Phase 1 will help you explain your point in a way that aligns with their perspective. Write the post they would've written if they could speak through you.
This doesn't mean you have to hide your personal opinions or your personality — far from it! Remember, people are loyal to people. Be yourself, but do it in your audience's words just as much as in your words.
The reason you're using their own words to write for them is simple. This is how you make your alignment clear right from the start of your post, and that's what attracts them to read more. To engage them all the way to the end of your post and beyond, pour honesty and energy into your writing. Break through the reader's haze of boredom and borderline internet addiction. Leave them feeling more alive than before.
OK, you're getting your point across to your ideal audience. You can almost feel the connection with your future readers while you're writing your blog post! Now, don't go nuts with it. Elmore Leonard said he always tried to "leave out the parts people skip", and that's good advice even if your readers are devoted fans.
Everyone who visits your blog is a paying customer. They pay for your blog content with their time and their attention, so don't let them down! Avoid reader's remorse — that moment when your reader realizes they just wasted their time reading yet another post that doesn't give them what they need. Don't, for example, promise a post about how to tie-dye, then spend it talking about your favorite shirt instead of giving instructions.
Don't promise to show people details, then give them only a vague overview. If you're not ready to write the ultimate edition of your post, either reframe it (perhaps as a beginner's overview or a 60-second guide) or break it down into smaller topics you can write one at a time.
How's that draft coming along? 😉
When you get to the end of your post, don't let it fade into oblivion. Remind people to comment, share the post, email you, download your infographic, opt in for your free sample, smile next time they look in the mirror, or whatever action you want to encourage.
Choose ONE action to ask for, and ask clearly.
If you're keen to send out those free samples, say "I'd love to give you a free sample of my product. Just let me know where to send it." If you'd like to spark a conversation, say "What do you think; is this making sense? Did I leave out anything you need to know?"
When your post's drafted, we're into the final phase.
Phase 3: Publish and Follow Up
There's no point going to all this effort to write a brilliant blog post unless you publish it at a place and time your ideal audience is likely to notice it. If your blog doesn't have many readers yet, consider offering your post as a guest contribution to a blog whose audience you'd like to share. That's not as difficult as you might think – check out Mirasee's guest guidelines!
You already know the next part: you can't win undying loyalty from people who don't realise your new blog post exists. Tweet about it, Facebook it, share it on LinkedIn or Pinterest or the Beacons Elite Community Forums, or wherever your audience likes to hang out online.
This part's even more important: reach out to people who already have an audience you believe will appreciate your post, and invite them to share it if they agree it suits their audience.
Don't be too shy to say, "I think your readers will like this. Would you mind sharing the link with them?" If someone chooses not to share it, that's not a problem; others will be happy to help your post find its audience. Reach out to me! I read all kinds of blogs and share interesting posts when I find them, so tweet a link to me if you'd like me to check out your post.
One of the simplest ways to follow up and increase reader loyalty is to answer every comment that isn't spam. No matter how banal, bitchy, misguided or inscrutable some comments may be, they show a desire to connect, so give them your attention and a thoughtful response.
Look up your commenters on Twitter or Google+ and follow them. If they've given their own blog URL, you can also go and leave a comment on one of their recent posts — I've made some great friends that way. People who take the time to leave you a comment are some of the most likely to become your loyal friends and readers, so let them see you're paying attention and make them feel at home on your blog.
And that's that. Keep walking with your ideal audience, keep providing what they need, keep connecting, and your reader loyalty will keep on growing. For a reminder of how the 3 phases flow, download the free "60-second guide" graphic version of this blog post and keep it in sight when you're blogging.
Listen, this stuff only works if you go and do it. Start researching, today. Start planning your next blog post, today.
Your loyal readers already exist. Let's go and find them!