Tim Ferriss On How To Market A Book
Megan Dougherty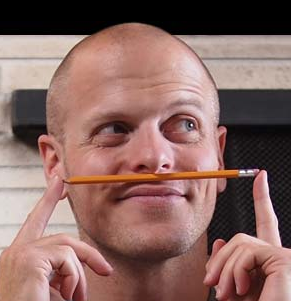 Today's episode of Fireside Chats with Danny Iny, is a special treat: an interview best-selling author Tim Ferriss about his new book, the Four Hour Chef.
He and Danny explore marketing, book launches and how to get the most out of your audience.
Tim Ferriss has previously launched two internationally acclaimed books to resounding success, and he shares the techniques that he considers the most important to planning and executing a successful book launch.
Always ready with good information, Tim provides not only his methodology, but enough of a reading list that anyone should be able to mimic his fantastic success.
And it doesn't matter what your market is, what you're offering, or how successful you've been in the past – Tim has information that will help you make the absolute most out of what you've got, and show you how to get more attention, favorable reviews, and better relationships with industry leaders.
Click here to download the transcript.
Click here to listen to Tim's awesome book launch ideas and advice:
4-Hour Book Launch Advice from Tim Ferriss
And here are the highlights and reading list:
Distilled Wisdom:
When deciding on a  title, it's important to remember all of the different people with whom your messaging needs to resonate.
Think about how your book can appeal to different demographics, and target your marketing to each of those group.
Applying the 80/20 principle can mean giving your readers the 20% of the information that will deliver 80% of the value from it.
Contact the media well in advance when you're planning your launch.
It's better to be the first in a new market, then a competitor in an existing one.
For the most part, blogs are more impactful for book sales than more traditional channels, like television or radio.
Trying to find the best possible fit with reviewers will help you much more than trying to force your way in everywhere.
One of the most important things you can to is crystallize your thoughts into the written word; and then have an even better writer edit it.
With four hours: take an hour to read 12 Lessons Learned Marketing the 4 Hour Body, 1,000 true fans, and the Truth of Social Media. Then spend the next two and a half hours doing an 80/20 analysis for your customers and for your products and services looking at two things: What are the 20% of customers that fit your dream profile, what are the 20% of my products or services that would make 80% of my income if they were mashed with my 1000 true fans? Conversely, what are the 20% of my customers that cause me 80% of my headaches, and the same for your products and services? In the last half hour, actually schedule the next physical actions for starting to focus on those thousand true fans and refining your product or services.
Resources Mentioned:
The Truth of Social Media
Over to you – Have you ever launched a book or other product? What worked for you, and what didn't?