Teachable Pricing 2022: What's the Right Pricing Plan for You?
Dozie Anyaegbunam
If you've ever thought of joining the online course platform Teachable, there's no better time than now.
The online course market is experiencing a boom, as the pandemic has brought online learning even more into the mainstream. This means tons of aspiring course creators are looking for the perfect platform to sell online courses.
There's just one huge problem. There's a sea of learning management platforms promising heaven, earth, and magical retentive memory, but many of them simply don't live up to their promises.
To help you make a decision that you won't regret, we've broken down all of the available Teachable pricing plans laying bare all the features you get (or don't get) based on how much you want to spend.
Let's walk through a detailed assessment of the Teachable pricing plans to help you decide which one best suits your needs.
Teachable Pricing Plans: An Overview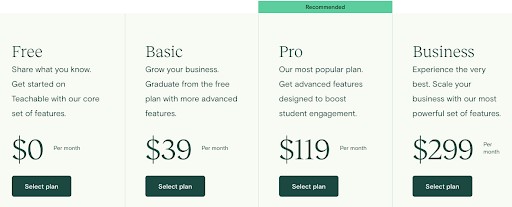 Teachable is a cloud-based learning management system that lets you create, share, and sell online courses. Its simplicity makes it a popular option among bloggers, creative professionals, and entrepreneurs.
From the start, you have access to a plethora of tips and tutorials that assist you in setting up your online school in a matter of hours. New course creators can quickly upload course materials, build a sales page, and integrate their payment service with the platform.
Teachable simplifies the complex techy part of setting up an online school; you can leave the tech parts to the geeks and focus on doing what you know best —creating content.
When selecting a price plan, you get the following options:
A Free Plan
A Basic Plan
A Pro Plan
A Business Plan
Let's look at what each has to offer.
Teachable Free Plan
New course creators on Teachable get a free Teachable plan when they sign up. This plan is excellent for individuals who are just starting out. It's low-budget yet reasonably functional.
With a free plan, you get access to the basic Teachable features, which are honestly not as basic as they sound (if we say so ourselves). Here are the basic (but not-so-basic) features of the Teachable Free plan:
Access to an unlimited number of students.
Unlimited course uploads.
Access to course design templates.
Flexible pricing options. This means you can have multiple pricing plans, create payment plans, have subscriptions, and sell in various currencies.
Access to basic quizzes.
Option of order bumps. Order bumps allow creators to increase their overall revenue per purchase by selling complementary or add-on products to customers.
You get only the CSS Snippet tool to use for your customizations.
Teachable handles your US Sales Tax for you.
Email support.
Only one Admin user is allowed.
When we say "no hidden fees," we mean it a hundred percent. So, here's what to expect when it comes to charges on the Teachable Free Plan.
When you are on the Free Plan, a portion of your revenue goes to Teachable. There's a transaction fee of $1+ 10% for every sale you make. Also, when your subscribers use a payment processor like PayPal or Stripe, you get charged an extra 2.9% + 30 cents transaction fee per sale.
You could avoid this fee by using Teachable's in-house Teachable Payment processor. However, using Teachable Payments will delay your payment by 21 days for your first payout.
Teachable Basic Plan
The Teachable Basic plan contains the base features found in the free plan and some perks. It is the cheapest of all the paid plans at $39 per month or $348 per annum ($29/monthly).
The features include all those found in the Free Plan plus:
Two Admin users.
Custom domain for your school.
Integrated email marketing of your course.
Coupon codes.
Third-party integrations like Google Analytics.
Option of setting up a drip course plan to prevent students from going through all your classes at once.
This plan comes with a lower transaction fee of 5% per sale, although the extra transaction fees remain the same. Also, your students get a 30-day money-back guarantee, so Teachable holds your profit for 30 days if a refund is requested.
Teachable Professional Plan
This is a plan for course creators who have had some success with e-learning and want access to more Teachable premium features. It is the most popular pricing plan and comes with all the Basic Plan features and extras like:
5 Admin users.
Analytics and course progress reports.
Access to creator training.
Course completion certificate for students.
Live chat access to customer support.
Access to affiliate marketing programs.
No Teachable fees on-course sales.
Instant payment, no more wait times.
Teachable prices this plan at $119 monthly or $1188 per annum($99/month), and the only fee you pay is the transaction fee for the payment processor.
Teachable Business Plan
The Business plan is suitable for large organizations or individuals with a considerable number of online courses. Hence, it is the most highly-priced of the three plans.
It comes with all the features of the Basic and Pro Plans and extra perks like:
20 Admin level users
Advanced customization like the option of removing Teachable branding from your site
Group coaching calls
Bulk student enrollments
There are zero transaction fees and 100% money-back guarantees. The Business plan is priced at $299 per month or $2988 ($249/monthly).
Which Teachable Pricing Plan is Right for You?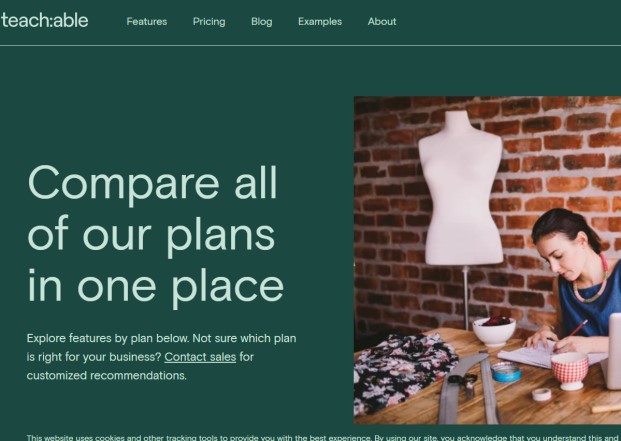 With each Teachable plan, you get an increasing number of features with increasing prices. To earn a substantial profit, you must strike a delicate balance between the plan's cost, the features it provides, and your sales. So who should use each of the Teachable pricing plans?
Who Should Use Teachable's Free Plan?
This is a free plan, and it is a great place to start if you're a budding course creator. It affords you the option of testing out the platform to get a handle on how it works. You might get paying students or those just testing your courses. The features limitations and the transaction fee cap mean it is for new creators or those who are not yet ready to commit to Teachable fully.
Who Should Use Teachable's Basic Plan?
This plan lands in the sweet spot between the Free and the Pro Plan. Its additional features mean you could do more without breaking the bank, so it is a suitable option for creators on tight budgets. The Basic Plan is an excellent option for those who see content creation as a viable side hustle and are patient enough to wait 30 or more days for their funds.
Who Should Use Teachable's Professional Plan?
This is the plan best suited for creators who are serious about selling their courses. The absence of transaction fees plus the market features with customizable settings makes it a balanced option. This is a plan made for creators selling a considerable number of courses and who are tired of getting bogged with huge transaction fees.
Who Should Use Teachable's Business Plan?
The price and over-the-top features will make this plan unnecessary for your average content creator. Teachable designed the Business plan to fill the need of corporate creators who have multiple instructors and can fully utilize its features. The flexibility it provides is helpful in large operations with an extensive customer base.
How Does Teachable's Measure Up?
Most of the other top online platforms share a similar price point with Teachable but differ significantly in their features. To help you decide, here are some pricing comparisons between Teachable and other online competitors:
Teachable vs. Kajabi
Kajabi shares similarities with Teachable, but the absence of a transaction fee tax on its platform is a big plus. It offers the following plans on its platform:
A free 14-day trial plan
A Basic Plan priced at $149 per month or $1428 per annum ($119/month)
A Growth Plan priced at $199 per month or $1908 per annum ($159/month)
A Pro Plan priced at $9 per month or $3828 per annum ($319/monthly)
It looks expensive compared to Teachable, but it all evens out if you factor in the absence of a transaction fee tax. But the lack of a Free Plan and the limits on students in some Kajabi plans wins it for Teachable.
Teachable vs. Podia
Podia is arguably one of the most feature-packed online hosting platforms, especially for the lower-priced plans. Podia's plans are similarly priced as those of Teachable, and they offer the following options:
A 14-day free trial plan
A Mover Plan priced at $39 per month or $390 per annum($33/month)
A Shaker Plan priced at $79 per month or 790 per annum ($66/month)
An Earthquaker Plan priced at $179 per month or 1790 per annum ($150/month)
Podia, unlike Teachable, offers you no option of a Free plan after the trial ends and has no graded quizzes for its lower-priced plans.
Teachable vs. Thinkific
Thinkfic is another online course platform that has a similar pricing range for its plans as Teachable. Thinkfic pricing options include:
A Free Plan with no transaction fees
A Basic Plan priced at $49 per month or $468($39/month)
A Pro Plan priced at $99 per month or $1188 ($79/month)
A Premier Plan priced at $499 per month or $4788 per annum (399/monthly)
The whopping $1800 difference in the top plans of both platforms is a big plus for Teachable. This makes it more economical, especially since Teachable offers added features like:
Better customization options for checkout and upsell pages.
More comprehensive marketing tools to help in running efficient marketing campaigns.
Option of running affiliate programs that aid you in collecting and processing EU payments.
If you are serious about selling and marketing your courses with ease and at a more affordable rate, Teachable would be the better option.
Teachable Pricing FAQs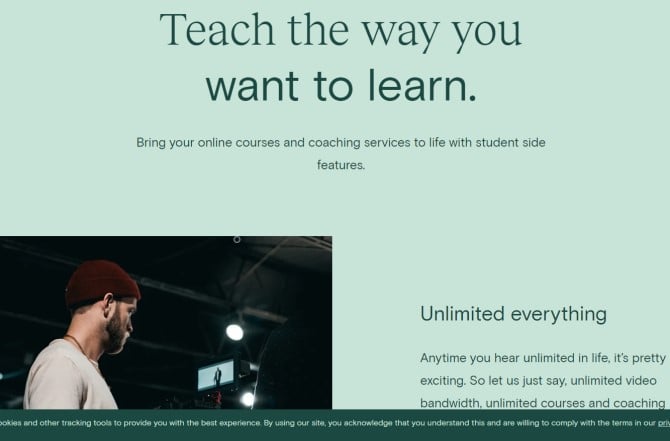 Here are the answers to some frequently asked questions about Teachable pricing policies:
1. Does Teachable Have a Refund Policy?
Absolutely. This is one of Teachable's most endearing features. Teachable offers a full money-back guarantee when you purchase one of their plans. You can request a refund within 30 days of purchasing your subscription. You just have to contact their customer support team and relay your request.
2. How Can You Make Money With Teachable?
The easiest way to earn money on Teachable is by selling online courses. The platform has all the necessary tools for you to build video, audio, or text-based courses. With marketing and analytical tools to aid you, you are in excellent hands. You can also sell ebooks as part of your course materials and offer monthly membership plans to your students.
3. How Do I Get Paid on Teachable?
Teachable uses Stripe Express to process most of its transactions, and it also allows PayPal payments too. Teachable has Teachable Payments as its internal payment platform, but it is only available in certain countries. The process of setting up a payment system is detailed here.
Which Teachable Pricing Plan is Right for You?
Your best Teachable pricing plan boils down to what kind of content creator you want to become. A leisure creator should focus on the Free and Basic Plans, whereas a creator focused on turning this into a revenue stream would need the Pro Plans.
We hope this article helped you decide which Teachable plan is perfect for you. After signing up for your chosen plan, be sure to take advantage of the tools (and content powerups) Teachable offers to crush your teaching goals online!
Want to learn more about the online course creation process? We invite you to enroll in our Free Course Builder's Bootcamp so you can set yourself up for long-term success.
Let's Start Building Your Online Course!
In our FREE Hybrid Courses Bootcamp, we'll walk you through how to transform your knowledge and expertise into a profitable online course… one your students will love.