Are Your Social Media Efforts Driven By Purpose, or By Fear?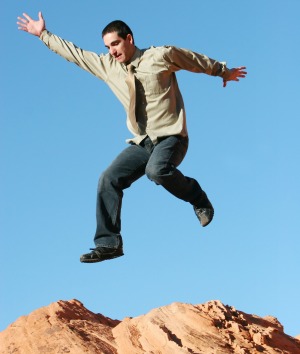 Ten years ago, Rick Warren's book The Purpose-Driven Life took bookstores by storm and sold more than 32 million copies in 10 years. It simultaneously held the number one spot on the four major bestseller lists, including The New York Times, The Wall Street Journal, USA Today and Publishers Weekly.
Rick's message struck a nerve with millions of readers –  readers who discovered that living a life with purpose was more satisfying and rewarding than merely going through the motions.  When it comes to life, relationships, business, even our goals and dreams, we have two options: we can live with intention and purpose. Or we can be motivated by fear.
When it comes to social media for your small business, we have the same choice. We can jump in with purpose and passion, or we can let our fear make us hesitate and miss out!
And yes, I realize how we live life matters a great deal more than how we navigate social media. But if fear is holding us back from growing our businesses, chances are it's affecting other areas of our lives as well.
Am I Doing It Right?
In 1997, Gary Vaynerchuk launched WineLibrary.com to help grow his family's wine business. In 2006, he had an idea. He purchased a domain and a video camera and taped the first video blog episode of Wine Library TV. One year later he had more than 15,000 daily downloads and 100 comments on each show. The show exploded over the next five years and catapulted their business – and Gary – into the social spotlight.
As a result, Gary has become a mogul in the social media industry by founding VaynerMedia, a social media brand agency, in 2009. He's written three must-read books on social media: Crush It, The Thank You Economy, and his latest book Jab, Jab, Jab, Right Hook: How to Tell Your Story in a Noisy World.
When Gary started Wine Library TV, he didn't know what he was doing. All he had was an idea, a compelling desire, and what some call an "unrelenting passion" for wine and people. In his own words: "All I wanted to do was to build a community, and I felt the other stuff would work itself out."
Gary did something many of us haven't done yet: he overcame the fear that tells us if we can't do it with "excellence," we shouldn't even try.
This is a challenge for so many of us.
And with good reason!
We are surrounded by amazing examples of people making it happen with incredible creativity and seeming perfection. But the truth is, we all start somewhere.
We All Start Somewhere
When I started my first blog, The Homeschool Encourager, I had absolutely no idea what I was doing.  I simply wanted to offer encouragement to other homeschool moms via the internet. I built a site using MS Frontpage (there was no WordPress or Blogger yet!). I had a clunky site (by today's standards), sent hundreds of emails each week using Outlook, and with no social media or today's technology ended up with more than 1200 readers within 24 months. People connected with what I was writing, and with no other avenues to receive continued support, they signed up in droves. (Ok, maybe not droves, but they did sign up!)
The point is that I started with what I knew. I didn't have access to the content, blogs, and expert advice we have today. What I did have was the same thing Gary had: the desire to build a community and a passion for something I cared about. The rest worked itself out.
As the Homeschool Encourager, I was focused on my purpose and passionate. I even felt adventurous in what I was doing. To my knowledge, no one had done this before. I was pioneering something new and innovative. These motivations outweighed any fear I might be doing it wrong.
Today, I know a whole lot more. But am I better off? Are you?

Unlike those early days, when I was forging ahead despite not really knowing what I was doing, I'm stuck.  In fact, I've been stuck for the past few years, nearly paralyzed by the fear that I'm going to fall short of the example of others. I'm sure many of you can relate!
Somehow we've lost our sense of adventure, our unrelenting passion. We've let our fear of doing it wrong keep us from doing anything at all.
If we return to our original purpose, our passion for what we do, then we'll find the courage to make it happen.
We will be more concerned about connecting and helping others than how perfectly polished our brand is. It takes guts. But we can do it. We can dare to forge a new inroad to a yet unreached people group: our tribe.
"That's great, Sue," I hear you thinking. "But what if I start where I am, put myself out there – and no one notices? Or worse – what if no one cares?"
What If No One Notices?
I've been an admirer of Jon Acuff's blog for many years. When he started "Stuff Christians Like" in 2008, he was an unknown, untested guy with a great sense of humor and a heart to challenge the silly behavior of  church-going people. He had no idea if anyone would even read his blog or understand his unique style. He didn't know how people in the church (his main audience) would react to what he was putting out there.
When Jon attended his first social media conference, not one person attended his workshop! He later shared a photo on his blog of him sitting in a room filled with empty chairs. I still keep a copy of that photo in my office for inspiration.
Today more than four million people read Stuff Christians Like. Jon has written a number of popular books including Stuff Christians Like, Quitter, and Start: Punch Fear in the Face, Escape Average & Do Work that Matters, and he now speaks to thousands of people at conferences across the country.
Maybe you, like Jon, are afraid no one will read your blog or buy your products or services. Maybe your past experience haunts you because you have written posts no one read and shared updates that no one responded to. That doesn't mean your message isn't needed.
I read recently that adversity is the universe's way of finding out if you are serious about your dream, if you are willing to press on regardless of the struggle. Maybe your past or present experiences are just that – the universe simply is testing you to find out what you're made of.
Make up your mind today that your fear of rejection won't keep you from putting yourself out there. Work to find people you truly connect with, knowing you do have something to offer them. As Seth Godin says in Tribes, "There are tribes everywhere now [and] every one of them is yearning for leadership and connection."
Be bold! Your confidence will be the very thing that draws people to you.
What If I Build a Tribe And Then Let Them Down?
We don't have to look far to see many examples of people and companies who have built their tribes, only to make serious blunders when using social media for their small business. Just Google "Social Media Disasters" and you'll see what I mean.
Amazingly enough, there are still companies and leaders out there who don't get that social media is about building relationships. Some of them are starting to figure out that two-way communication is actually a good thing. Dell is a good example. Love them or hate them, they have finally learned to tap into the social media stream to improve their brand and their products.
When it comes to company profiles, the general public may seem less than forgiving. But when it comes to building authentic relationships online, people are more forgiving than we give them credit for. As they get to know you, and understand that you are there to add value to their lives, they'll want to be a part of what you are doing.
The old adage is so true in the social media for small business world: "People don't care how much you know until they know how much you care." If people see you as authentic and caring, they won't be repelled by imperfection. In fact, they will probably become more loyal and supportive as they see you struggle and grow in order to do what you believe in.
We need to let our tribes see that despite these fears, we are willing to add our own unique value to the world.
When others see our willingness to step out, to fail, and even to make fools of ourselves, we will find ourselves at a place where we can truly influence others.
What's the Worst Thing That Could Happen?
This is always a great question to ask, especially when we are afraid of trying something new. Take a minute to answer the following questions, and you may be surprised to find that dipping your toes into the social media stream is not actually as scary as it seems. We learn more when things don't go perfectly or turn out the way we expected.
Consider:
If you try but don't do everything perfectly, what's the worst thing that could happen?
What if you start engaging and no one responds? So what?
If you build a strong following and then let them down, what would you do next?
"Success is a series of small risks."
This is so true in social media! Every time we share our story, we are taking a risk. We are risking rejection, ridicule, even failure. But failure won't kill us. Some say it will make us stronger.
Take Purposeful Action
If we want to be taken seriously – and play with the "big kids" – we're going to have to put down our blankies, be bold, fearless and take purposeful action.
The following social media for small business challenges will help you move past fear, focus on your purpose and help renew your confidence and passion.
Challenge #1: Write a paragraph about your purpose. Incorporate this into the "About" page on your blog and your social media profiles to remind yourself and others why you do what you do!
Challenge #2: Find pictures that represent your passion or create a Pinterest board and fill it with these pics. Display these where you will see them every day.
Challenge #3: Reach out to someone you respect on social media. (HINT: if it scares you to death, you have the right person!) Ask to interview them for your blog or to have a virtual coffee date to ask a couple of questions. Be sure to thank them profusely and share some social love then they respond.
Challenge #4:Read about one of the social media pioneers mentioned in this article or another leader whose story inspires you. Write a blog post or social media update about what you learned from their example.
Challenge #5: Attend a conference, seminar, or webinar on a topic that intimidates you. For instance: Google Analytics, affiliate marketing, or even Facebook or Pinterest.
Don't let the fear of imperfection, rejection, or failure keep you from striving for success. Focus on your why, your bigger purpose. This will give you the courage you need to leave fear behind and become the leader you are meant to be. Be inspired by those who have gone before you, rise to the challenge, and become an inspiration to others!