The Best Small Business Growth Strategies for 2023
Burkhard Berger
How can you make a small business grow faster? There's no secret formula for instant success, but there are plenty of useful strategies and best practices you can implement to achieve small business growth.
Despite the COVID-19 pandemic and economic uncertainties, small business owners remain optimistic about growing and staying resilient. It's been over a decade since I launched my business. Strategic planning and managing of business resources unfailingly help me through these unprecedented times.
In this article, I'll share a few of my business strategies and best practices that will help you plan for growth and bring more value to your customers. Let's dive into the specifics.
7 Small Business Growth Strategies To Watch Out For In 2023
Learn and implement these effective growth strategies to help you jump-start your small business in 2023.
1. Revisit The Critical Stages Of Business Growth
Each stage of business growth offers a guideline to help entrepreneurs successfully launch businesses and prepare for the inevitable challenges that may come as they grow. Every business owner goes through these stages to complete their business plan.
Revisiting these stages will allow you to evaluate each business goal you set and make necessary changes based on your business performance. There are 4 stages of business growth and each represents a specific core element of your business.
Stage 1: Start-Up
The start-up, or the existence stage, covers every aspect of your business. But its primary mission is to determine if the solution you offer solves a real-life problem and if people are willing to pay for it.
A few possible methods you can use to get the answer is by conducting the following:
Feasibility study
Competitor research
Interviewing your potential customers
The latter option is the most recommended because you can get a better perspective on your target audience's pain points.
After you confirm the business idea's feasibility, it's time to create an action plan. You can start arranging workflows for production, marketing, sales, and other important aspects of your business.
Giving your workflows and processes a few weeks or months to run will verify its effectiveness and efficiency. It will also reveal loopholes you need to fix. For one, you can leverage analytics to confirm if your buyer persona matches the actual type of consumers you have for your products.
Let's say your product is sports nutrition goods. Your initial market research made you target audiences like athletes, gym goers, and martial arts practitioners. But with the data on hand, you can see that only some people who purchased healthy sports supplements and drinks are participating in any sports.
Armed with this information, you can then adjust your target audience to include parents, celebrities, and fitness enthusiasts. You can also target audiences based on their geographic and demographic group. Take all the valuable information and update your action plan to improve your user experience.
Stage 2: Business Growth
There are millions of businesses launched every day. But according to Failory, only 20% survive their first year. This is why the majority of business owners call the growth stage, the survival stage.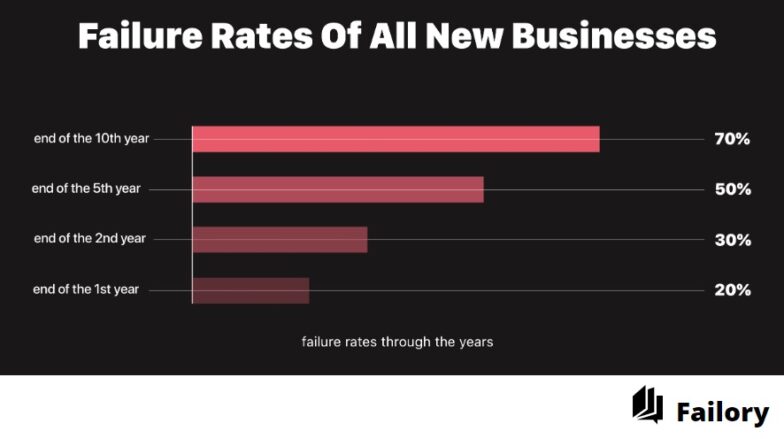 It seems scary, but there are plenty of ways to help you achieve stability. The first one is to fully understand your business and the industry you operate in. The logic is simple: if you know well what you're doing and the industry you're catering to, you will have a good understanding of the following:
Growth potential
How to compete with your competitors
How to satisfy your customers' needs and demands
How to fit your business model into the industry landscape
Another efficient method to apply is to get adequate funding. Starting a business takes a lot of money, and your financial obligations will increase as it grows. Ensure you have sufficient funding to maintain your capital and build financial stability.
The growth stage is also the best time to hire new employees. Marketing is one department you need to fill because they keep your brand active and help reach the right audience. You can start by hiring an in-house marketing manager who is well-versed in multiple online platforms and extensively understands converting leads into sales. You can find other qualities based on your requirements.
Stage 3: Maturity
When your business reaches the maturity stage, congratulations! It means that your business finally generates a consistent flow of cash and customers. You also established the following:
A functional organizational structure
Customer retention strategies to build trust and long-term relationships
Strong brand awareness with your target audience and presence in your target market
Standard operating procedures to create a safe work environment and increase efficiencies
The list goes on.
Many refer to the maturity stage as the success stage because the business has stable profitability and control over the day-to-day operations and market competition. You may think that business leaders can finally ease their minds and take this as the final stage. You think wrong.
The maturity stage isn't the finish line. Rather, it's an open opportunity for your business to continue growing. One excellent idea is to adopt digital transformation to increase productivity and customer satisfaction. Processes once done in person can be made available online. If ordering previously had to be done in-store, you can consider leveraging an online platform or an app for it.
Stage 4: Expansion (Optional)
You can explore expansion opportunities when your small business has stable growth. It's an excellent way to increase your market share and revenue streams. But before you can maximize your business potential, you must first understand your business limits.
You can review your marketing plan to see if your business is financially stable and ready to implement an expansion plan. You must also check if you have adequate people to support additional resources. Ensure you review the entirety of your business before you make the final decision.
Many expansion opportunities are available, but the common choice is adding a new product or service. Let's say you own an online clothing shop.
Most clothing brands show strong advocacy for body positivity. You can deliver that by offering clothing sets that support a diverse range of body types. You can also provide new accessories that complement your dancewear and lingerie selection. Other workable options you can offer are body care and fragrances to inspire your audience to make self-care their top priority.
If offering a new product isn't your cup of tea, you can consider any of the following expansion options:
Franchising
Buy a new business line
Or, partner with another business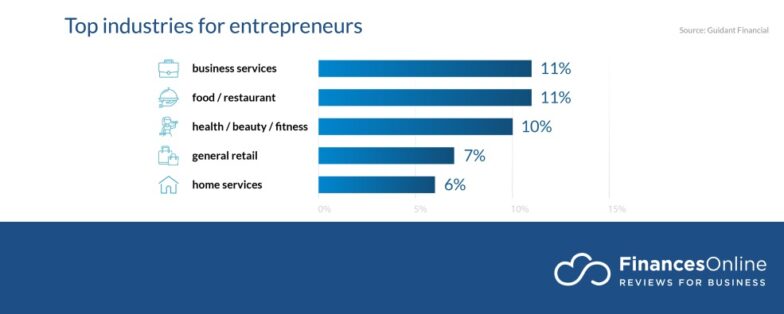 Which industry has high demand and profit? According to FinanceOnline, five industries provide excellent results (see screenshot above) and will continue to grow in 2023. This can help you narrow down your options of what business you want to expand in.
Each option may have a different business model, but all share the same mission – to enter a new market segment. Not all expansion options require you to adopt a new business model. You also have the opportunity to modify your products based on your customer feedback. You can do market segmentation to identify more people within your target audience that are likely to buy your products.
2. Focus on the Business Development Stage
Every successful business starts with an idea. The development stage is your first step in transforming that idea into a profitable product. During the start-up stage, research is the primary task to accomplish. You need to determine if there's a market for your business idea.
The role of the development stage changes when it reaches the growth and maturity stages. You need to focus on three factors: product, brand extension, and market.
Product Development
I've mentioned the different business options you can choose in the expansion stage to push your profitability further. This is the stage where you can execute your choice – create a new product, modify the existing one, and introduce it to new markets or others.
No matter what you decide, ensure your research and development team has the right tools to do the following tasks:
In-depth assessment of customer needs
Product analysis and design
Write product design requirement documentation
Build and test your product prototype
Production
Brand Extension
The concept of the brand extension is simple: to use your brand's reputation to introduce a new product or product category (where your brand is less popular). There are many strategies you can use to extend your brand, and here are a few excellent examples to give you an idea:
Example 1: Google
Google offers a classic example of extending its brand to a different product category. Its core business focuses on search engine technology and online advertising. But it also offers non-advertising products such as Play Store, cloud computing, artificial intelligence, and more.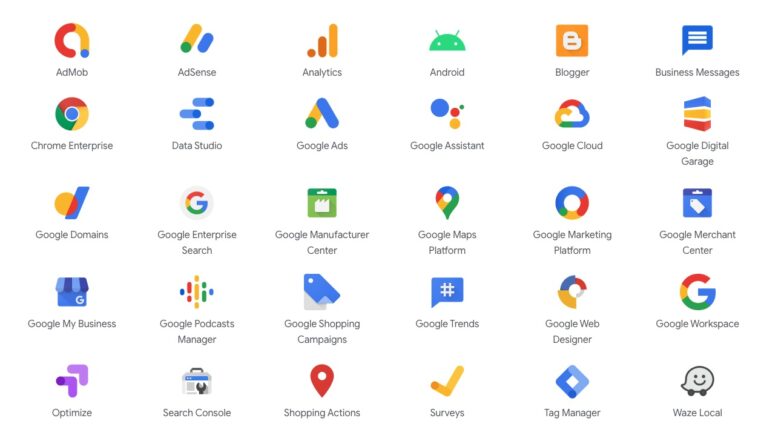 Example 2: Jeep®
This is an example of a line extension, the most straightforward technique. The brand is renowned for its legendary 4×4 sport utility vehicle. But today, it also offers an expansive lineup of SUV and truck models.

Example 3: Gili Sports
This is an excellent example of a companion product extension. As the name implies, the new product complements its original product. This sporting goods shop initially offers a great selection of beginner-friendly paddle boards. But now, it also provides premium accessories and a web-based SUP board finder to help you find the most suitable size for a stand-up paddleboard.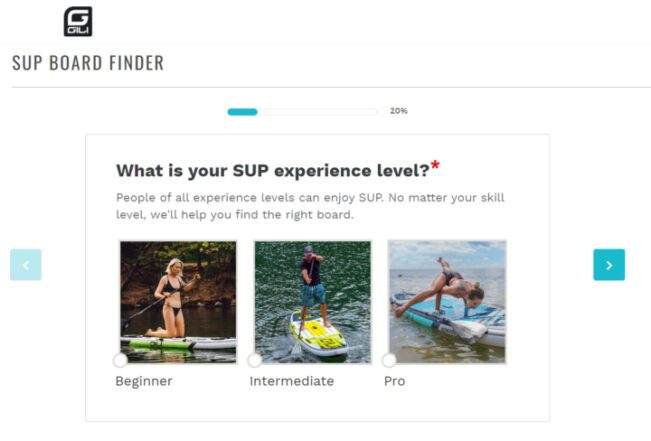 Market Development
Market development is the process of developing your existing market to look for new buyers. Conducting customer segmentation analysis is the first step to better identifying your new target market segment. From here, you can sort them out based on their common characteristics:
Demographic: Age, occupation, income
Geographic: Country, state, county, and zip code
Behavioral: Shopping habits, usage rate, browsing activities
Psychographic: Personality traits, beliefs, attitudes, lifestyles
Assuming you accomplish this task, you can begin creating your customer personas. It's a fictional character with a user-centered design. It includes all the characteristics of your potential customers.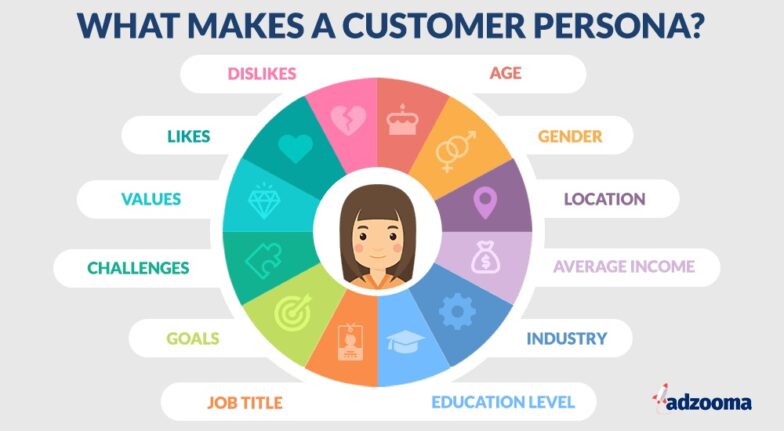 Do it right, and it will help you personalize your content and communication. When you target audiences in new geographical areas, ensure to implement localized marketing as well. It's a marketing strategy where you apply your new target's languages, cultures, and traditions to your website content and ad campaigns.
The reason: people trust brands more if they understand their content. Therefore, it's an effective strategy to build trust and drive sales quickly. Other strategies you can implement when developing your existing market are:
Build competitive price structures
Identify new distribution platforms
Run promotion and customer loyalty program
3. Develop Basic Business Management Skills
Assuming your action plan pays off, your business will face rapid growth. It can be overwhelming, but everything can run smoothly when you possess the right business skills. Here are 3 of the essential skills you should have:
Accounting & Finance
Finances are a crucial part of the business. So, you should understand these two skills to forecast your cash flow correctly, monitor loss and profit, declare taxes, and handle an abundance of cash.
Customer Service
Solving customer problems is one of your critical functions as a business owner. You need to turn a problem into a solution and answer all inquiries. Confidence and persuasive speaking are two skills you need to possess. These will help you to stay positive and empathetic and transform arguments into meaningful conversations.
Time Management
Delays cost money. Therefore, you must learn how to manage time efficiently, leveraging task-tracking apps, to boost your productivity and state of mind. You can do so by organizing your tasks and prioritizing them according to their urgency and your goals. Ensure to focus on a single task at a time and give yourself a break to reset your mind.
Leadership
The higher your success rate, the more tasks you need to accomplish. Hiring the right people is a smart decision. If you do so, you need to learn how to effectively coach your employees and properly delegate responsibilities.
4. Build Your Own Talent Pool
Finding the right candidate for the job requires processing hundreds of applications. Assuming you only need one or a few people to hire, don't just reject other qualified candidates and move on. They may not meet the requirement you're looking for right now, but their talent can still be helpful for the future needs of your organization.
The best solution is to build and manage an active talent pool. It's a live database of qualified candidates who:
Participate in your career fairs
Are referred by current employees
Have shown an interest in joining the organization
No longer works with the organization but keep an open mind to return (aka the boomerang employees)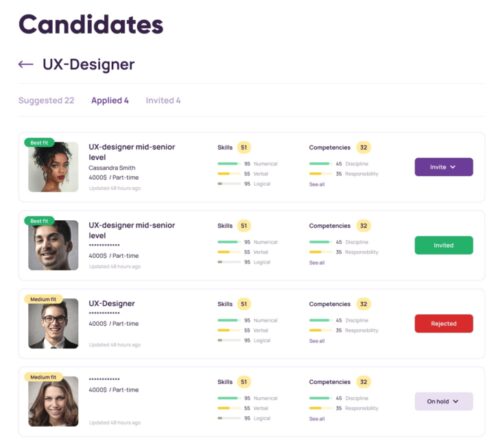 A talent pool is a valuable asset for small businesses. Not only does it save time and effort in searching for talented candidates, but it also creates a better experience for them. As a result, they will have a positive perception of your brand as an employer.
5. Rebuild Your Brand
Branding is your business identity. It often includes your business logo, design, vision, and mission statement. As a general rule of thumb, create a strong and positive brand that your prospects can instantly recognize.
Aesthetics are essential, and so is experience. Ensure you create a memorable brand experience at every phase to strengthen customer loyalty. Remember that acquiring a new customer costs 5x more than retaining your existing customers. Therefore, when you finally win your prospects, keep them happy and bring value to their lives.
If your business has been around for a while or you're planning to introduce new products, it's often advisable to rebuild your brand. There are plenty of ways to rebuild it, and the simplest methods to implement are changing your logo's color palette and updating your slogan.
You must also create a compelling new brand story to emotionally connect with your audience. You can use personality archetypes to make your story more persuasive and captivating. Let's take Nike as an example. It's one brand that uses the hero archetype because its message focuses on empowering people to achieve great things and triumph no matter their struggles.
However, if your brand's mission is to support the welfare of others, then the caregiver archetype is the best solution. One way to incorporate it into your story is by crafting a story with a mission to protect seniors from the risk of exploitation. It can range from financial, and security to healthcare fraud.
If you want to rebuild your brand from scratch but don't know where to start, the video above features examples from popular brands that have done the job right. I hope it can inspire you to get started.
When implementing these changes, prepare a good story to support your decision. It will be an excellent opportunity to inform your prospects and loyal customers what your business aims to do now. Also, choose the best time and online channels to reintroduce your brand. It's a proven strategy to engage with your target audience when they are most active.
6. Try Different Marketing Strategies
Marketing is all about spreading the word about your business to your target audience at the optimal time. Since you're in the growth stage, it's the right time to add some new marketing activities to get the result you want. You must also remove the existing strategies that don't work to prevent wasting your marketing efforts and budget.
Here are some proven digital marketing strategies that can give you a solid online presence and a competitive edge to grow.
Use Simple SEO
Search engine platforms like Google are one of the largest organic traffic sources. You can start with simple SEO, like targeting the right keywords and incorporating them naturally into your high-quality content. Do it regularly to increase your visibility on the search results page.
Develop Short-Form Video Content
People generally prefer videos to text content. It's easier to digest the information and promote strong emotions that encourage them to engage. So, you can benefit greatly when you mix your content with fun presentation videos like a digital whiteboard, product demo, and webinar.
Leverage Social Media Platforms
Social media marketing strategy can be relatively new, but it proves efficient in getting more free exposure and building long-term customer relationships. Facebook, YouTube, and Instagram are the top channels to consider.
Be Active On Review Sites
Most people read online reviews before making a purchase. Be sure to create a business profile on the relevant review sites to help your audience find your brand and products.
7. Use AI & Machine Learning Tools
Small business owners keep on getting creative to survive the pandemic. One excellent growth strategy is investing in the right technology tools that eliminate ineffective practices and automate repetitive tasks.
Since most businesses adopt remote and hybrid working environments, you need a reliable platform to centralize business communications and promote collaboration. Project management software like Trello and Airtable are ideal for formal planning, scheduling, controlling access to business resources, and more.
Other incredible types of software you can use is listed as follows:
Optical Character Recognition (OCR) Software
This is an AI-based software for invoice handling and processing. It uses pattern-matching algorithms to match the text word by word (or character by character).
Customer Relationship Management System (CRM)
As the name describes, a CRM is an excellent solution for building better customer relationships. It provides all the tools you need to monitor and track customer interactions. You can use these to create a unique experience at every stage of the buyer's journey.
Email Finder
Fill your sales funnel with qualified leads using an email hunter tool. It can also automate lead research and generation processes. Salespeople are the typical user of this tool, but it's also proven effective for HR and PR processes.
Ready To Grow Your Small Business?
Business leaders define growth differently. Some focus on the consistent increase in revenue. While others take the healthy sign of receiving many offers from brands, influencers, and the press. Don't compare yourself to others. Stay focused on your small business growth progress and see if it meets your goals.
Implementing the strategies mentioned above can help you simplify the process. But if you want to create your own growth strategy, focus on what's important. Learning to manage your marketing resources and budget is a reasonable starting point.
Ensure you allocate the right resources to gain more traffic and generate new leads consistently. Marketing resource management comes with various tasks, and it's crucial to delegate each task to the right team or person to prevent delays.
Some entrepreneurs decide to launch multiple businesses as soon as they notice an increase in their sales. It remains advisable to manage one business at a time. The fewer projects you manage, the more attention you can give to improving your business models.
I hope this guide helps you to take your small business growth stage to the next level.