How to Earn Extra Money: A Six-Figure Revenue in 73 Days?
George Huang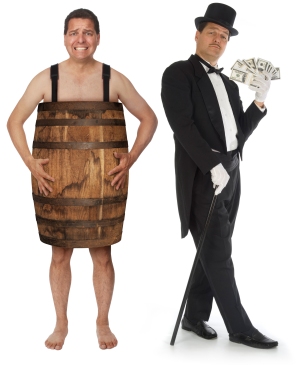 "Generating six-figure revenue just doesn't have to take a long time."
At least, that's what one of my business advisors told me when I started out in the entrepreneurial world. In theory, what he said made sense. But I didn't believe it… until I had done it myself.
Frustrated with the state of "modern" healthcare, I retired as a board-certified plastic surgeon at the age of 40 in 2003. A couple of years later, I hung out my shingle as a professional business coach in 2005. But other than a "shingle," I had no website, blog, business contacts, or success stories. Heck, at that point, I had never had a single client pay me for business advice.
Unwittingly, I became somewhat of a folk legend in some circles after I created an annualized six-figure revenue stream in 73 days. And for the next seven years, I sustained six-figure production during a tumultuous economy…
What does a six-figure business really mean to you?
If you're a service-oriented entrepreneur who is working hard to establish or maintain a reliable five-figure revenue stream, then a six-figure revenue stream might seem like nirvana.
For a moment, imagine how different things could be in your business, if you knew how to earn extra money:
More free time?
More disposal income?
Ability to hire additional help?
Greater ability to expand operations?
More capacity to serve others?
What else?
Do you have what it takes to earn extra money fast?
Call me naïve, but I didn't think that what I had done was a big deal or remarkable achievement. From my perspective, I was simply glad that I didn't have to go back to practicing as a plastic surgeon to support my young and expanding family! I wanted to be at home, instead.
In retrospect, many factors contributed to such rapid and sustained revenue. I've identified some of them; see which ones apply to you and your current situation:
An unshakeable belief in my ability to provide tremendous value to others.
Persistence in finding a way to leverage my strengths and talents to attract and engage potential clients, and then naturally turn them into paying clients.
Singular focus on working with existing resources, rather than lamenting about what I lacked.
A fortuitous confluence of determination, strategy, bold actions, people, conversations, and events that led to attracting potential clients who resonated
But is generating six-figures fast reproducible?
Of course, many other factors played a role. But the more important question is: "Is it reproducible?"
In other words, could I help others similarly generate rapid increases in their revenue?
Great question. It turns out that with my guidance, along with my documented systems and strategies that I personally used to create a sustainable six-figure revenue stream, others have indeed achieved remarkable results.
In fact, one of my clients bested my record; he achieved his annualized six-figure revenue stream in 71 days. Another recent client, who had never earned more than $250/month from his coaching services, achieved $8,500 month by his 99th day of working with me. But the end of the 12th month, he had reached $23,000/month. And I frequently forget to talk about my client did went the "slow" route – steady six-figure revenue stream by about 180 days.
But you probably shouldn't do what I did…
I know it's tempting to try to model someone else's success, using their particular approach or "blueprint." The problem is, though, that you'd have to be that person for his or her approach to work exactly the same way for you! So what I specifically did wouldn't necessarily work out the same way for you.
In contrast, I know many other colleagues who have generated six- and seven-figure revenue streams within a 12-24 month timeframe.
So clearly, my perspective on the world isn't the only one. And neither is my approach to rapidly accelerating my revenue.
What Makes the Difference Between Generating Six-Figures Fast and Six-Figures Slowly?
Being the "Curious George" that I am, I began to wonder what I could learn from studying the journeys of others who have rapidly created six- and seven-figure revenue streams within a short period of time.
In my research, I've found remarkable commonalities and differences in philosophies and approaches among service-oriented entrepreneurs who have generated significant revenue increases within remarkable timeframes.
The Commonalities:
Preparation
Perseverance
High-end clients or products
Focusing on bare essentials
Throwing perfection out the door
Intense focus on producing outcomes for one's self and for clients
A muzzle for "head trash" that only serves to limit taking bold, decisive action
The Differences:
Some offer services (39%), others offer programs (39%), and others offer products (28%)
Differing lead-generation strategies
Differing client conversion approaches
Some escaped from the corporate world; some had prior entrepreneurial experience; others had little or no prior entrepreneurial experience
Success can be really messy
Don't worry; I don't have any aspirations of publishing a boring, academic research study about what I've found! But you might find these simple statistics interesting.
Of 18 experts who have generated six- and seven-figure revenue increases within a 12 month period (including me), almost 56% of us created our first six-figure breakthrough using offline strategies and tactics. The remaining 44% used online approaches. Yet, almost 80% of us (14 of 18) rely on online business models and strategies to sustain our revenue!
I've personally found it instructive and inspiring to hear and discuss the real background stories about the paths each of them took to six-figures and beyond. I'm not talking about the "sterilized" and "glamorized" versions of our stories, the ones you frequently hear at the beginning of a teleseminar or webinar or that you read on a website.
I'm talking about the REAL story, the one that includes the good, the bad, and the ugly. The mistakes. The pain and anguish. The flops. And the colossal failures.
This is real-world stuff because for the most part, success is really messing! The only place success follows a straight line, without any bumps, bruises, or concussions is the hallucinations you get by reading far too many sales pages that promise the "quick and easy" blueprint for achieving [you fill in the blank].
Universal principles and keys to rapid revenue acceleration…
Rather than attempting to summarize the things I've learned by probing into the "back stories" of my "rapid six-figure" colleagues, I'm certain you'll gain greater insight, inspiration, and value by hearing it "from the horse's mouth."
I think that if you had a chance to hear what they have to say and what actually goes on "behind the scenes," you'd quickly see a common pattern and theme: That there are indeed universal principles of success and keys to rapid revenue acceleration that they've each tapped into. Each in their own unique style.
In just a few days from now, I'm going to engage each of the 17 experts that I included as part of my "informal research study" in behind-the-scenes conversations about their particular journey to six-figures and beyond.
(And yes, in case you're wondering, our very own Danny Iny of Mirasee is on the list!) 😉
In my career as a surgeon, I've interviewed literally thousands of patients. So I know how to ask the right questions to get to the juiciest parts of their stories. I'll be asking them about what inspired them to start their businesses, what worked, what didn't work. Perhaps most telling, I'll get each of these experts to share how they overcame their deep-seated fears, self-doubt, and trying circumstances to generate 6- and 7-figure revenue streams, typically in less than 12 months.
I want you to attend this this virtual event as my guest…
…so you'll get to ask questions of your own.
This is a rare opportunity to hear the "unsterilized" versions of how each of us (including our host, Danny Iny of Mirasee) created six- and seven-figure revenue streams within months.
At absolutely no charge, you'll get access to 19 Expert Sessions, including live Q&A sessions. Plus, two Expert Discussion Panels with live coaching "hot seats."
Click here to get your free PREMIUM ACCESS PASS for the summit
Again, there's no fee to attend live, but here's a tip: Over 250,000 entrepreneurs like you will be invited to this event and you're one of the first to hear about it. Spots on the conference call line are truly limited, so register now and put the dates into your calendar right away.
P.S. The conversations you'll get in on will NOT be pitch-fests!