9 Ways to Repurpose and Breathe New Life Into Your Marketing Content
As a content marketer, you're obsessive. You spend laser-focused time digging up topics to captivate and engage your audience. You optimize, research, outline, write, and pick through for weakness. You ride the highs of discovery, the lows of setbacks, and relish the home stretch when a content piece nears completion.
Finally, you clean that beauty up for its debut, feeling every long minute that went into its inception.
And then… it's over.
While it's wonderful to see your creation go out into the world to make a difference, it inevitably loses its shine and fades away. That leaves you having to go through the cycle again, and again.
How
to
consistently create massive volumes of quality content:
Click To Tweet
How can you consistently create massive volumes of quality content when it requires so much work? Good content is, after all, necessary to achieve the eyeballs and successful lead generation. This burden is enough to make any DIY marketer break a serious sweat.
Save your deodorant! I've got a solution for you.
Repurpose your content!
Your content can, and should, be repurposed into new forms of content.
Repurposing content achieves two things. First, it allows you to easily create multiple content pieces. And second, it increases the likelihood that your carefully prepared message will be received.
As Curata reports, 29% of leading marketers systematically reuse and repurpose content. This helps their investment in content to live up to its fullest potential by multiplying its value.

Many of you probably already repurpose content to some degree. However, it's easy to forget how simple it can be. Whether you're a content veteran or someone just finding your way, use these nine content repurposing tips to increase the value of your carefully-crafted content assets.
1.  The Tribble Effect: Turn Main Points Into Separate Pieces of Content
Remember those furry Tribble critters from Star Trek? They multiplied like rabbits on Rock Star, spinning off into many different colorful versions of themselves.
Take a page from their procreative skills and create more content pieces using the Tribble Method. Drill down into the basic foundations of your content and share each one as a stand-alone, separate piece.
For instance, I could create nine more blog posts based on the nine content repurposing tips in this blog post. Each topic could stand on its own:
Multiply Your Content: Repurpose Main Points
Use Long Form Content to Create Micro Content Social Posts
How Combining Content Can Benefit You and Your Audience
Visual Interest: Why Video Format is Good For All Content
Reaching Your Audience Though Original Content-Based Webinars
How Slideshare Can Double Your Content Value
Customer Questions Are Content Assets
Becoming the Content Voice of Wisdom: Podcasts and Recordings
Increasing Value By Aligning Content Resources
You should do the same to repurpose your best content, particularly on topics that benefit from a deeper dive into details. Pay close attention to your keywords and use SEO best practices when creating and posting each item.
Above all, make sure your efforts provide value to your audience.
2.  Create Micro Content Social Posts
Even your shorter content can be divided up into micro-sized segments. Take the highlights from your content piece and create individual micro content social posts for each of them.
Be sure to include an image with details of the main idea. This will become a social campaign to educate your audience on this topic.
Here's one example based on the content repurposing post you're reading now: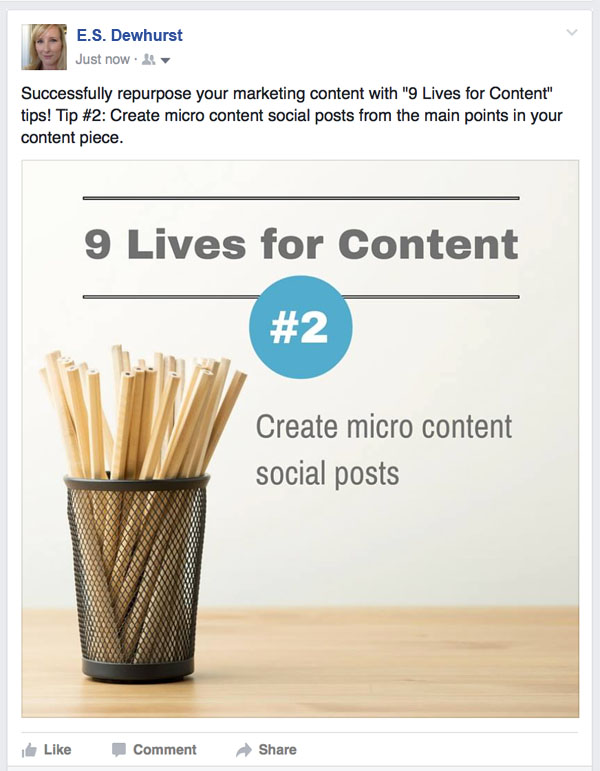 Ideally, you would first post your original content with a link, then post the individual tips over the course of the next few days or weeks. The goal is to drive awareness and engagement.
Share a general post back to the original content again after the micro posts have run their course.
Is your content evergreen (meaning it will not expire or lose relevance)? If so, these micro content social posts can repeat through your social content calendar for a long time.
Be sure to thoroughly understand the posting and advertising guidelines for each social platform you intend to use. It will save you time and mental anguish later.
For example, if you plan to promote your posts through Facebook ads, keep the copy in the image less than 20%. If it's more than 20%, Facebook will not allow you to promote it. Read up on their requirements and use their handy measurement tool for assistance.
3.  Combine Content to Benefit Your Audience
You most likely have other pieces of content that align well with your content gem. Combine them together into one coherent, long-form content.
Warning: Do not combine random topic blogs, infographics, and lists just to make this happen. Each piece must come together in a meaningful, big-picture way to provide value to your audience.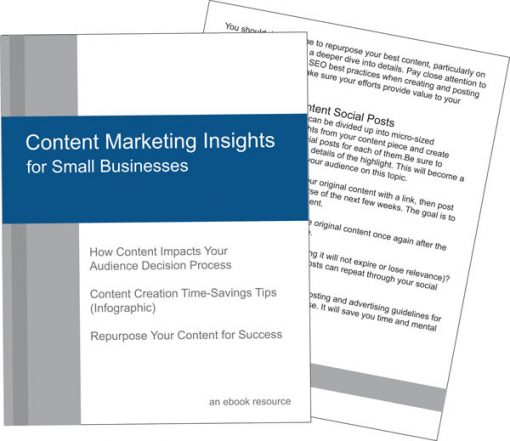 For example, you can combine several blog posts into a "best of" or "top posts" or even a best practices guide. These compilations, when prepared well, might just become one of your highest performing content assets.
You can also take it to the next level by making it gated content. That means your customer can only access your super-sweet "best of" guide by sharing their contact information with you. Once they have done so, they will have a quality resource, and you'll have a new way to grow your list. Win, win!
An example of content combinations could be this content repurposing blog post aligned with similar topic content such as How Content Impacts Your Audience Decision Process + Content Creation Time Saving Tips Infographic. Together these could create an ebook named "Content Marketing Insights for Small Businesses."
4.  Repurpose Content for Visual Relatability
Video is one of the best performing content mediums, hands down. It's an excellent opportunity to share your informative content while making your company relatable and human.
To repurpose this blog into a video, I would combine footage of myself discussing each point,  slides with specific insights, and screenshots of online resources. I would then post the finished video to YouTube or Wistia and share the link through email and social posts.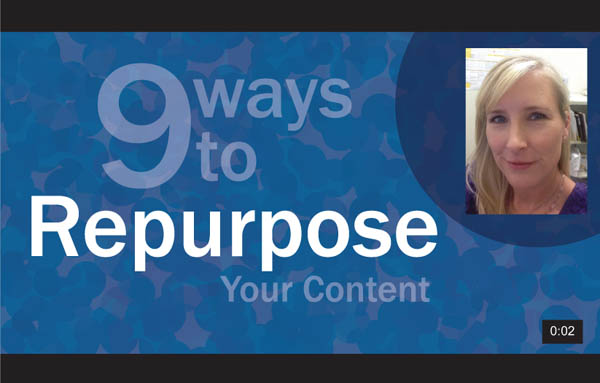 You can explore using slides made up of text and images, if appearing on camera is not your thing. Create these with tools like Illustrator, Photoshop, or  Powerpoint. Particularly helpful is the nifty tool, Canva, which enables everyone to be a designer with easy-to-use online design software (which is also now an app!).
Eventually, you will need to edit your video to combine the footage, slides, and images. There are many options for this. Some are inexpensive while others are somewhat pricey. A few include:
Read reviews and assess what is best for you based on your capabilities and price range. If you've got mad skills in Photoshop, you can also create short, animated GIFs.
However, if budget permits, relying on talented video professionals may be the way to go.
5.  Go Live With Webinar Events
Webinars are all the rage and for good reason. They're a fantastic way to reach your audience and share valuable information. Webinars also give an audience the opportunity to learn and ask questions without the pressure of a sale. It's a free exchange of education for the value of their time and attention.
Webinars are all the rage, & for good reason. They're fantastic to reach your audience & share valuable information.
Click To Tweet
An example of repurposing this blog content into a webinar could be an event titled "Maximize Your Marketing Content in 9 Actionable Ways." You would walk your audience through each tip with recommendations, benefits, and examples.
Focus on the education component as you prepare your webinar talk and presentation slides. You'll want to include best practices in webinar presentation. Be engaging, personable, and to the point.
Keep in mind the KISS acronym: Keep it simple, stupid. Your audience will be there to learn. They do NOT want a rambling dissertation. Check out How to Write a Speech People Will Remember (And Love) by Laura Johnson for more pointers.
Once your presentation is complete, plan your event. There are many software options for webinars. I've used Cisco WebEx and GoToWebinar and found them fairly intuitive to use.
Be sure to advertise your event on your website, social media acounts, and email communications to increase attendance.
There are four things to consider for an optimal webinar experience:
Test software before the event to ensure smooth operation.
Prepare additional mock questions ahead of time.
Record the event for future sharing (both as video and stand-alone audio).
Include a survey at the close of the webinar to collect audience data.
Bonus: Add dimension by bringing in a co-worker, friend, or voice talent to be the moderator. This will improve the live experience, the after-event video, and the recorded audio content for sharing.
Don't worry if attendance is lower than you expected. Your hard work will pay off with more content repurposing opportunities as listed below.
6.  Double Your Webinar Value on Slideshare
Now that you've got a spectacular presentation from your webinar preparation, you can repurpose that on another forum: Slideshare.
Remember the webinar example from #5, "Maximize Your Marketing Content in 9 Actionable Ways"? You can post that presentation on Slideshare for a whole new audience to experience. No additional creative work would be necessary.
Slideshare joined LinkedIn in 2012 and has grown to become a diverse hub of professional presentations and resources covering a broad range of topics.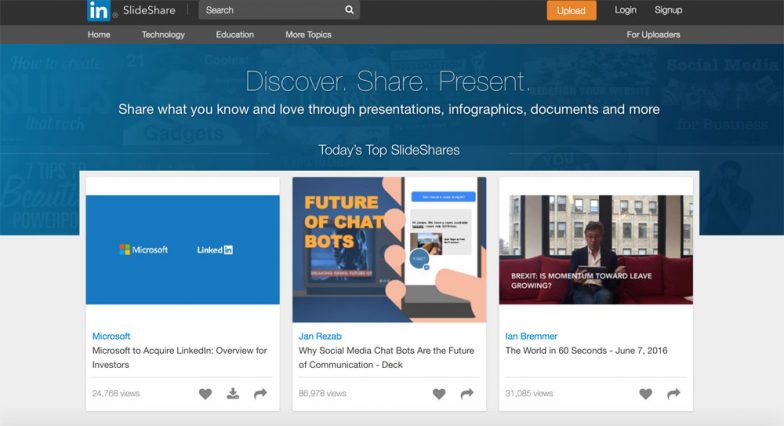 Posting your presentation on Slideshare will offer an opportunity for audiences to read and learn from your work (which equals more exposure for your brand).
You can build out your very own branded channel in this space. Slideshare may be a good choice to garner the views and engagement you seek, depending on your business or products.
Improve your performance on Slideshare with these steps:
Complete your profile and include links to your website.
Optimize your presentation posts for SEO.
Use embedded links in your presentation.
Add a call to action at the close of your presentation.
7.  Q&A Build-Out
During a webinar, you're bound to get a few questions. Turn these questions and their answers into a brand new content asset, such as a blog post, an infographic, or even a listicle.
For instance, the example webinar used in #5 ("Maximize Your Marketing Content in 9 Actionable Ways") may have generated questions about how to use video tools, how to leverage social media content for conversions, and more. Each of these questions could be listed in a new Q&A build-out structured as a free downloadable tool posted at the end of the original blog.
If you didn't receive many questions during your event, you've got options to expand them:
Use the mock Q&A you initially came up with during webinar preparation.
Take advantage of your customer service and sales team knowledge.
Search online forums for related questions.
Read online industry resources for posted comments.
Check with Quora for topic questions.
Try Scoop.it! for related stories (this is also an excellent content curation forum).
Consulting with your customer service and the sales teams for common questions is a valuable exercise not only for content creation, but also for identifying issues that could use closer scrutiny in general.
8.  Give Your Content Voice: Podcasts and Recordings
Repurpose your original written content piece into an audio recording or a podcast. I see you cringing over there! Many people feel anxious when recording their voice. You can overcome this stumbling block through practice and experience.
If you decide podcasts are not in your immediate future, you can still capitalize on the power of your voice. A simple recording of you reading through the content piece can be posted to the same location as your online material, such as your blog. This offers multiple ways for your audience to consume your content.
Starting a podcast can be intimidating. For a helpful introduction to becoming a successful podcaster, check out How to Start a Podcast: From Idea to New & Noteworthy in a Month by Tom Hunt.
When recording your audio track, you'll want to speak in an appropriate tone and pace that aligns with your brand. With practice, being an audio performer will soon become second nature to you.
Assess your existing tools before you begin purchasing equipment. Try working with what you've got.
If your existing tools need improvement, and you're committed to recording future content or embarking on a regular podcast, then an investment in a decent quality microphone will be worthwhile. I've worked with the Blue Microphone's Yeti USB Microphone, which is a relatively inexpensive option with good sound recording. It is also very easy to use.
The beauty of this content repurposing method is the ability to share it on the same page as your original digital content, as well as by email, and more. This allows your readers the opportunity to listen if they prefer not to read (or even better, to download and take with them wherever they go).
You can hire a professional voice talent on Fiverr if recording your voice still makes you squeamish. With a little bit of time and research, you can find a professional who works within your budget.
9.  Increase Value With A Resources List
Springboard from your original content into a related resources list. Create a content item such as a blog post or cheat sheet with a list of reliable, external resources that mesh well with your business. In this way, you are providing additional value to your audience.
Let's look at an example using this blog post. Assume the audience is made up of small business marketers who are looking for quality resources around content creation.
To repurpose this post as a resources list, I would share this content again in an abbreviated format and include an additional list of related content resources with links.
The related content resources and links could include information ranging from how quality content contributes to conversion rates (from a CRM software provider), the best time of day to post social content (from a social media leader), and best presentation practices (from an expert on the subject).
In fact, we did something similar with this Repurposing Content Resource List that you can access 🙂
You get the idea. You can do the same with your content assets.

Meanwhile, those resource owners might decide to share a link to your excellent content on their channels. Not only will this drive more traffic, but it will also increase the number of high-quality external links for SEO.
There you have it!
Nine ways you can get the most out of an original content asset, multiply its value, and reach a wider audience.
9 ways to get the most out of one content asset, multiply its value, & truly reach your audience:
Click To Tweet
A word of caution, however. I primarily recommend repurposing your best performing content creations. This will ensure continued success with each iteration.
With that in mind, I encourage you to breathe additional life into your content. Now off you go—get busy.
Which of these tips will you try right away? Do you have other ways of repurposing content that I haven't covered?
Get the Resource List for Repurposing Content!
Leverage your best content by breathing new life into it!