11 Free or Dirt-Cheap Online Business Tools to Run Your Business from Anywhere
Pooja Lohana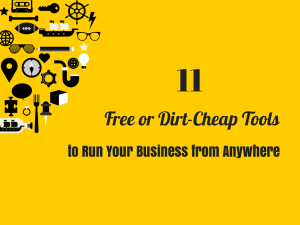 8 AM.
You wake up to the sound of an alarm, grab your phone to glance at the time, take a quick look at your emails, play Hanging with Friends for just another 5 minutes snuggled in bed, get dressed and do a 3-second commute to your new office desk.
Congratulations! You have quit your job and it's your first day at your business.
"With hot coffee in one hand and a pen and notepad in other, you take a few minutes to schedule your day."

Tweet Me
You smile at the thought of what's in store.
. . . Until, after a few minutes of bliss, panic hits.
Holy cow I quit my JOB! What do I do now? How will I pay my bills? Where do I find clients? How much am I going to have to spend on tools to get this business running?

Does this sound familiar?
I don't know about you, but the crippling thought of "what if my business fails" used to keep me up all night.
Starting an online business can seem very attractive, but once the honeymoon phase is over and replaced by an inflow of bills, the whole idea becomes scary like a monster beneath the bed.
Where do you find clients? How do you set up your website? How do you keep track of bazillion tasks and still stay focused? Should you pay for all those complicated business tools out there that claim to make it all possible?
Scary, isn't it?
But here's the good news:  if you want to run your online-based business smoothly and profitably, there has never been a better time.
"Running a business from anywhere in your pajamas is much easier than it was four years ago."

Tweet Me
Turns out getting started without breaking the bank is all about choosing the right tools to set up shop.
With so many online business tools available online, it can seem daunting or worse, become a time-suck. Ideally, you only need a handful to run your online business from wherever you are.
Ready?
Below are the only 11 tools you will need to comfortably start and run your new online business in 2014!
Setting Up Shop
First things first: you need a website to run any online business. Although there are many free tools, such as Squarespace, Wix or Weebly to set up a simple website, I always suggest my clients go with WordPress.
One of the reasons is that there are many WordPress experts in the market and the support is extensive. You don't have to do it all yourself, and for a small investment, you're really thinking long-term.
That said, if you'd rather not spend any money on getting WordPress help, it's not too hard to learn. I knew nothing about WordPress and now I can create an up-and-running website in less than 3 days.
There are some slick WordPress themes available in the market that can make the job as easy as drag-and-drop. I use Studio Press or Theme Forest to hunt for my themes.
Secondly, "free" is never really free. With the other tools, you can design a simple website – just images and text, and maybe a social share button or a form to sign up for your email list. But if you want to add ecommerce or a more robust functionality, you always have to pay.
Perhaps the most important reason I'd opt for WordPress is because with other "free" tools, you almost always end up having a footer ad banner imposed on your site. Yikes!
Getting Found by Clients
In-Person Networking
As a freelancer, you have many avenues to market your wares. One of the common ways that people start doing this at in-person networking at organized networking events.
Personally, I use and recommend Meetup.com as a great in-person networking tool. Find meetups in your area and industry that may be happening right now.
Don't expect people to buy from you in the first go. Meetup.com is more of a network, a meet-and-greet place where you can market your services by first offering help. To do that, join groups where your ideal customer hangs out – for example, if you are a web designer, your client-base may be small-business owners, so you'll join a group dedicated to them.
Attending meetups is free (unless an organiser charges a small fee to cover venue costs). You can host your own meetups (and attract hundreds of people) by becoming a paid member of the site at $45 to create up to three groups for three months each.
I run two meetup groups; one has 245 members and the other has 130.
Content Marketing and Email Marketing
In-person networking can be time consuming and hardly effective if your audience is global.
"Content marketing and email marketing are other ways to market your business on the go from anywhere in the world."

Tweet Me
Here's how CopyBlogger defines content marketing:
Content Marketing means creating and sharing valuable free content to attract and convert prospects into customers, and customers into repeat buyers. The type of content you share is closely related to what you sell; in other words, you're educating people so that they know, like, and trust you enough to do business with you.
In short, your customers are becoming web-savvy and they can easily spot a paid ad from a mile away. They don't want ads – they want valuable information that helps solve their pressing problems. Here, content achieves what a perfect ad would achieve in an ideal world.
The first step to start content marketing is starting a blog (that can be set up using WordPress) and an email newsletter where you share massive-value content for free.
GetResponse is a powerful email marketing tool that makes beautiful email newsletters and autoresponders. Their pricing starts at $15 per month for 1,000 subscribers or if you buy a yearly pack, you get a cool 18% discount. AWeber is another email marketing tool that Danny here at Mirasee often recommends to his students.
Communicating and Collaborating with Clients
For real-time communication, Skype is my go-to app. It's easy, it's free (Skype to Skype) and gets the job done.
Google Drive supports real-time chat and collaboration, as well as document storage. I've used it extensively during live Skype calls to brainstorm ideas, set up schedules, and work on editorial calendars with my clients. With 15 GB of free storage, you can work on shared files at the same time and everything gets saved on the cloud.
Dropbox is another great cloud-storage app that's free up to 2 GB.
The best part about Dropbox is that you don't even have to be on Dropbox website to save anything. You can sync folders on your computer with your Dropbox account, so that your files are automatically backed-up to your online Dropbox account when you make a change. Plus, you can always earn extra free storage by referring friends and clients.
Most website hosting providers give you a free email address as part of your account. But if you have multiple websites, it can become difficult to track different inboxes.
An easy way to access all your email at one place is to create a free Gmail account and forward all emails there. That way, you're not on ten separate (and ugly) email clients provided by your various hosting companies.
Did you know that you can also schedule emails and track opens and reads inside Gmail?
Enter Boomerang, a nifty free plugin that integrates seamlessly with Gmail. You can schedule messages to be sent in an hour, or in two days. This feature opens up a lot of possibilities. One of my favorite uses is to set reminders to follow up with a sales lead. You can also automatically resend emails if you don't hear back within a set time-span.
My favorite feature is the ability to track read receipts. You can see how often and when someone opens your email or which links they click on. No more wondering if a client received and viewed your invoice!
Extending Video or Audio Support to Your Clients
There will be times when your clients ask for more help once you've delivered your work. For example, if I am doing a WordPress site for my clients, I always include "How to Use WordPress" tutorials so they can refer to it when they're stuck.
This is additional free support to wow them and helps me differentiate myself from the rest of the pack.
For this and more, I use Screencast-O-Matic for all my video-recording needs. At $15/year, it's as inexpensive as it can get. The app is first class and simple to use. You can record a video up to 15 minutes for free if you want to try before you buy.
For audio, Audacity has an intuitive interface and it's completely free for Mac or Windows. Once you've finished recording, you can edit your work to your heart's content (for example: removing those distracting ums and ahs!).
Getting Things Done
There's a fine line between being busy and being productive. As an online business owner, your business success depends on a one-person army: you! There's no one else to do the work that needs to be done, so it's important to be productive.
I use the Pomodoro timer that lets me maintain my focus throughout the day while reminding me when it's time to take a break. The Pomodoro technique simply says:
1. Work in slots of 25 minutes (called as a "pomodoro").
2. After every pomodoro, take a 5 minute break.
3. Repeat 1 and 2.
4. After four pomodoros, take a longer break.
Recently, I've started using Awareness which is a free and simple productivity app that plays the sound of a singing bowl to mark every hour of your work.
It's a gentle and soothing reminder to take a break and displays total time since you've been on your desk without one. They have a widget called Break Ideas that suggests things to do during your break.
Let's Re-Run That 8 AM Panic Attack

8 AM
Instead of waking up panicked that you have no idea what you're doing, you jump out of bed knowing that everything's under control. You know your business is running with a set of must-have online business tools that won't break your bank. And best of all, these tools will allow you to become a pro at running your online business from anywhere, anytime!
Here's a recap of 11 tools we've covered:
WordPress
Meetup
GetResponse
Skype
Google Drive
Dropbox
Boomerang
Screencast-O-Matic
Audacity
Pomodoro timer
Awareness
Got any more must-have tools to add to the list? Which of the above tools do you already use? Let me know in the comments below!