Building An Online Community Through Live Events, Teleseminars And Webinars!
Carol Ross
The following post was an entry by one of our spectacular finalists in our Awesome Engagement Strategies Contest. Finalists showcased their ideas, and whoever got the most traction (i.e. comments and social shares) within five days of publication was crowned the winner. Check out this post for the complete list of Engagement Strategies Contest finalists!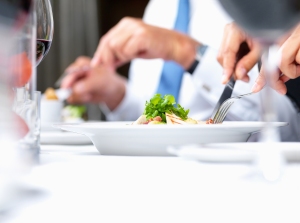 When it comes to engaging your audience with an event, most people have a preference for interacting either face-to-face or virtually. But it's best not to think "either/or". Instead think "both/and".
Several years ago, I interviewed Jeremiah Owyang, a former Forrester analyst for social media. Jeremiah is a master at building community. I'll never forget when he said, "Effective community building is not done solely online or solely in-person. It requires both." Jeremiah went on to tell me that when he travels, he makes a point of arranging a meet up and inviting his followers on social media.
Taking a page out of Jeremiah's book, I emailed my list last summer with the following, before traveling to Chicago on business:
Hi <first name>,

What's better than eating at one of my favorite restaurants in all the world? Meeting up with kindred spirits, to feed body, mind, and soul.
Join me on July 19, in Chicago, for a meetup of remarkable individuals. You'll meet members of my "brand community" who are smart, accomplished, and interesting.
After years of gathering my "tribe" online with virtual events (e.g., webinars, teleseminars), the in-person event had a special appeal – for me and my audience.
In the process, I learned a lot more than bridging the gap between online and in-person engagement. I became aware of the role of three basic human desires in creating engagement:
The desire to "not miss out"
The desire to stand out
The desire to belong
Not Missing Out
Many people will make the extra effort to meet one-on-one if they know you are visiting from out of town.
This also applies to in-person events, where the interaction is one-to-many or many-to-many. Urgency ("I'm only in town for 48 hours") and scarcity ("I won't be back for another year") will cut through the clutter and move your event to the front of the attention queue.
I was able to draw an interesting and intimate mix of followers for dinner at a local restaurant. My audience knew that this would likely be the only time I could meet them during my brief visit to the Windy City. Given that I live in Denver, I would not be back any time soon.
Standing Out
Everyone likes to feel special.
My subject line of "<first name>, Will You Join Me in Chicago on July 19?", made people feel like this was a personal invitation, even though it was sent out as a mass email.
To encourage others to be "crazy brilliant", I'm making this offer: If you are coming from another state (e.g, Wisconsin, Michigan, Indiana), dinner is on me.

The story of the person who flew from San Francisco to Chicago is a blog post I wrote with the title, "Why Traveling 2,000 Miles for Dinner is Crazy Brilliant."  The title hit upon a shared value for my target audience-to be seen as "crazy brilliant". In other words, to be different and smart, at the same time. I realized that giving my audience an opportunity to live their values, or just dream about doing so, was a powerful way of engaging them.
Belonging
When it came time for the dinner with about a dozen people, I started the conversation with an icebreaker.
Each person was asked to answer the same question. This allowed everyone a chance to both belong and stand out. I made sure that I answered the icebreaker first, to role model the desired behavior AND to make it feel safe for others to join in.
Results
The results were overwhelmingly positive with dozens responding to my email invite and a wonderful dinner with kindred spirits a few weeks later.
While it can be easy to focus on who showed up at the in-person event, the power of this strategy is that it engages even those who cannot attend. For example, I received email responses from:
People who I hadn't heard from in over 5 years and who had been on my mailing list for at least that long
People who asked when I would be traveling to where they lived so we could meet up
People who I had no personal connection with other than they were on my mailing list
People who told me, if they only could <fill in the blank>, they would travel hours by car or plane for the event. They dreamed of being remarkable.
One person from East Coast even forwarded the email to his sister in Chicago, so that she and I could meet!
The dinner led to conversations with 25% of the attendees who were interested in my services. (I coach people who "don't fit" in traditional careers to find their tribe and sweet spot in work and life.)
Afterward, I blogged about the event and posted a few photos from the dinner. This let others know what they missed and created interest for the next meetup (which I did a few months later during a subsequent business trip to Chicago.)
How You Can Adapt This Approach
To make this strategy work for you, answer the following questions:
If you are employing mainly in-person events to engage your online community, how can you extend the conversation online, with a virtual event? Teleseminars are a great way to interact with attendees spread across countries and continents. Use a simple format-an hour long Q+A session or an interview with an expert on a topic relevant to your audience are both good choices.
If you are in the process of building your community online, what types of in-person events can you do that will lead to a deeper connection, at little to no cost? Meet ups are easy if you have a favorite restaurant and can book a reservation for a slow night (e.g., Monday or Tuesday). Or look for a coffee house that has a separate meeting area.
In the invitation to your next event, how can you create a sense of urgency and scarcity?  It's easy to create urgency and scarcity for an in-person event while traveling to a new city. But what about virtual events? While it's become the norm for webinars and teleseminars to be recorded, it also lets the audience off the hook from attending your event.  Why show up when you can listen to the recording? By announcing that a virtual event will not be recorded, the message is this: "Show up or lose out."
How can you extend your invitation to the widest possible audience, even if it's an event that will be held in one geographical location? People love to be invited, even if logistically, it's a stretch to attend. Spur your audience's imagination on what it would be like to attend with visual imagery or stories. I hold free Q+A sessions with the title "Campfire Conversations". In the invitation, I use a photo of people gathered around the campfire to give the recipient a sense of the atmosphere they can expect.
How can you make your attendees feel special? Remember that people are carving time out of their busy schedule to attend your event. Make them feel like they made the right decision. Honor them by welcoming their voice, being a good listener, and asking them what they want to get out of the event. Whenever I'm waiting for an event to get started, whether in-person or virtual, I'll ask individual attendees in the room or online why they decided to attend and what they want to walk away with at the end of the event. This gives the attendees a stake in the event-a reason to hang around and give their undivided attention.  Afterward, use social media to let people know how much you enjoyed the event and the attendees.
How will attendees experience a sense of belonging when they attend your event?
Pick an icebreaker question that everyone can answer, and one that allows each person's uniqueness to come out. For example, I've used the following as an icebreaker:
"Each of us has a story to tell. If you are willing, tell us about a turning point in your story."
Who doesn't love a story? Before you know it, you'll have a room full of story-tellers and story-listeners, with shared experiences and interesting situations that draw people together.
Don't forget to be genuinely open to having each person add their perspective to the conversation. The most vibrant communities are ones where members are continually learning and growing together.
Engagement is more than a one-time event. It's a relationship with your audience that pays off, over the long term. You may have hit it out of the ball park with a workshop or a compelling teleseminar. But engagement is about delivering consistent value, over time. Without that, your audience will have no reason to stick with you. They will give their limited attention to someone or something else.  Earn the right to be heard, day in and day out, and you will have no trouble attracting your tribe-the people who know, like, and trust you.